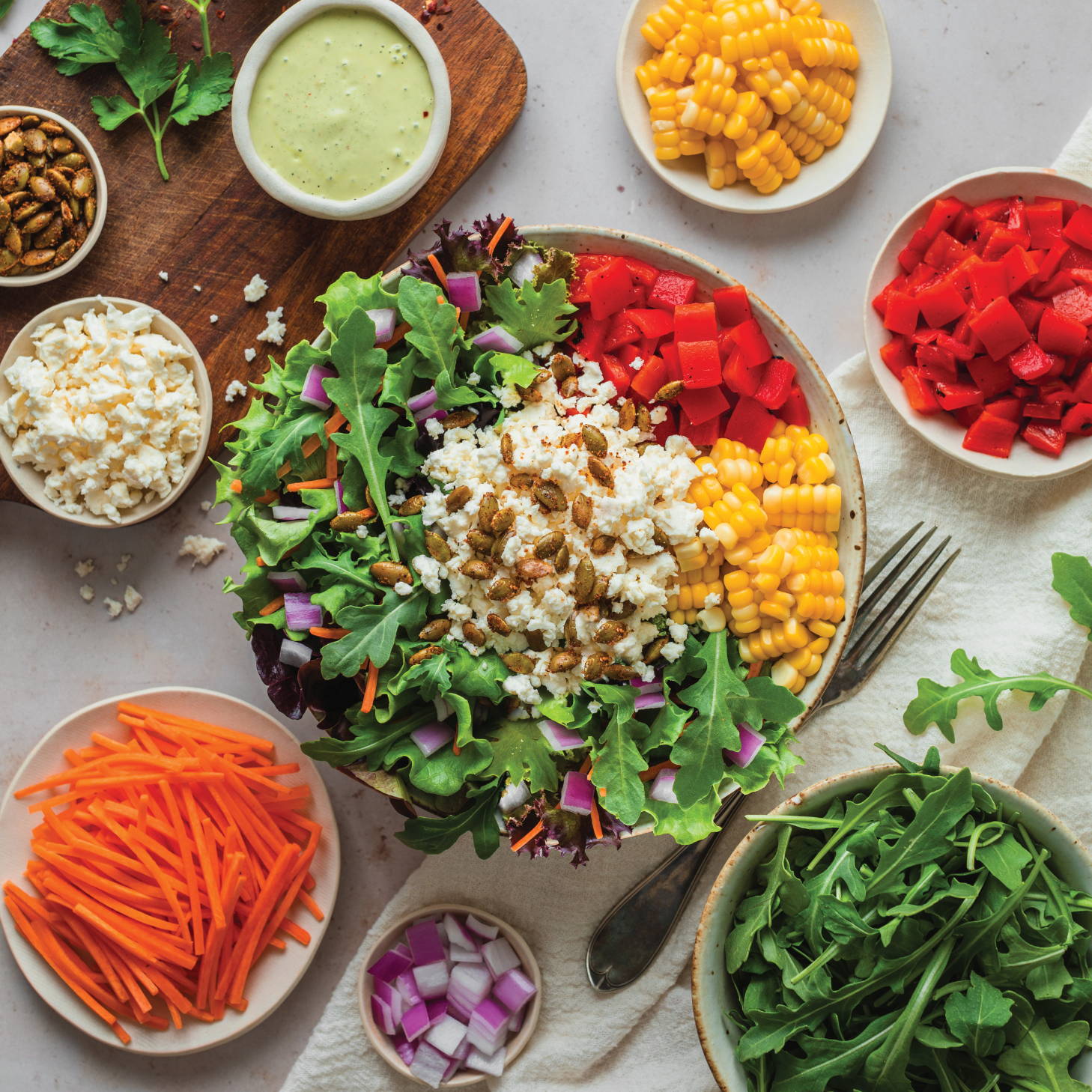 The Garden BBQ Salad from Inspired Go
We're bringing you the taste of summer with this veggie-packed salad recipe that is perfect for a backyard BBQ and hot summer days! It's filled with fresh and flavourful garden vegetables paired with creamy feta cheese and complemented by our homemade spicy pumpkin seeds. This delightful salad is tossed in our creamy and zesty homemade chimichurri dressing. All of the flavours in this meal will make you feel like you're enjoying a sunny summer BBQ no matter your location!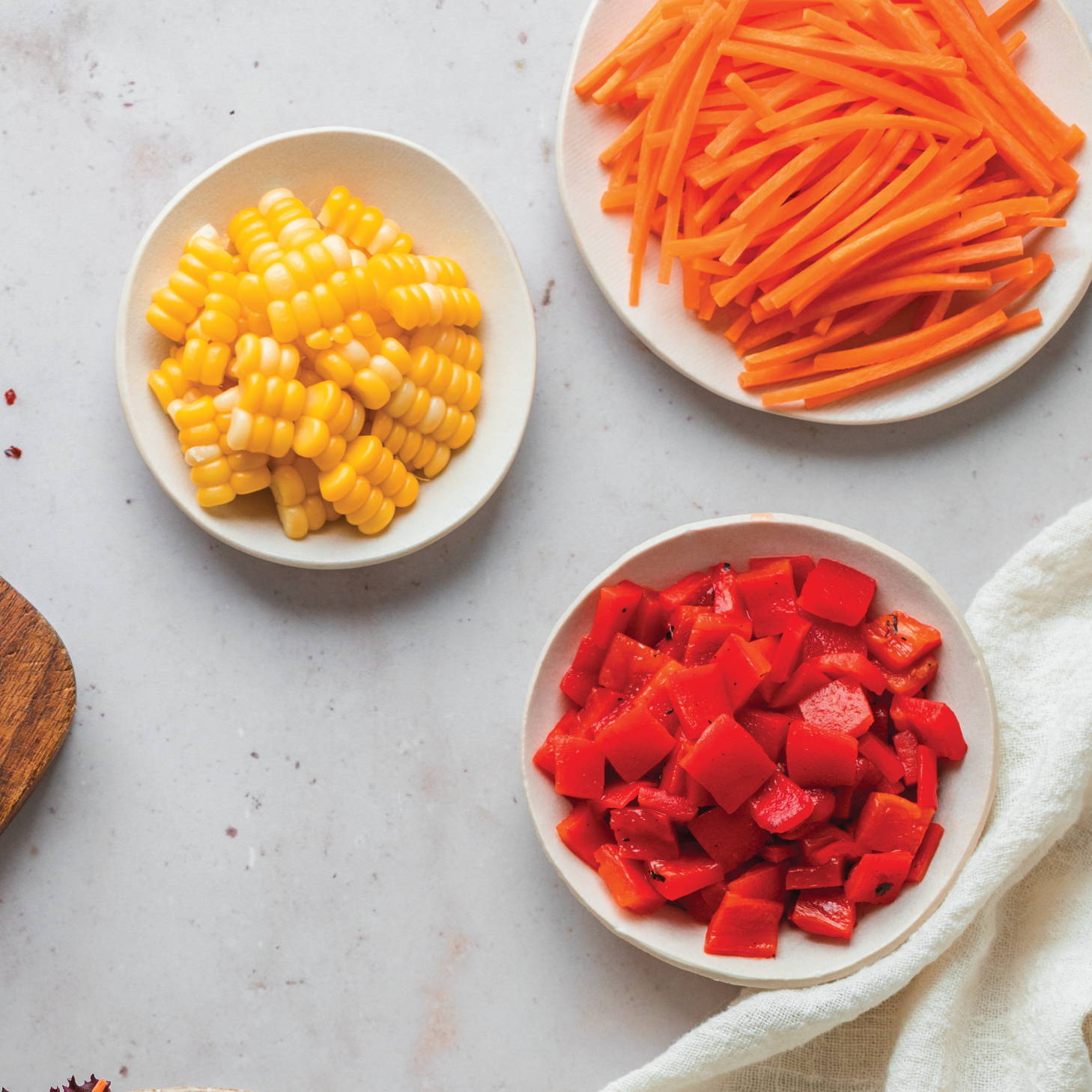 The Garden BBQ Salad recipe features corn, zesty red onion, carrot, roasted red pepper, broccoli stalks, arugula, and our greenhouse lettuce. These garden veggies provide many nutritional benefits, such as broccoli which contains a significant amount of micronutrients, including fibre, vitamin C, vitamin K, iron, and potassium. Not only will you get lots of vitamin C from the broccoli, but you can also find it in the carrots, arugula, and roasted red peppers. This salad recipe contains a tun of fresh ingredients that will leave you feeling energized, satisfied, and accomplished after finishing the whole bowl!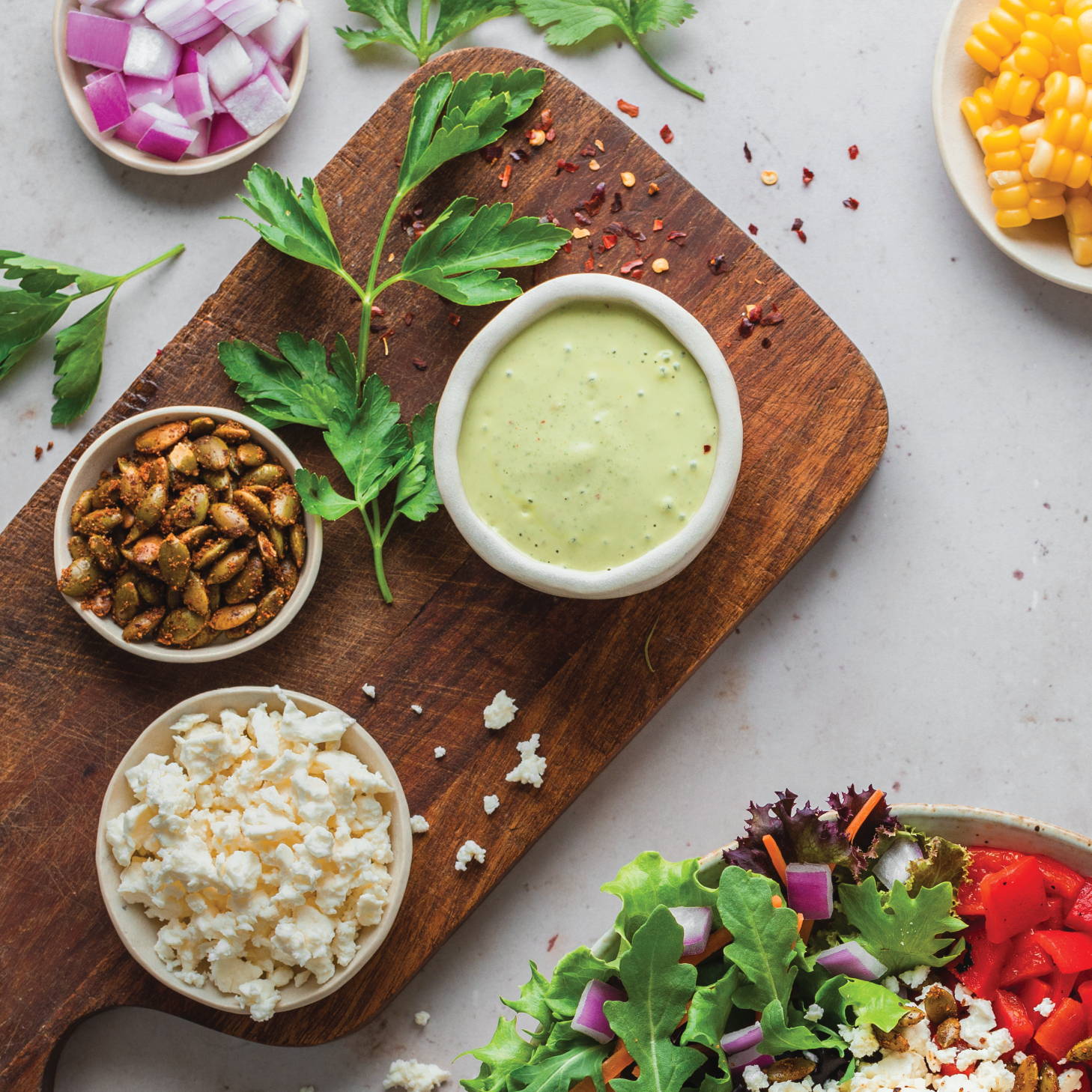 Can we Hear it for Chimichurri?
Our chimichurri dressing is something to boast about! We made our own adaptation of the traditional chimichurri by adding Greek yogurt to give it an indulgent and creamy texture. It also features avocado to boost the healthy fats in this recipe and create the unique texture that makes this dressing so satisfying. Fresh parsley, oregano, and cilantro up the ante when it comes to fresh taste and everything is given a hint of zest with fresh lemon juice and red wine vinegar. You may also detect a slight bite from a dash of chili flakes, which makes this dressing slightly addictive. Altogether, this dressing is undeniably delicious and must go on your must-try list for summer!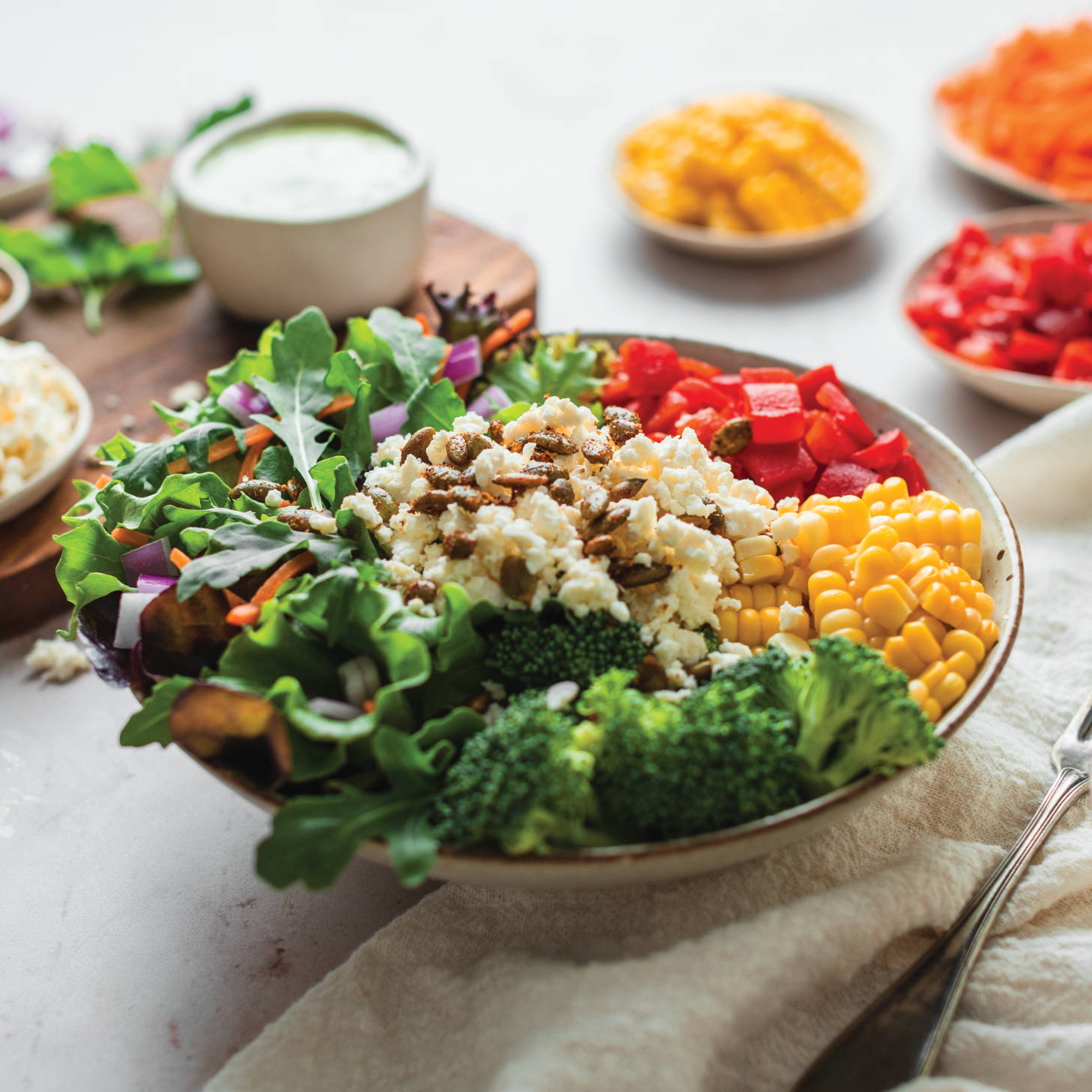 Much More than a Garden Salad
When we created this recipe, we set out to deliver a whole lot more than just a simple side garden salad. You will be excited to eat this salad, and you will be excited to share this salad! It pairs perfectly with some barbequed steak, chicken, pork, or shrimp, which will increase the taste as well as your protein intake. You also get a protein boost from the feta cheese and spicy pumpkin seeds in this recipe! What we love about garden salads is that there are no rules - you can mix together fresh ingredients any way you like. When it comes to this celebratory summer salad, it cannot be ignored!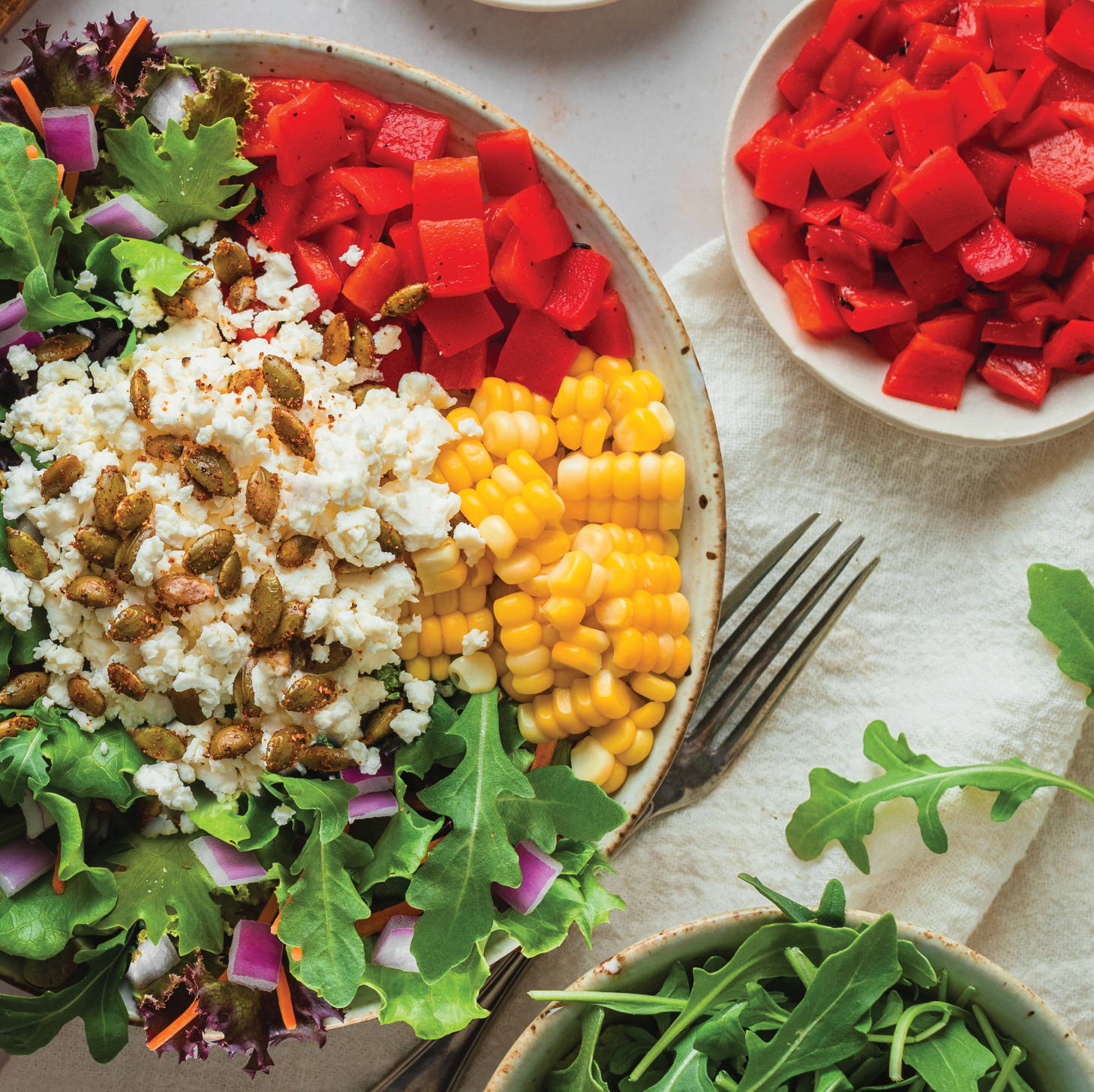 Plan Your Next Summer BBQ
If you need an excuse to plan your next summer BBQ, here it is! Inspired Go has launched the best-ever summer salad, and that's reason enough to fire up the girl, pick up some fresh steaks, and dive into this fresh garden salad packed with taste and nutrition! Order Inspired Go to your home today and enjoy a whole variety of recipes without any of the grocery shopping or prep, and avoid wasting endless amounts of ingredients. Cheers to summer!