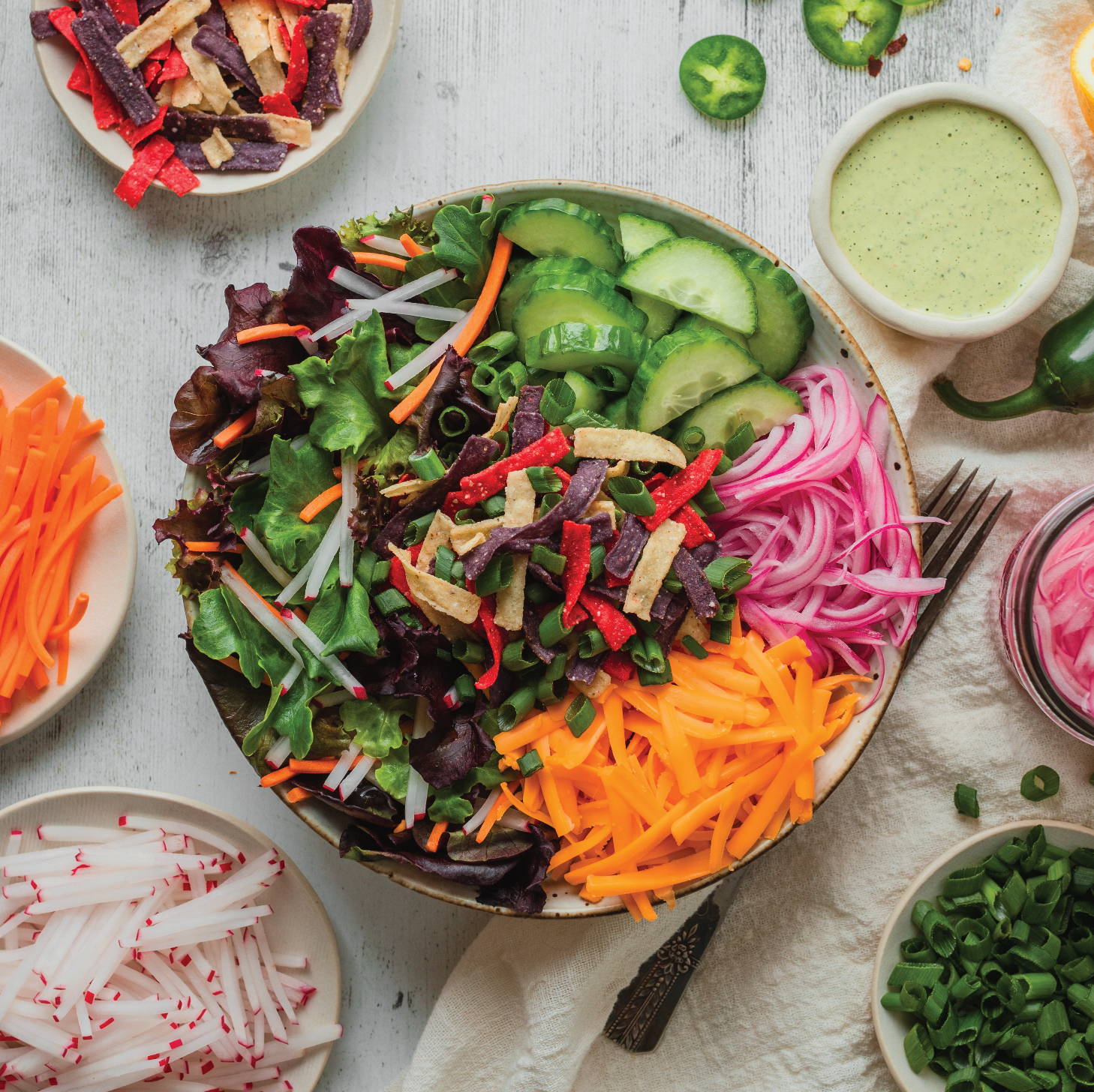 The Wild West Salad from Inspired Go
Welcome to the wild west! A place where red pickled onion and cheddar cheese are paired so perfectly into a salad that you will be counting down the minutes until lunchtime. Crunch is precisely what we want when it comes to this salad, and it's present and waiting to be in every bite. A zesty jalapeno ranch brings this whole salad together in a way that truly is wild. This southwestern-inspired treat is waiting for you. Don't wait to try the newest addition to our menu!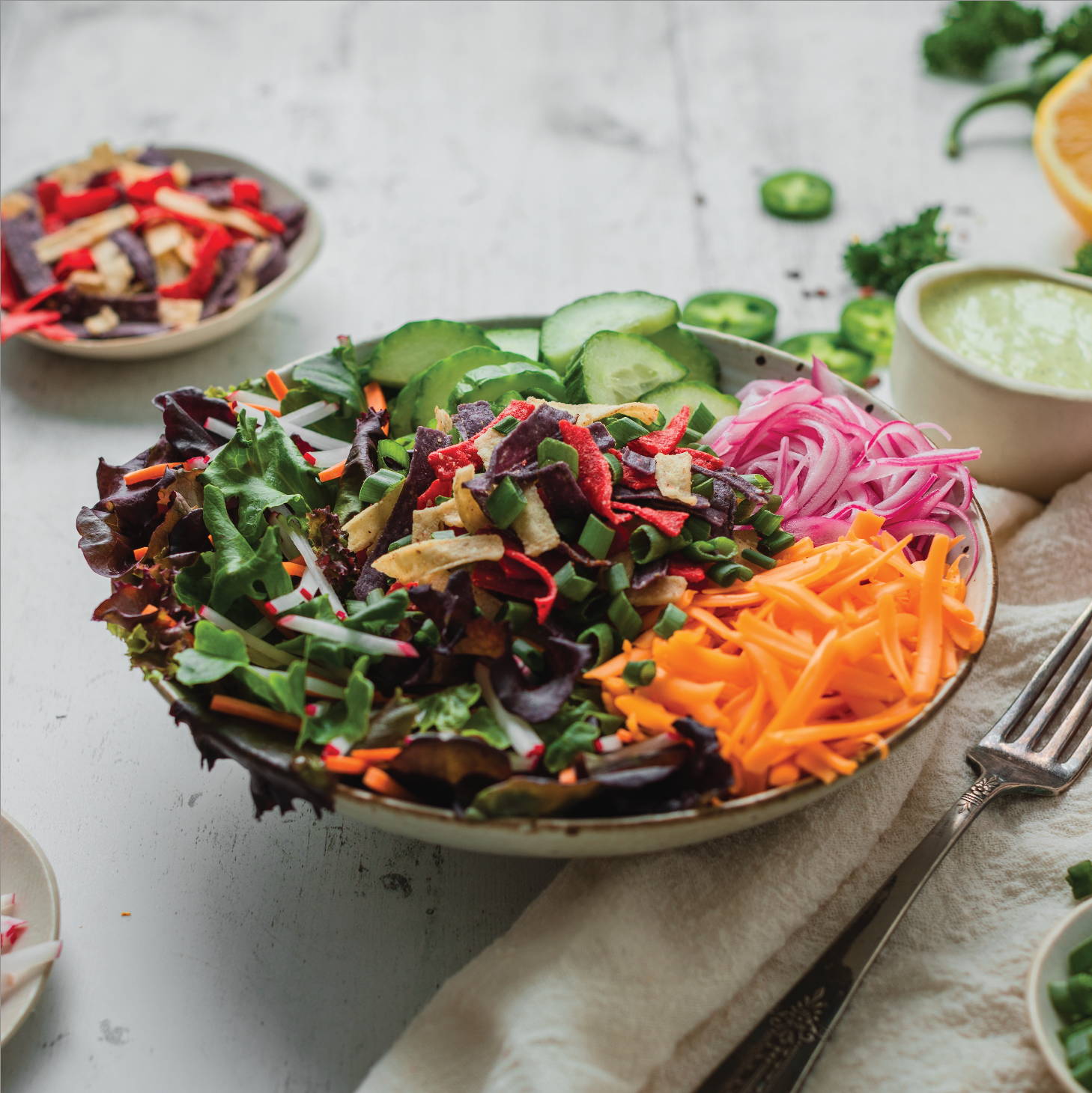 This meal has a little bit of everything when it comes to ingredients, but when they are all paired up together, the result is extraordinary. This salad is so colourful because it's packed with fresh vegetables. Green onion, pickled onion, cucumber, carrot and radish all offer plenty of fresh flavours, a natural crunch, and pack a punch of nutrients. The salty crunch of the tortilla strips compliments the richness of the cheddar cheese. The dressing has a slight hint of jalapeno to offer just the right amount of kick. Add in our greenhouse lettuce, and you have yourself one mighty fine meal.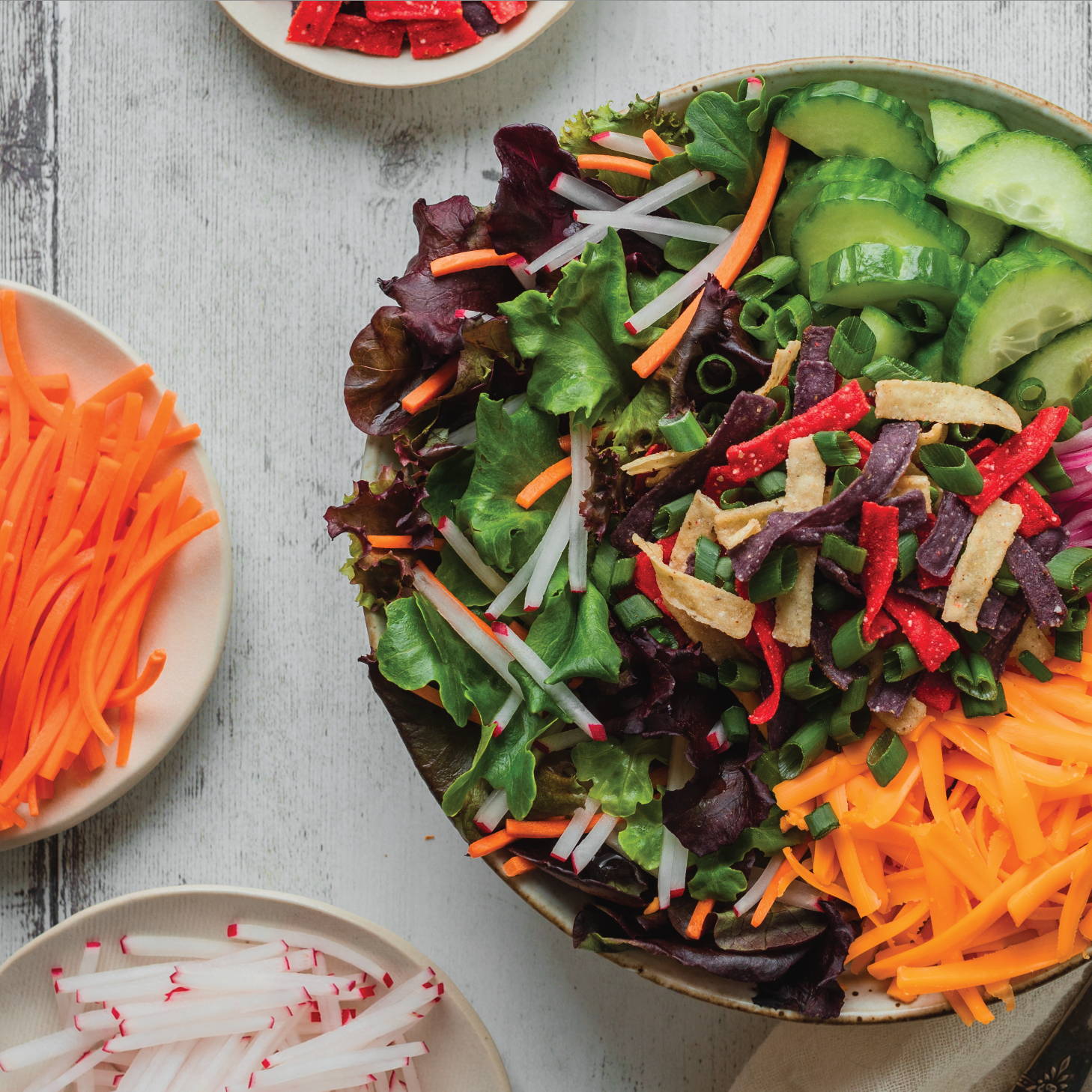 You can take one look at this salad and know that it is a winner. The bright colours pop and you can feel the fresh and bold vibes before you even take a bite. Whether it's the bright pop of pink pickled onions, the deep orange creamy cheddar cheese, or the nostalgically fresh green vegetables, this meal won't lose your attention span. We are a firm believer in eating with our eyes and this meal screams from the rooftops that it needs to be tried!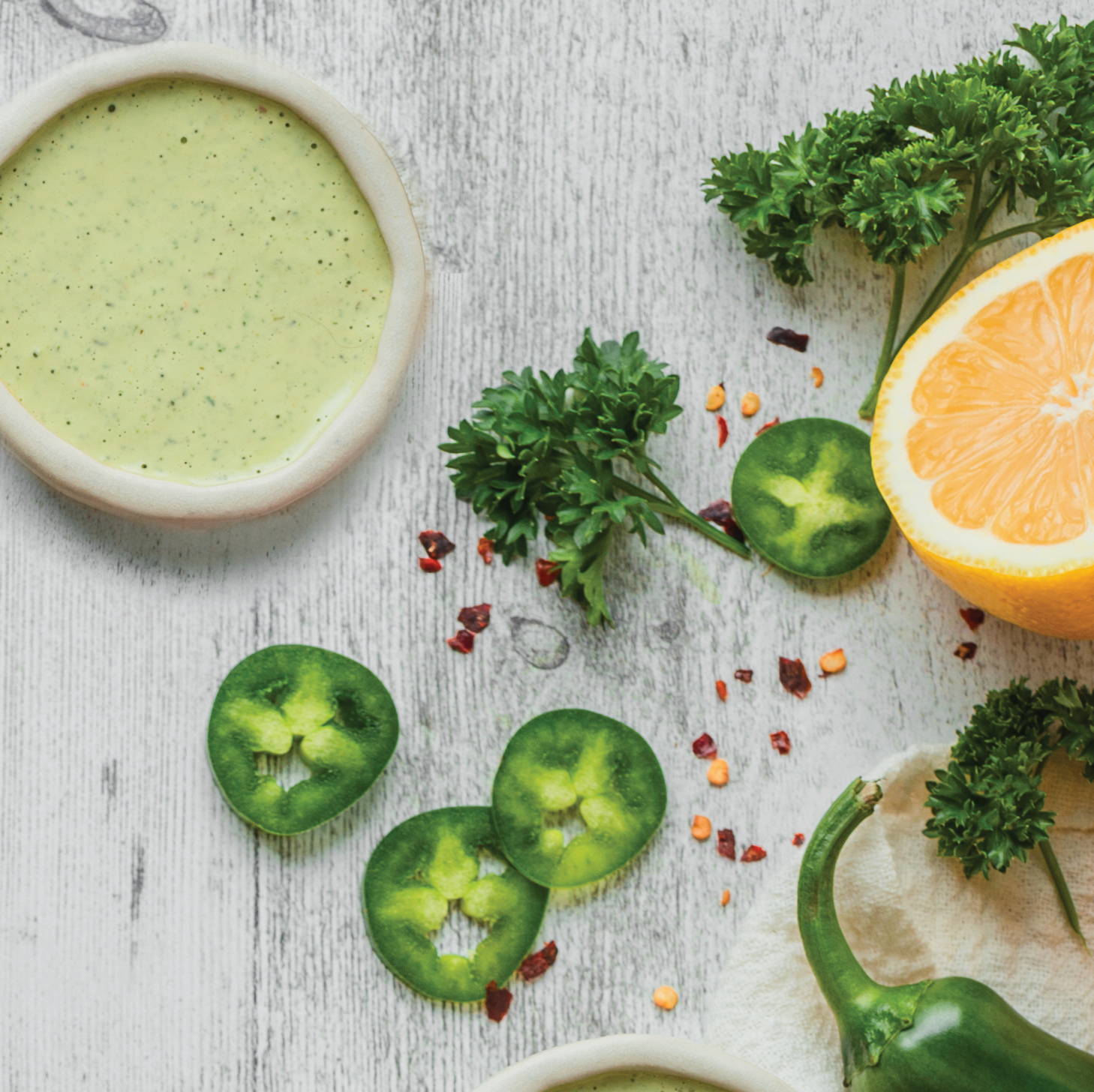 The Homemade Jalapeno Ranch Dressing
We like to include a little something special for those tastebuds in every single meal that we develop. In this recipe, that surprising and delighting effect is delivered through the creamy jalapeno ranch dressing. We infused our dressing with fresh jalapeno to provide your meal with just enough kick to keep things interesting. Fresh parsley, dill, and chives are also used in the dressing which gives you a whole new perspective on "fresh" with every bite.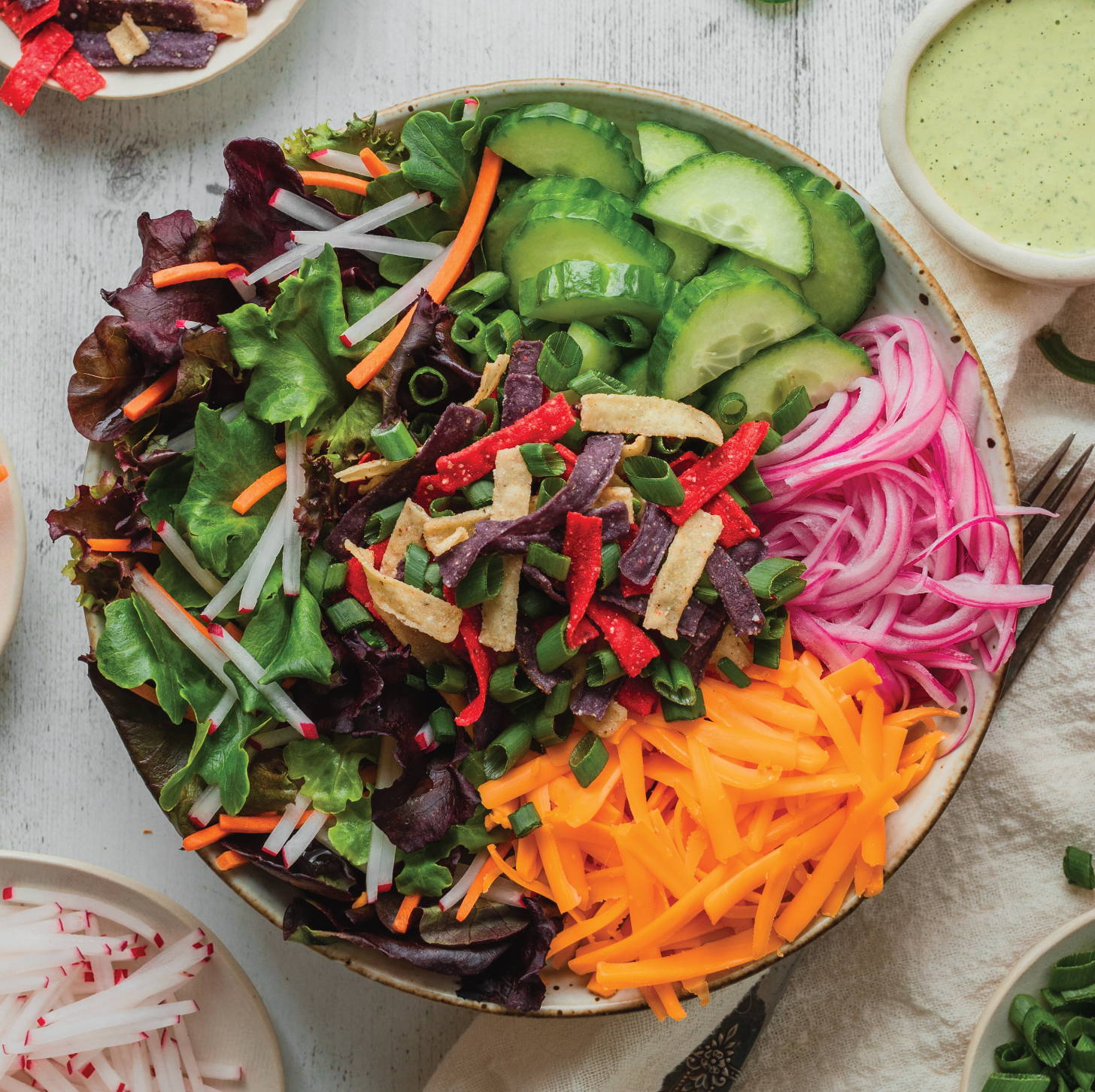 One thing we know for sure - a southwestern salad is a tried and true flavour that everyone indulges in from time to time. We like to keep this category of flavour fresh by launching a few new wild recipes every year. This newest addition is colourful, bold, and has a slight kick to it. We are so excited for you to brighten your day with this perfectly balanced and bold salad! You can order online and have your meals delivered to your door. That means a week of fresh and healthy meals will be waiting for you with no grocery shopping and no preparation. Order the Wild West Salad today from Inspired Go!