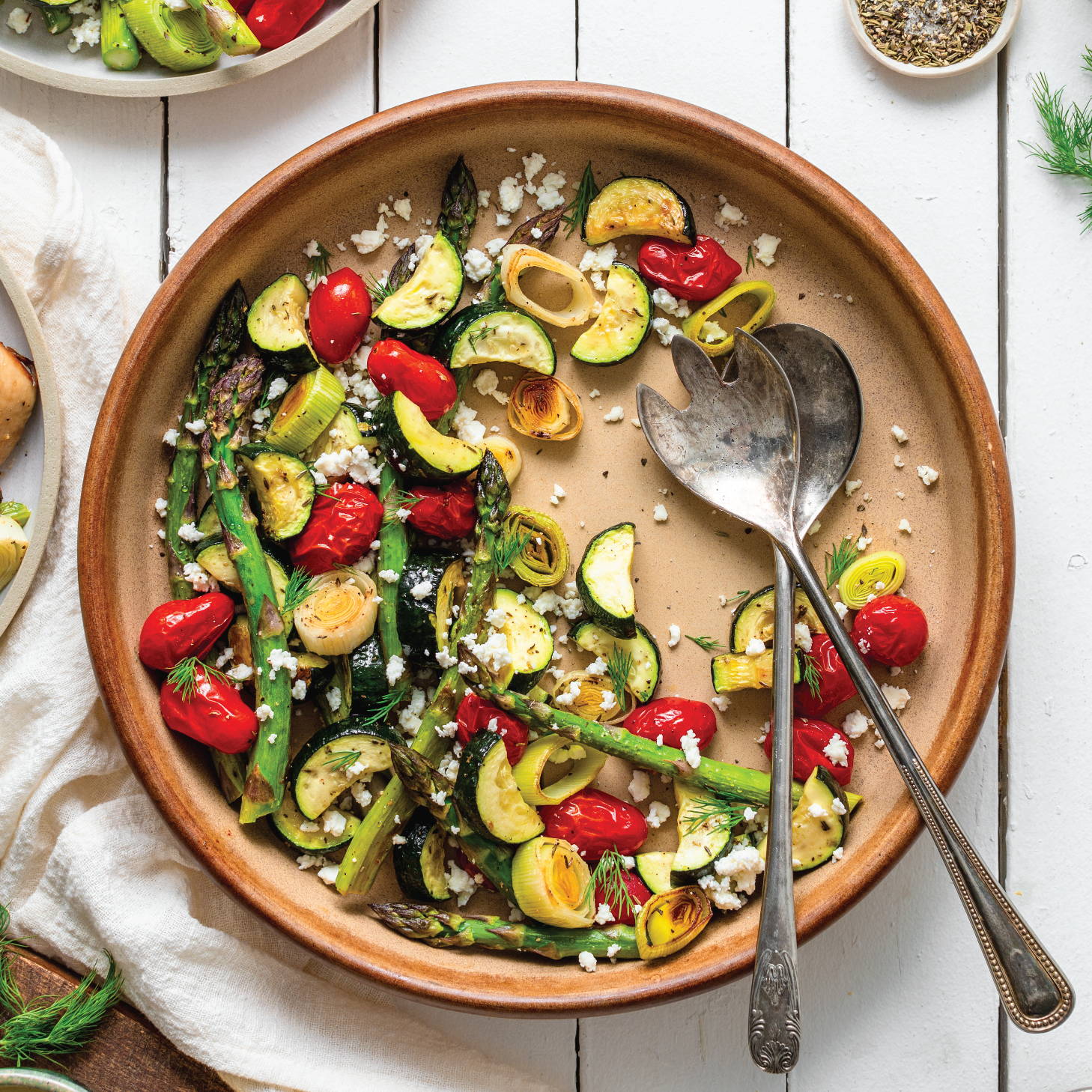 The Spring Feta Sheet Pan Meal
from Inspired Go
This sheet pan meal is back by popular demand! We are changing the way you do dinner, keeping consistent with our goal to make healthy eating easier. That means you can say goodbye to planning what to have for dinner, shopping for ingredients, and chopping those ingredients. We even made the cleanup easy because everything is tossed and cooked on one sheet pan.

Say hello to the Spring Feta Sheet Pan Meal! You will love this recipe if you like fresh and seasonal flavours. It is a mix of zucchini, grape tomatoes, asparagus, leeks, fresh dill, and everything is tossed with some crumbled feta cheese and our homemade citrus white balsamic dressing. This recipe is cooked at 425° for 28-30 before being tossed with the cheese and dressing. You can pair this dish with chicken, sausage, shrimp, scallops, or pasta to create this perfect and easy-to-execute meal.


We usually focus on getting our greens through a tasty salad recipe, but we are here to tell you today that there isn't just one way to get that job done. Throwing this tasty recipe into your week means you are getting a variety of greens into your diet. We feature crisp asparagus, refreshing zucchini, and sweet leeks. All of these ingredients give your body the nutrients it needs and offer a variety of tastes and textures that complement themselves in the meal. Let's be honest; it's tossed with feta cheese and it's going to taste good no matter what!


The mix of tastes and textures in this meal was no accident. Everything is expertly paired to offer a little something for everyone and to provide an ample amount of nutrients and love for that gut. The zucchini in this recipe offers a burst of moisture and fresh flavour. The grape tomatoes and leeks offer plenty of flavours and their texture is unparalleled after their time in the oven. The asparagus has the perfect amount of crunch to keep this meal interesting, while the fresh dill really screams SPRING! The best part is the homemade citrus white balsamic dressing which has just a hint of garlic and really screams citrus fresh. The feta cheese that tops off this meal brings in a creaminess that is much desired and pairs so well with the green ingredients and the zest of the dressing.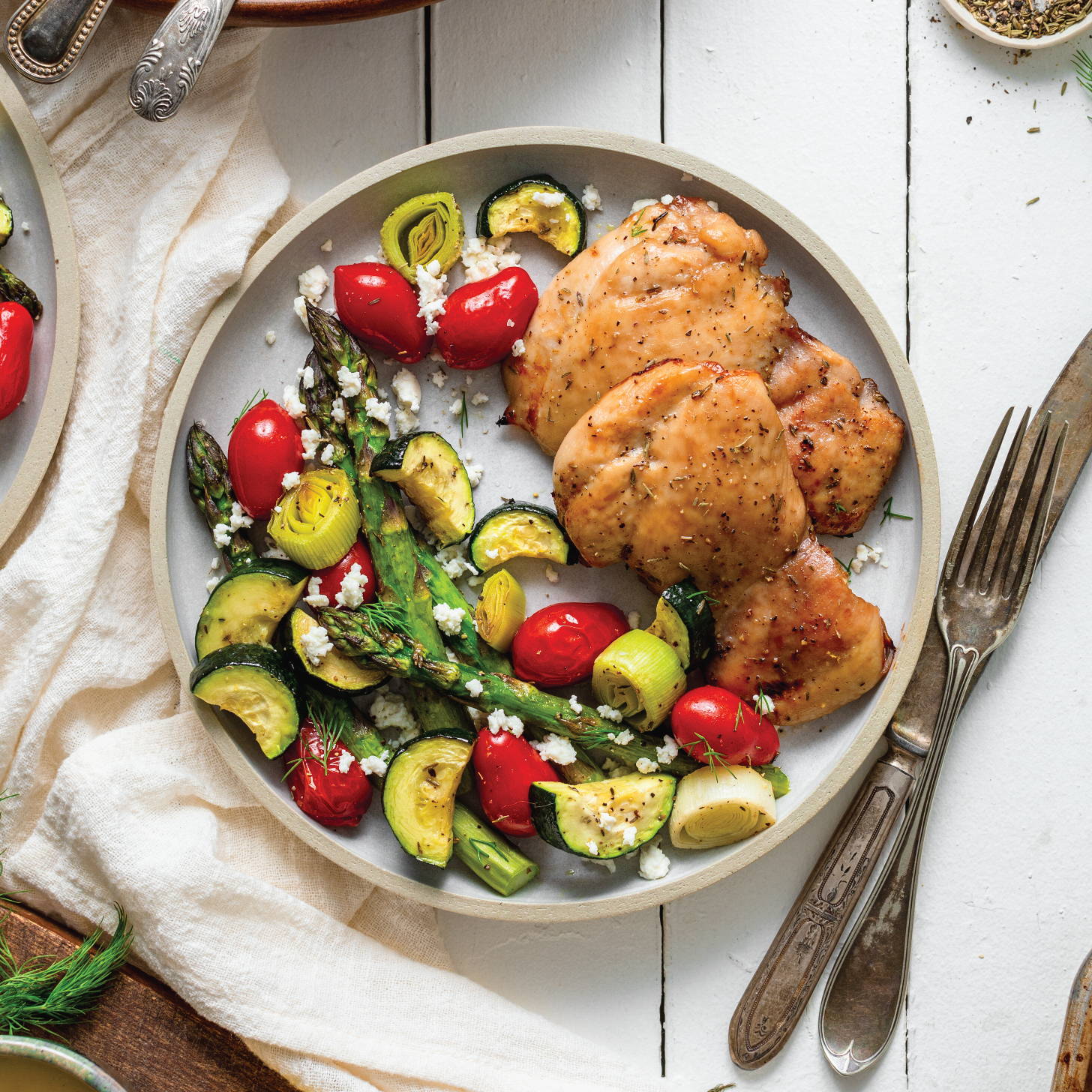 Let's Talk About Execution
The beautiful thing about this sheet pan meal kit is that it means you don't have to think about what's for dinner, you don't have to shop for the ingredients that go into the meal, and you don't have to do any cutting or prep work. If you want to pair this meal with a protein, we suggest chicken, sausage, shrimp, or scallops. You are going to add your protein to the sheet pan, drizzle it with oil and a sprinkle of the provided seasoning blend, and bake it at 425° for 10-15 minutes. When your timer goes off, add all the vegetables to the sheet pan, drizzle with oil, and as much of the seasoning blend as desired. Bake for about 12-15 minutes (or until the zucchini and asparagus are tender). Thats it. Toss with the citrus balsamic dressing and the feta cheese and plate and enjoy! Want to add a little twist to this meal? Cook up some pasta and toss the ingredients, dressing, and cheese with the pasta before you plate it!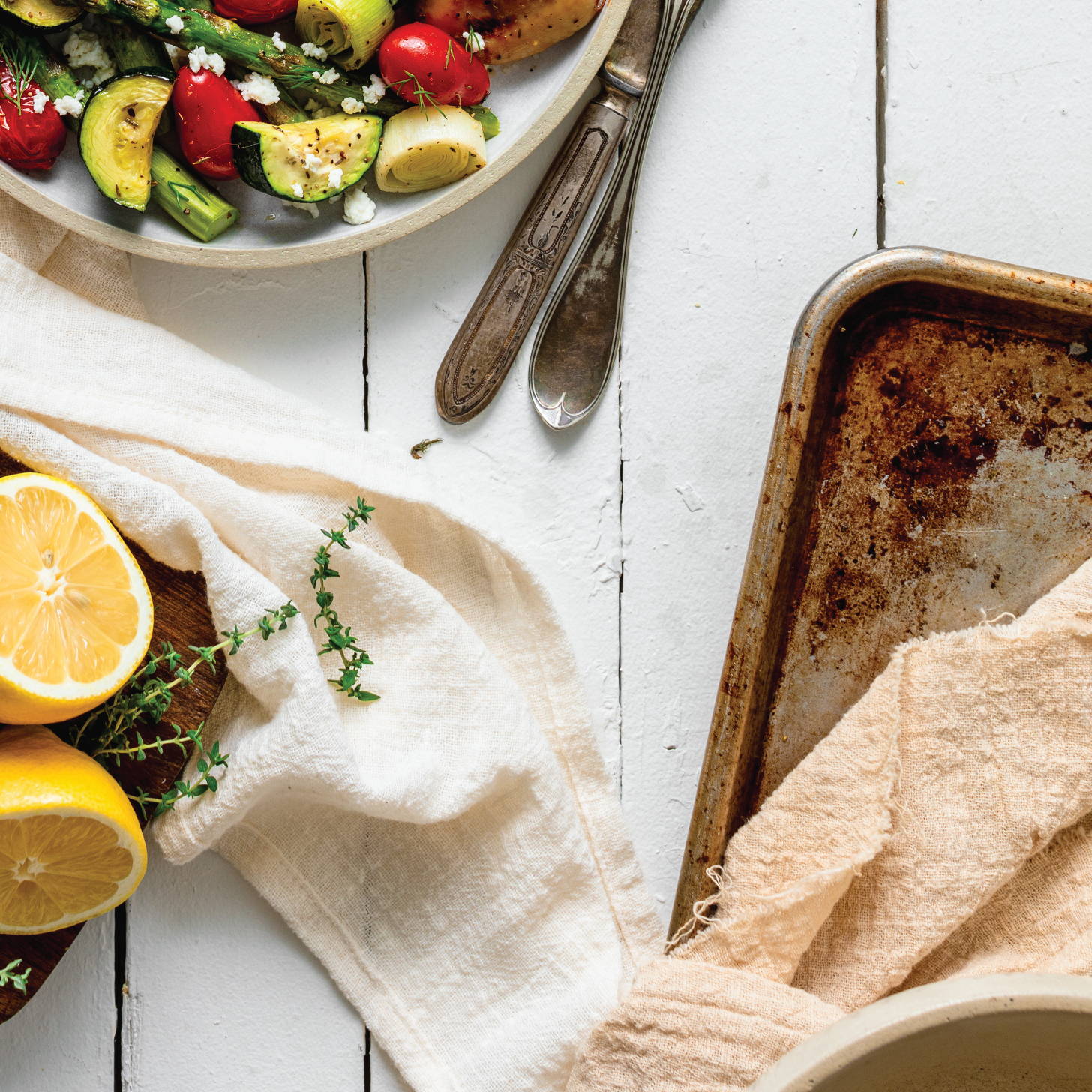 Celebration of the Sheet Pan
We are big believers in convenience over at Inspired Go. That's why we have taken such an immense liking to sheet pan dinner recipes. It means that not only is everything cut and ready for you, but it's also super easy and executable because you can set it and forget it. If you have leftovers, sheet pan meals are typically made of ingredients that are equally tasty the next day.

The Spring Feta Sheet Pan Meal is no exception. It is downright delicious and packed with ingredients that are going to nourish your body. There is a reason that this recipe is coming back to our spring menu for a second season in a row - we cannot get enough of it! Be sure to give it a try while it is on our menu!