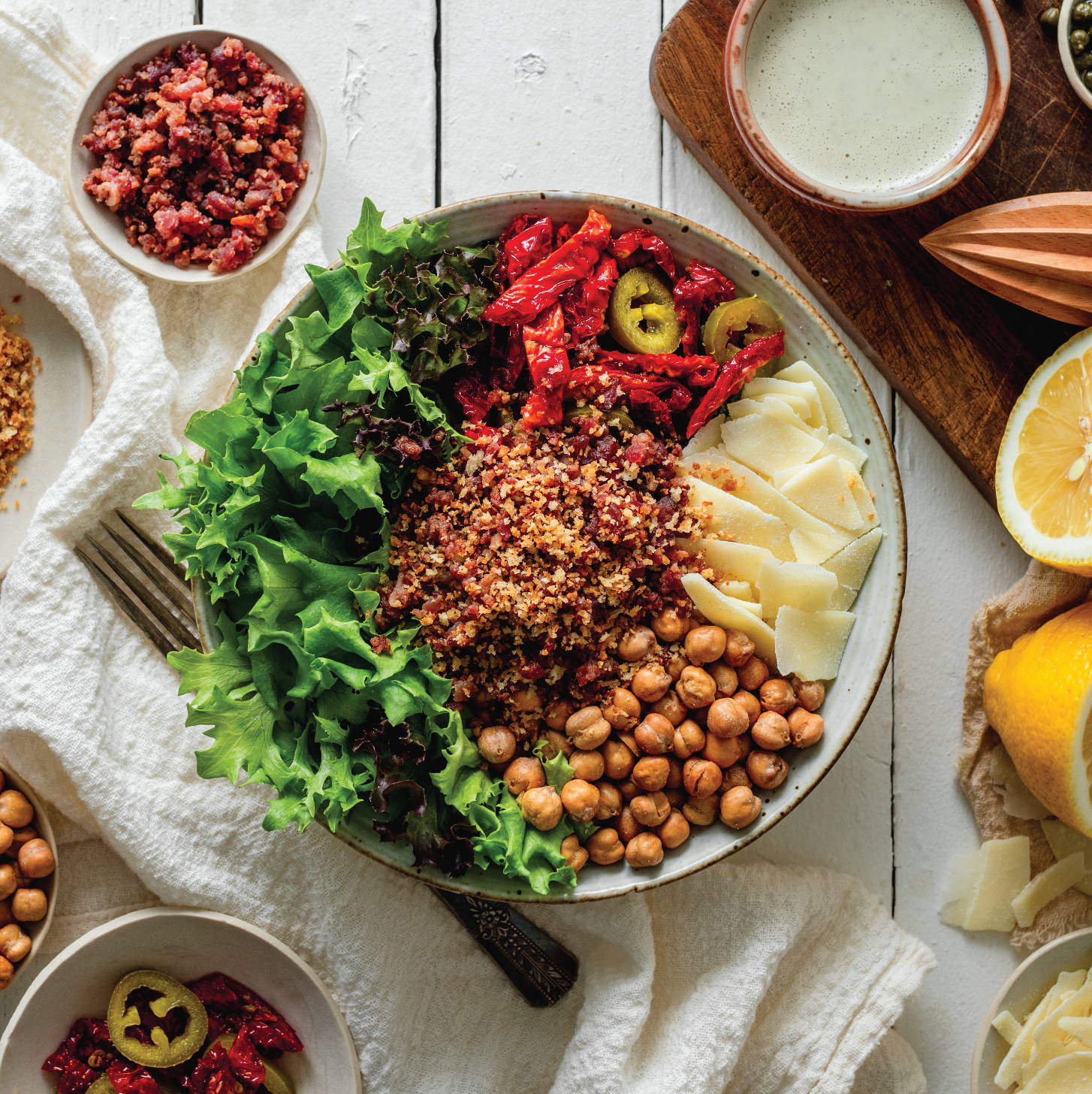 The Spicy Caesar Salad
from Inspired Go
We are so excited to introduce this twist to our menu! We know that our creamy CHAR Caesar Salad is a staple meal. It has the right to be one of our top sellers! It was crafted by top chef Connie Desousa and John Jackson, and it is addictive - to say the least. We wanted to create that same addiction in a new light! Introducing the Spicy Caesar Salad.

This new salad will soon become one of your go-to meals and a new staple in your order. It's got it all: crunch, a creamy texture, and a pleasant bite. It features a creamy caesar dressing that is unparalleled. You can add it to your order now and have it delivered to your home! This meal lasts up to 7 days in the fridge. All of the ingredients are packaged separately so that everything remains fresh and delicious until you eat it. We can't wait to hear what you think!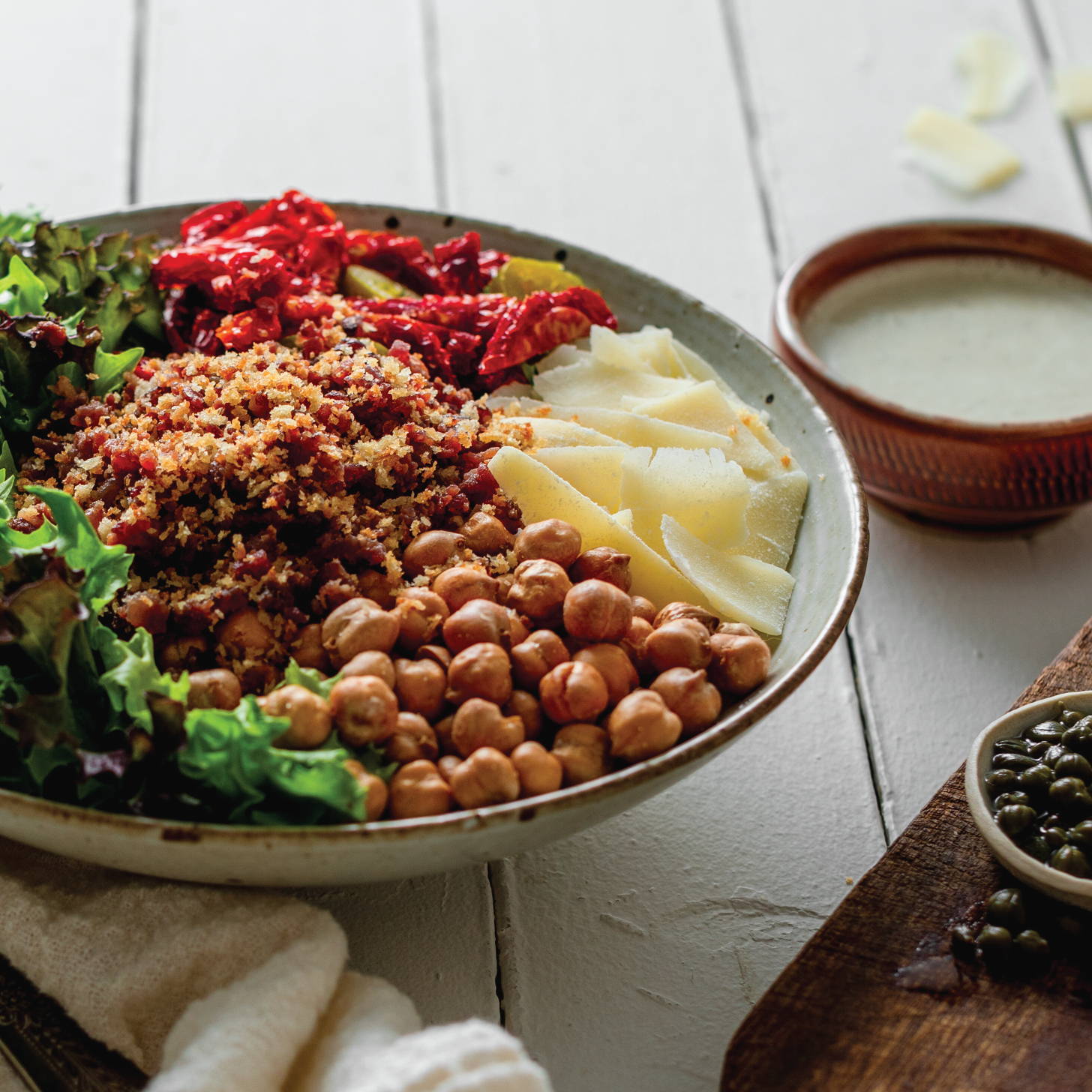 This caesar salad recipe features a unique roasted garlic bread crumb mixture that is attracted to the dressing and coats everything leaf and ingredient. The result is an extra flavour boost and crunch in every bite. We wanted to up the ante on the crunch factor in this meal. We also included crunchy chickpeas, which offer a boost of protein. They are slow-roasted and lightly salted. You won't be sad when you have a few stragglers at the bottom of your bowl that you can happily crunch up to finish your meal! The combination of these crunchy ingredients contributes to the fun of this meal.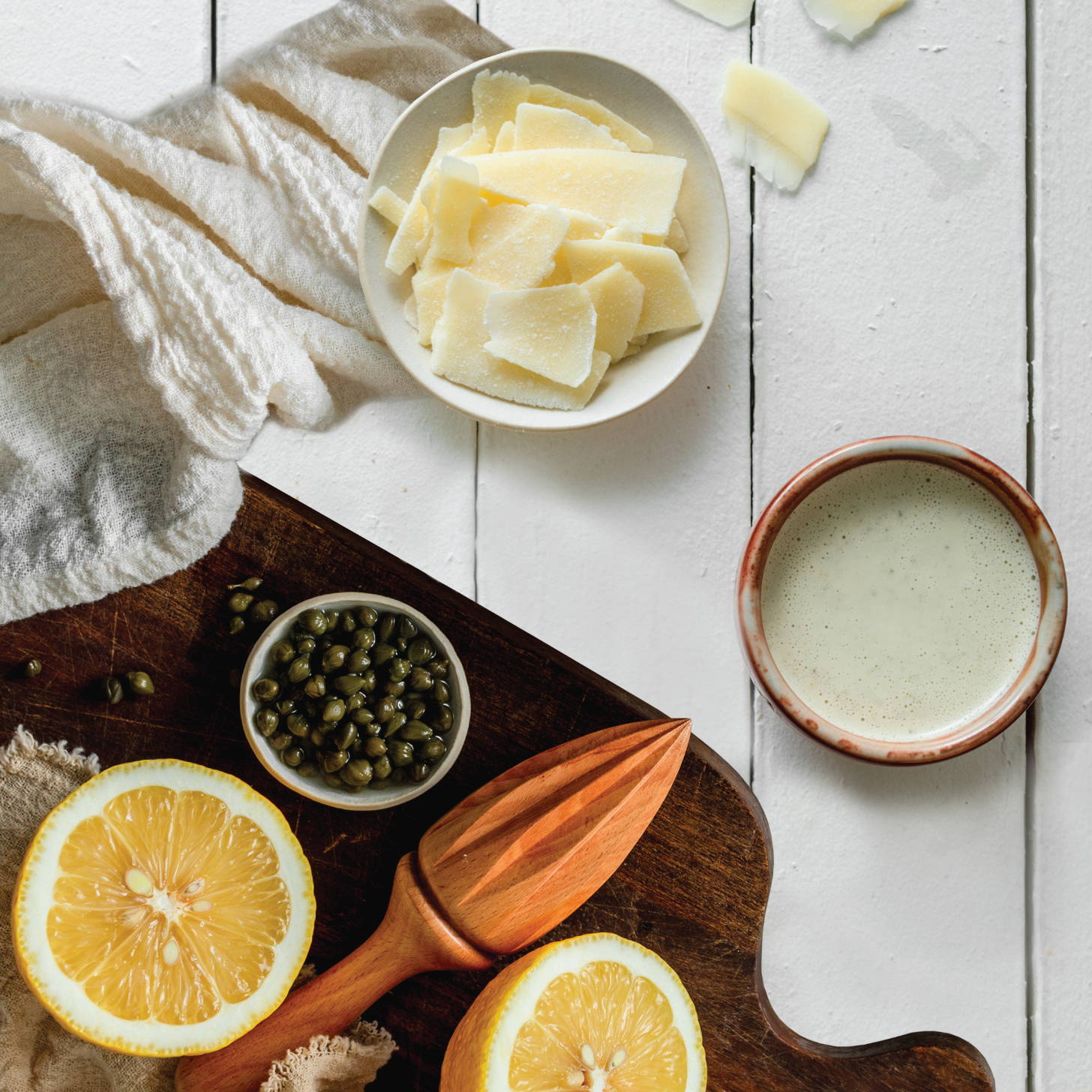 It's the Creamy Caesar Salad Dressing for Me
With endless amounts of tasty caesar dressings out there, we worked very hard to find the superior recipe. The answer came down to what it always comes down to - homemade is best! We mix up our dressings right before your orders are packaged and delivered so that we can stay away from preservatives and can deliver a truly taste superior meal.

This caesar salad dressing recipe features dijon mustard, capers, and a dash of white wine vinegar. We infused the dressing with parmesan cheese to make it extra creamy. After a dash of black pepper, this dressing was finger-licking good and ready for its debut!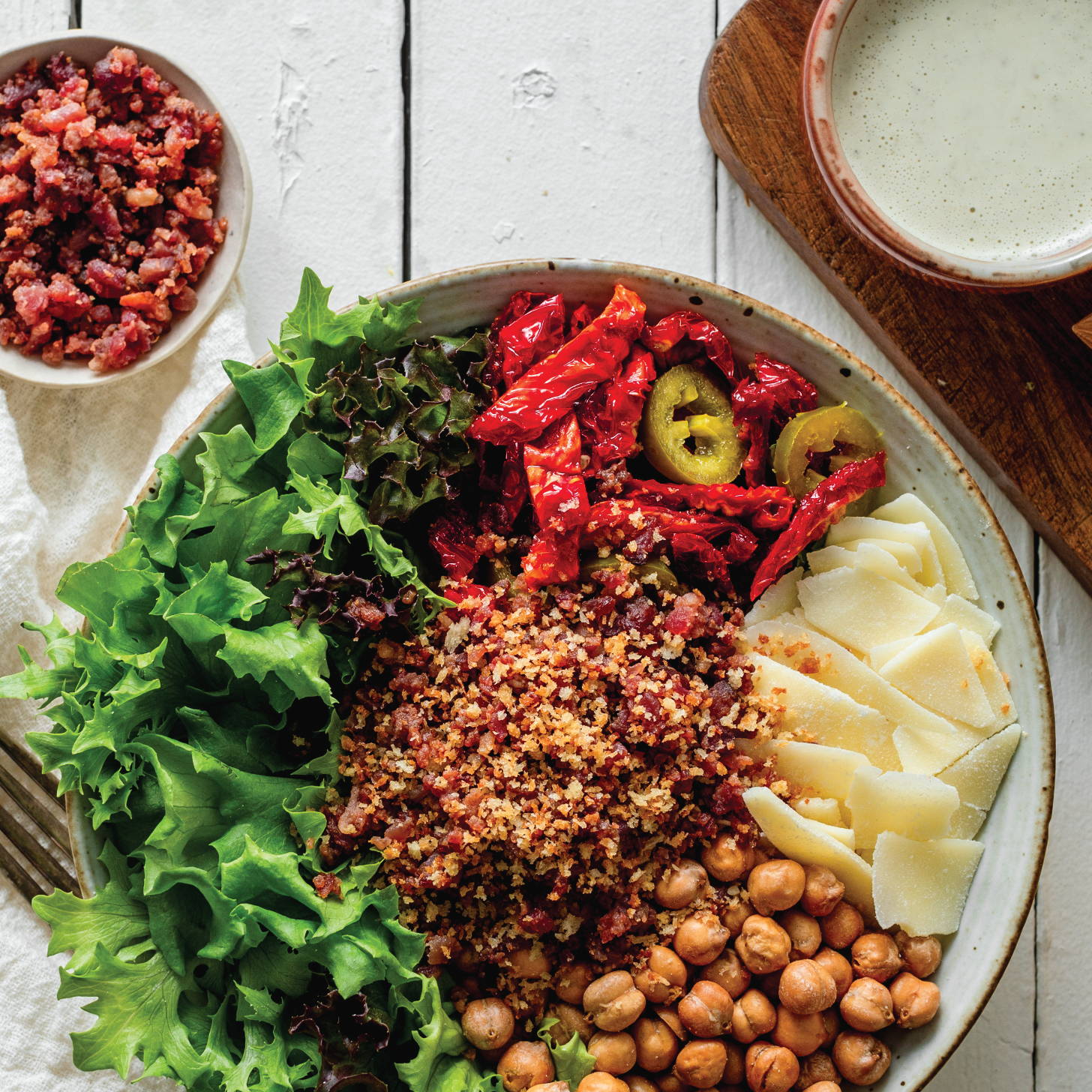 The Twist in this Caesar Salad
The twist in this traditional caesar recipe is all in the ingredients. The spiciness comes from the mix of pickled jalapenos and roasted red peppers. The taste and texture profile from these ingredients are unique and so welcomed.

This salad is packed with protein from the bacon bits and the crispy chickpeas. If you are looking for a pick-me-up on a busy day, this salad is for you!

Every caesar salad needs to have a touch of garlic. We decided to infuse the roasted garlic in the delicious buttery roasted bread crumbs. The flavour is authentic and fresh without being overpowering. Roasted garlic holds a unique flavour profile that is unmatched. Another thing a caesar salad needs is shredded parmesan cheese. We rave about our shredded parmesan cheese that gets scooped up in big chunks while you eat and satisfies those cheese-loving tastebuds.

Finally, we can't forget about the greens. We have completely said goodbye to traditional romaine caesar salads. You don't mess with a good thing when you have delicious greenhouse-grown greens. They are crisp, crunchy, full of flavour, and packed with nutrients. They are grown in our sustainable greenhouse and are not grown with the use of pesticides.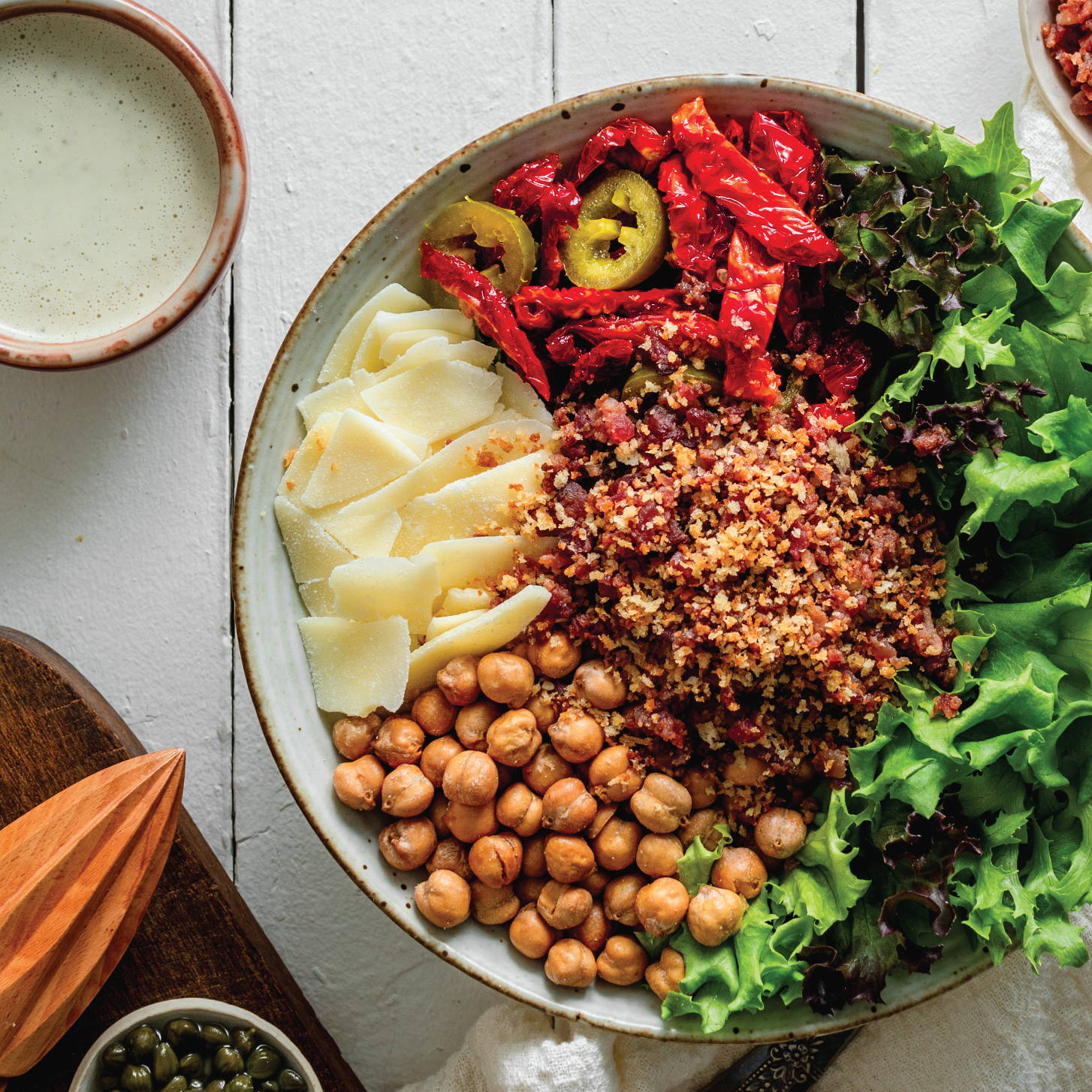 The Caesar of all Caesars
Say hello to this new addictive twist to our menu! It will soon become one of your go-to meals and a new staple in your order. It's got it all: crunch, a creamy texture, and a pleasant bite. It features pickled jalapenos for spiciness, sundried tomatoes, a unique roasted garlic bread crumb mixture for flavour and texture, some crispy chickpeas for crunch, parmesan, and bacon bits for extra protein and flavour. Everything is dressed in a creamy caesar dressing that is unparalleled. This staple meal is bright, bold, and fun. It will last in your fridge for up to 7 days and is perfect for those busy days when you are on the go. We can't wait for you to love this salad as much as we do!

You can order home delivery now. That means we deliver a whole week of meals to your door. Forget about meal planning, chopping, shopping, and all the mess that brings. Try Inspired Go and never turn back!