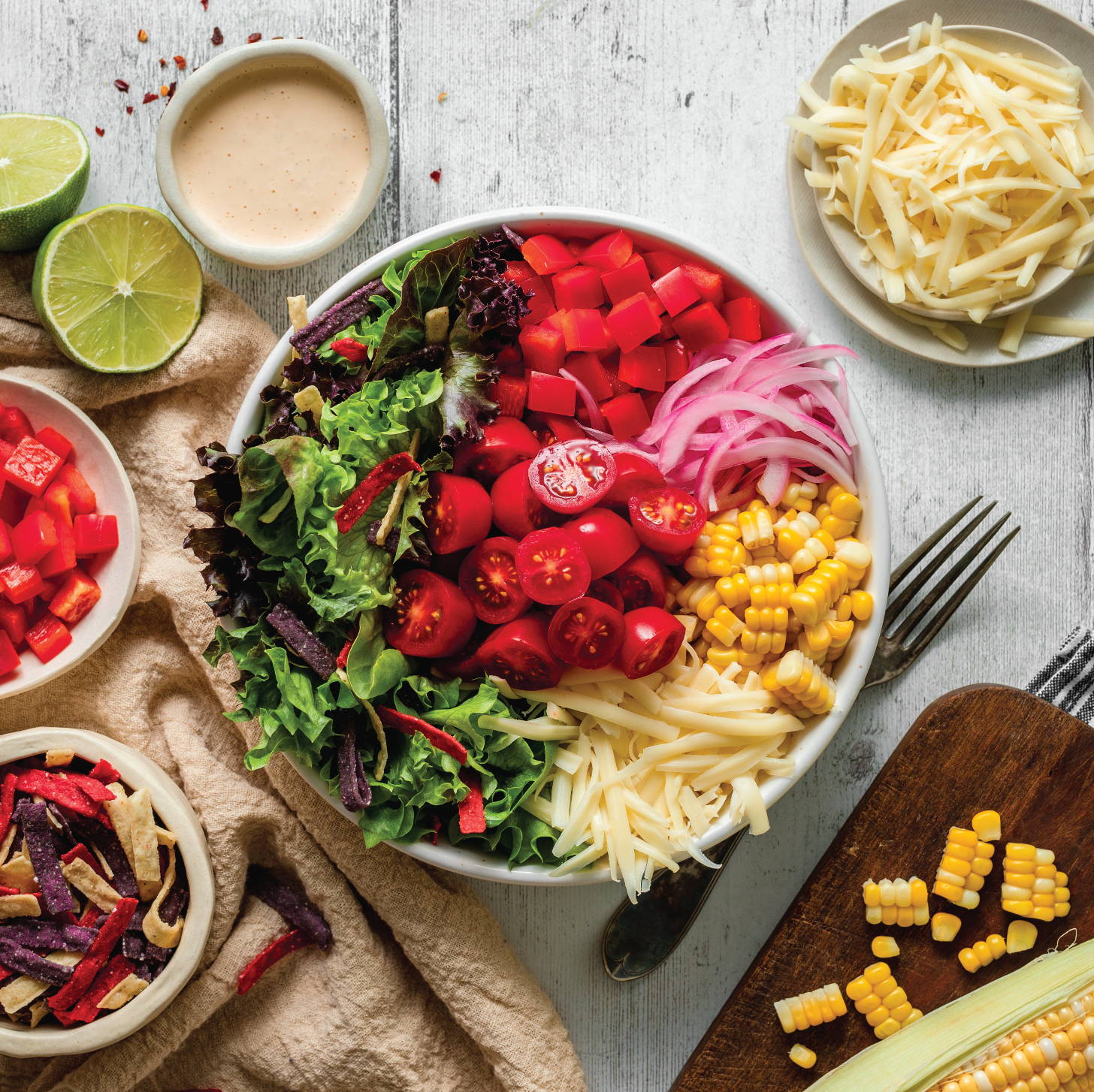 The Southwest Salad from Inspired Go
This flavour combination is one of the most famous of all time, and we have been working on it for a long time. We wanted to deliver something that was truly the best, and we found it! This flavour combo is classic, but the dressing really makes this salad unique. It's filling, fresh, flavourful, and will leave you craving salad! The lettuce, pickled onion, crispy tortilla strips, red pepper, corn, grape tomatoes, and Monterey Jack cheese result in texture heaven. This crowd pleaser will not disappoint!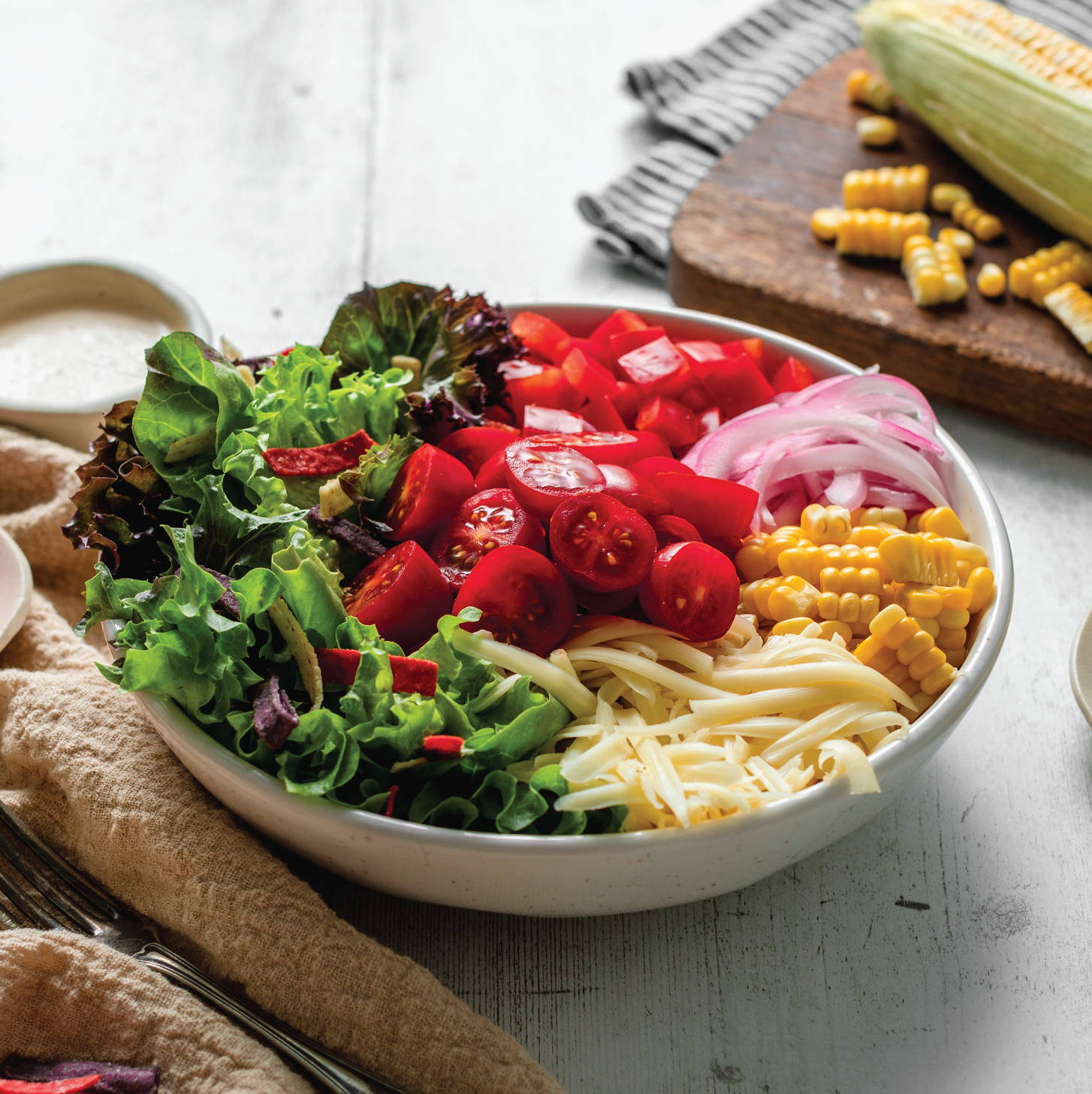 We were dreaming about something cool and refreshing, healthy and bright, yet hearty and filling all at the same time. This is a difficult combination to master, but we have outdone ourselves! This Southwest Salad recipe is hearty, savoury, fresh, creamy, flavorful, healthy and irresistibly crunchy (aka. deeply satisfying).

Quick & Easy: We are all about this. You order your week of meals to your doorstep, and everything is ready for you. There is no shopping, chopping, or messes to clean up. Forget about meal prep. www.inspiredgo.ca is here!

Texture Heaven: We learnt a long time ago that the best salads have texture. They are packed with all kinds of contrasting crunchiness and creaminess, and this Southwest Salad recipe is packed with them!

Versatile: The best part about this salad is that you can layer on a protein for those extra busy days. Ground beef, grilled chicken, or hardboiled eggs would all pair extremely well with this taste profile.

Crowd Pleaser: If you are introducing someone new to Inspired Go, you can't go wrong with suggesting a Southwest Salad. It's a long-time favourite, and this one will have them hooked.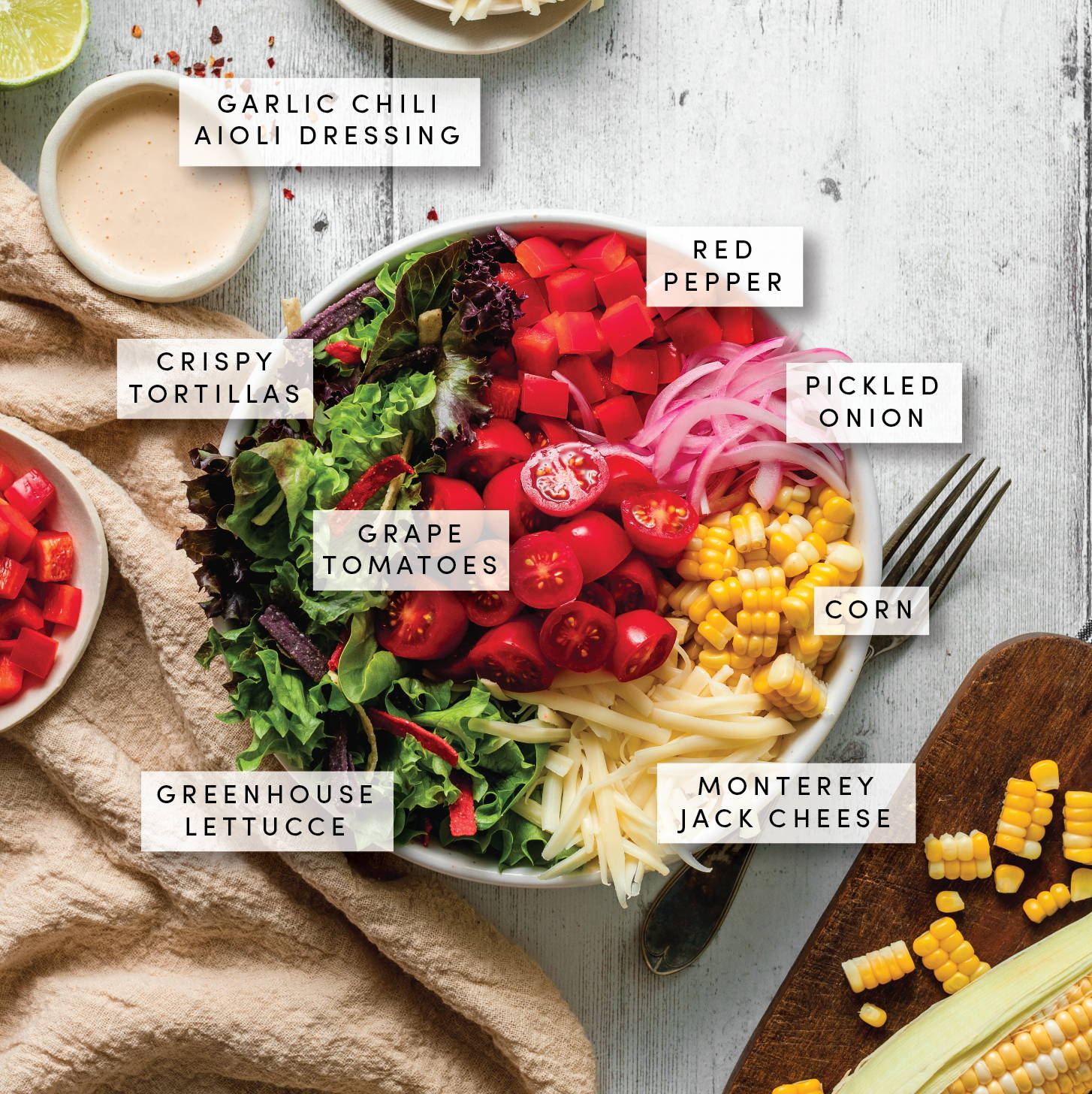 Greenhouse Lettuce: This is the base of all of our salads. It is crisp but soft and features a slight curl in the leaves to catch the dressing. It is grown locally, and therefore it lasts an incredible amount of time in your fridge. Because it is grown locally, there are fewer food miles used to transport it, and we have implemented amazing technology in our greenhouse to make our growing practices sustainable. You can't help but feel good eating these greens!

Pickled Red Onion: Red onions offer a kind of pop in flavour that you can't achieve with very many ingredients. They truly make the recipe and add a fun colour pop as well!

Monterey Jack Cheese: The creamy component to this salad is so crucial. The Mexican flavours in this salad are accentuated in every bite with the addition of this ingredient.

Crispy Tortilla Chips: No Southwest Salad would be complete without chips. We added the crispy chip texture using tortilla crisps which are a healthier alternative and feature a delicious spice blend that will completely mask the fact that you are eating a healthy salad.

Red Pepper: We selected delicious red bell peppers because they are sweeter than other colours of bell pepper. The sweetness adds an extra layer of taste to this dish.

Sweet Corn: We sat down and did some very serious testing between frozen, fresh, and canned corn. We weigh various factors, including longevity, taste, and appearance. We always prioritize taste, and canned corn wins every time! Your corn will taste delicious, will have great texture, and will last in your fridge all week so you can enjoy it at any time!

Grape Tomatoes: This juicy and fresh ingredient adds an extra little pop of colour and flavour!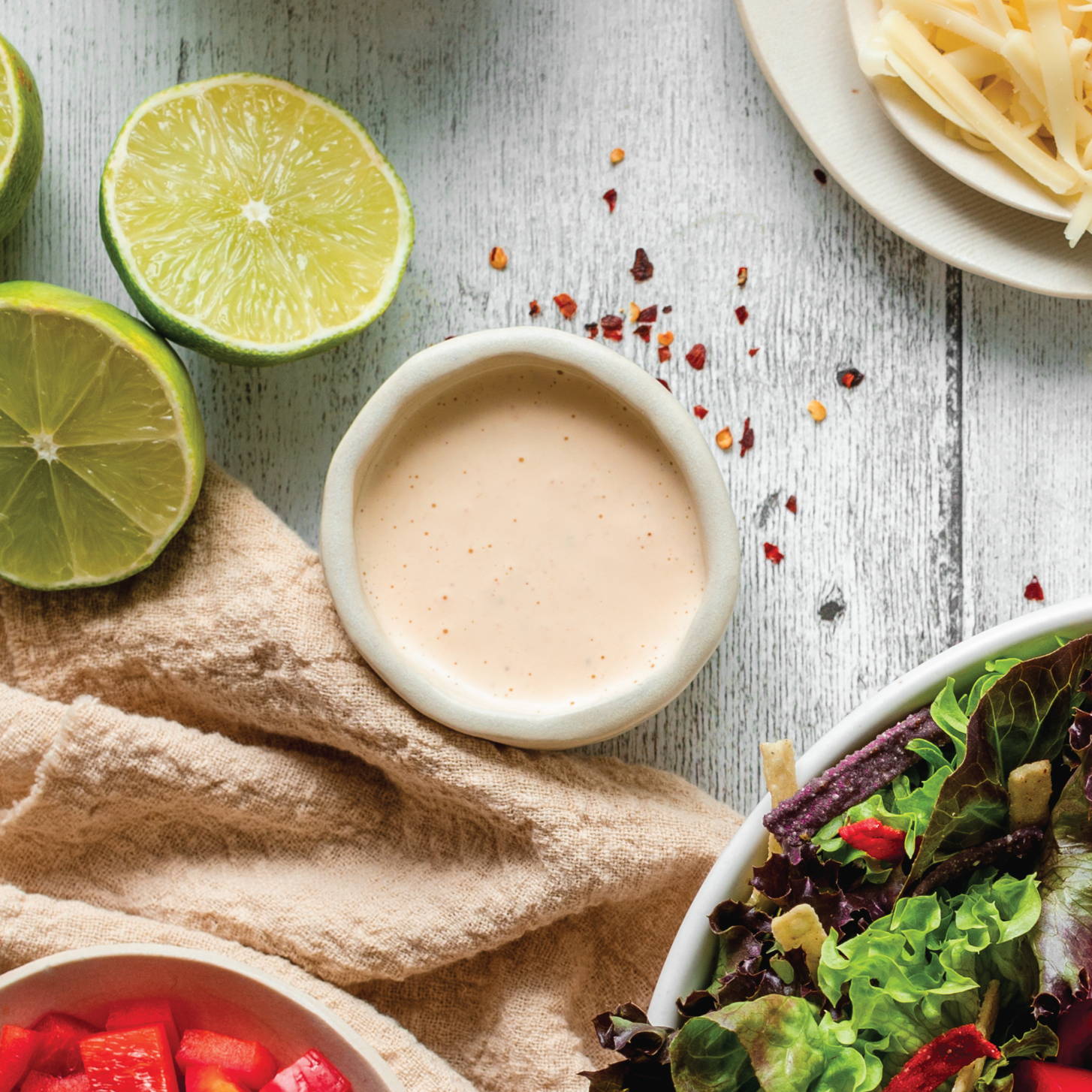 Homemade Garlic Chili Aioli
This salad dressing is a luscious and creamy delight. It features tangy sour cream with a dash of mayo and a mix of lime juice, garlic, cumin, and chili flakes. The chili flakes in this recipe add a small but necessary kick to take it back to its southwestern roots. With simple, low-fat ingredients, we don't have to skip on the creamy-based dressing!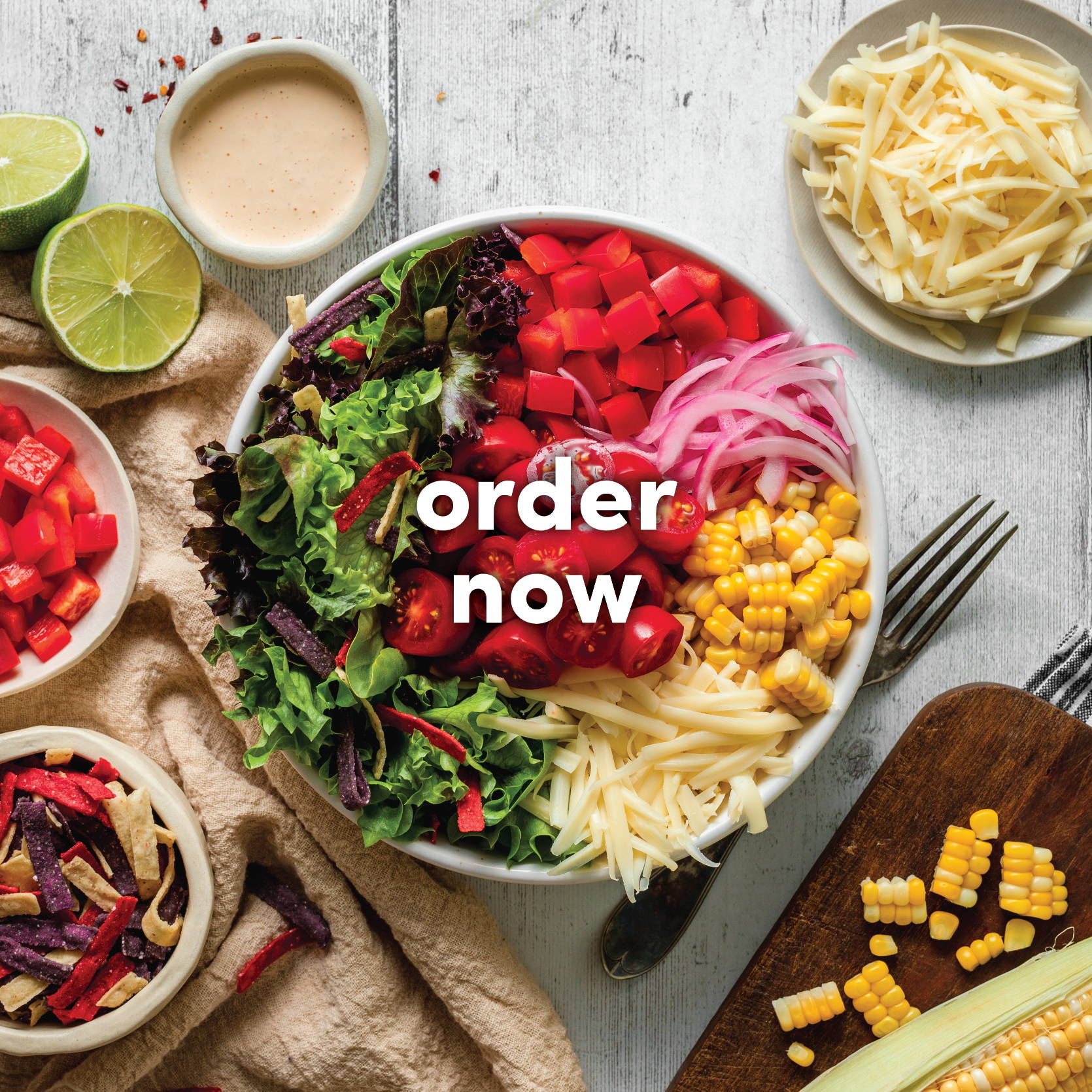 The Southwest Salad is now available on www.inspiredgo.ca. You simply place a one-time order for delivery, and it arrives at your house. You are set for the whole week and can eat healthy every day!