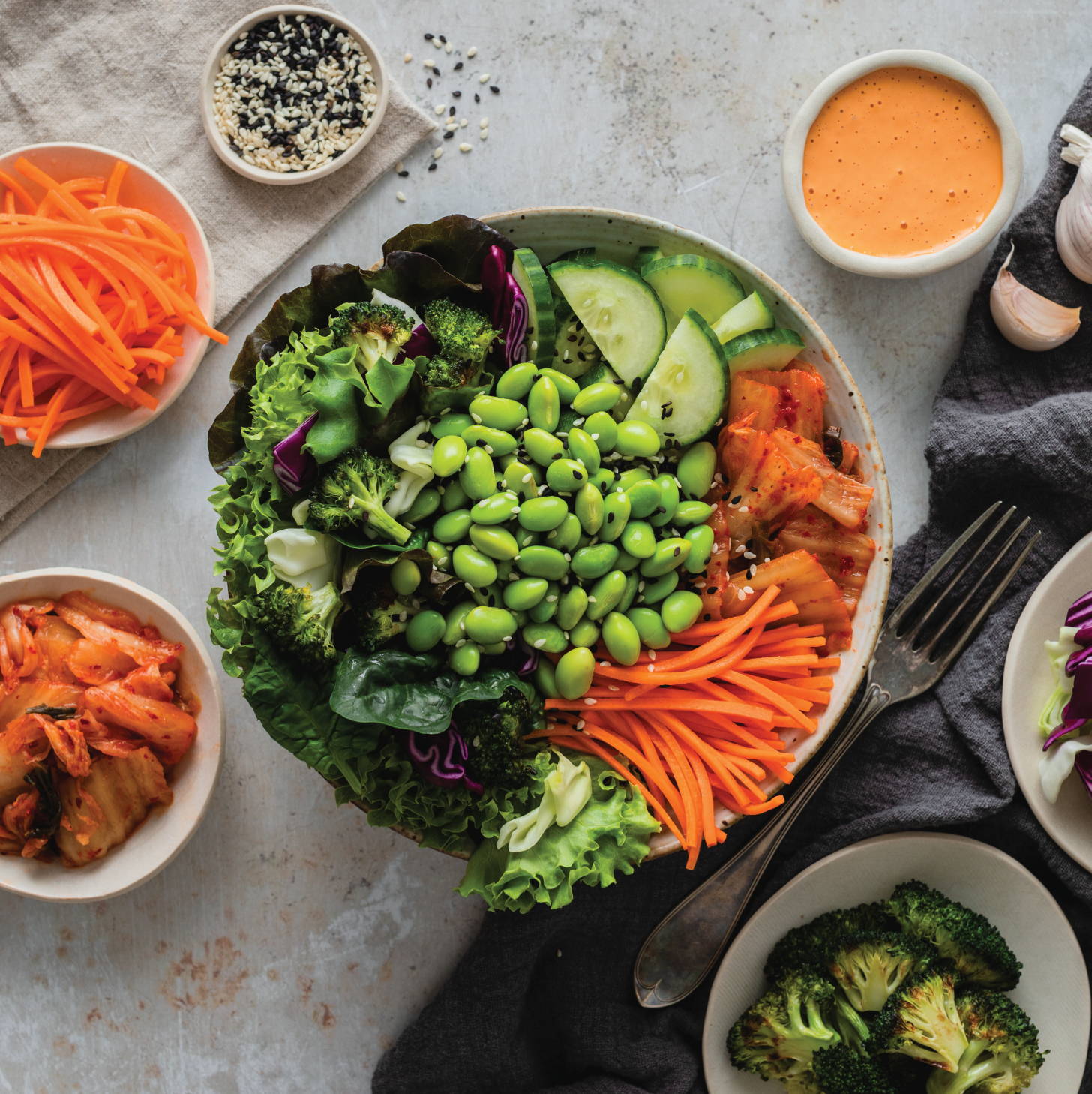 The Seoulful Greens Salad
from Inspired Go
Feed your mind, body, and soul with this dish that is a tribute to the vibrant and delicious flavours of Korea. We felt inspired by popular Korean restaurants and their vibrant and bold dishes. We decided to channel this inspiration into the newest Inpsired Go meal. From the first look of the Seoulful Greens Salad, you can already begin to imagine the delicious flavours encased inside your Inspired Go package. It's a delightful treat you will want to be eating on repeat! Place an Inspired Go order today to experience the mouthwatering flavours of Korean dining in every bite.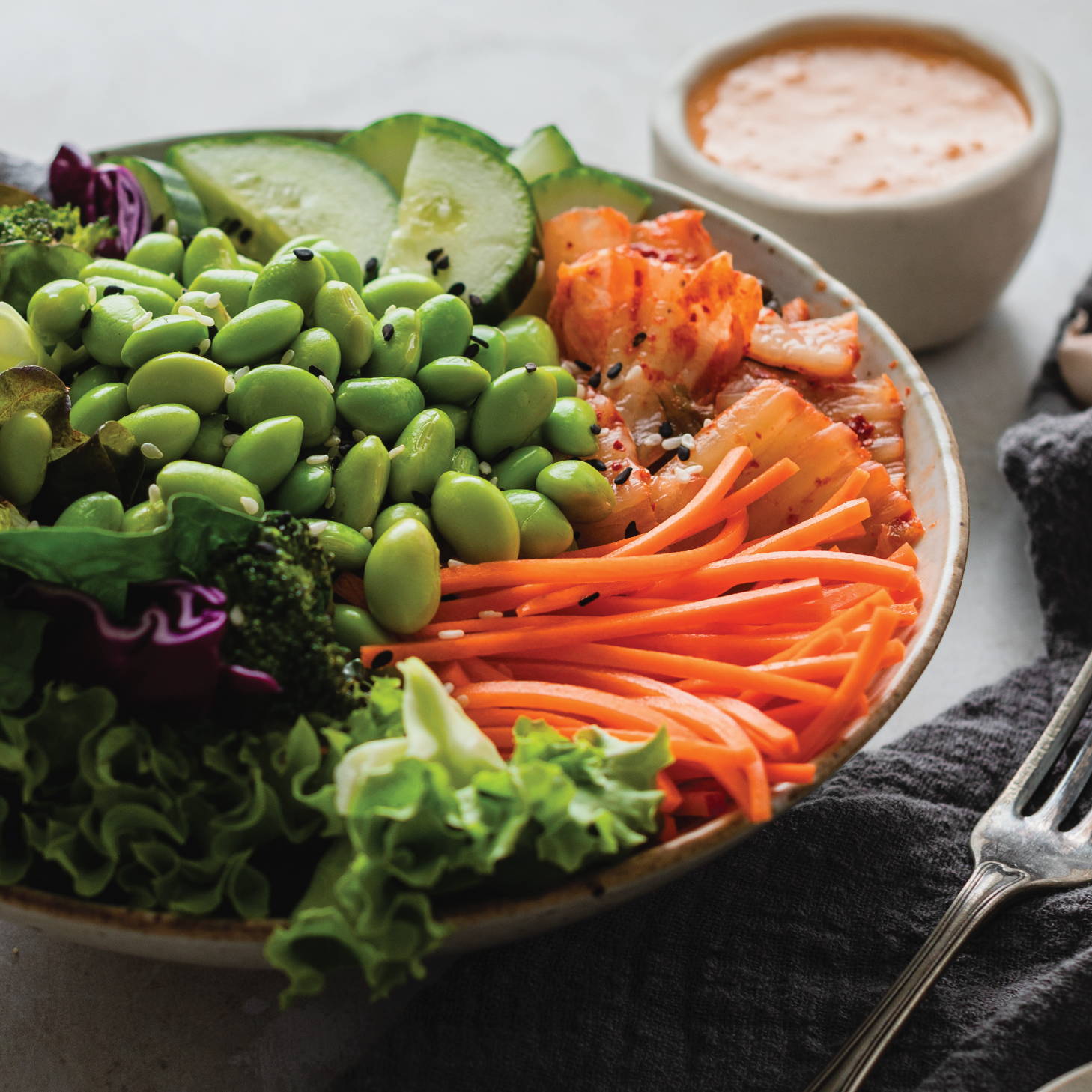 Balanced and Bold Ingredients
This recipe features crisp ingredients like cucumber, cabbage, carrots, and edamame. It also offers an excellent variety because we mix these fresh ingredients with kimchi's bold and spicy taste. What really brings this meal all together is our creamy gochujang dressing that adds a touch of warmth and richness to every bite. By roasting our broccoli in this dish we bring out a balance of flavours that rounds out the whole meal. Everything is topped with a sprinkle of sesame seeds, adding a little extra crunch and texture. Trust us; this salad is truly a feast for the senses!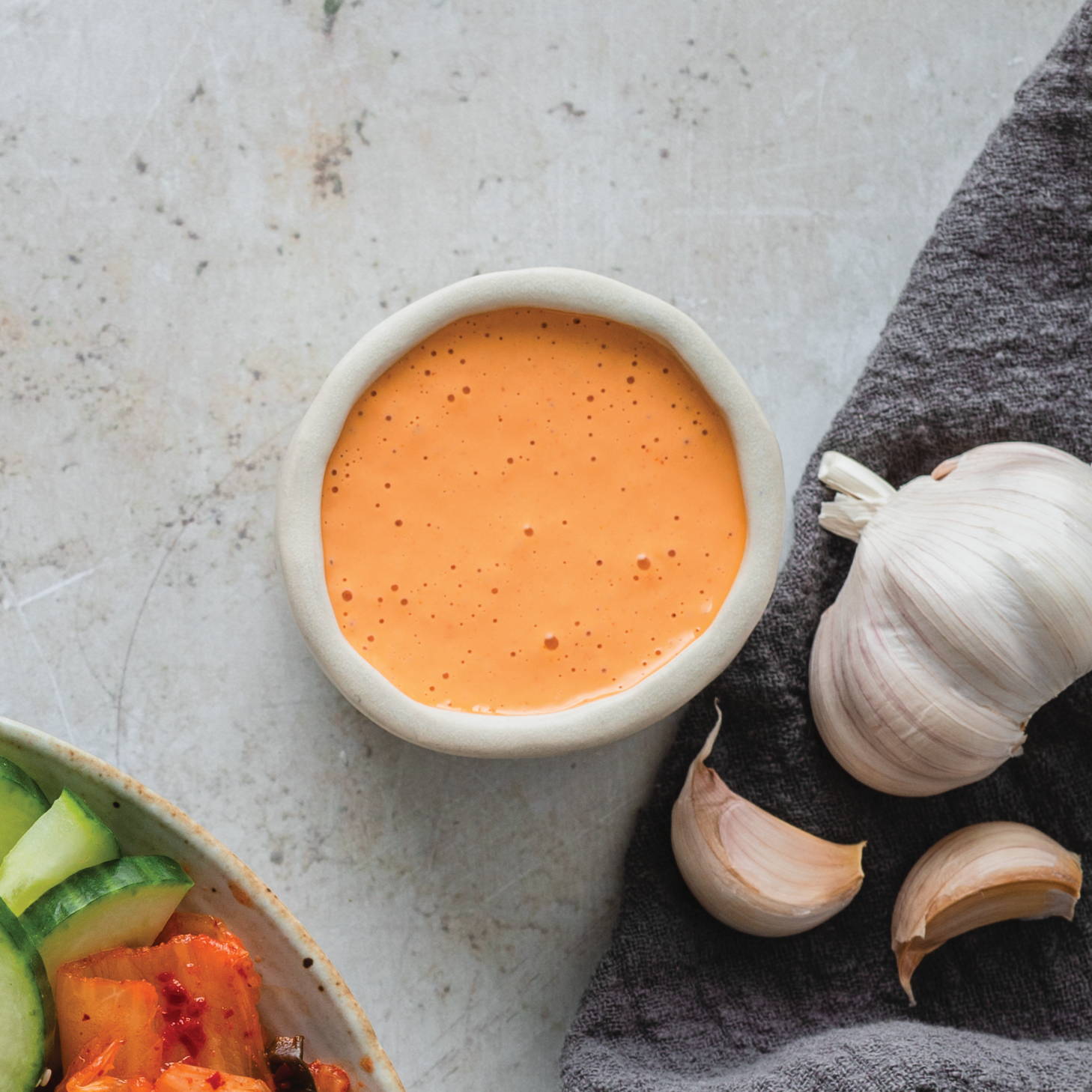 Creamy Gochujang Dressing
A highlight of this meal is the rich dressing featuring the gochujang sauce popular in Korean cooking. This dressing is savoury, sweet, and spicy like the traditional sauce. We embrace the flavour of garlic and sesame in this dressing to highlight the earthy tones that bring out the flavour of some of the raw ingredients in the meal. We also gave the dressing a creamy profile to coat every ingredient and neutralize the spicy tones. Like many of our dressings, this one is a brand-new creation and is being introduced in this recipe exclusively. You will not want to miss the chance to try it!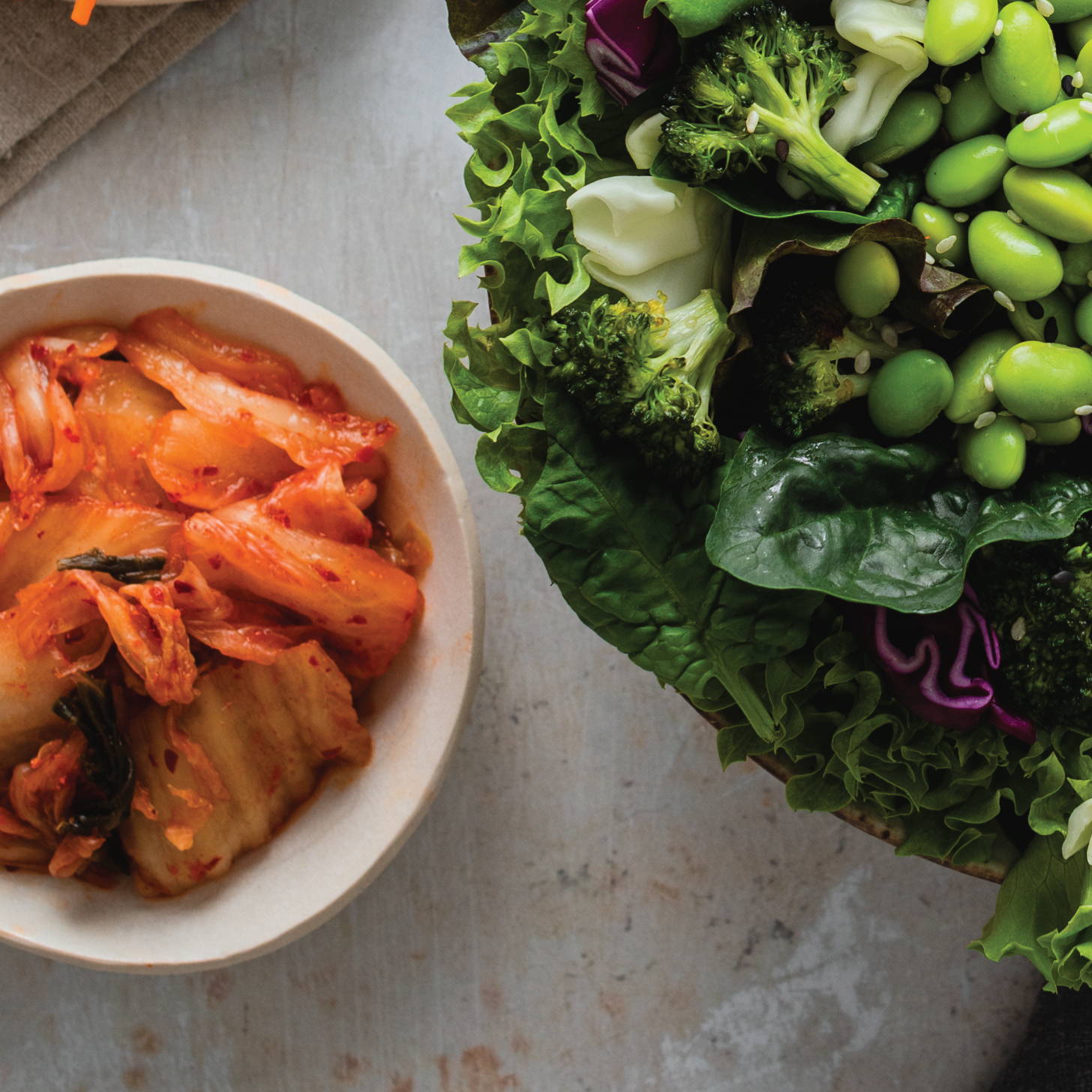 There are many hidden benefits in the Seoulful Greens Salad. One of those benefits if that it contains many nutrient-dense ingredients, like the traditional Korean Kimchi. Not only is kimchi very nutrient dense, it is also a natural source of probiotics that can improve your gut health and your immune system. Your body will thank you for combining the benefits of kimchi with the many benefits of fibre-rich raw vegetables such as spinach, carrot, cucumber, and broccoli. This salad contains 11g of protein and 7g of fibre. It also contributes 24% of your daily iron intake and 16% of your calcium intake. We encourage you to dig in for yourself to discover all the other taste benefits the Seoulful Greens Salad offers!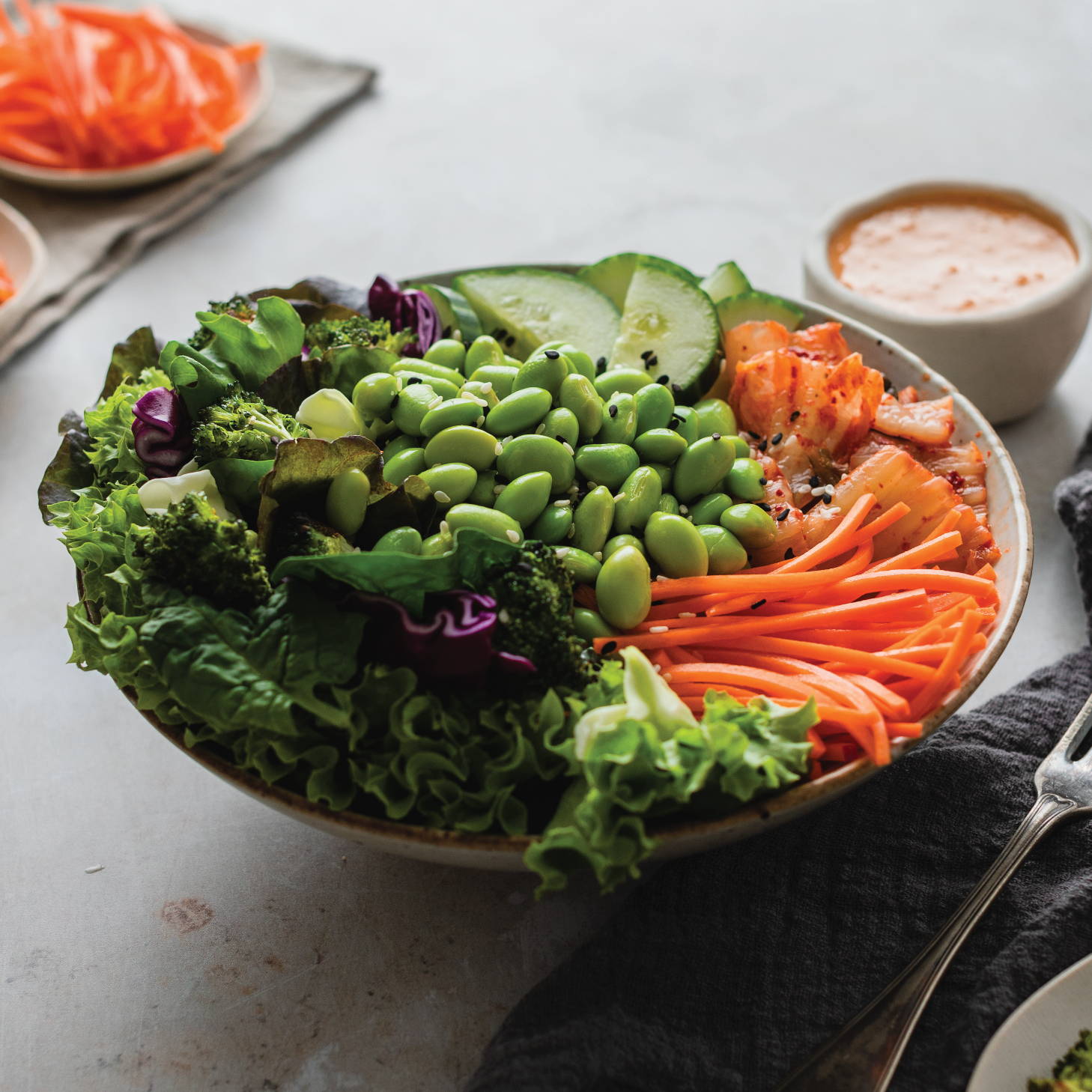 Nourish your body and soul with this dish that is a tribute to Korea's vibrant and delicious flavours. The Korean restaurant space inspired us, so we feature crisp ingredients like cucumber, cabbage, carrots, and edamame. We mix these fresh ingredients with the bold and spicy taste of kimchi. Everything is brought together with our creamy gochujang dressing and balanced out by our roasted broccoli. Topped with sesame seeds for extra crunch and texture, you will soon discover that the Seoulful Greens Salad is a feast for all of your senses! Treat yourself to the Seoulful Greens Salad by placing an Inspired Go order today and experience all the mouthwatering flavours of Korea in every bite!