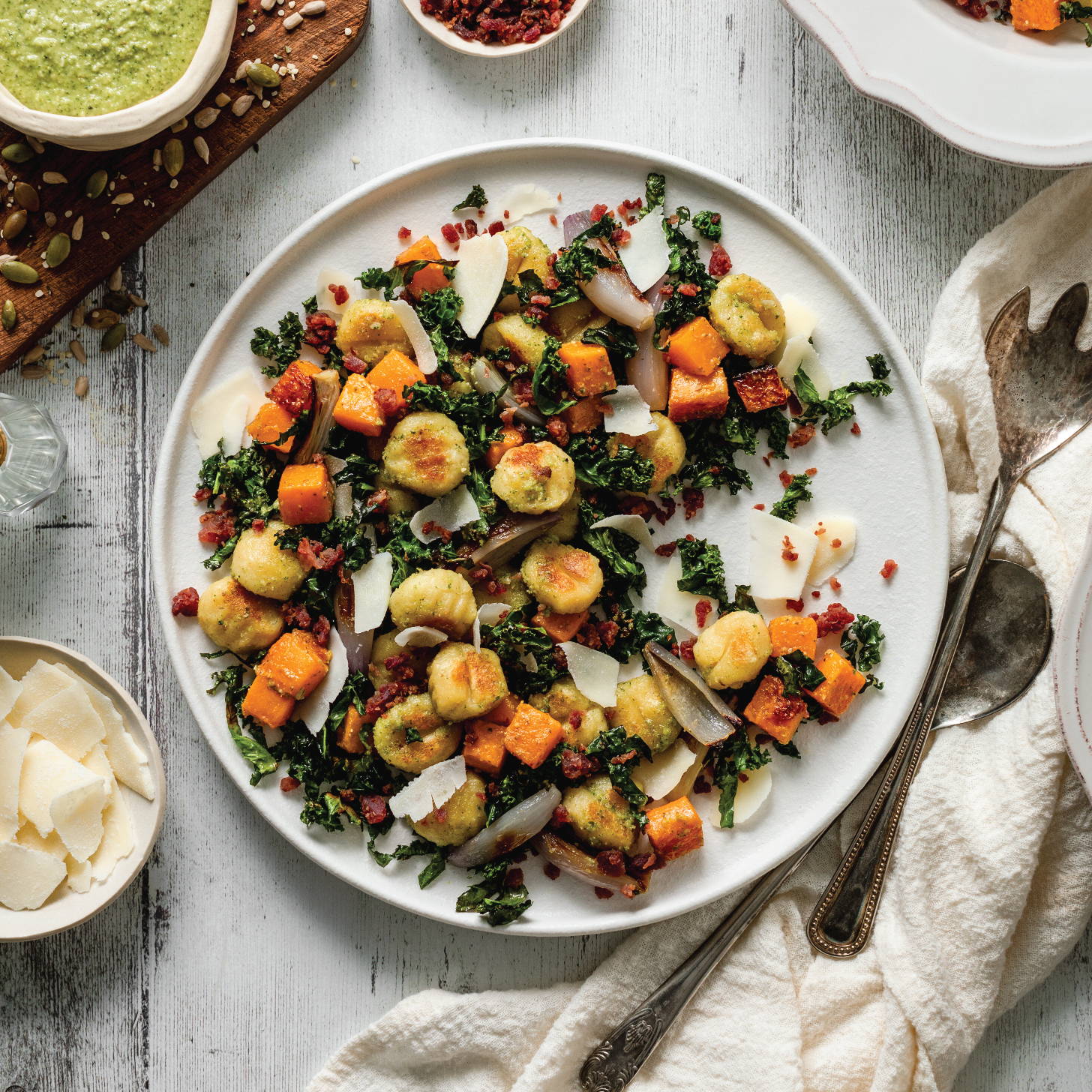 Rosemary Pesto Gnocchi Sheet Pan Meal
from Inspired Go
Pesto and potato gnocchi is the perfect fall dish - and it is a favourite for all ages and taste preferences! All Inspired Go dinner options are convenient and easy because there is no chopping involved. All of the ingredients are prepped and ready to be cooked. You are also saving yourself the time of grocery shopping because we deliver right to your doorstep. Take back the important evening time with this delicious new recipe!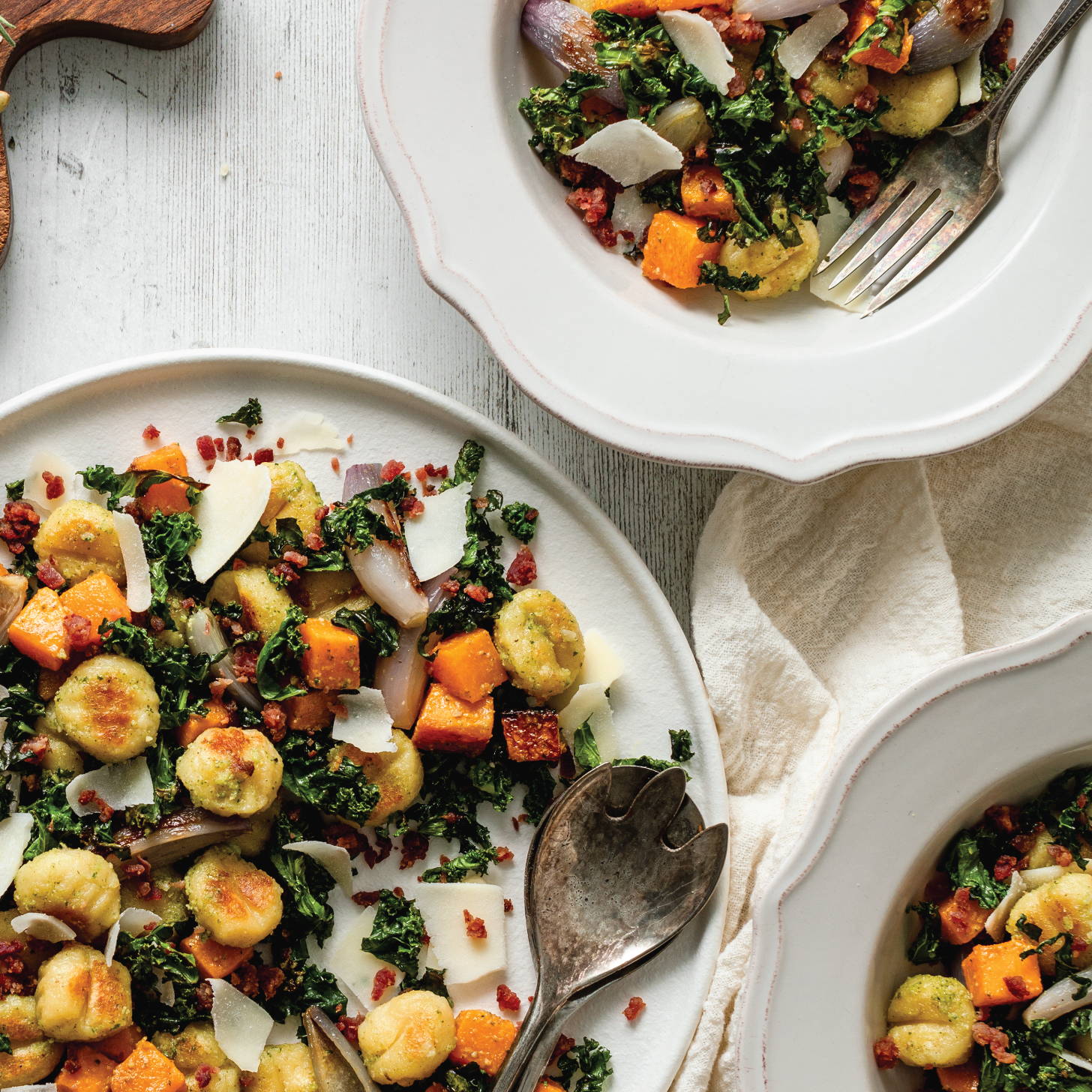 This Meal is BIG and Beautiful!
We hope you have an appetite because this meal is large and filling. The butternut squash and potato gnocchi are packed with nutrients and are the perfect dense meal for this fall weather. We have a serving suggestion for this meal for 3 to 4 people. Once everything is added to the sheet pan, you will see what we mean - there is so much food!!

Not only is this meal filling, but it also makes you feel like an amazing cook - in 30 minutes and a little effort, you have a beautifully plated meal that smells fabulous. We eat with our eyes, and this meal does not disappoint. It's the colour pops that do it for us once this meal is plated. The mix of green, orange, and pops of white offer texture and flare to your mealtime.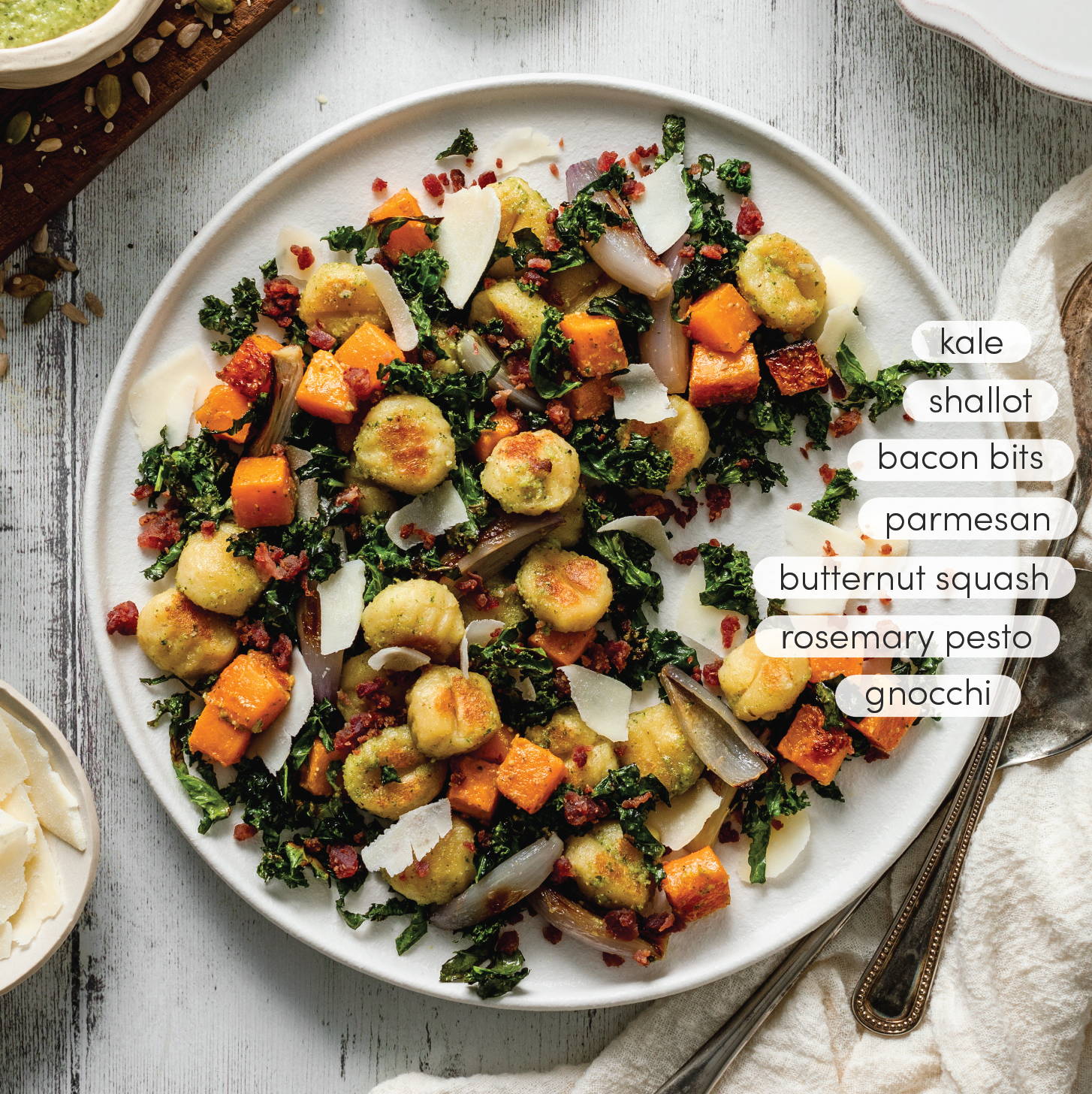 Packed with Tasty Ingredients
A considerable portion of this gnocchi recipe is freshly cut butternut squash that you roast to release the flavours. It is sweet and delectable when paired with homemade rosemary pesto. The kale and shallot give you a boost of nutrients and offer flavour and texture with every bite. This meal comes with your potato gnocchi, which you simply roast with everything else on the sheet pan in the oven. It's soft, buttery, and filling! The meal is topped with the rosemary pesto, freshly grated Parmesan cheese, and bacon bits for added protein and flavour. The combination of ingredients is absolutely delicious!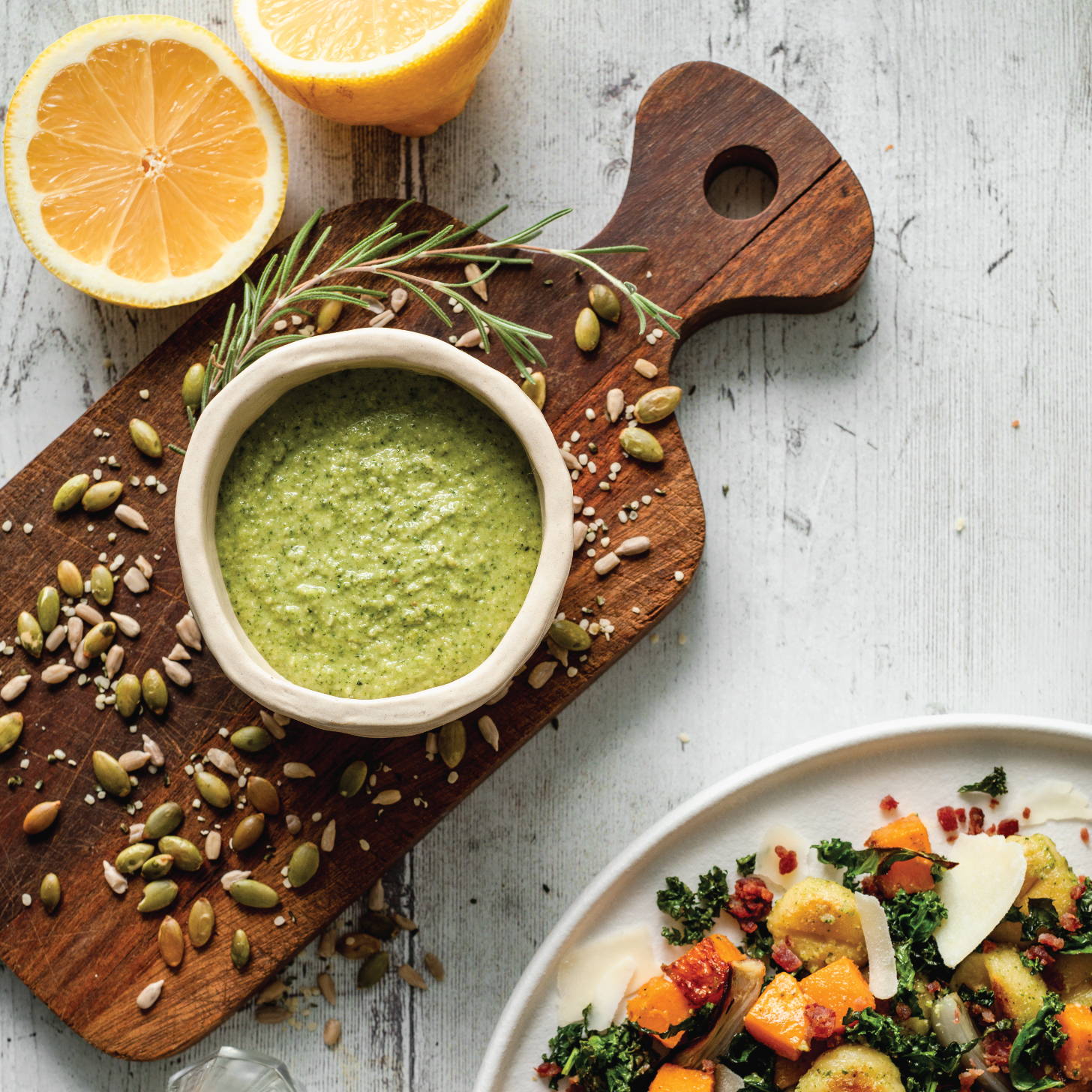 Spotlight on the Rosemary Pesto
With an infinite number of pesto recipes out there, we worked hard to develop and test to find the best one to pair with this gnocchi recipe. This homemade version will change your life if you are used to using store-bought pesto. It's just so vibrant and fresh.

The featured ingredients in our pesto are lemon juice, basil, fresh rosemary, pumpkin seeds, sunflower seeds, hemp seeds and parmesan. The added fresh rosemary gives this pesto a delicious fall profile and perfectly compliments the other ingredients in the dish. The seed mix is part of our frequently used super seed mix packed with nutrients and flavour.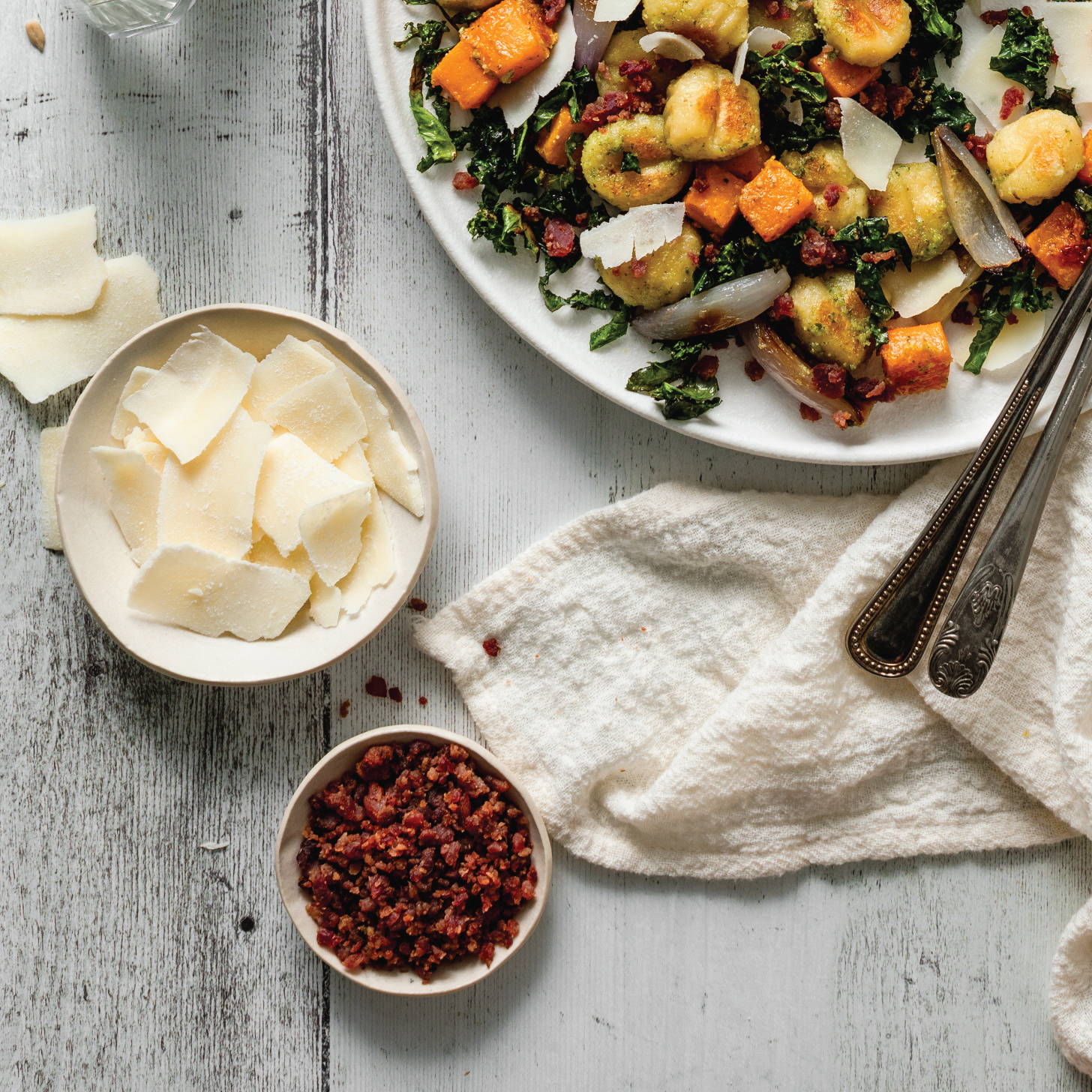 To prepare this meal, set your oven to 450°. You are going to add your protein of choice to a baking sheet (if desired) along with the butternut squash, shallot, potato gnocchi, and a drizzle of oil, salt, and black pepper.

Bake for 20 minutes, flip, and add the kale once it is drizzled with oil. Bake for an additional 10 minutes or until the butternut squash and gnocchi are tender.

This is the best part. Dinner is ready! Remove from the oven and toss the entire meal with the rosemary pesto. Toss in the bacon bits and the freshly grated parmesan cheese, and dinner is served! You can add another dash of salt and black pepper to your plates if you want.

Protein pairing suggestions include chicken, sausage, and/or shrimp. You could even pair this meal with your favourite Inspired Go salad and have it feed more than four people!