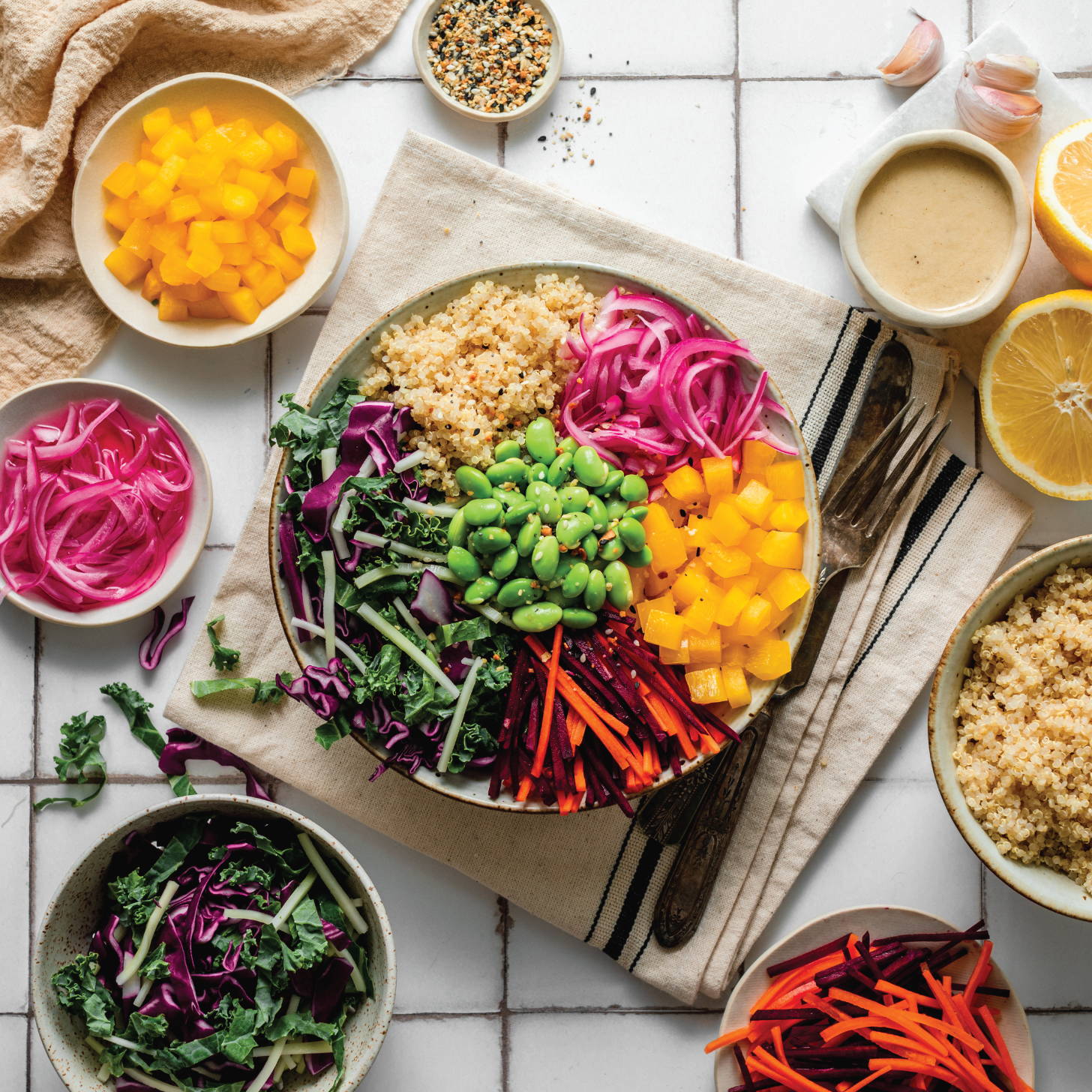 The Rainbow Bowl from Inspired Go
In the newest healthy recipe from Inspired Go we feature a few simple ingredients that lead to big, colourful flavour. We continue to preach the importance of eating the rainbow, and we are here to make it even easier with this new bowl recipe. Not only is this buddha bowl recipe plant based, it is also gluten free and dairy free. It also features a delicious lemon tahini sauce that tops it all off.

At Inspired Go, our mission is to inspire every individual to thrive by removing the barriers to healthy eating. When you need a quick meal, Inspired Go has you covered with fresh and healthy meals delivered to your door. You can order a week of meals today at inspiredgo.ca.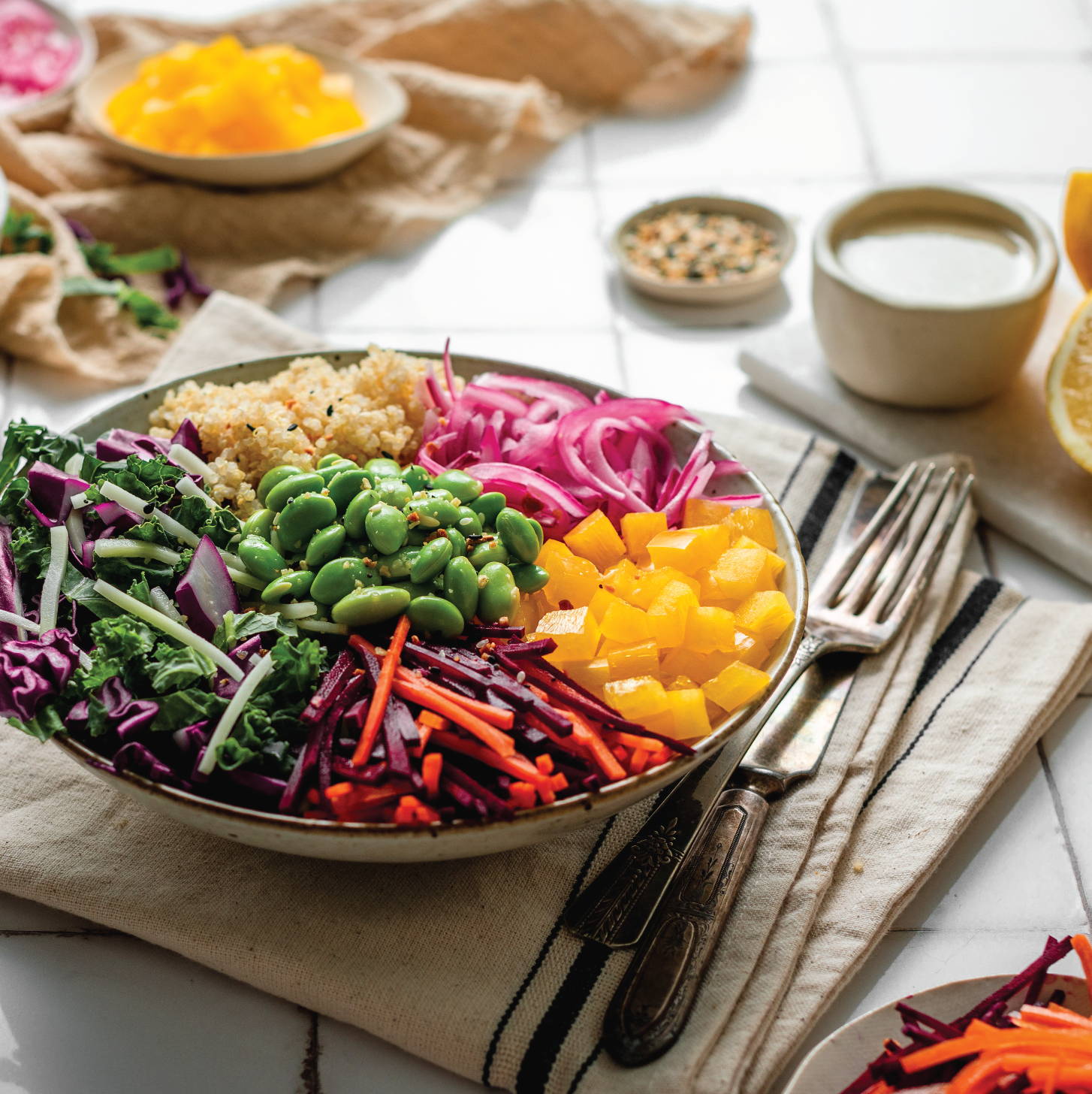 Eat the Rainbow with this Rainbow Veggie Bowl
The best part about working with fresh ingredients is that you can literally make a rainbow with your food. We eat with our eyes, but looking delicious is not the only benefit of this colourful buddha bowl. Different-coloured plants are linked to higher levels of specific nutrients and health benefits. By getting a variety of color in your diet, you're giving your body an array of vitamins, minerals, and phytochemicals to benefit your health.

All of the colours in the rainbow are packed into his filling and nutritious bowl. We feature some of our favourite ingredients so that your taste buds are itching to come back for more!

Red - Contain anti-inflammatory properties, are antioxidant-rich, may lower your risk of high blood pressure and certain cancers, may benefit heart health, and may support athletic performance through increased oxygen intake. We feature matchstick beets in this power bowl recipe. They are cut in thin, easy-to-bite sticks so that their taste is not overwhelming to each bite that you take. Beets are surprisingly low in calories for the amount of nutrients that they provide. Beets in this recipe offer a slightly sweet floral taste profile and a pleasant crunch.

Orange & Yellow - Contain anti-inflammatory properties, are antioxidant-rich, may benefit your heart health, support eye health, and may lower your risk of cancer. We feature carrots and yellow bell pepper in this buddha bowl. Carrots have risen drastically in popularity because they offer so many health benefits. The carrots in this rainbow veggie bowl offer another pleasant crunchy texture and an earthy and sweet flavour profile. We also included yellow bell peppers which are very sweet and contain an almost fruity profile. They are juicy, mild, and tasty.

Green - Contain anti-inflammatory properties, are antioxidant-rich, and may lower your risk of cancer and heart disease. This rainbow veggie bowl is packed with green veggies, including edamame, broccoli stalks, and kale. We love featuring edamame beans in our meals. They have that sweet delicious taste of garden peas and are slightly buttery and nutty. Broccoli is a powerhouse vegetable. We feature the stalks in this power bowl recipe which offers a satisfying crunch with all of the nutrient value. Taking on a more mild and sweet flavour, the stalks take on the flavour of the dressing and help to perfectly coat every bite. Kale is another powerhouse green vegetable. Its frilly leaves catch the lemon tahini sauce, and other ingredients and further contribute to that satisfying crunch.

Blue & Purple - Contain anti-inflammatory properties, are antioxidant-rich, may benefit heart health, may lower your risk of neurological disorders and type 2 diabetes, may improve brain function, and may lower your risk of certain cancers. The Inspired Go buddha bowl features purple cabbage and pickled red onion. Our purple cabbage is shredded and included in the mix of our broccoli slaw. It adds colour, texture, and a slightly peppery taste profile to the power bowl. Using pickled red onions in this recipe rounds the taste of the whole bowl out. It offers a sweet, tangy and aromatic experience!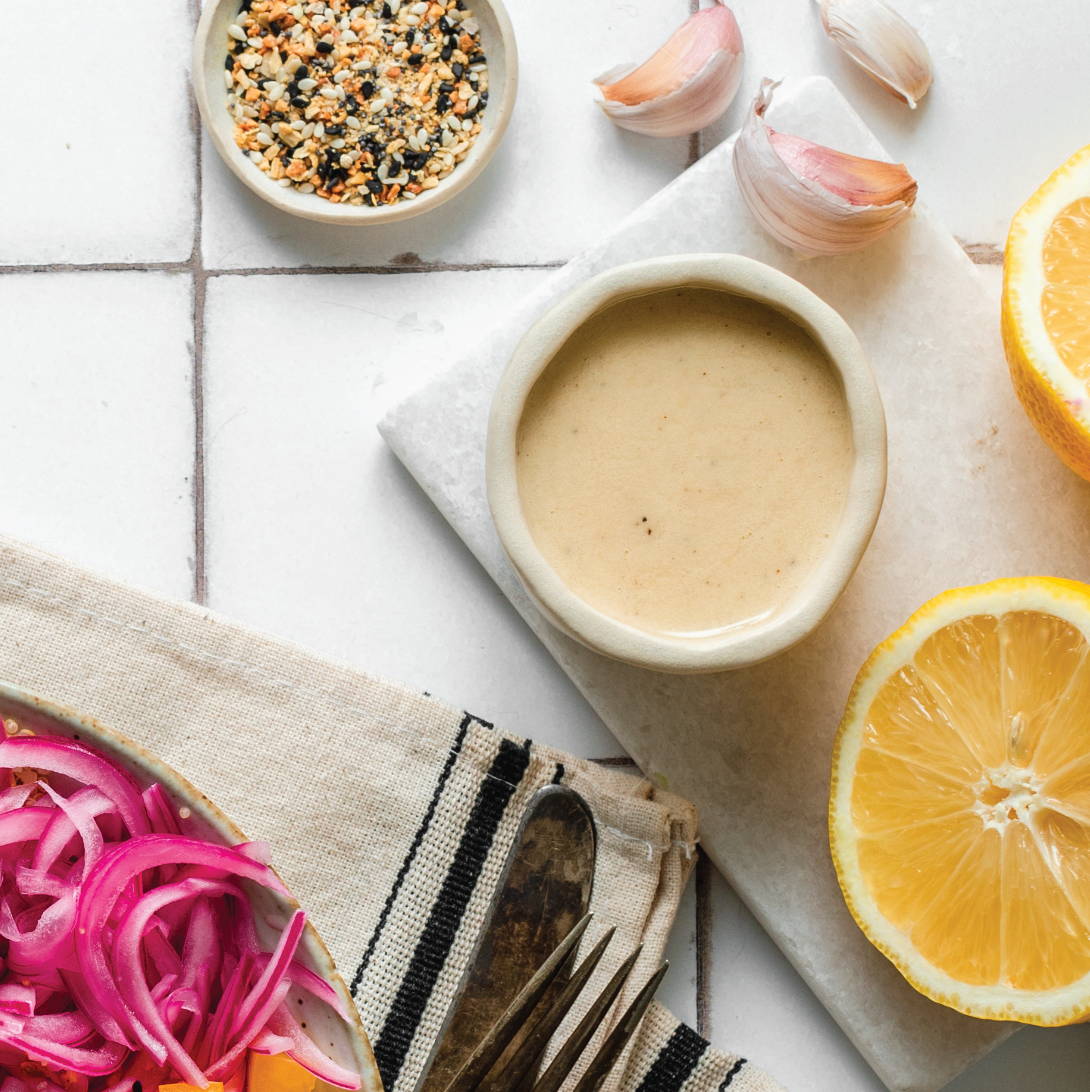 We set out to make a dressing that was not only ridiculously tasty but also plant based (no mayo), gluten free, and dairy free! We have tested this tahini sauce on a variety of healthy recipes, but this combination could not be topped. The base of this dressing is the delicious tahini paste, a dash of garlic and onion, some pepper, and lemon juice. The secret to tahini-based recipes is to counter the slight bitterness with a bit of sweetness. We added a dash of agave for this tahini sauce to perfectly balance the profile.

If you are unfamiliar with tahini, it is a paste made from ground sesame seeds that originated in the Middle East. It is what makes each and every tahini sauce so velvety and rich. We spend a lot of time on product development with this healthy recipe until it reached the perfect rich and creamy texture that we desired. We hope you enjoy our homemade lemon juice and tahini sauce!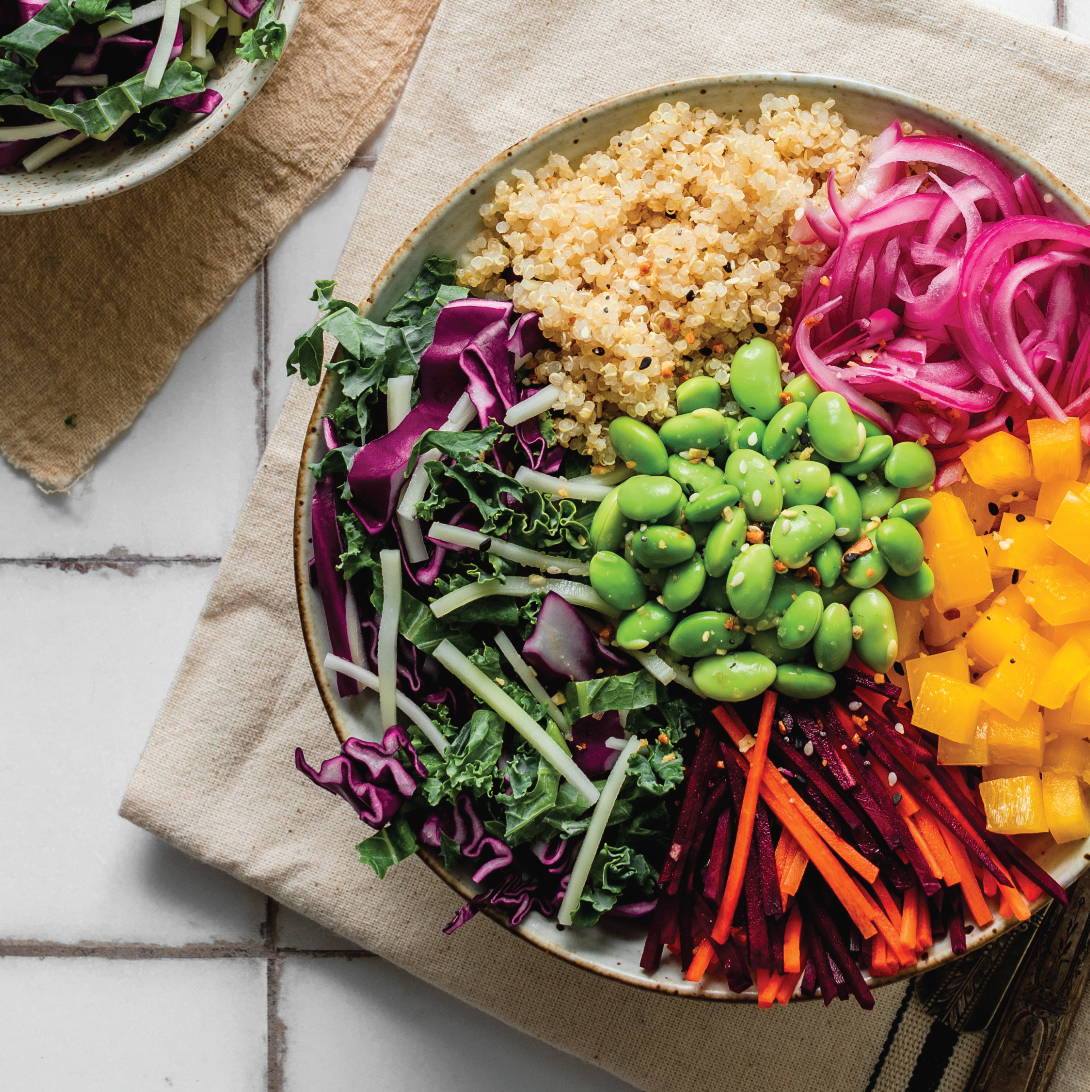 This Rainbow Bowl recipe really highlights what we are all about. It's easy to say yes to eating a healthy recipe when it's colourful and filling. The colours in this salad offer your body all of the nutrients it needs. Being a grain bowl, it will fill you up for the whole day and take away those afternoon cravings. This buddha bowl is also plant based, gluten free, and dairy free. Order is today on www.inspiredgo.ca!