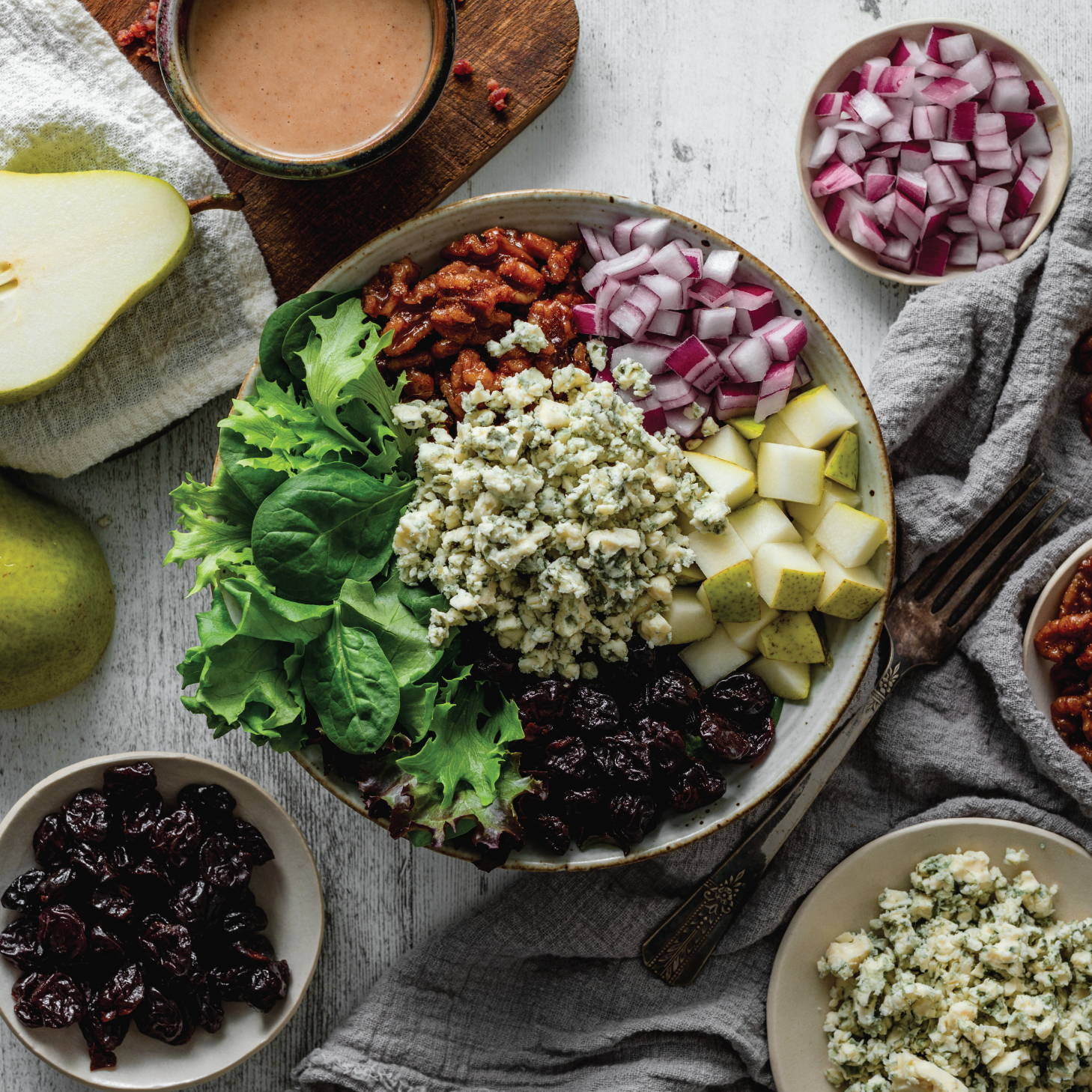 The Pear and Gorgonzola Salad
from Inspired Go
We are back again with an exciting new salad recipe. We have an intensive product development system so that your tastebuds are always engaged with new flavours and taste profiles. This makes it easier to stick to your healthy eating goals! This week's new flavour profile is brought to you with a mix of fresh and indulgent ingredients.

In the new Pear and Gorgonzola Salad recipe, we combine the fresh sweetness of local pears with the tangy, sharpness of gorgonzola cheese. The flavours in this meal are bold and mingle well together. Even if you are not a fan of sharp-tasting cheese, we encourage you to still give this one a try - because it truly will shock and delight!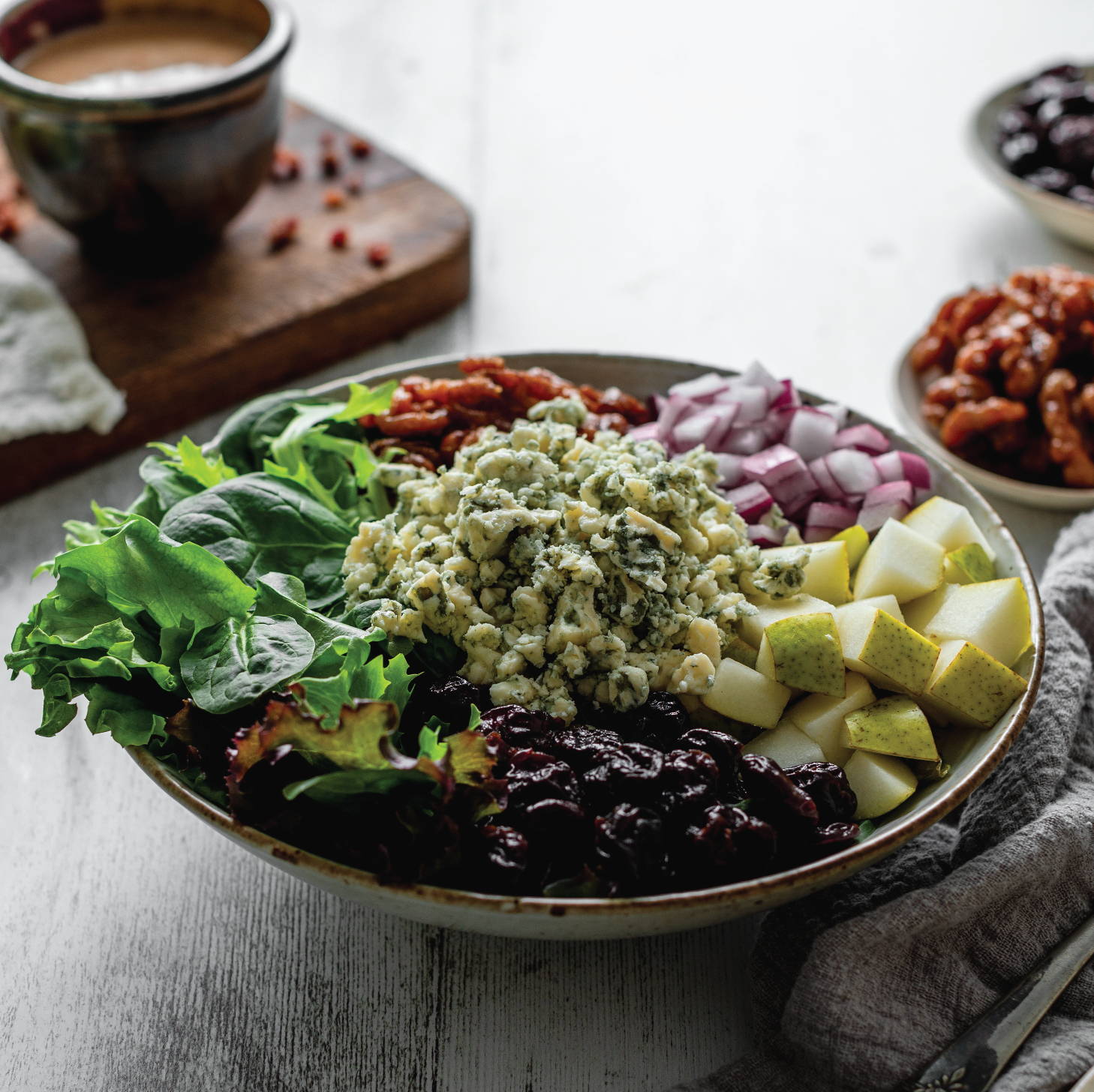 A Deep Dive into the Ingredients
This salad recipe is laid on a bed of Inspired Greens greenhouse lettuce and a mix of spinach. If you have been here for a while, you know that we only use greenhouse lettuce. It's far superior to any other greens, and we grow it ourselves right in Alberta! Robotics are used throughout the greenhouse enabling us to grow the cleanest greens. This 11-acre garden eliminates the use of dirt and pesticides and allows us to grow sustainably 365 days a year!

Local pears are a highlighted ingredient in this meal. They offer great sweet notes of flavour and a unique crunch that can't be achieved by any other ingredient. The combination of pears and red onion is a classic winter recipe pairing. Onions not only provide flavour, they also supply essential nutrients such as vitamin C, dietary fiber, and many beneficial antioxidants.

The candied walnuts in this recipe are a must. They are slowly roasted and then candied to remove any tang so that it does not overpower the rest of the flavours. They pair well with the dried cherries. These unique ingredients add a touch more sweetness and some great additional health benefits as well as a boost of Vitamin A.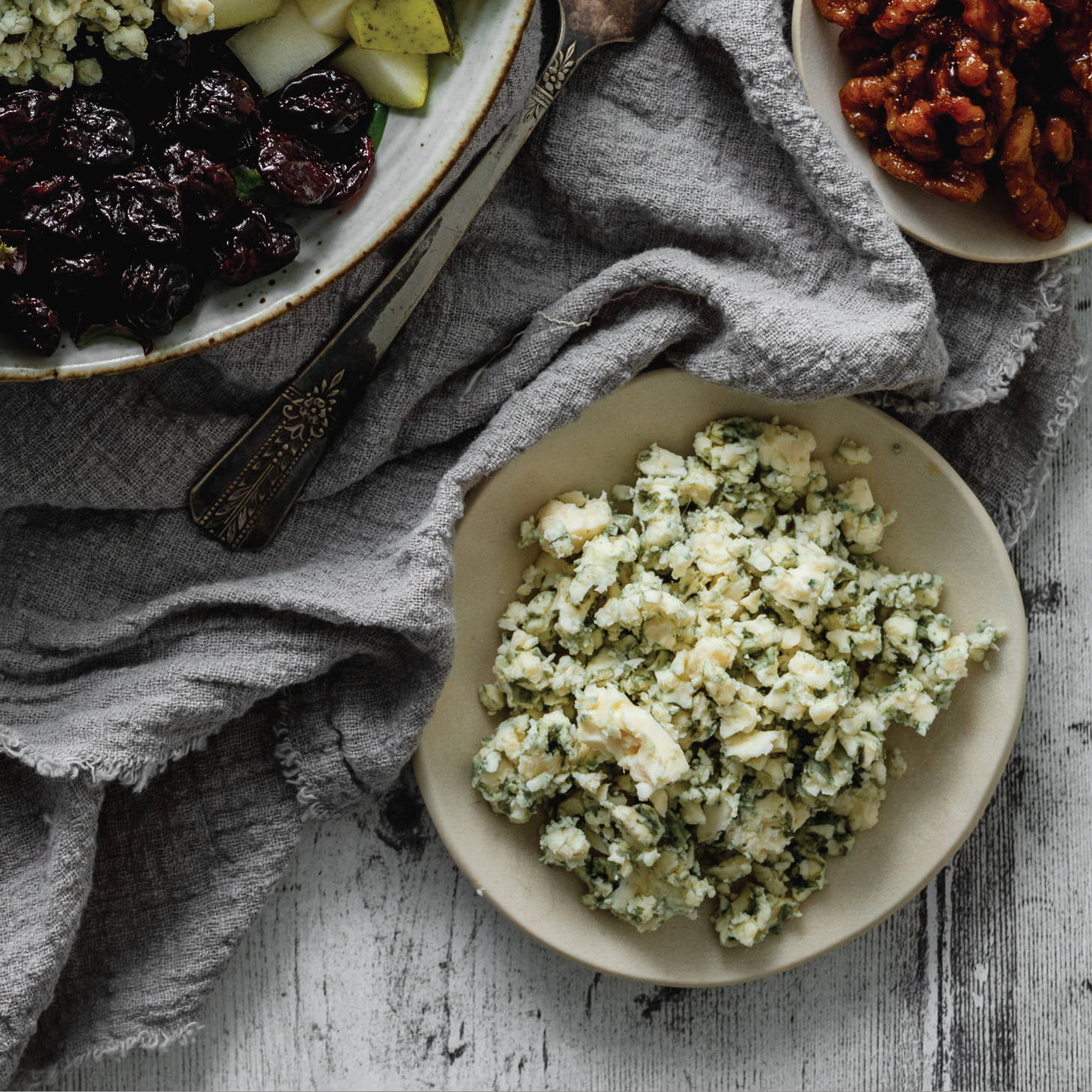 Yes, we have done it again. We have gone down the blue cheese route! We are determined to get you to like it! The good news is that if you aren't a big fan of blue cheese, gorgonzola cheese is a lot milder. We always set out to surprise you with our flavour combinations, and this salad is no exception.

If you happen not to be a big blue cheese fan, we encourage you to try the Pear and Gorgonzola Salad. It combines the flavours in a surprising way that will leave even the biggest haters in approval.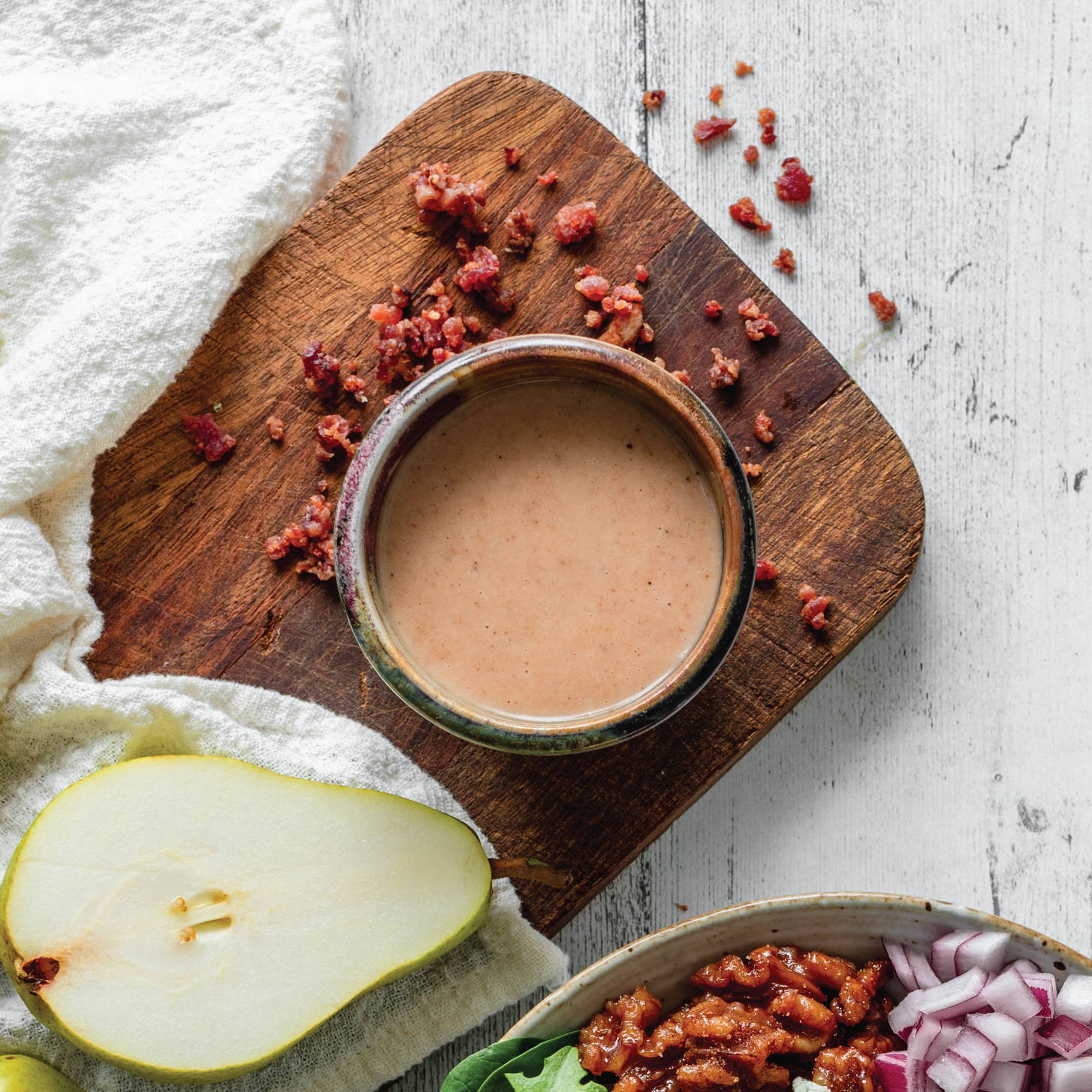 Now to talk about the real star of the show. Like all of our dressings, our development team makes the maple dijon dressing in-house. We make our dressings fresh before each delivery day so preservatives do not need to be added, and you can taste and feel the authentic flavours shining through.

The maple dijon dressing has a surprise ingredient in this recipe: bacon! We infused the bacon flavour in the dressing to bring out more of those winter flavour vibes. The dressing also contains a quality red wine vinegar for a vinaigrette base that perfectly coats all the other ingredients in this salad recipe.

If you have no other reason to order this salad, we recommend it just for the maple dijon dressing. It is truly undeniably delicious.


Inspired Go is Waiting for YOU!
The combination of fresh and tangy ingredients in this salad recipe is undeniably delicious. It is the perfect recipe to kick off a whole season of winter recipes. We combine the fresh sweetness of local pears with the tangy sharpness of gorgonzola cheese. Candied walnuts and dried cherries provide texture and further contribute to the indulgent profile of this meal. Everything is dressed with a delicious maple dijon dressing that features a secret ingredient: bacon! Don't wait to try our newest recipe. It will soon become a new favourite!

At Inspired Go, we pride ourselves on delivering delicious, convenient, and affordable meals. We deliver to your front door, and everything stays fresh all week long. If you haven't placed your first Inspired Go order yet, there is no reason to wait. You can place a one-time purchase with no obligation to order again. Order often to experience our different recipes throughout the seasons!