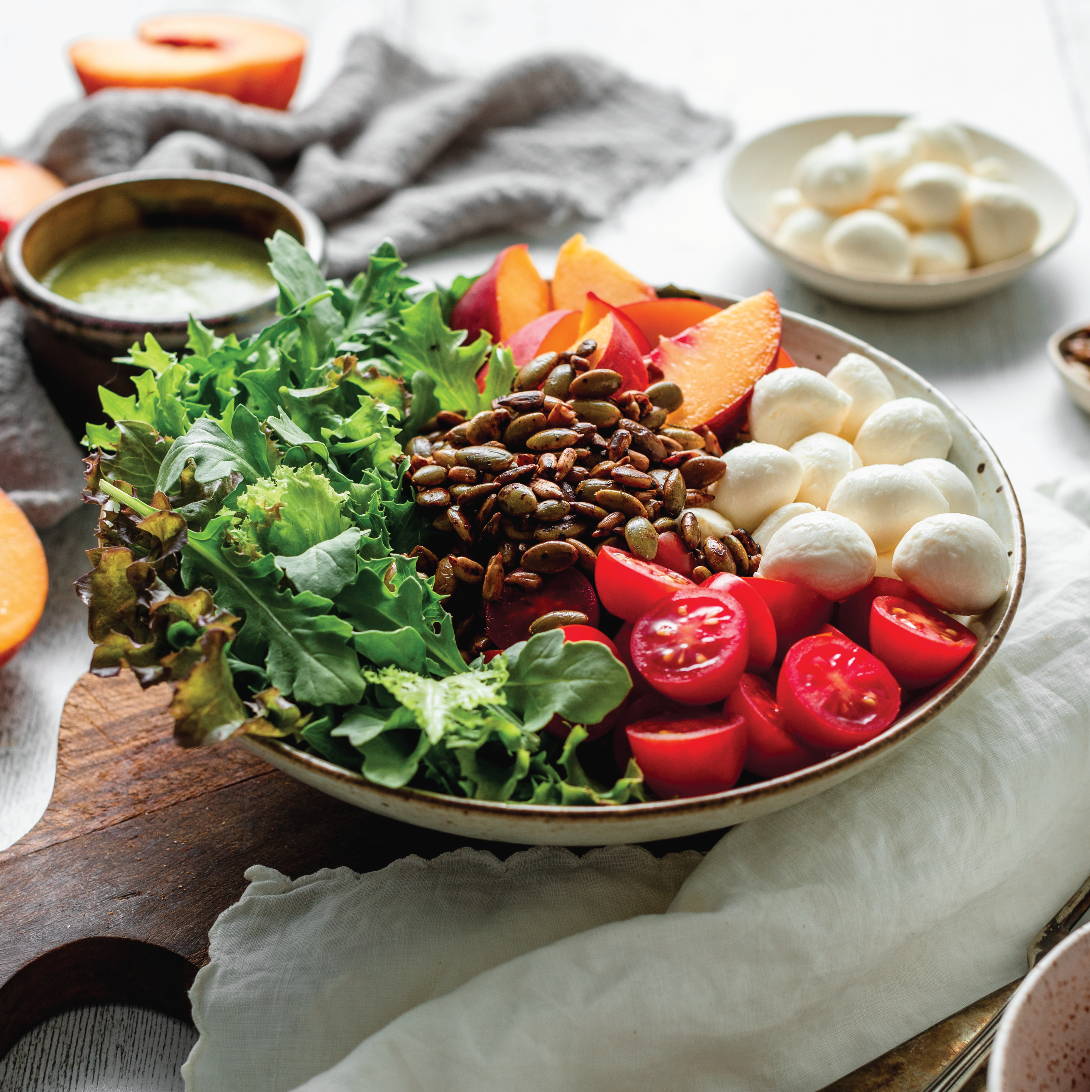 The Peach Caprese Salad
from Inspired Go
It's peach season! When we launched this recipe last year you could not get enough of it. It is back by popular demand to celebrate the summer season! This recipe features fresh local peaches, mild soft bocconcini cheese, plenty of basil leaves and balsamic vinegar in the dressing. This delicious summer salad is a light twist on the traditional caprese salad and it is so so delicious. You can order it now on www.inspiredgo.ca.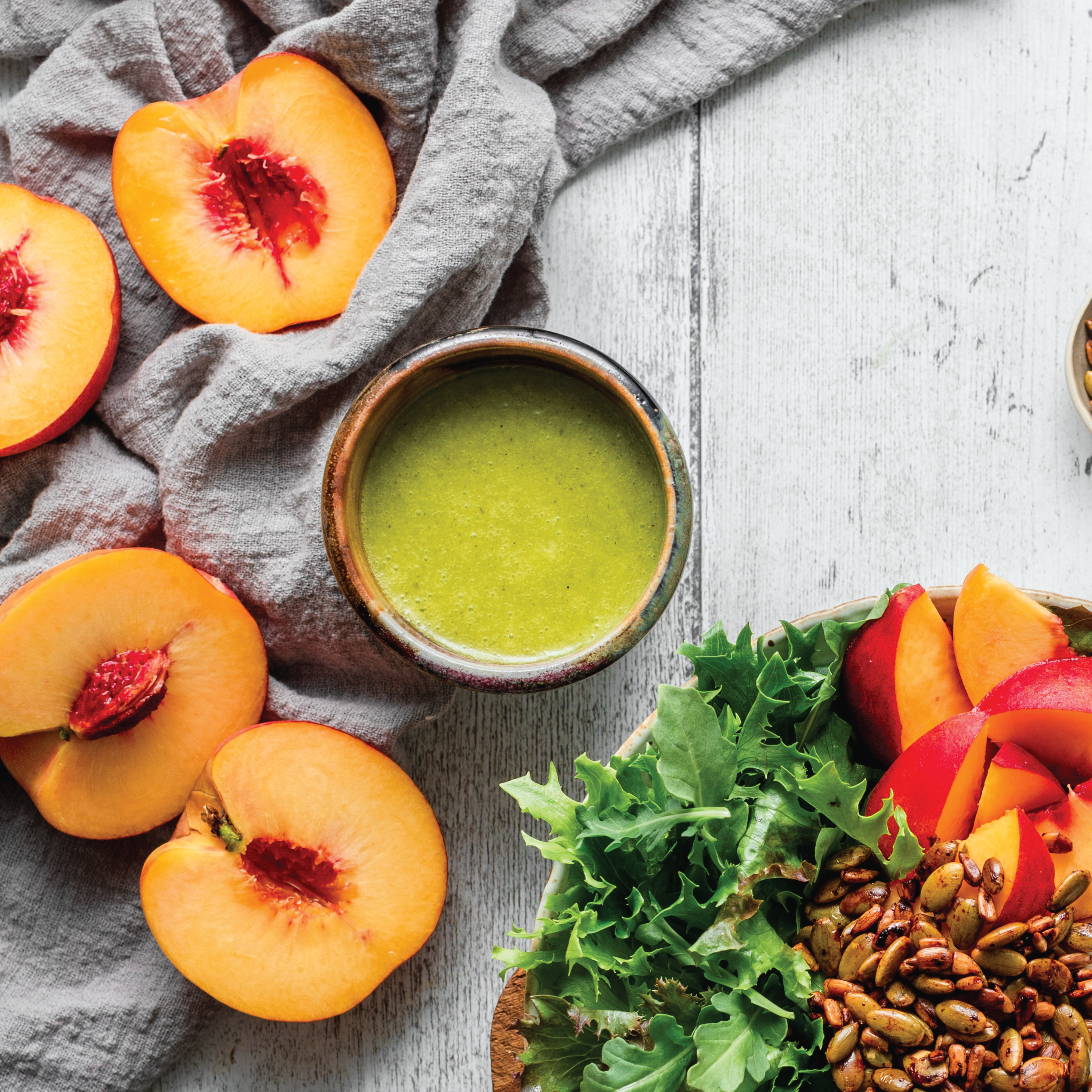 The main feature of the Peach Caprese Salad is the delicious fresh peaches. As we prepare for the launch of this salad, we have piles of them ready for cutting. The best part is the amazing aroma that they give off. We have carefully and strategically planned the preparation of our peaches so that you receive a perfectly ripe and juicy slice in every bite. The secret is in the temperature that we cut the peaches in and the storage before they are sealed into your tasty and colourful Inspired Go salad.

When it comes to peaches, there are hundreds of varieties globally that vary in both taste and colour. Their taste ranges from very sweet with a little acidity to varieties that are mainly acidic with a mild sweetness. Our growers in the Okanagan have tasted all of the varieties, and they have selected the best one to grow in their fields. The result is some very excited growers sharing some very delicious peaches with you.

The peach season is short, with a focus on the best-tasting fruit in July and August. We make the best of this very short season and are excited to deliver as many Peach Caprese Salads as we can!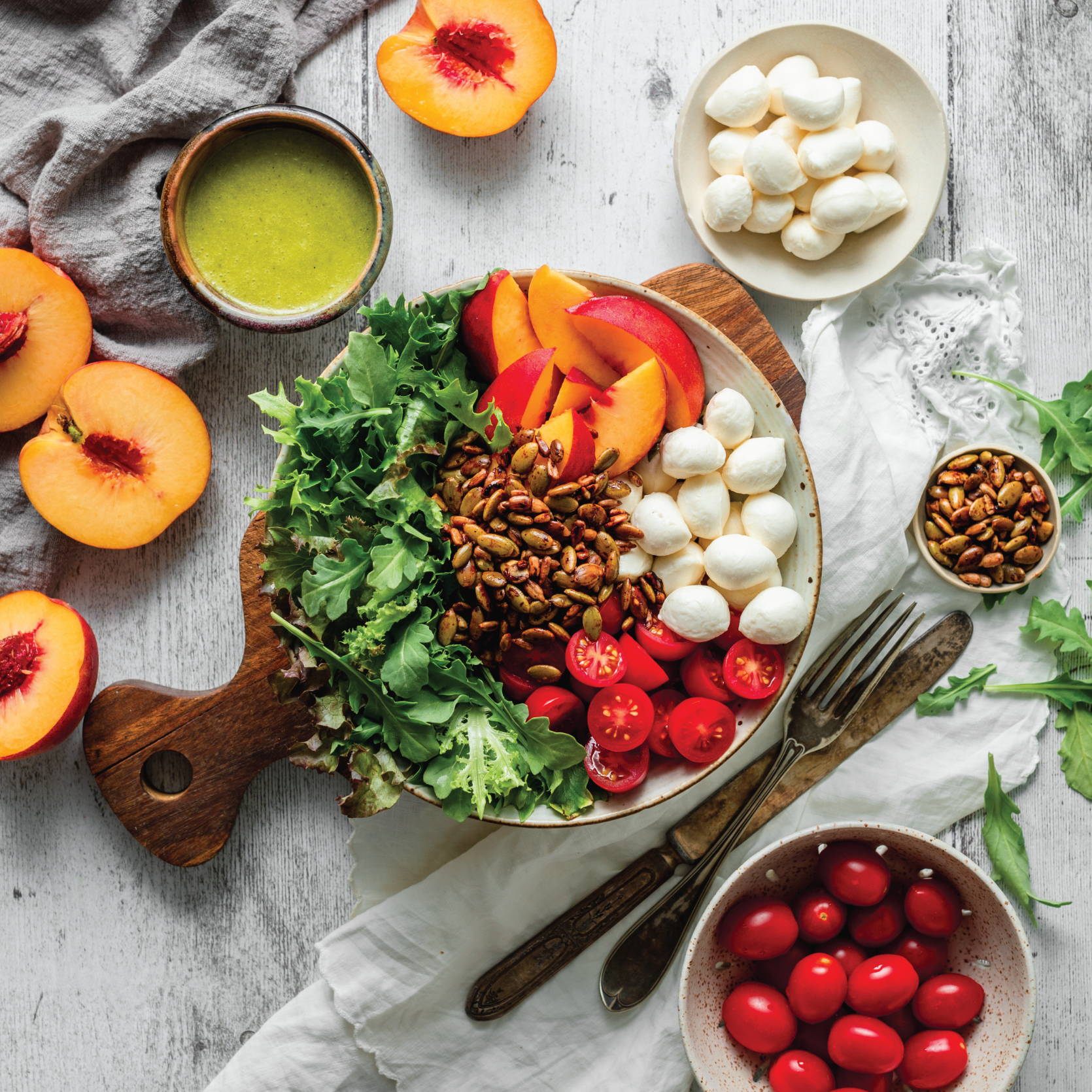 The Featured Peach Caprese Salad Recipe Ingredients
The number one ingredient in any of our meals is our delicious greenhouse lettuce. It is grown without pesticides and in a sustainable way. The taste of our greens cannot be beaten. They are soft, subtle, and filled with nutrients. We paired our greens with some spicy arugula leaves to give the salad the fresh kick it needs.

We made this feature salad a peach tomato caprese by adding in ripe and juicy grape tomatoes. This expert move gave the traditional caprese salad the perfect twist. Paired with the delicious and mild fresh bocconcini, the salad gets an added creaminess and tartness. By roasting our pumpkin and sunflower seeds with a balsamic vinegar blend, we were able to infuse the traditional flavours into every bite. The seed mix also adds a satisfying crunch.

Remember that all Inspired Go salads are delivered fresh to your door. With the use of our patent packaging, we are able to separate ingredients. This means they stay fresher for longer and you can remove any of the ingredients you don't care for. Separating the ingredients in this salad means that your balsamic glazed seeds will stay crunchy and your local peaches will stay fresh and juicy.

This salad is 650 calories. The salad components make up 400 of those calories, and the dressing is 250 calories. It contains 5g of fibre and 23g of protein. The Peach Caprese Salad recipe will last in your fridge for up to 5 days, so you can enjoy it all week! The ingredients in this salad are all gluten free and if you remove the bocconcini cheese the salad is also dairy free. We take pride in this salad being gluten free, and we hope you do too!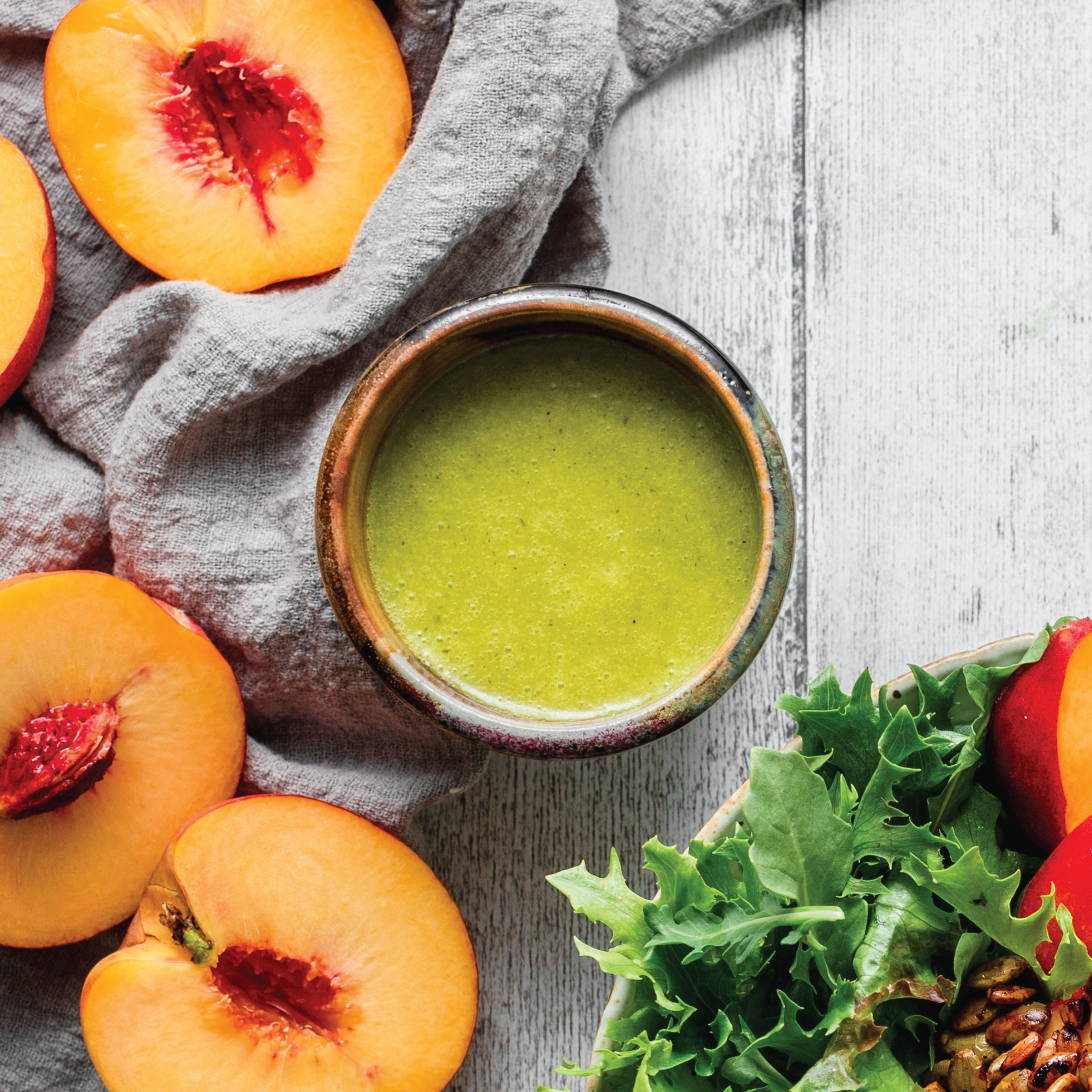 The White Balsamic Vinegar Dressing
As we all know, the dressing is the most important part of the salad. In this case it has a close running with the delicious local peaches, but we still think this summer salad is made because of the dressing. We combined a delicious white balsamic vinegar with loads of fresh basil leaves. This would not be a true peach tomato caprese without the basil! Introducing the key basil component into this salad through the dressing means that you won't have wilted basil leaves in your fresh salad. We added a dollop of honey and a dash of pepper to pull the whole profile of the dressing together.

You can try the Peach Caprese Salad recipe today by placing an order on www.inspiredgo.ca. Inspired Go's mission is to inspire every individual to thrive by removing the barriers to healthy eating. Inspired Go has you covered with fresh and healthy meals delivered to your door when you need a quick meal. Perfect for easy meal prep throughout the week, Inspired Go offers meal delivery of salads, sheet pan meals, juices, and more.