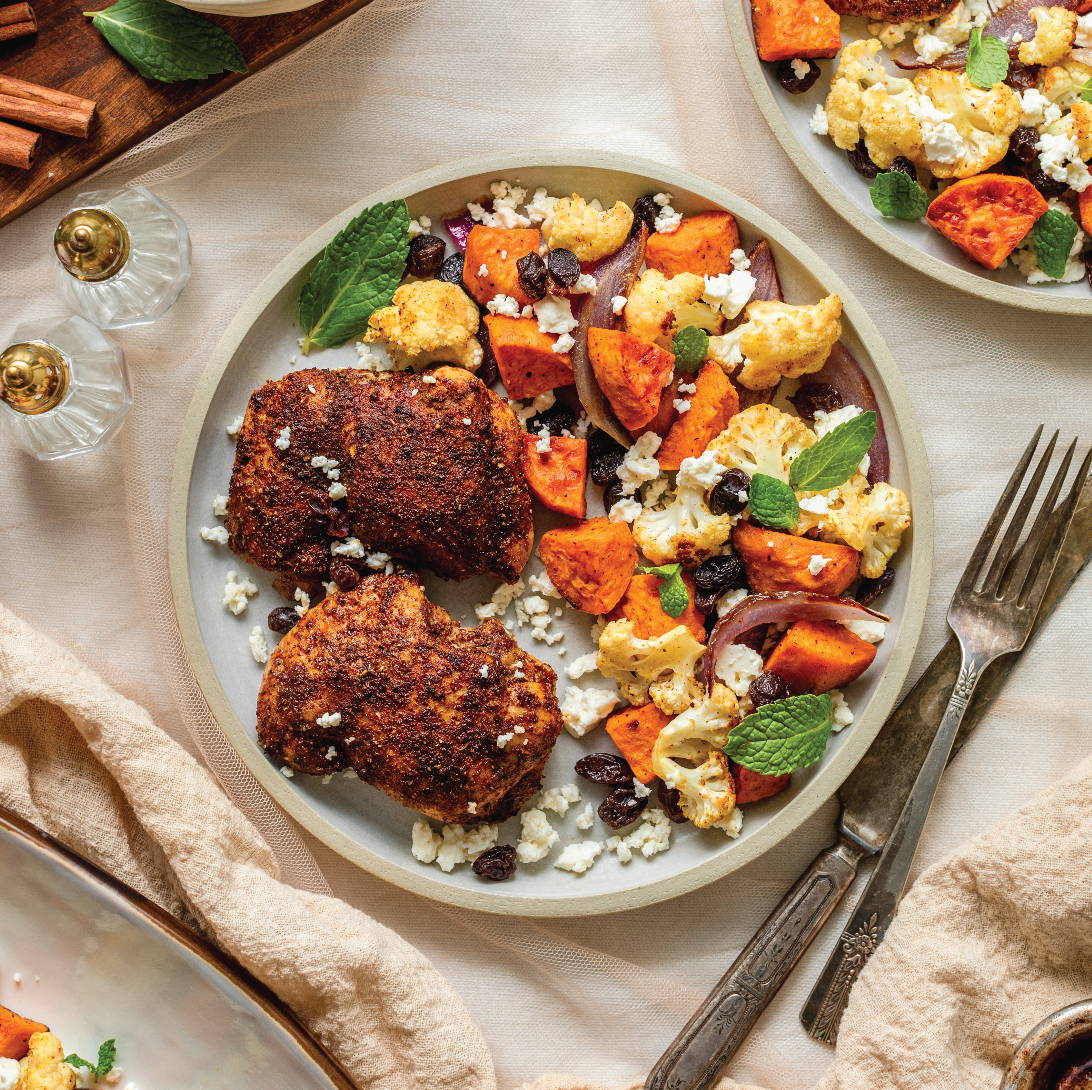 The Moroccan Sheet Pan Meal
from Inspired Go
If you are considering not ordering the newest Inspired Go Sheet Pan Meal, you can think again. This one cannot be turned down! As we continue to introduce new recipes into the category, we are starting to think about more fall and winter flavour profiles. You will be the judge of their longevity on the menu based on your ordering patterns.

As always, this recipe is EASY! We cut all of the ingredients for you so that all you have to do is cook and enjoy. This recipe comes with vegetables, a sauce, a spice blend, and feta cheese. It's up to you to do the mixing and cooking.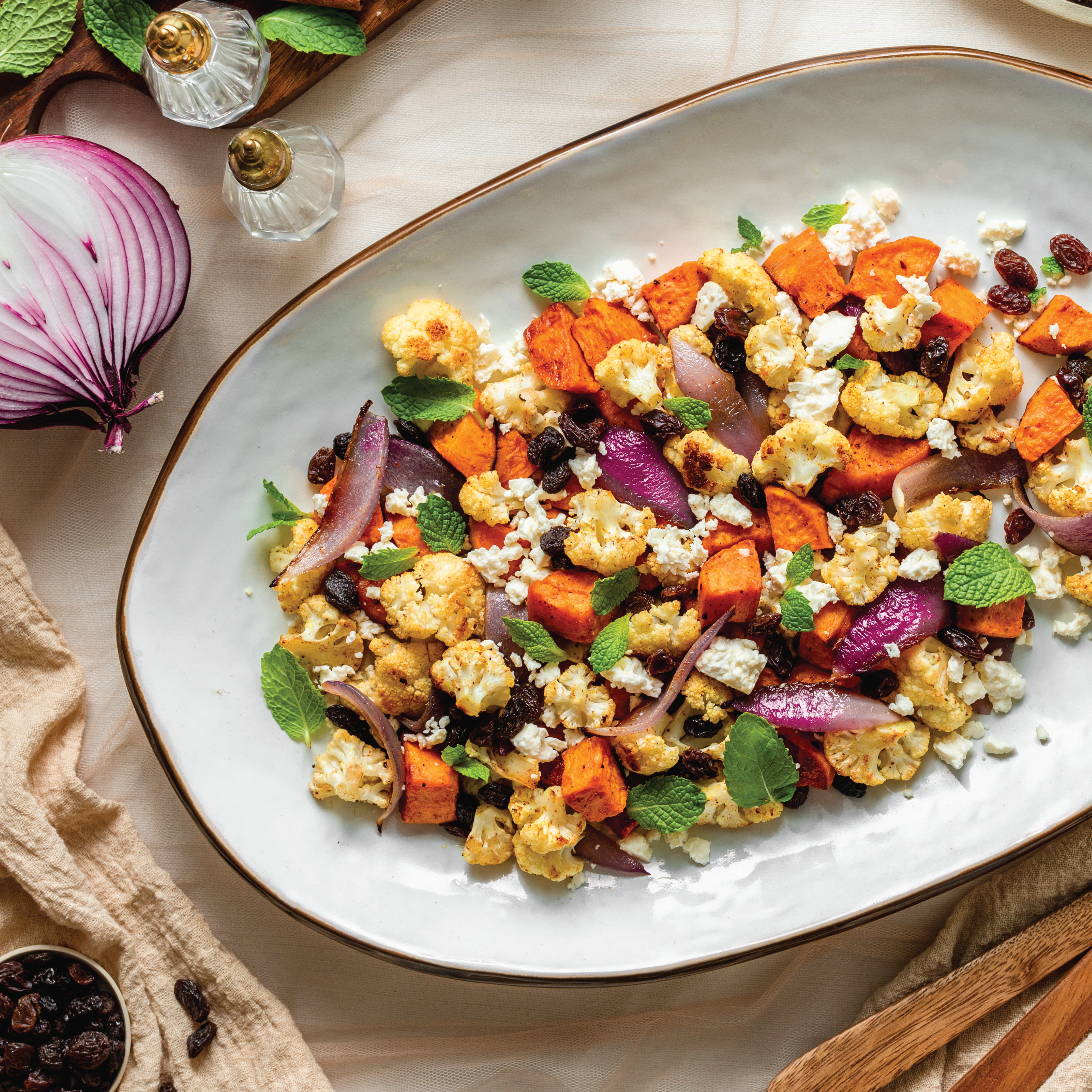 This meal is a real treat! The first time we tried it, we wanted to launch it the next day. Even our team couldn't wait for it to hit the menu! The best part: it is delicious. The bonus: it is easy!

We made this recipe with sweet potato, red onion, cauliflower and wonderful spices like garam masala, curry, and cinnamon. This healthy Moroccan sheet pan dinner is garnished with juicy raisins, fresh mint, a drizzle of homemade curry yogurt sauce, and feta cheese for an incredible dinner that is sure to please!

Sometimes all you need to stay inspired with your meal times is a little bit of a mix-up. This recipe is a unique blend of ingredients that is the perfect thing to give you that boost!


The theme of this gorgeous Sheet Pan Meal is flavour and texture. You'll find plenty of tender and crunchy vegetables accentuated by cozy and warming spices. We finish it all off with some fun toppings and give it a drizzle of curry yogurt and a sprinkle of feta cheese.

With each bite, you'll get flavorful veggies, sweetness from dried raisins, and a creamy, cooling finish with the feta cheese and curry yogurt sauce. It is seriously SO GOOD.

When you receive your Inspired Go Sheet Pan Meal Kit, certain ingredients will be separated, and everything will be cut and ready to go. You will preheat your oven to 425°. If you want to add a protein, you will add it to the baking sheet now. We suggest chicken breast, chicken thighs, or salmon. You could also pair this meal with chickpeas or lentils for a no meat protein option.

Once your protein is nestled onto the baking sheet, you will add the sweet potato with a drizzle of oil and a sprinkle of the spice blend. Our spice blend is a delicious combination of garam masla, curry powder, `salt, pepper, and chili powder. We also added a secret ingredient to give it some sweetness. You can add more spice mix to the sheet pan now if you are also adding it to your protein. Bake for 15 minutes.

When your 15 minute timer goes off, take a flipper and flip and shake up the sweet potato on the baking sheet. This is what ensures each of the bites will be perfectly soft on the inside and crispy on the outside. add the cauliflower and red onion to the sheet pan. Drizzle the added vegetables with oil and more spice blend. Continue to bake the mixture until your sweet potato is tender (approximately 10 more minutes).

Guess what? That's it! Take it out and separate the ingredients between your plates. Sprinkle each meal with a pinch of the remaining spice blend, drizzle your protein with the curry yogurt and sprinkle your veggies with the raisins, mint, and feta cheese.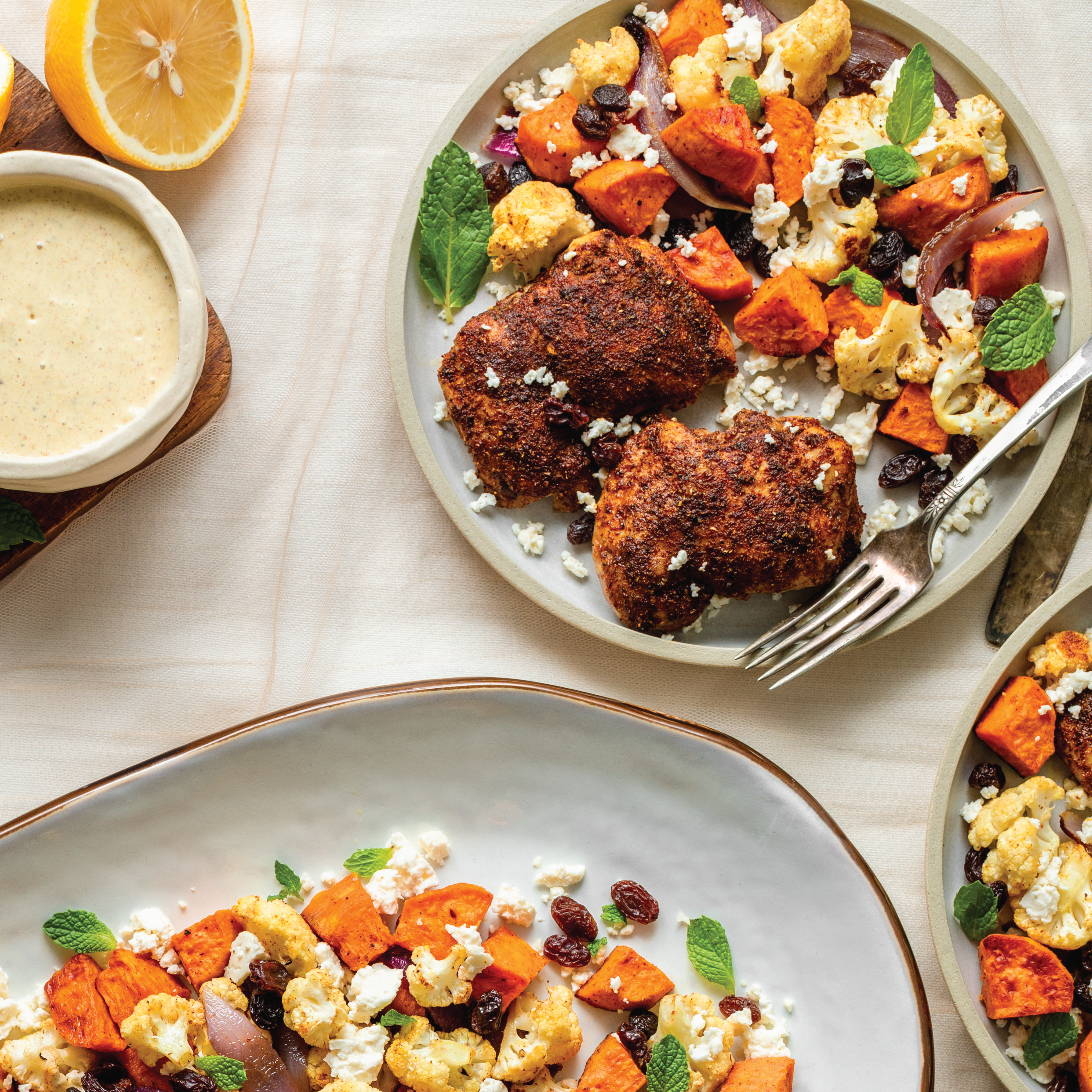 As always, we focus on the produce. What can we say? We know how to pair the tastes and textures of produce well! We rely on chef friends to help us along this journey and are able to quickly adapt our menu so that we can continually test and reiterate recipes. You vote by placing orders, and we pay very close attention to what you are saying.

For this recipe, if you are looking to up the ante, you can add a protein! We suggest a nice juicy chicken breast, some chicken thighs, or a piece of salmon. Your protein will be sprinkled with our homemade spice blend mix and the delicious curry yogurt. We have also tried this recipe with chickpeas or lentils as an alternative protein, and it is finger-licking good.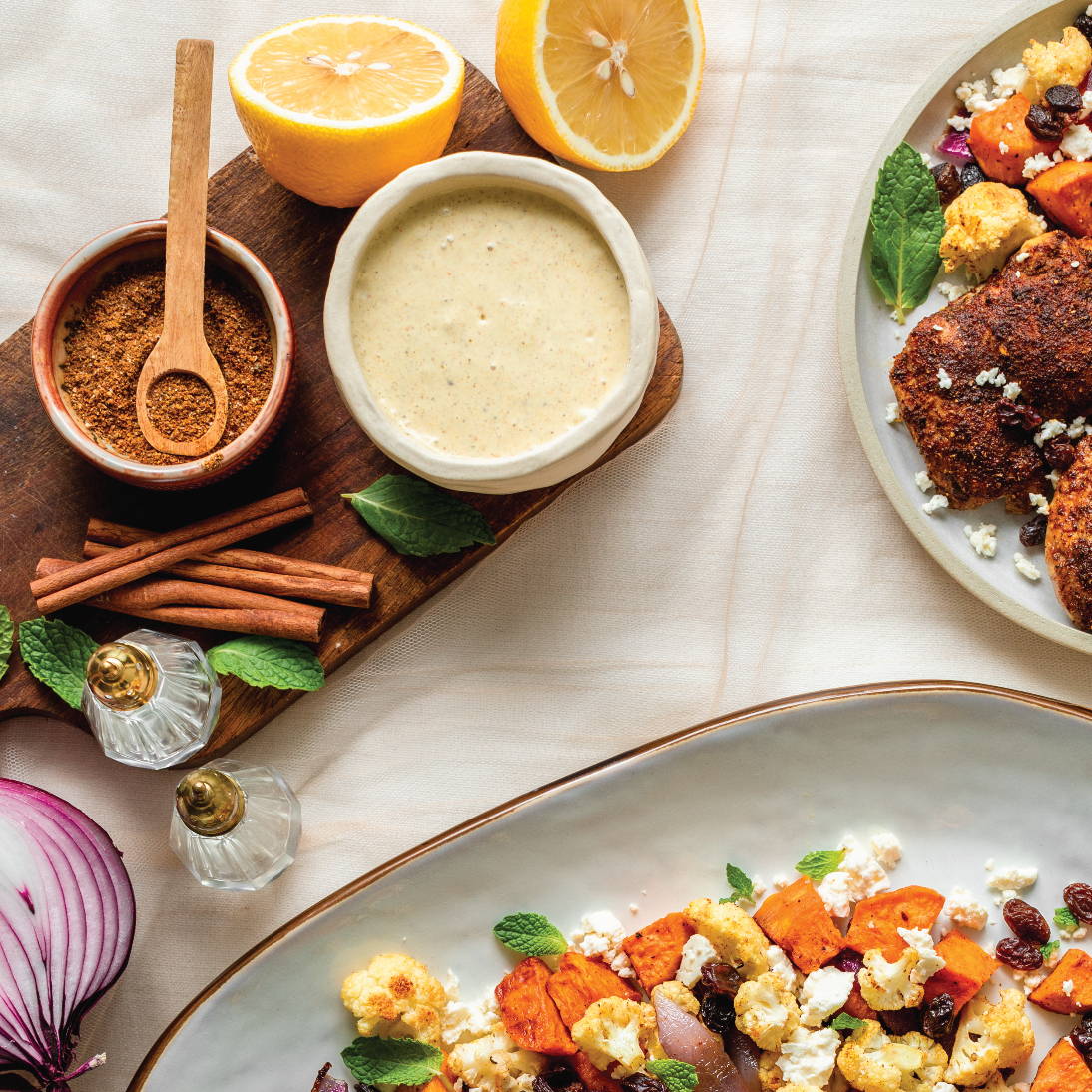 One of the best ways to infuse Moroccan spices into this sheet pan dinner was through the curry yogurt sauce. We don't even have to tell you very much about this sauce. Once you taste it, you are going to want more. You are going to seriously want to put this on everything. It is delicious.

The featured Moroccan spices in the yogurt sauce are garam masala, curry powder, chili powder, and cinnamon. It really transforms this sheet pan dinner. Paired with the feta cheese, you are left with a flavourful and creamy meal!