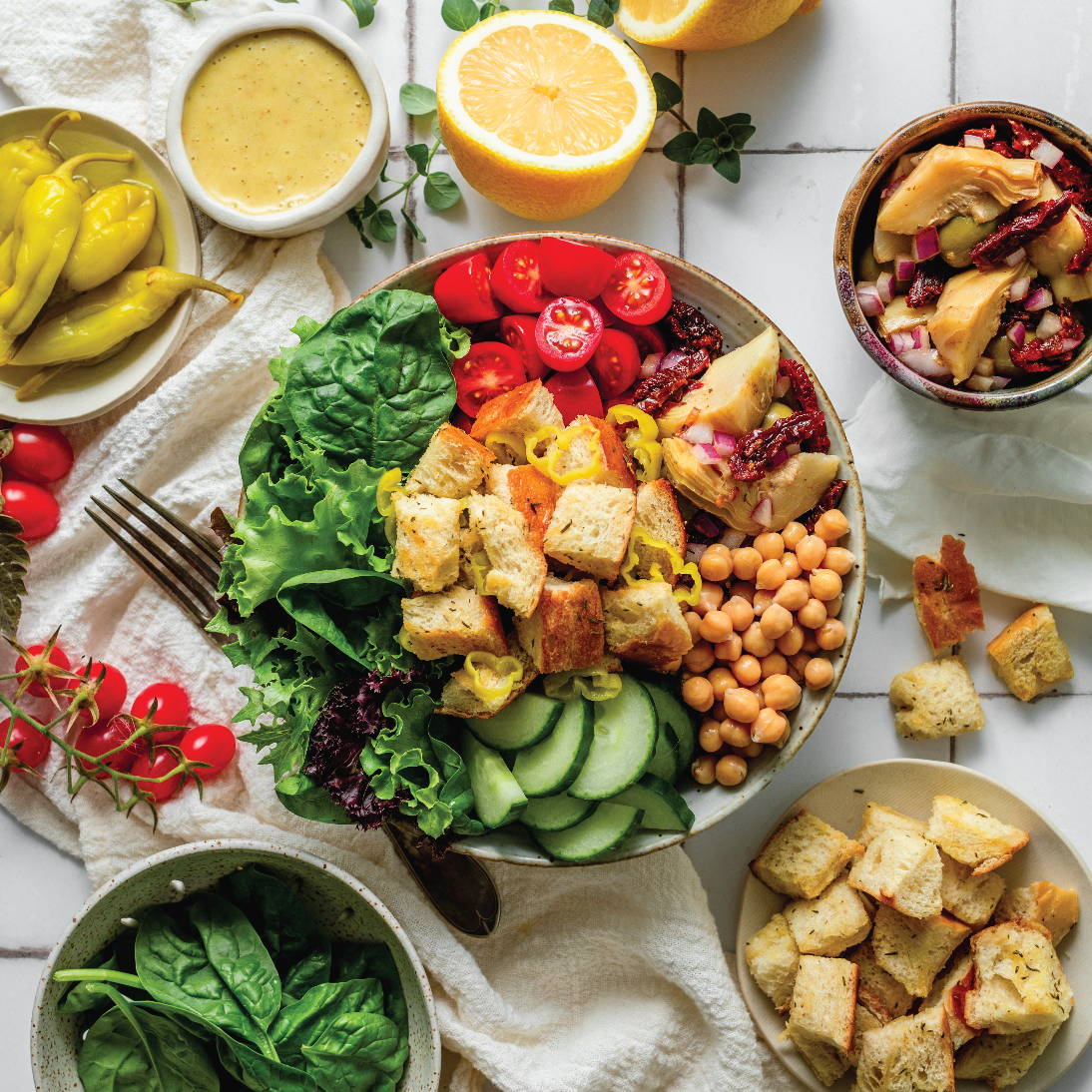 The Modern Mediterranean Salad
from Inspired Go
One thing we have learnt from you: a traditional Greek Salad does not sell well on inspiredgo.ca. We have launched a few traditional recipes, and week over week, the number of orders for it dwindles. We don't give up that easily, so we are here once again to test the waters! This time, we carefully selected ingredients that are exciting, they are tasty, and they push the boundaries of a traditional Greek salad recipe. Meet the Modern Mediterranean Salad - it is ready to knock your socks off!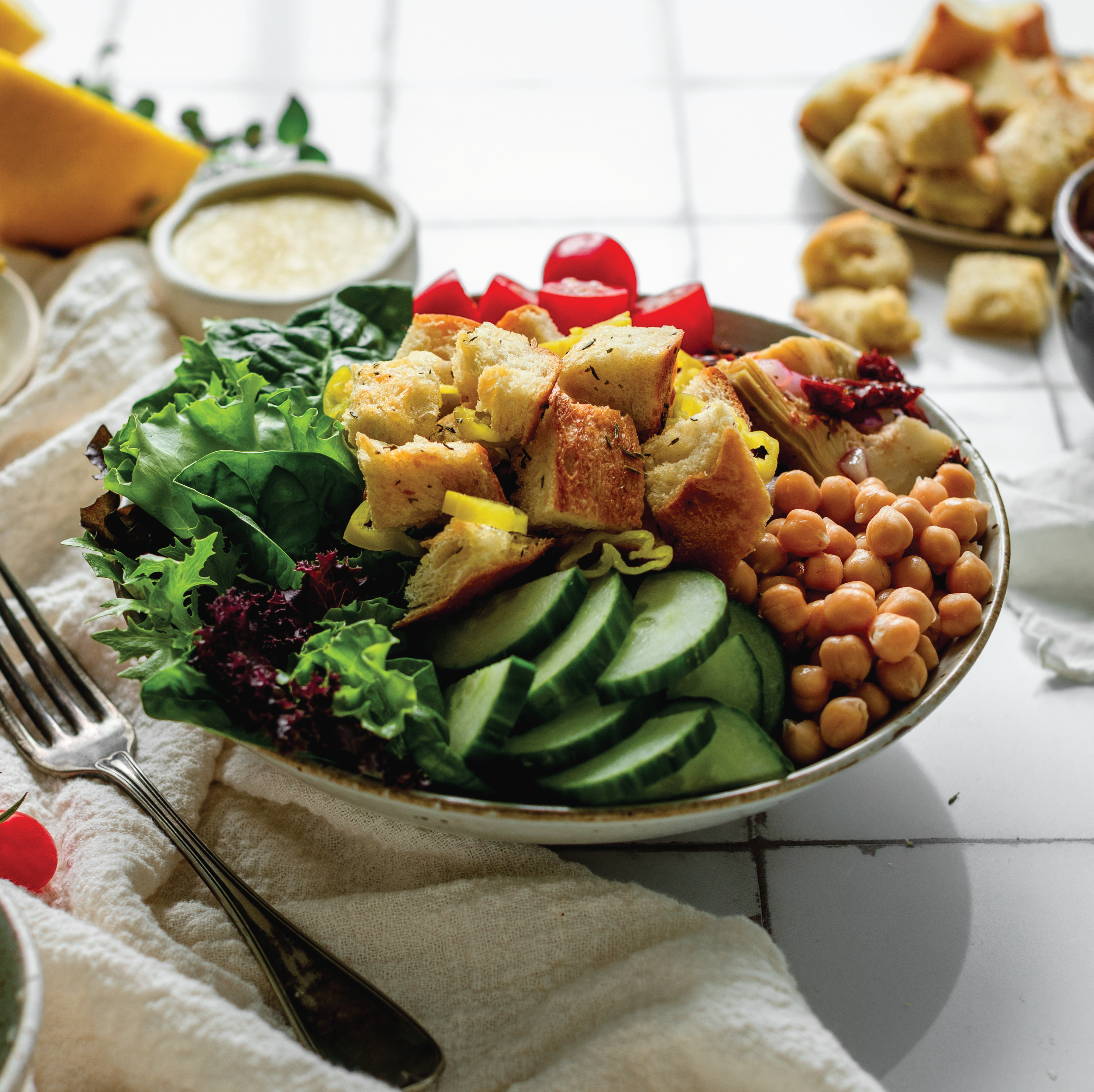 Out of the product development brainstorming and testing for this new item, a truly delicious Mediterranean Greens Salad was born. One key component of a traditional Greek Salad is that it is packed with ultra-fresh ingredients. The Modern Mediterranean Salad holds true to that! This salad is perfectly balanced with so many of the Mediterranean flavors we love most — hearty chickpeas, cool cucumbers, smoky roasted tomatoes, tangy artichokes and green olives, a kit of heat in the pepperoncini peppers, and a super-simple herby Greek vinaigrette. The combination is truly spectacular.


The Combination is Impeccable
Coming up with all kinds of salad variations, we often have this magical moment of pure compatibility. When you mix the various ingredients together, and certain ingredients complement and accentuate other ingredients, we know we have found a winner. That magical moment was very prominent in the test phases of this meal.

The base of this salad recipe is our tasty greenhouse lettuce combined with a healthy spinach blend. Secondary ingredients are juicy grape tomatoes, cucumber, and chickpeas. The highlight and hero ingredients are the thyme sourdough croutons we roast ourselves to have the perfect crunch and texture. We also feature a unique and tangy artichoke mix that has sliced green olives, chopped artichokes, sun-dried tomatoes, and diced red onion. This mix ensures that no one of these ingredients is too overpowering and does not overrun the rest of the ingredients. The last feature ingredient is sliced pepperoncini which adds a delightful heat and taste that surprises those taste buds into finishing off the whole bowl.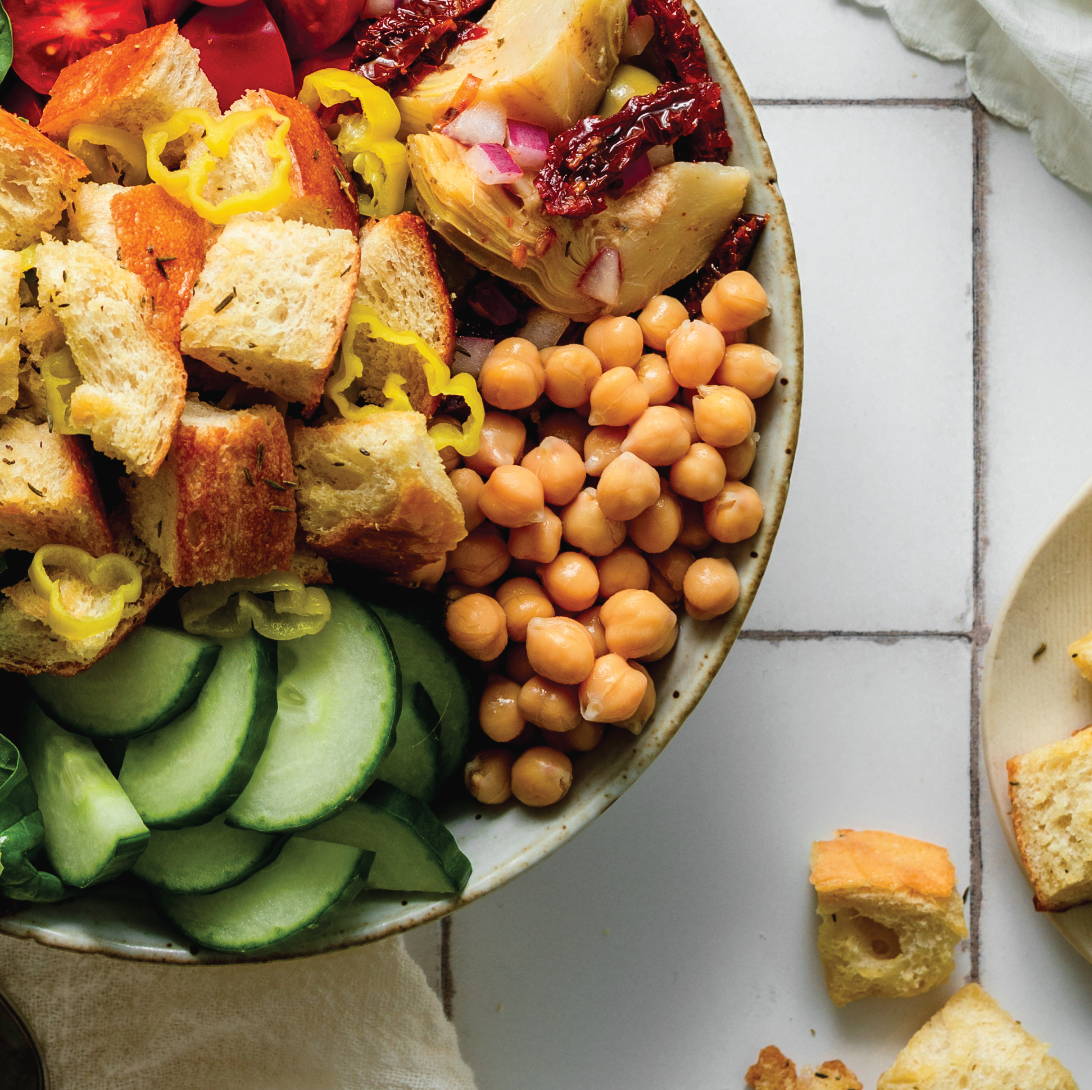 Chickpeas are the Secret MVP
Thanks to the chickpeas, this salad will keep you full for hours. It's satisfying in a way that a veggie-only salad never can be. Chickpeas are packed with fibre and protein, providing a real 1 - 2 punch of nutrition and sustenance. They are one of those unique ingredients that can blend in with anything. In this recipe, they take on the flavour profile of the tasty Greek vinaigrette and mix well with the unique blend of ingredients.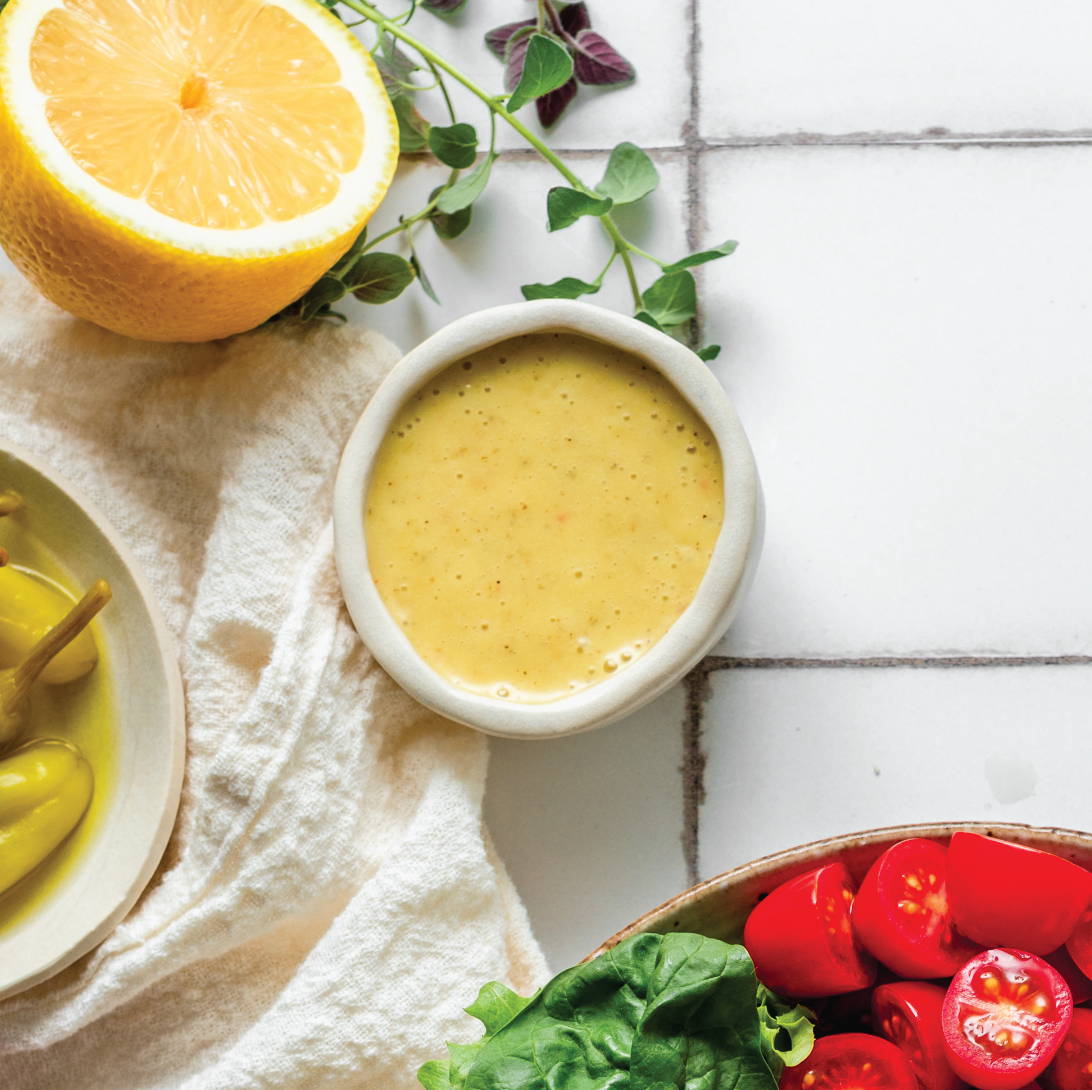 Not Just Any Homemade Greek Vinaigrette
Inspired Go dressings are unlike the others. We make our dressings in small batches right before they put into your salad. This means there are no preservatives or additives, and they are downright delicious. Some separation and texture in your dressing means that it is au natural!

The Greek Vinaigrette featured in this salad recipe is something spectacular. it features white balsamic vinegar, some sweet honey, and lemon juice for that needed zest. It has oregano, basil, thyme, and parsley to give it that authentic herby Mediterranean food profile. We have got to find another recipe to feature this dressing because it is just that delicious. It is light and airy while being sweet and satisfying. Just like everything else in this salad, the combination is killer!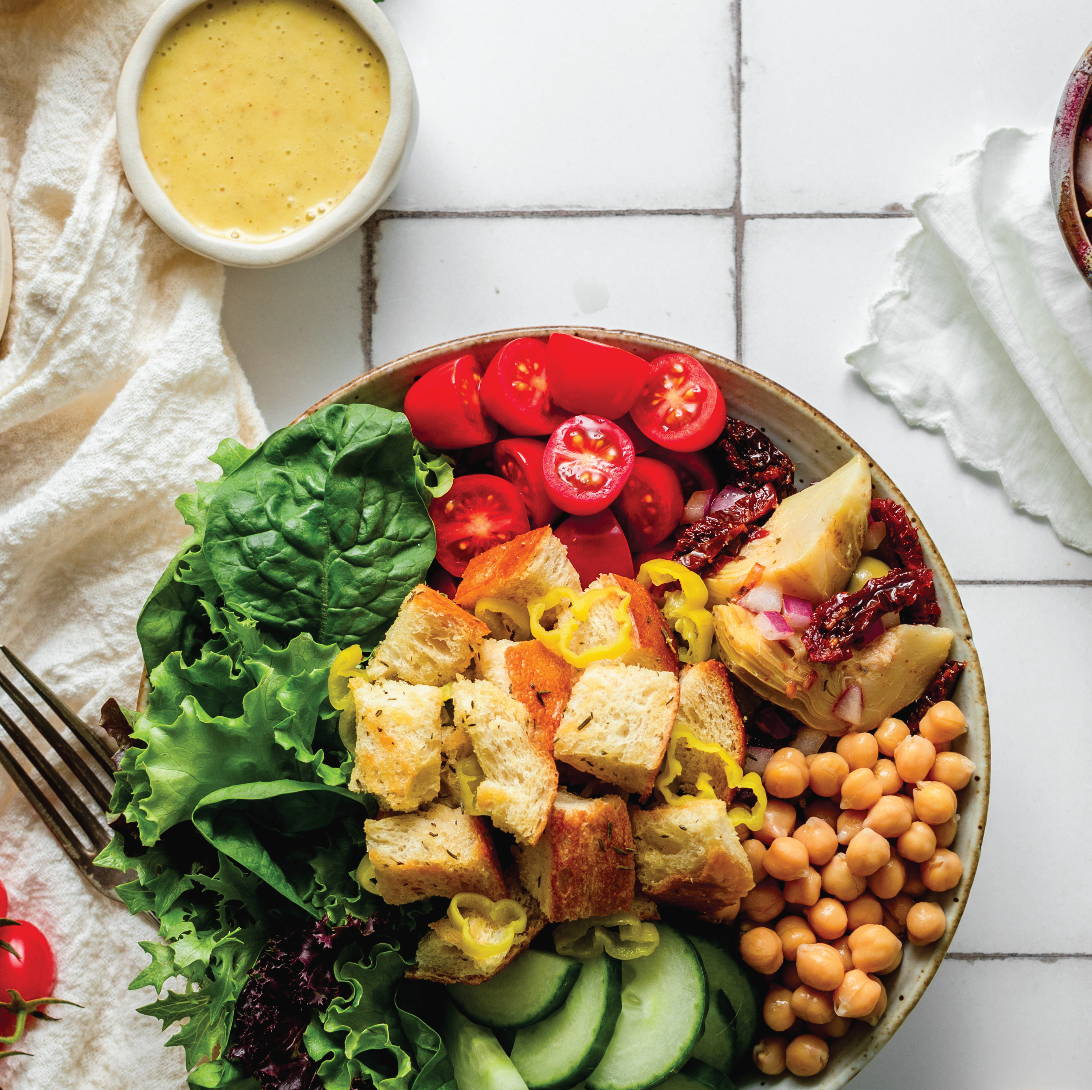 What's easier than having your salads made for you? Also, having them delivered. We have made it so easy to say yes to healthy eating. With new recipes coming out regularly, there is no way you will get bored. Try the newest Inspired Go addition - the Modern Mediterranean Salad - in your next order!