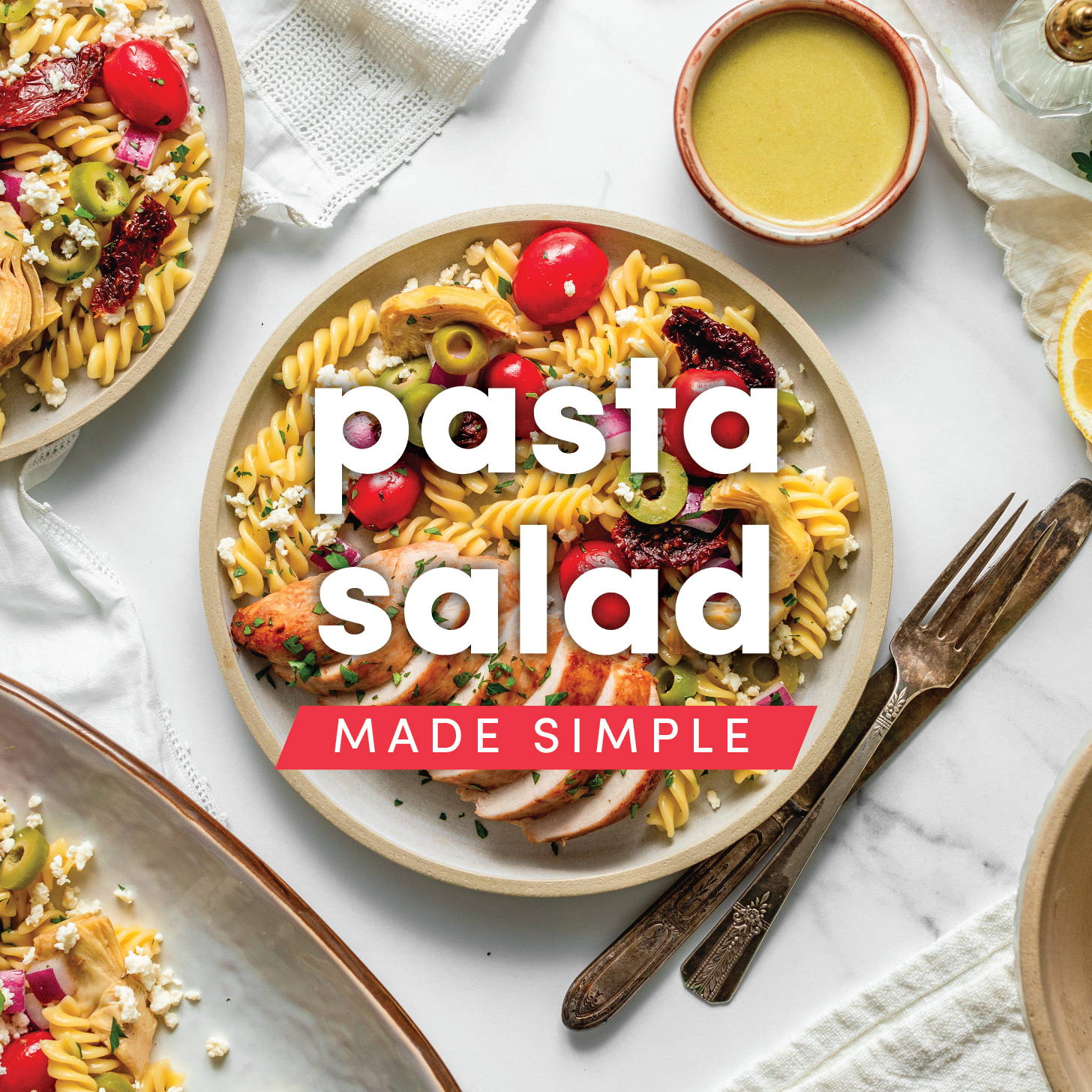 The Mediterranean Pasta Salad Kit
from Inspired Go

We don't have to boast very much about this recipe. It's a pasta salad! It's going to be great! If you need reasons to believe this one is superior to the rest, then keep reading.

We set out to change the way you do dinner time, keeping consistent with our goal to make healthy eating easier. This easy pasta salad is great because it can be made ahead of time for a barbeque or picnic, or it can be made right at dinner time as a great complete meal. Toss in some grilled chicken and let the drooling begin!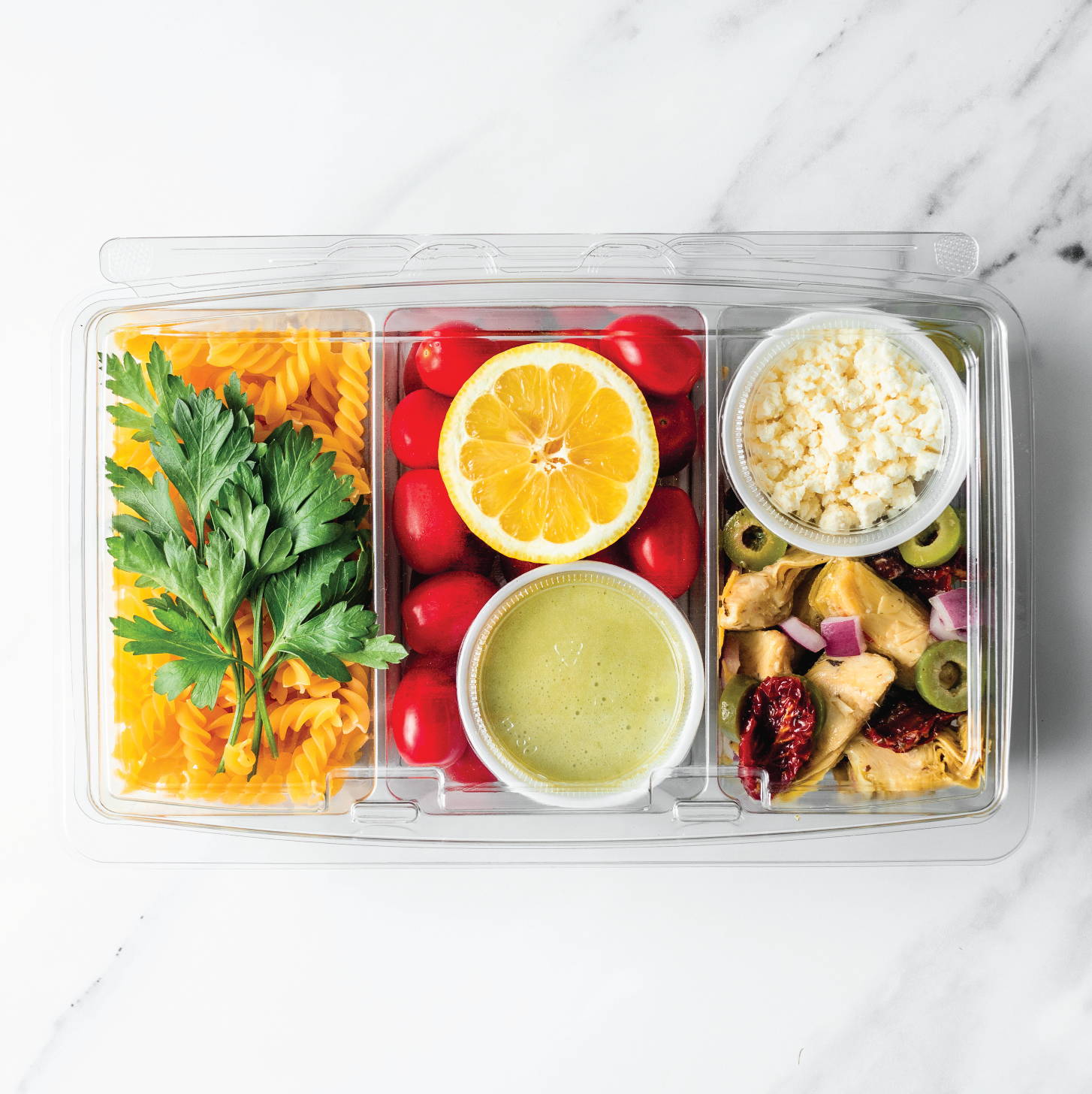 It's an EASY Pasta Salad!
Fresh and easy aren't often found in the same sentence together, but you heard it here first! Inspired Go Dinner options were created so that you can take back your meal time. Instead of running around the kitchen creating a big mess for yourself, you can throw some ingredients together, do a bit of baking or boiling, and enjoy a delicious meal. You get a meal packed with vegetables without needing to do any of the chopping that usually goes into a vegetable-heavy dish. You can find our whole lineup of dinners on www.inspiredgo.ca.

All Inspired Go orders are delivered right to your doorstep. They arrive in a cooler bag with ice, and you receive a text when your order is on the way and when it arrives. The Mediterranean Pasta Salad Kit comes with all of your ingredients, prepared and ready to go. Cook the pasta, throw it all together, and enjoy!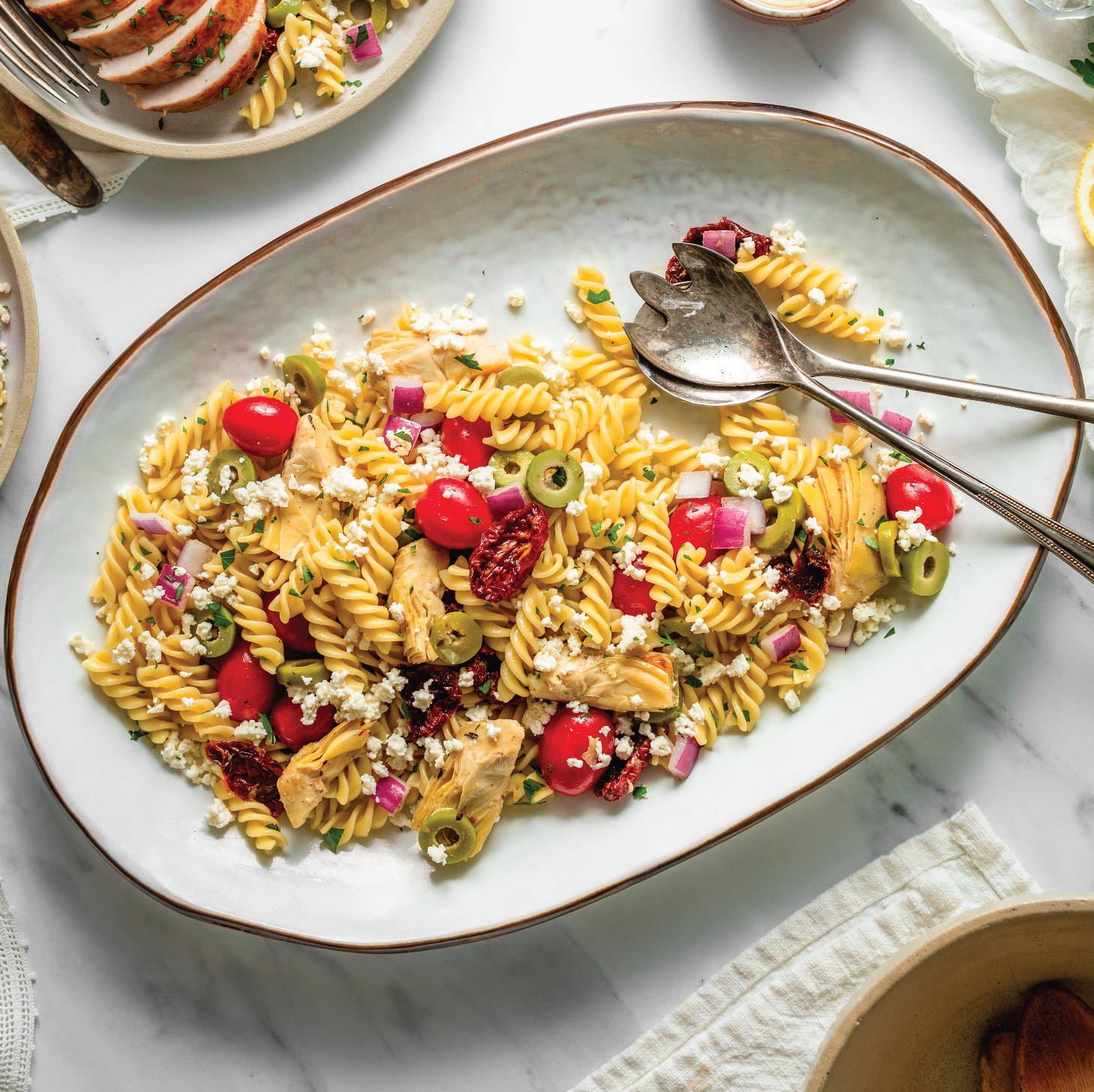 Did Someone Say Artichoke Hearts?
Yes. Yes, we did. Our Mediterranean Pasta Salad includes all the bright and fresh flavours you will find in the region. We love the salty pop of feta cheese and olives and the juicy sweetness of the fresh grape tomatoes. The heart of the salad is our delicious mix of artichoke hearts, sliced olives, diced red onion, and sundried tomatoes. The feta cheese adds a creaminess without needing to drench the salad in mayo. Topped with fresh parsley and lemon juice, every ingredient has been carefully selected to pair beautifully together. Even if you aren't an artichoke or olive lover, you won't be able to turn down this beautiful blend. Order it now, www.inspiredgo.ca.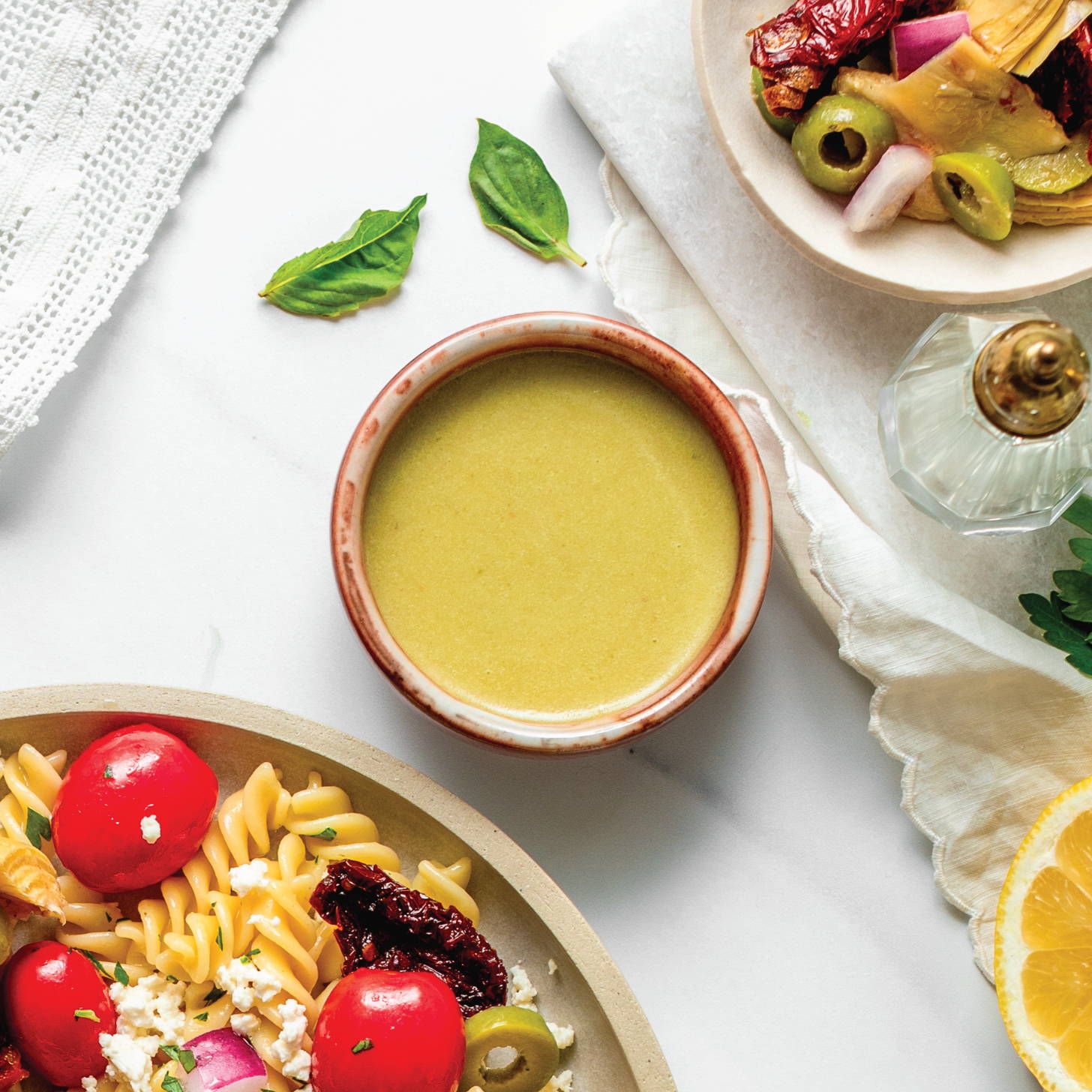 The Correct Answer is Vinaigrette
We are all about this vinaigrette-based dressing. It features a tasty red-wine vinaigrette, lemon juice, and some fresh basil. Not only does it accentuate all of the ingredients in the dish, it is also uber practical for those hot days in the sun.

Whoever thought mayo-based potato and pasta salads were a good idea, did not take them to a barbeque. You bring your pasta salad knowing that, in all likelihood, it will sit out in the sun for an hour or two. Mayonnaise plus heat is a questionable situation. Its also a heavy ingredient, and when compared to the light and refreshing taste of our herb vinaigrette, you'll be going back for seconds (even after that second hour).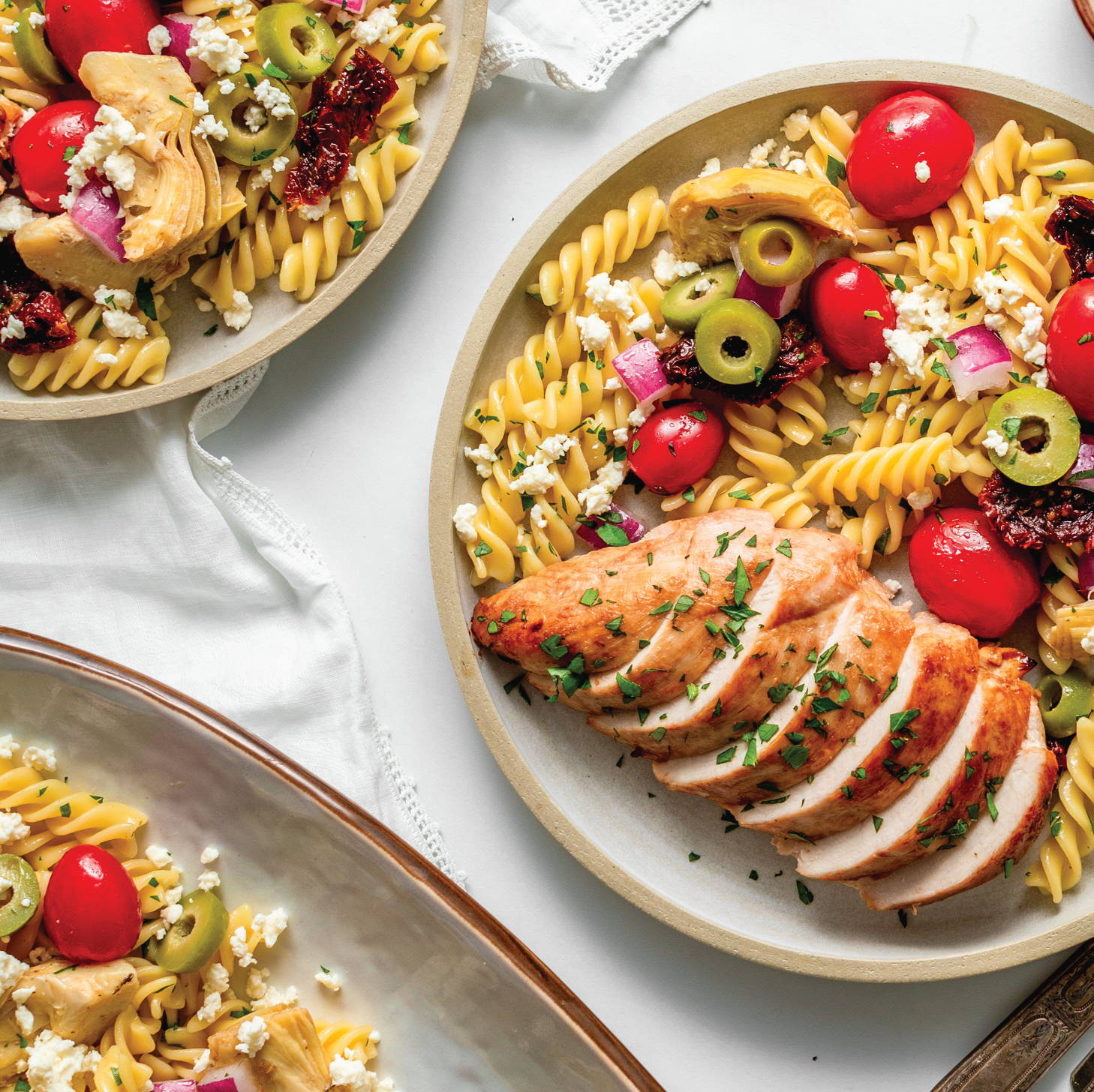 The Mediterranean Pasta Salad Kit comes with your dry pasta which you throw into a boiling pot of water. While that boils, combine the grape tomatoes, feta cheese, and artichoke blend. This blend is a mix of artichoke hearts, diced red onion, sliced green olives, and sundried tomatoes. Once your pasta is cooked, mix it all together, squeeze a lemon and a sprinkle of fresh parsley, and drizzle it all over with the delicious and light vinaigrette dressing.

Make this Mediterranean pasta salad recipe ahead of time to take to your next summer barbeque, or combine it with some grilled chicken and enjoy it on the deck with a glass of wine! There are endless possibilities when you don't have to do any prep, and your fresh meal is delivered right to your door. Order now, www.inspiredgo.ca.