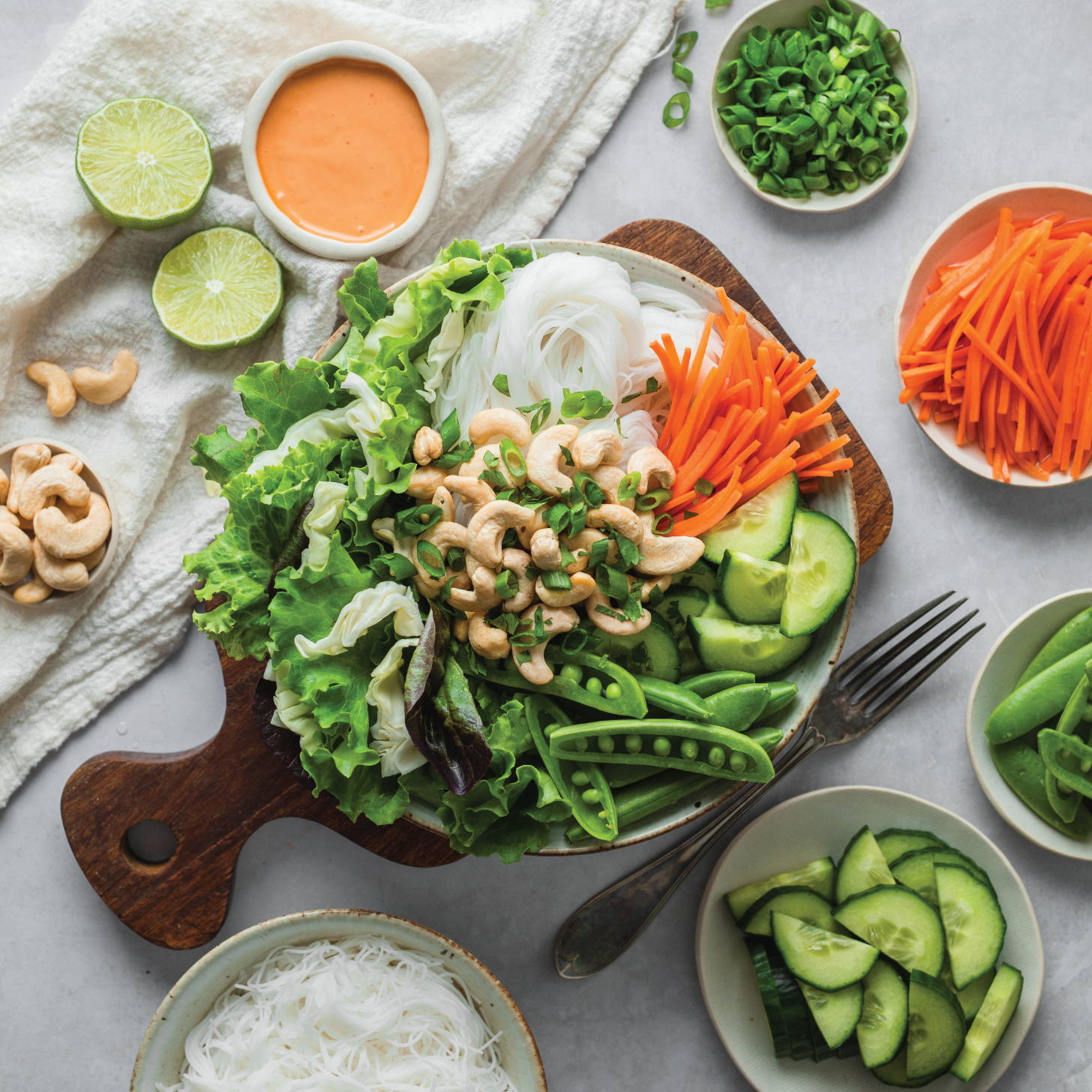 The Lettuce Wrap Salad
from Inspired Go
This light and refreshing Lettuce Wrap Salad is all you need to kick-start your summer! Our newest recipe has transformed the popular restaurant appetizer into a savoury main dish salad. It features plenty of crunch and ingredients to satisfy all of your cravings! After the Inspired Go team tested this product for the first time, they knew it would be an instant hit! The homemade savoury tahini satay dressing, fresh ingredients, and vermicelli noodles will make this salad your new go-to and leave you craving it at all hours of the day.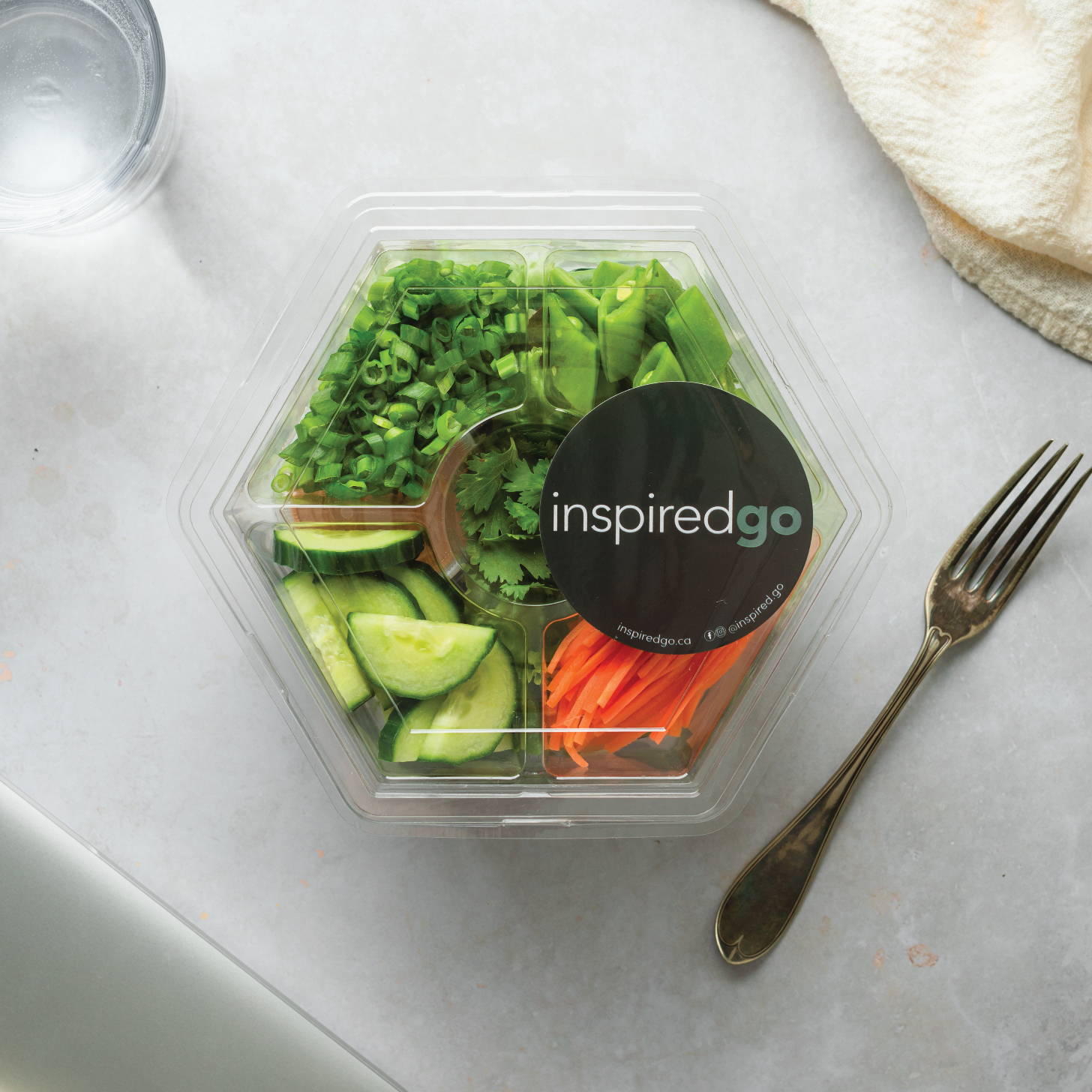 Crunchy and Savoury Ingredients
This salad is packed full of crisp vegetables like our pickled carrots, snap peas, and cucumber that will satisfy any crunchy cravings. The bite from the green onion and creaminess from the cashews complement our homemade savoury tahini satay dressing. With the addition of vermicelli noodles, greenhouse lettuce, and napa cabbage, all these flavours and textures are tied together perfectly. We encourage you to enjoy this Lettuce Wrap Salad recipe with our roasted chicken if you want to add more protein to your diet!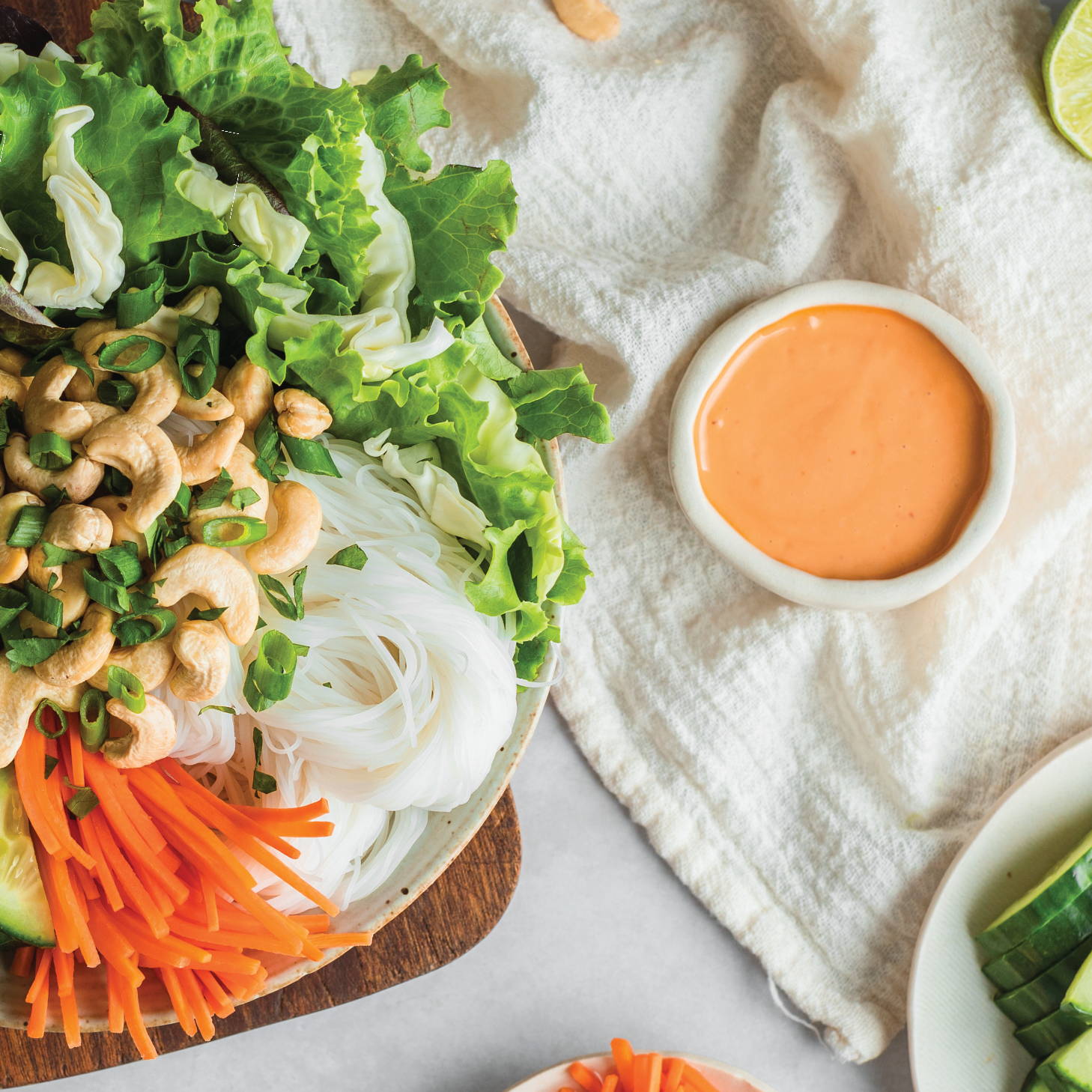 Vermicelli Noodles and Tahini Dressing
This spring, we launched our first-ever ready-to-eat pasta salad. We are at it again with the addition of vermicelli noodles in this savoury dish. The noodles offer more texture and fibre to keep you feeling full all day. They are also a key ingredient in carrying the delicious homemade tahini satay dressing that we make in-house. This dressing recipe features hints of garlic and is perfectly sweet and salty to offer you with a wide range of flavour profiles.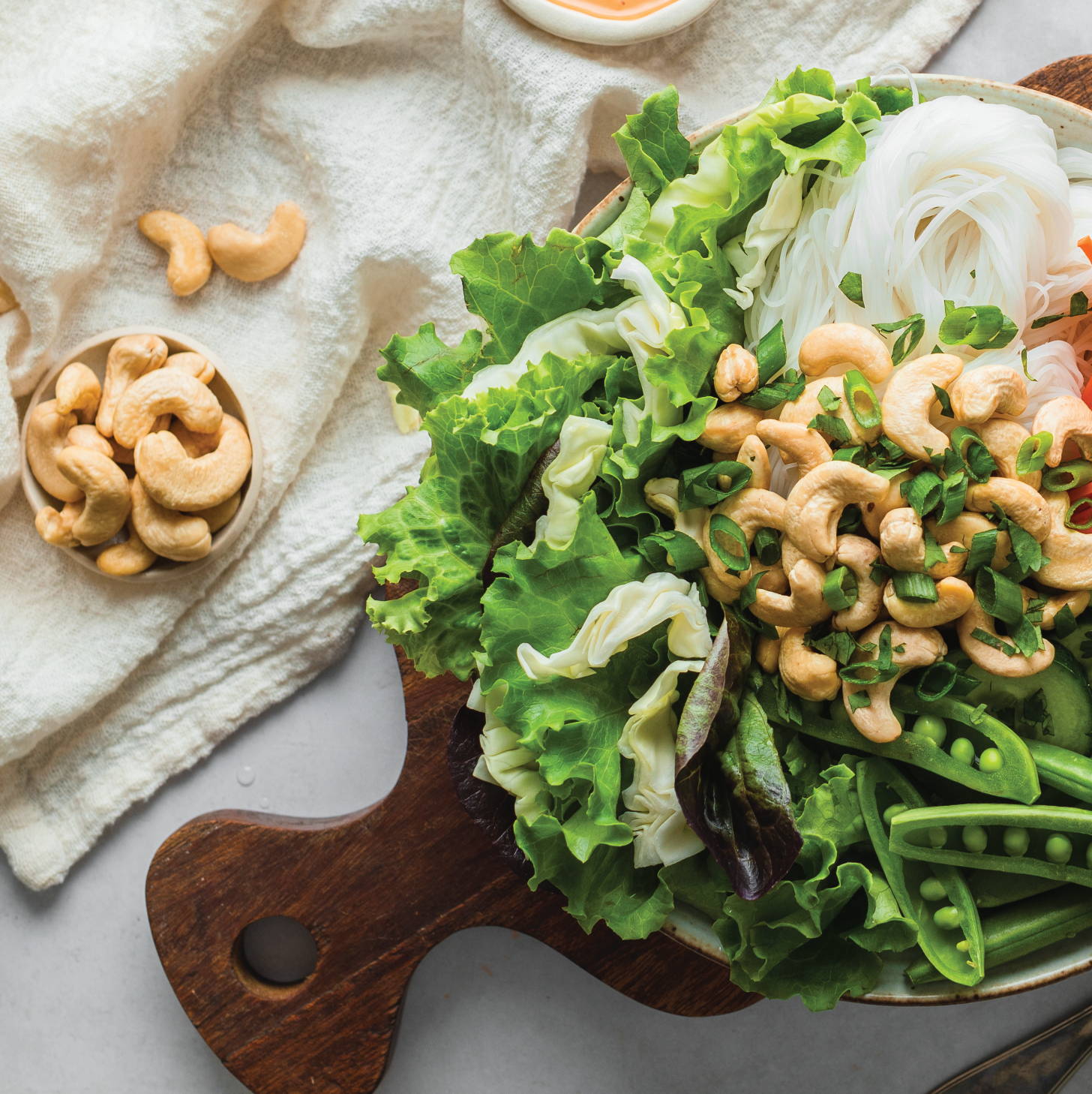 Crunchy Cashews and Savoury Sesame
Two of the most prominent flavour profiles in this meal are the taste of the cashews and the sesame profile from sesame oil and tahini in the dressing. Cashews are always a hit in our meals, and we understand why! They add a unique mild flavour and creamy, rich texture. They are also slightly lower in fat than other nuts. The tahini and sesame oil in our homemade satay dressing embraces the unique bitter, savoury, and nutty flavour that is prominent throughout the meal. The two prominent flavours play off each other and create an inspirational and delightful meal.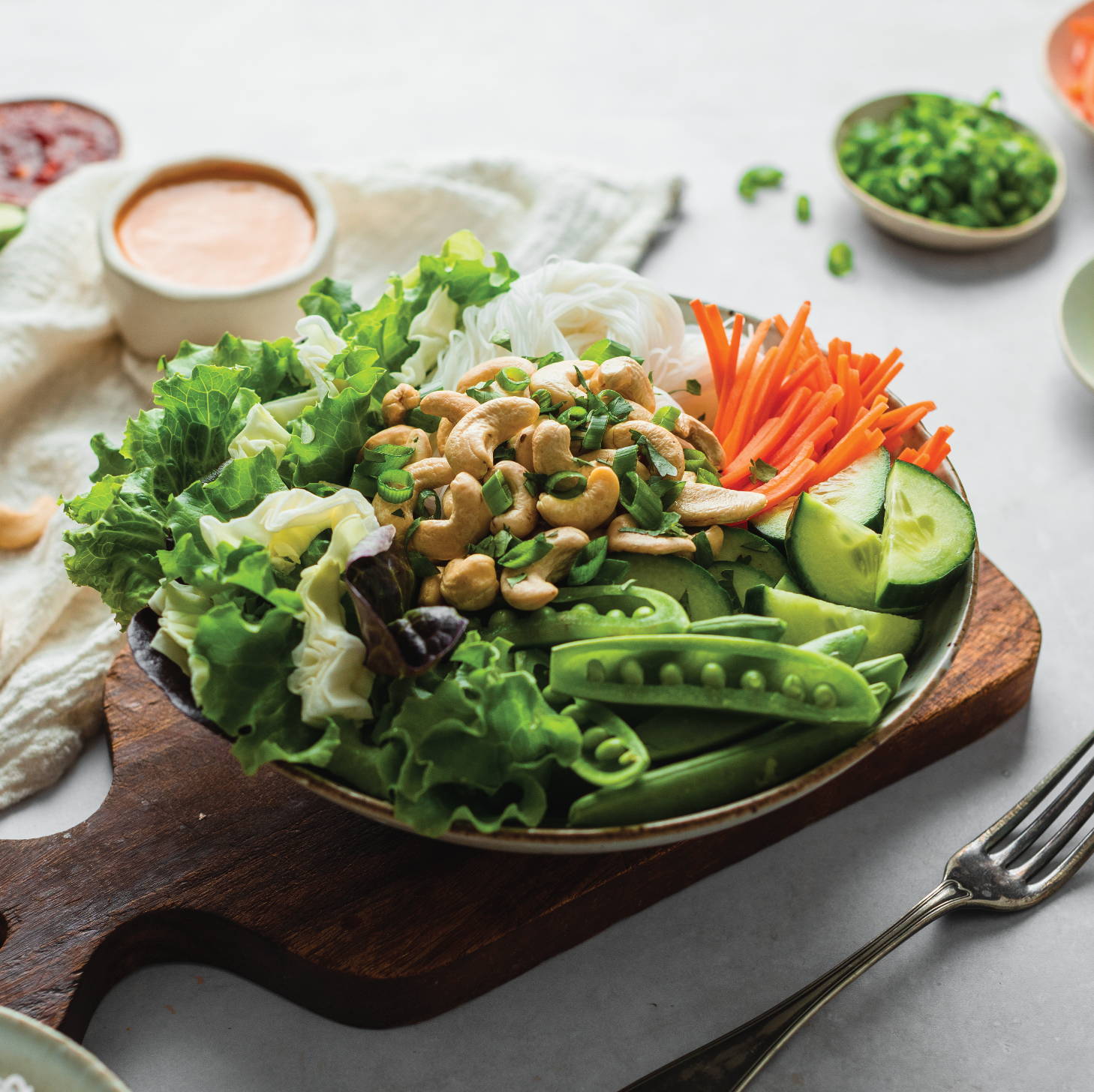 Order the Lettuce Wrap Salad
Summer is the perfect time to treat yourself to regular Inspired Go orders. Salads hit differently in the summer months, and with new summer recipes launching every week, there are plenty of new flavours and recipes to try. The newest addition to the menu is our Lettuce Wrap Salad, which features crisp vegetables like pickled carrots, snap peas, and cucumber. You'll get a bite from the green onion and a creamy texture from chopped cashews. Our homemade savoury tahini satay dressing complements all of these ingredients. Vermicelli noodles, greenhouse lettuce, and napa cabbage make up the base of this meal and will leave you feeling refreshed and energized. Order a variety of Inspired Go recipes to be delivered to your door and enjoy a week of ready-to-eat fresh, and healthy meals!