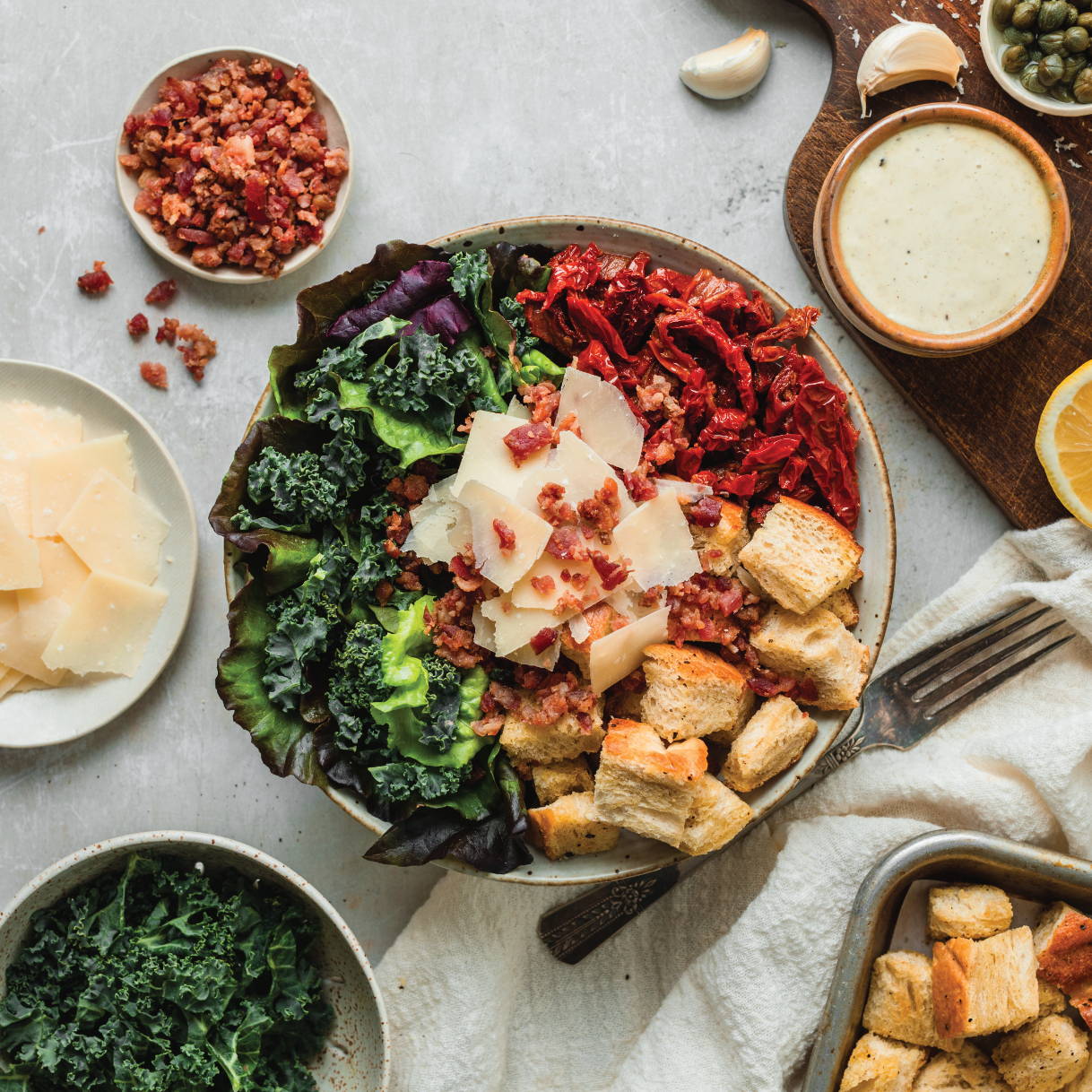 The Inspired Caesar Salad
from Inspired Go
It's the end of an era! Our CHAR Caesar Salad has been on our menu since the very beginning. It has been through a lot with us! Just like any other salad, we let you be the judge of which salads stay and which salads go and you have spoken. The sales for the CHAR Caesar have dropped and we are excited to welcome another Caesar into our family! The Inspired Caesar Salad has a lot of the same delicious components that make up an authentic and tasty Caesar Salad. It's hitting the menu in a big way in both a single-serve option and a family side-salad option that serves four people.  


Caesar Salad is a tradition that is loved by so many. Research has shown that it is the fiber and water content in the lettuce and other vegetables that help you feel full combined with the crunchy texture of the croutons that makes the salad so enjoyable. We like to think that it's actually a dressing and comfort component that keeps people coming back to the Caesar over and over again. One downfall of the Caesar Salad is that Caesar dressings can often be high in saturated fat and sodium, making it easy to overindulge in a meal that is often assumed to be healthy. This has led to many different chefs, bloggers, and at-home culinary experts to recreate the Caesar in a new light. Often these different versions will feature added vegetables and homemade Caesar dressing iterations competing to balance taste and nutrition. The Inspired Caesar Salad is Inspired Go's take on the "best" Caesar Salad!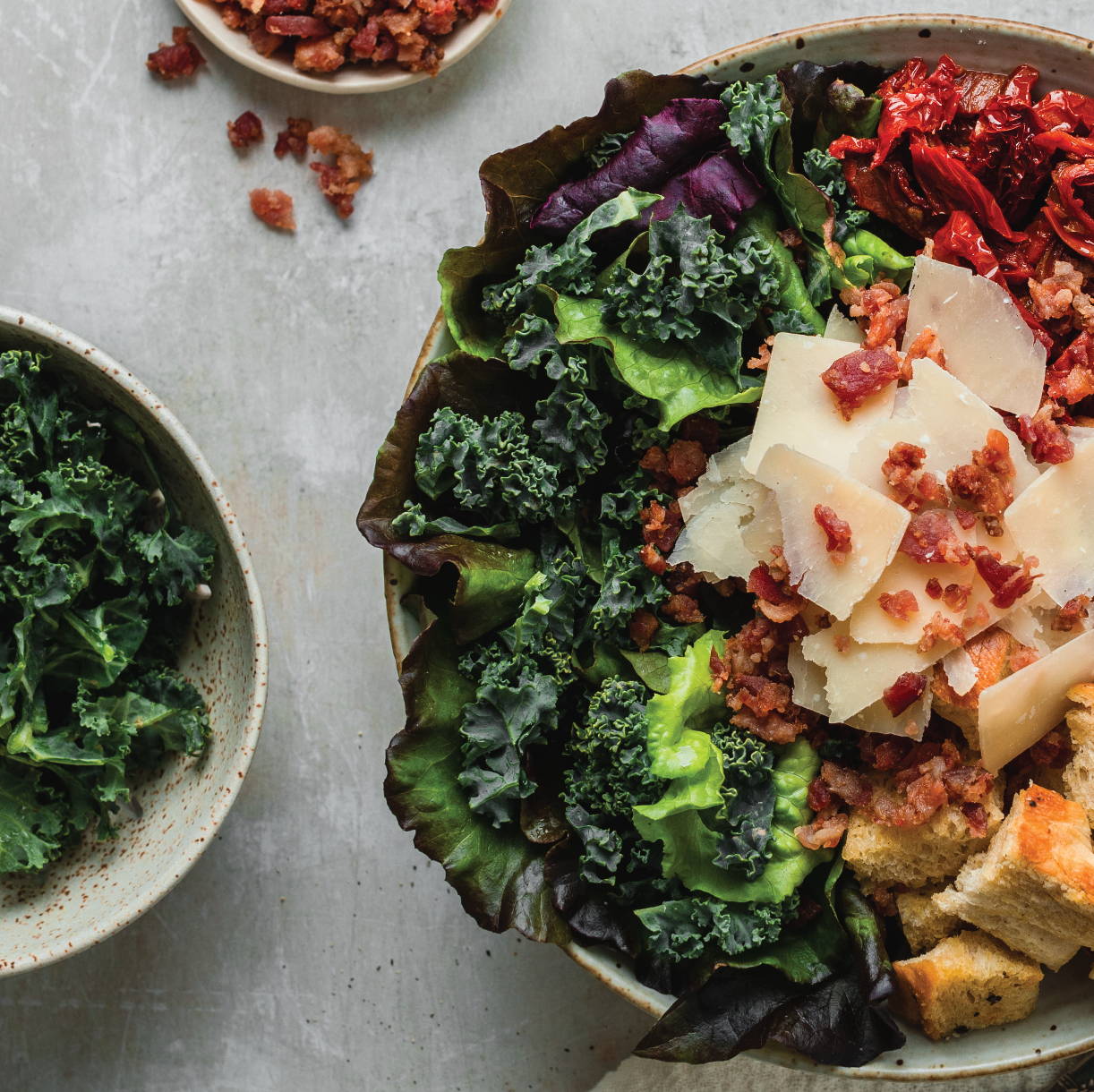 In addition to the traditional bacon bits, croutons, and parmesan, the Inspired Caesar Salad features our greenhouse lettuce instead of the traditional romaine. Our greenhouse lettuce is more nutritionally dense, it's easier to digest and offers a lot more texture and flavour than other greens. We also included kale for an additional nutrient and fiber boost. The shredded kale gives a crunchy texture throughout the entire salad alongside our homemade black pepper and parsley sourdough croutons which we bake in-house. The addition of sun-dried tomatoes adds a light and refreshing tang to this hearty salad. Combined with the traditional bacon bits that provide a sweet and smoky flavour and the sharpness of the shaved parmesan cheese you have a salad that provides you with more nutrients than a traditional Caesar. Our twist on the recipe brings you more umami, more crunch, and more flavour in every bite while keeping you feeling fresh and satisfied!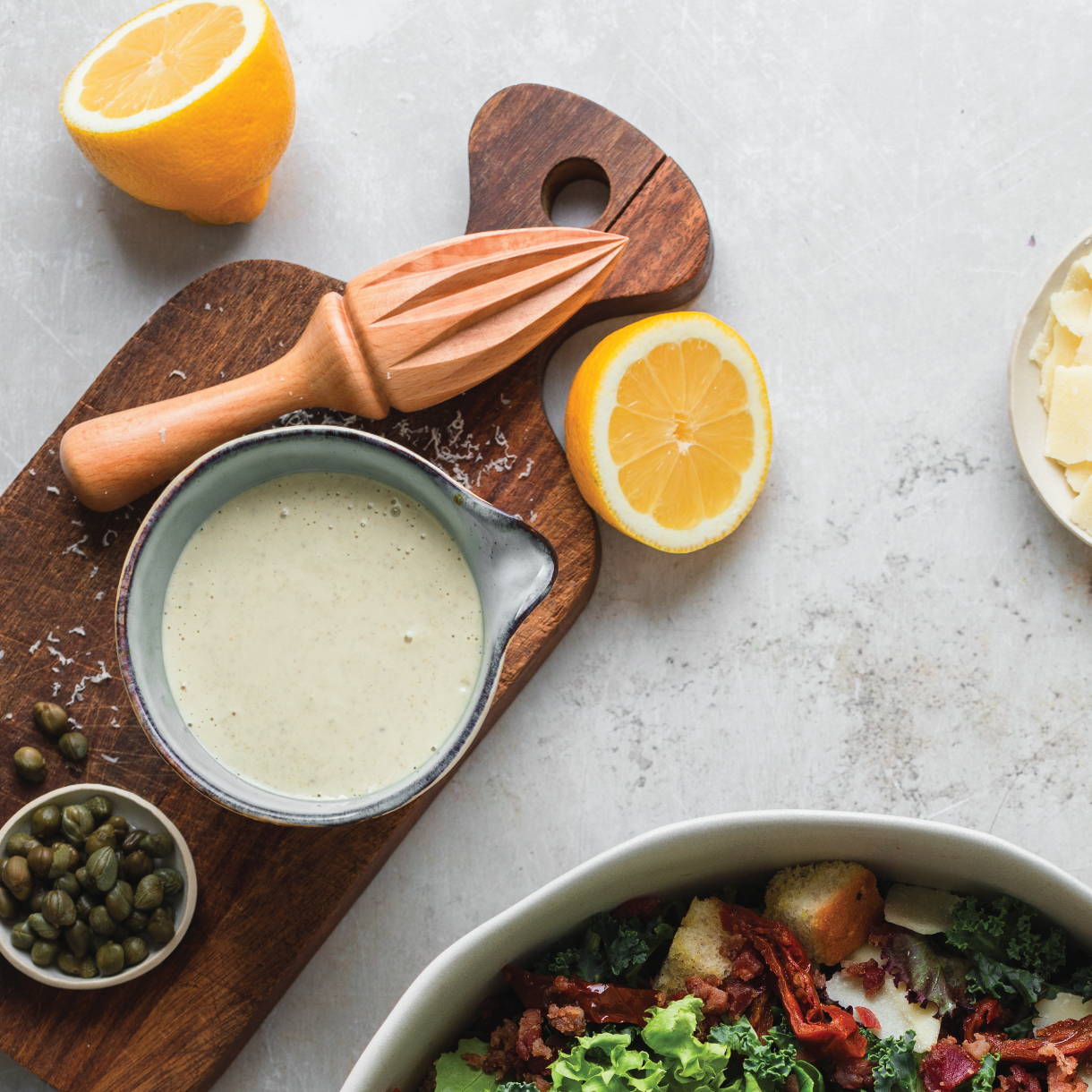 Caesar salad is extra delicious when it features a homemade Caesar salad dressing. We pride ourselves on our dressings that we make in-house and without preservatives. We make our dressings weekly right before we ship out all of our orders. It's not much of a secret, but it sure is worth all of the work it takes to pull it off. This salad features our brand new creamy homemade garlic parmesan Caesar salad dressing and it truly brings all of the ingredients in this meal together in perfect harmony. It features fresh lemon juice, white wine vinegar, garlic, capers, parmesan cheese, and dijon mustard. The capers add that briny taste that anchovies usually offer while also making this salad safer for those with allergies. The parmesan cheese in this recipe offers a unique flavour and added creaminess. The lemon juice provides the right about of bitter taste to give the dressing its umami component. It's a true art creation that we cannot wait for you to enjoy!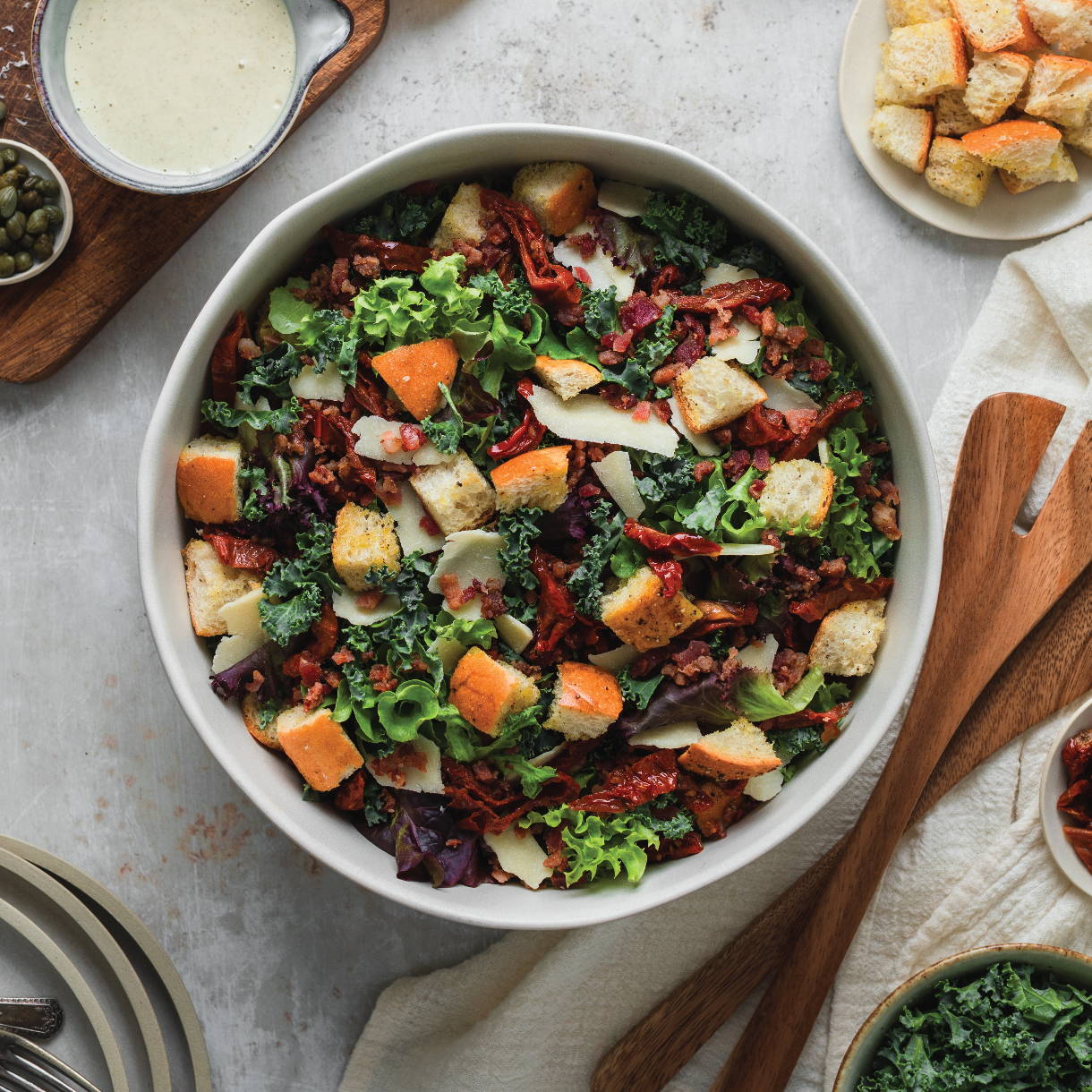 Order the Inspired Caesar Salad Today!
The Inspired Caesar Salad has hit our menu in a single-serve size and a family side dish size. It's the perfect addition to any meal with its unique textures and pop of umami goodness. Or you can enjoy it as a full meal! For an extra protein boost, we encourage you to add a hard-boiled egg or roasted chicken, which can also be purchased online and delivered to your door. This salad is our take on what the "best" Caesar Salad tastes like. Don't wait! Place an Inspired Go order today and have fresh and healthy meals delivered to your door. There is no preparation required and every ingredient is fresh, crisp, and ready to nourish your body!