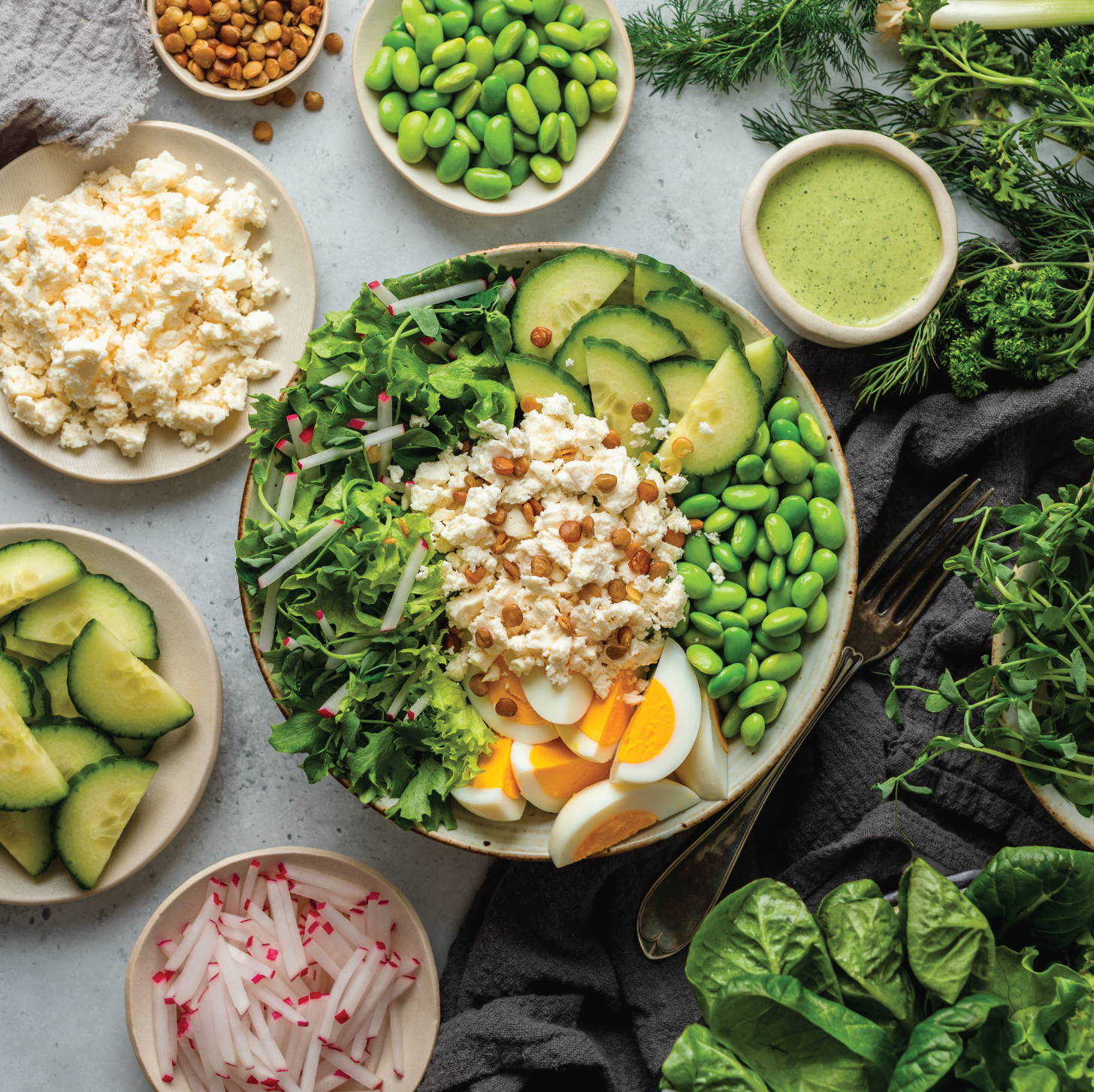 The Green Machine Salad
from Inspired Go
Get your full dose of greens with this tasty, protein-packed salad! Taking one look at the image of the Green Machine Salad gives you an idea of what the experience will be like enjoying the newest menu addition. This meal is inspired by the trendy green goddess salad and is created in the Inspired Go fashion. We packed it full of flavourful ingredients that are all fresh - meaning that you get more nutrition and more flavour in every bite. It's not only fresh and super flavourful, it's also loaded with protein-rich ingredients that will power you through your day!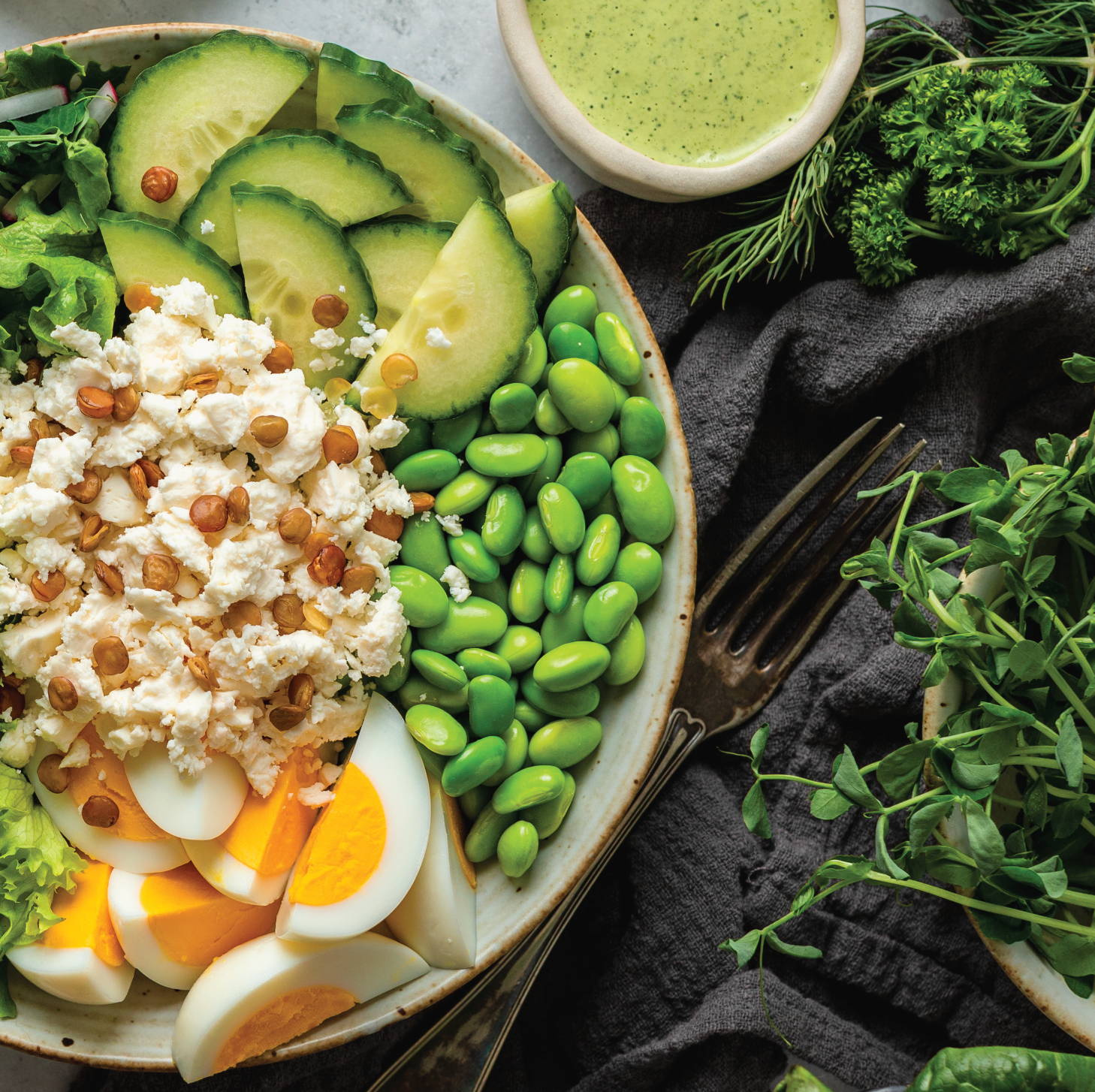 We all know that green vegetables are good for us, but do you know how much you can benefit from their consumption? After we list all of the benefits, you might start to believe that green vegetables have magic powers! They can slow down the aging process (yes, please!), reduce your risk of heart disease, slow cognitive decline, and they increase muscle strength. To top it off, green vegetables contain high levels of fiber, iron, magnesium, potassium, folate, and calcium, are rich in vitamins A, C, E and K, and have very little sodium, cholesterol, and carbohydrates. Although this might all sound too good to be true, it's actual scientific fact and not magic.

Normally this would be the time when we convince you to force-feed yourself those gross green vegetables you don't like. Lucky for us, we don't have to do any of that! You will take one bite of the Green Machine Salad and realize that it's something you actually WANT to consume. There is something about the combination of the lemon in the dressing that mixes perfectly with the fresh herbs that make every bite a joy!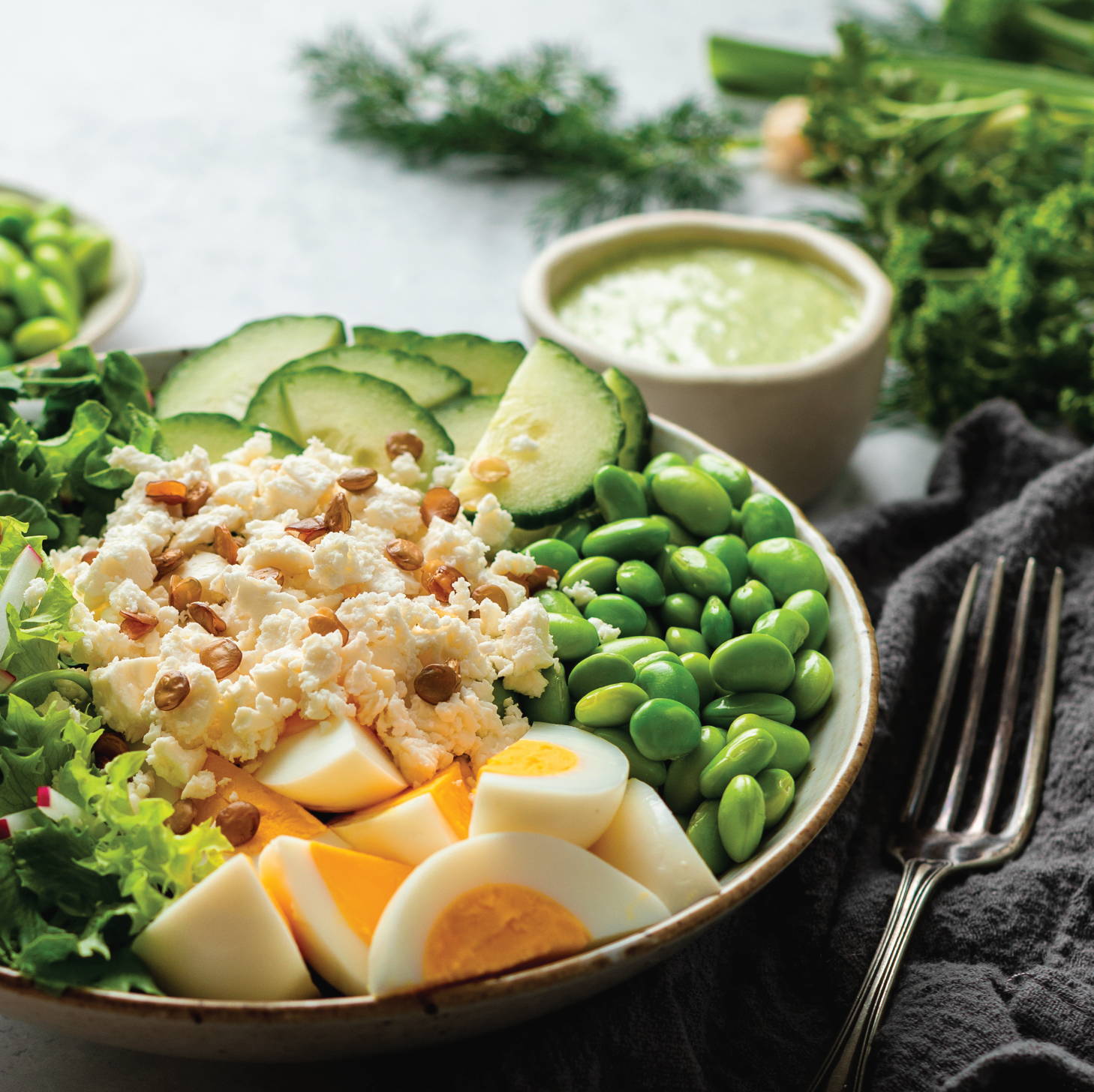 A Deep Dive Into Ingredients
This hearty salad includes a hard-boiled egg that contains quality protein and healthy fats. Paired with lentils and edamame, which offer a fresh and crisp bite and also have many micronutrients and additional protein. The radish and cucumber included in this recipe add a unique texture and flavour that round out the meal. Our herbaceous homemade dressing matches the creaminess of the feta and pulls this salad together with its rich yet fresh flavours. The result of the fibrous and protein-rich ingredients is that the Green Machine Salad is nutrient-dense, and it is going to keep you full for a long time.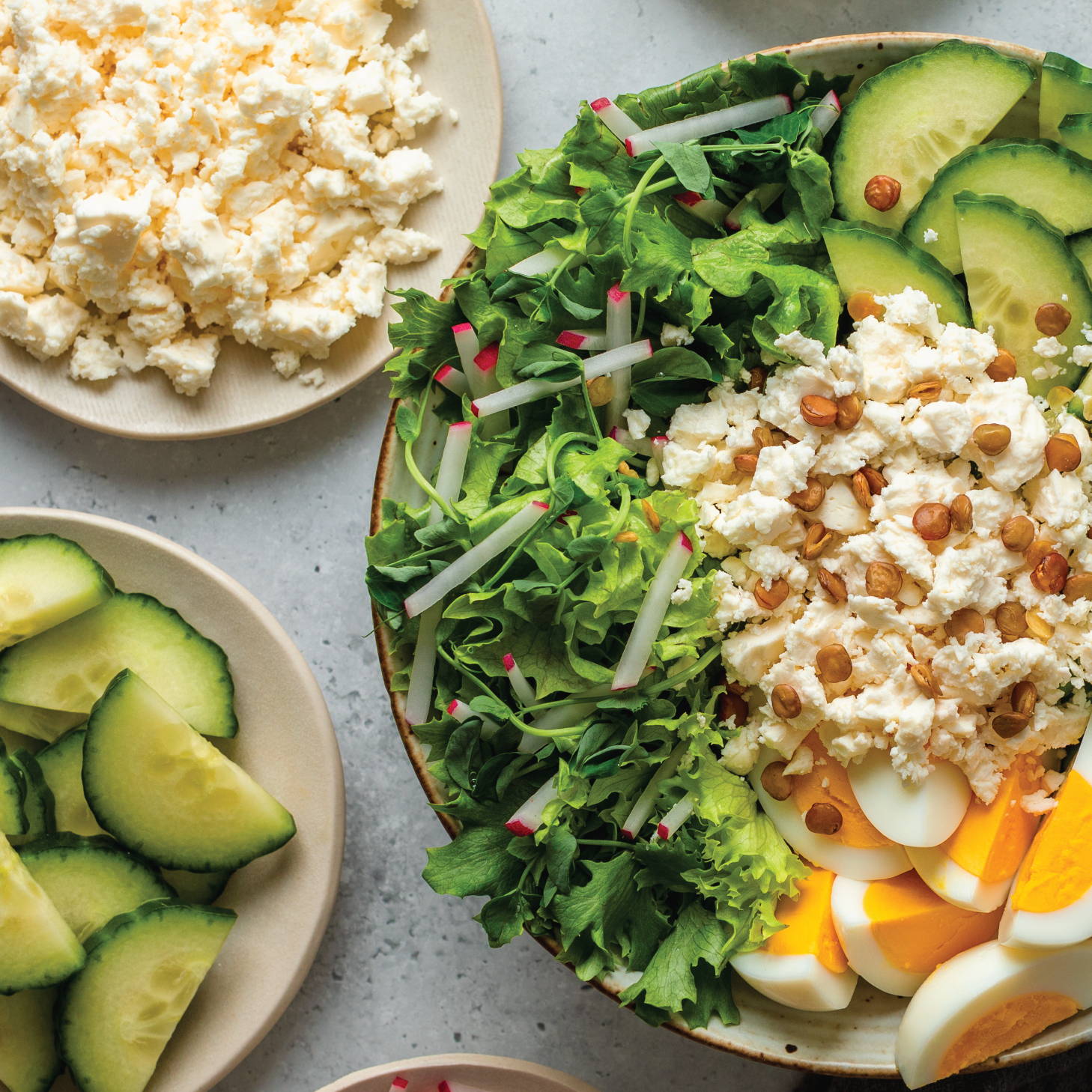 Edamame is a staple in this meal, and we are fortunate enough to benefit from the fact that edamame contains lots of your daily requirement of vitamin K and folate, which are beneficial to new cell growth.

The hardboiled egg is loaded with quality protein and healthy fats.

Cucumbers and radishes contain lots of antioxidants, micronutrients, and soluble fiber. Fiber is essential because it helps you feel full, gently cleans out the colon, and removes toxins and other waste from your system. It also feeds and nourishes beneficial bacteria – the ones that work hard to keep us healthy.

We use crispy lentils in our salads which are great for crunch. That is not their only boastful quality! They are also a great source of protein, B vitamins, iron, and many other micronutrients.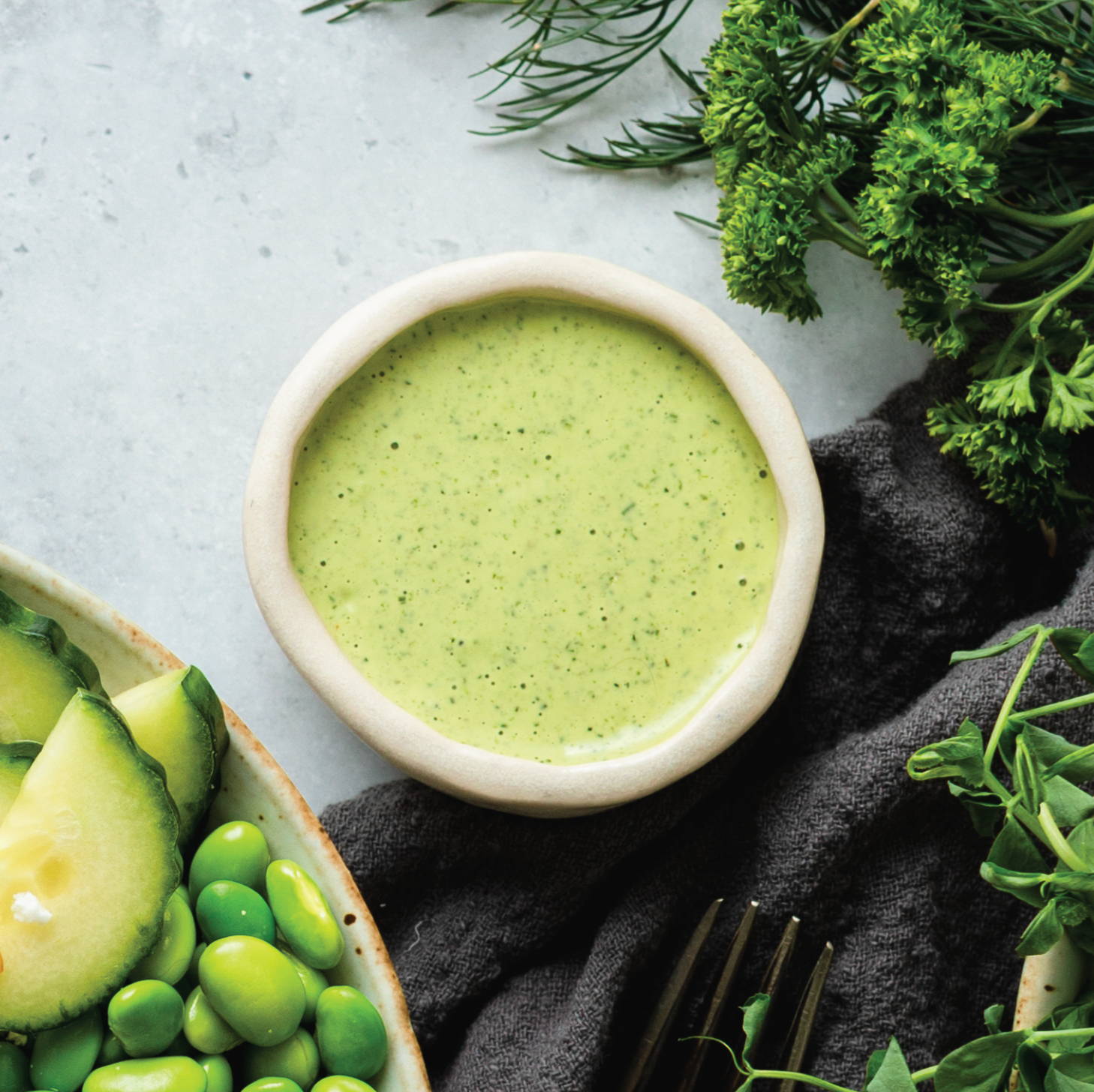 The key to any green goddess dressing is the fresh herbs featured in the recipe. We carefully selected our herbs so that you get the most nutritional benefit and the best bang in taste. We feature basil, parsley, green onion, and dill. We added capers to this recipe for a tangy twist and lemon juice for a bright vibrance. The dressing also includes a hint of garlic which adds depth and rounds out the dressing in a fantastic way. The base of the dressing is a mixture of greek yogurt and oil which makes the dressing creamy and indulgent and coats every ingredient in your bowl. We avoided the use of sour cream and mayo in place of the greek yogurt, which makes the dressing a tad healthier and adds a delicious tanginess that is welcomed. One bite of the Green Machine Salad, and you'll be hooked!


Making Eating Greens Easy
You know the drill. We are here to make healthy eating easier! Although you may know the importance of eating green vegetables, it isn't always an easy task. With the new Green Machine Salad, it has never been easier! You get to enjoy a salad full of flavour, protein, and nutrients. As a benefit, your body will thank you - and that's what we are all about!