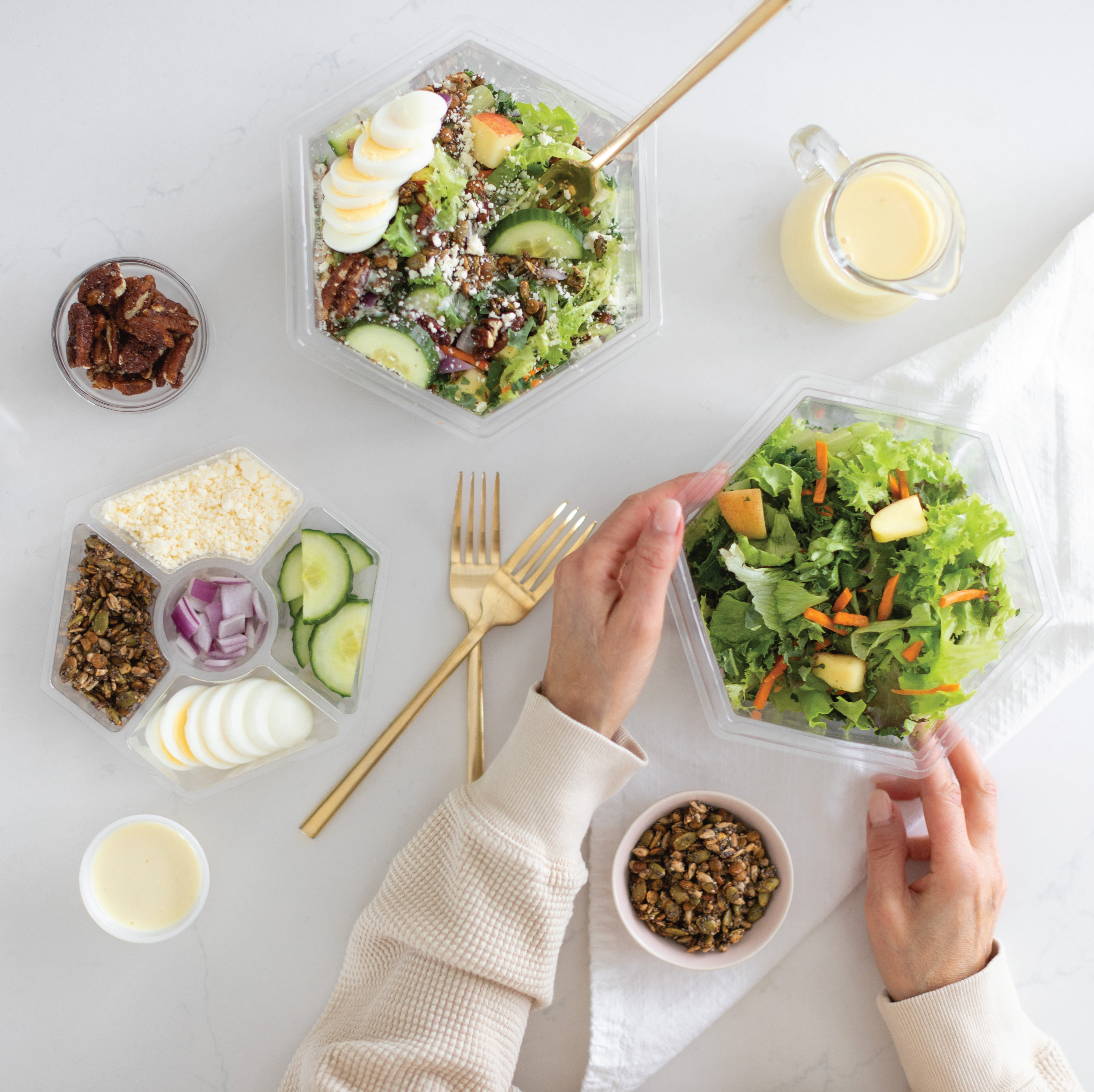 The Fraîche Power Salad
from Inspired Go
We have teamed up with Tori Wesszer and the team at Fraîche Living to bring you an exclusive new salad recipe! Tori is a nutritionist, business owner, mom, and lifestyle blogger who embraces moderation and quality without deprivation. She has a knack for delicious and hearty recipes that look as good as they taste. Like us over at Inspired Go, she is in love with food and sourcing quality, local ingredients. For these reasons and more, we are thrilled to bring this collaboration to life with Tori and Team Fraîche! Team Fraîche created this recipe with the primary goal of bringing power to your day. This recipe will nourish your body and leave you feeling energized, satisfied, and refreshed. Meal delivery can be a game changer for those busy weeks and especially as we get back into routine this New Year. We are excited to bring this new salad to our line-up and delivered directly to your door. Take it from us - this will be a new favourite!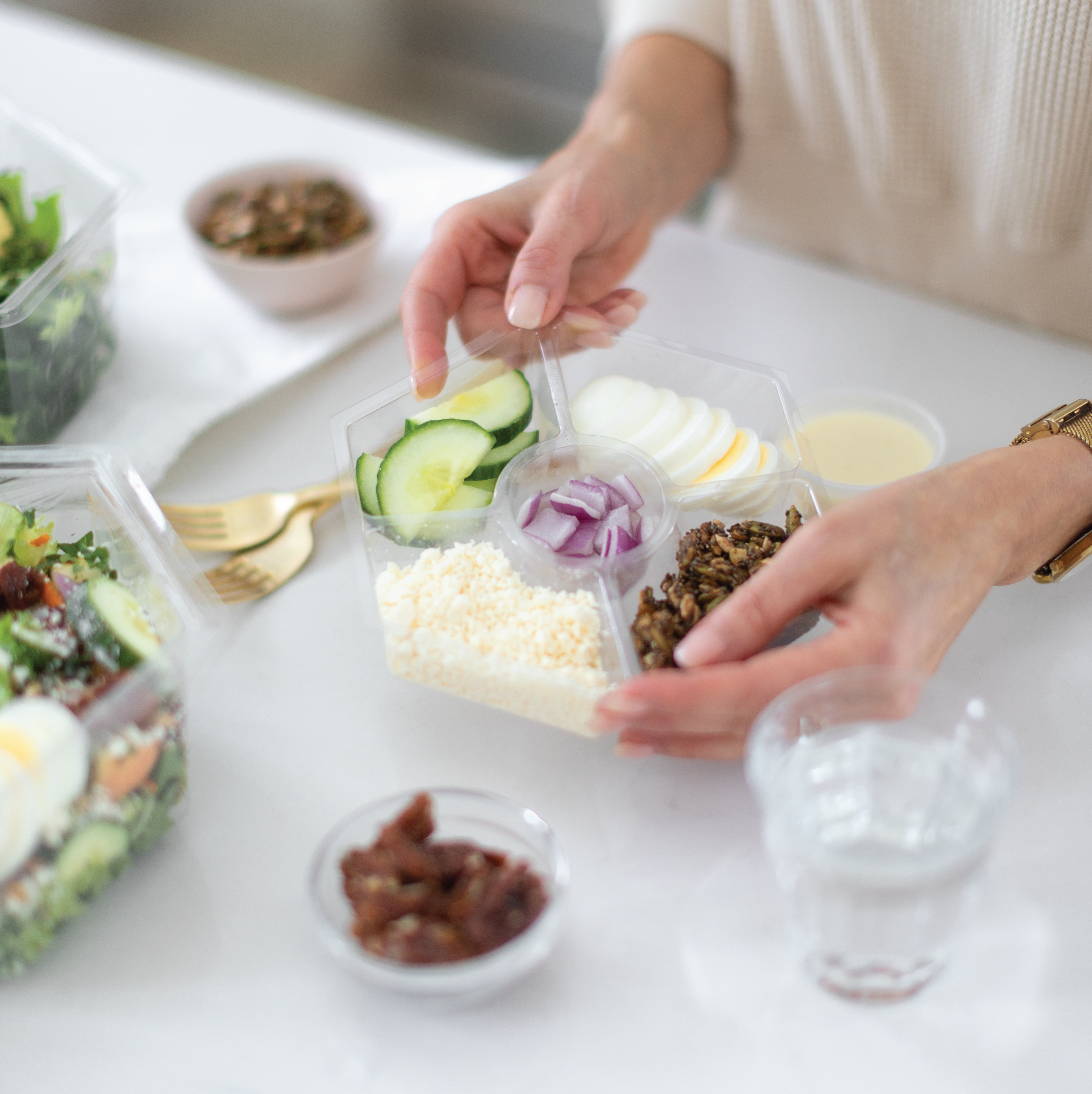 Packed with Fresh Ingredients
This salad recipe combines our signature sustainably grown greenhouse lettuce along with shredded kale, carrots, apples, cucumbers, and red onions. The leafy lettuce and kale combine to make the perfect nutrient-packed base for this salad. There is plenty of satisfying crunch as well, thanks to the carrots, apples, cucumber, and red onions. The carrots and cucumber bring you fibre and hydration. The addition of apples offers a unique juicy crunch and a ton of flavour. The red onions are the perfect assertive zest to top off the salad.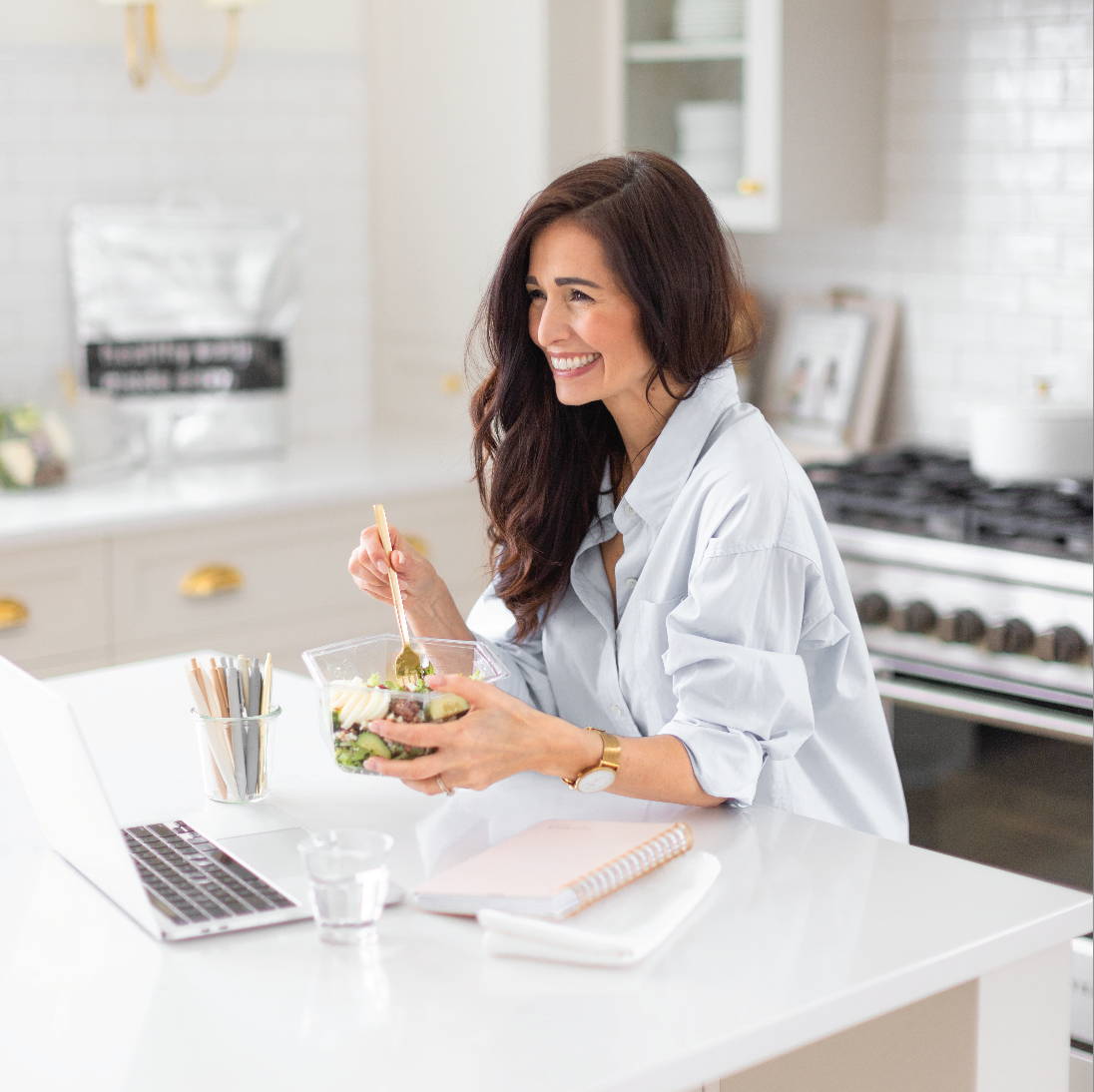 When crafting this salad, Team Fraîche prioritized the importance of protein to ensure you would be left feeling satiated and fueled to achieve your goals for the day. They added a hard-boiled egg, candied pecans, crumbled feta, and their unique Protein Crunch - a powerhouse mix of nutrient-dense seeds. This protein-packed combination looks beautiful and tastes even better.

The signature Protein Crunch was developed exclusively by Team Fraîche. They combined hemp seeds, sunflower seeds, pumpkin seeds, chia seeds, and roasted lentils, tossed in a touch of chili powder and brown sugar. It creates the perfect sweet and spicy hit to each bite. This superseed crunch also offers a magnitude of texture, making this salad recipe even more satisfying.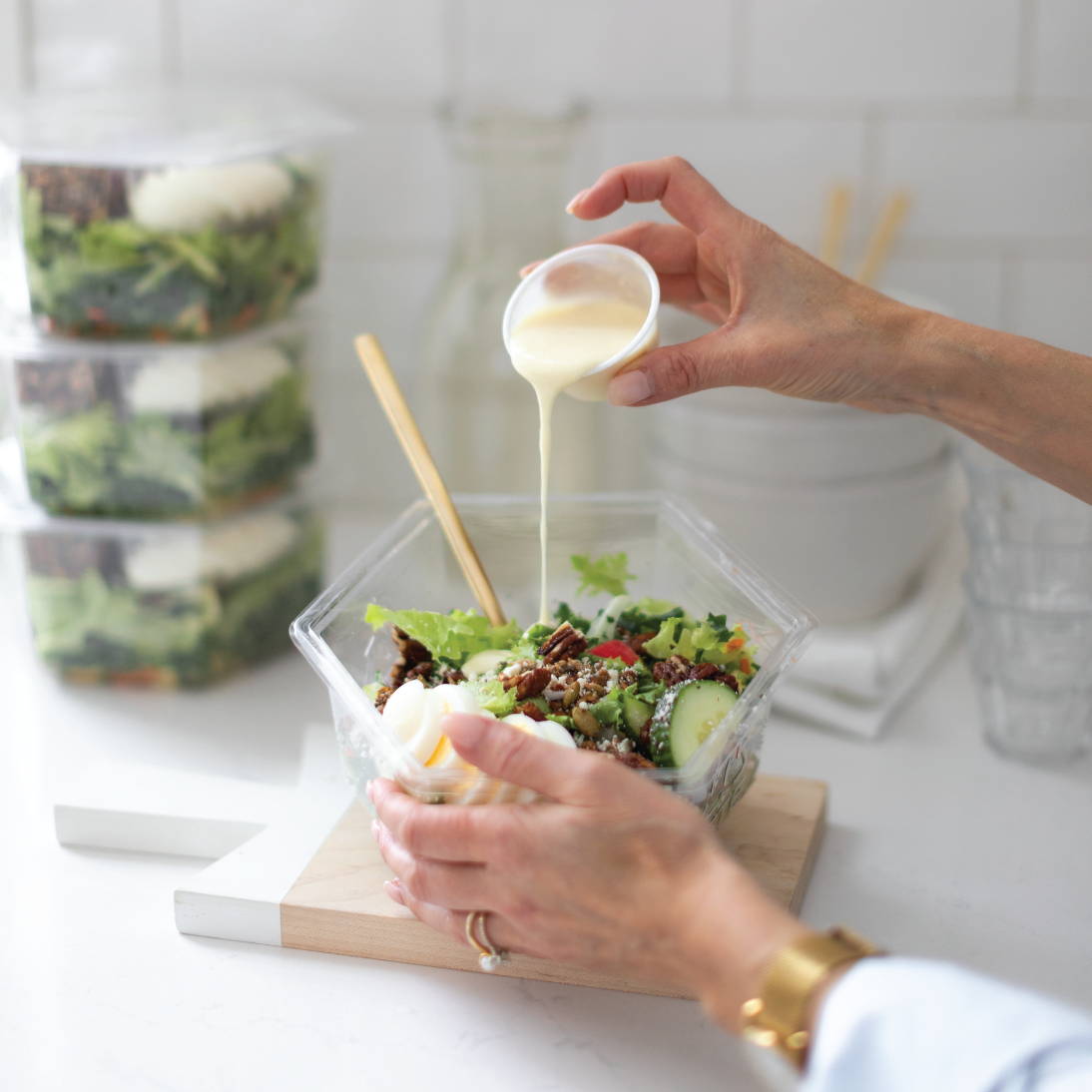 The Creamy Lemon Vinaigrette
The Creamy Lemon Vinaigrette dressing ties all of the ingredients together. The objective with this dressing was to create something that truly tasted like it was made at home. At Inspired Go, we carefully craft all of our dressings in-house, which makes them shine through in any recipe. This simple and delicious vinaigrette has a touch of dijon mustard and garlic, giving it a tangy kick. The dressing is creamy and sweet with an acidic bite!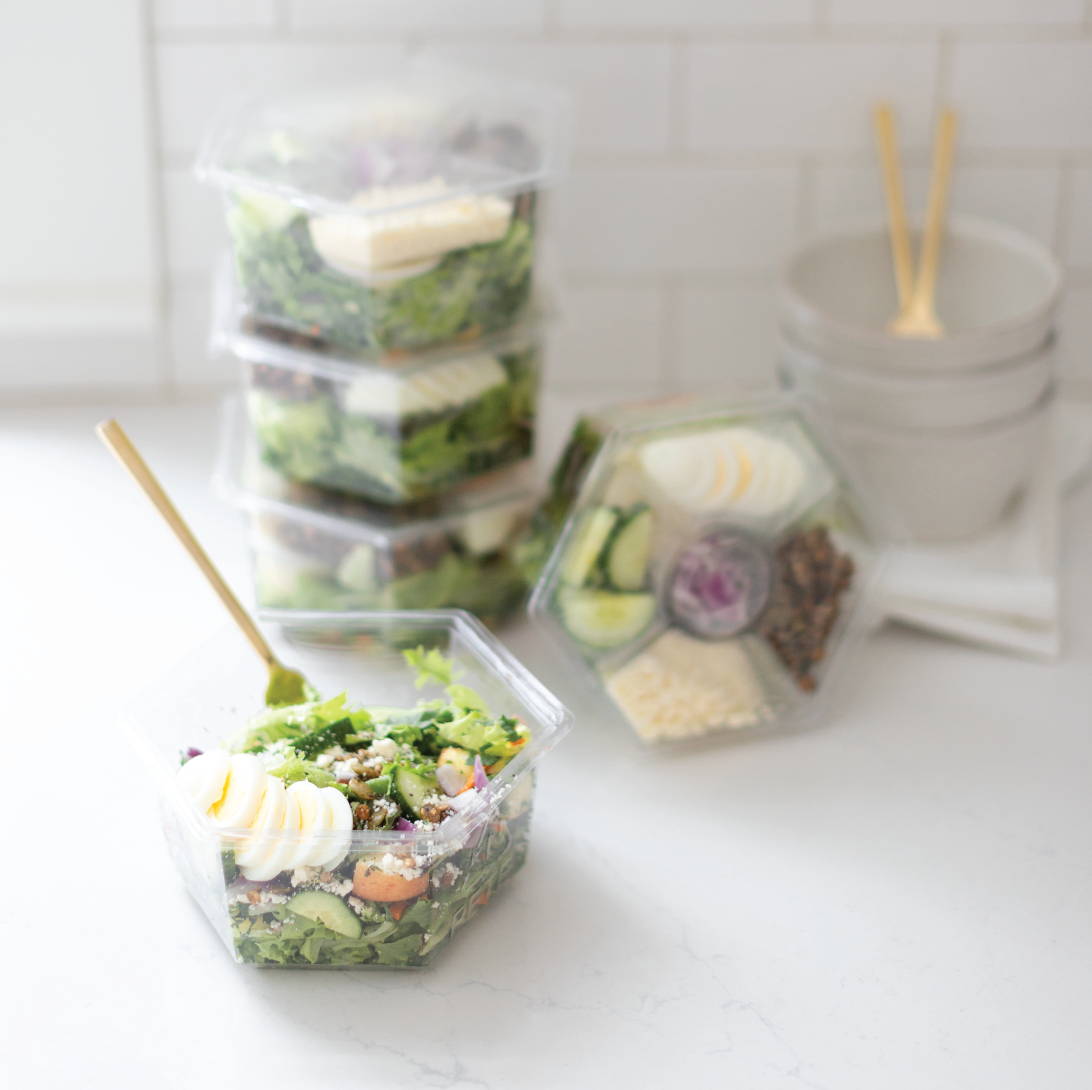 Where Are the Ingredients From?
Both Inspired Go and Team Fraîche value local sourcing of ingredients as much as possible. Local sourcing greatly supports our communities and is much more environmentally friendly - that's a win-win as far as we are concerned! We are proud to bring locally sourced ingredients to our dishes and the Fraîche Power salad is no exception! Outlined below are the sources of some of the key ingredients in the Fraîche Power Salad.

LETTUCE: Grown sustainably year-round in our Canadian greenhouse (located in Coaldale, Alberta). It is grown without dirt or pesticides, and 99% less water used than field-grown lettuce.

FETA: From Saputo (Canadian, Quebec) a family-owned business since 1954.

CARROTS: Currently coming from Peak of the Market in Manitoba, who partners with multiple small farms around Manitoba.

APPLES: From a variety of different growers in BC that Inspired Go partners with.

PROTEIN CRUNCH: The hemp hearts are from Floating Leaf in Manitoba. They are Non-GMO, Gluten-Free, Vegan, and Canadian-grown. The lentils come from Three Farmers and are sustainably farmed in Saskatchewan.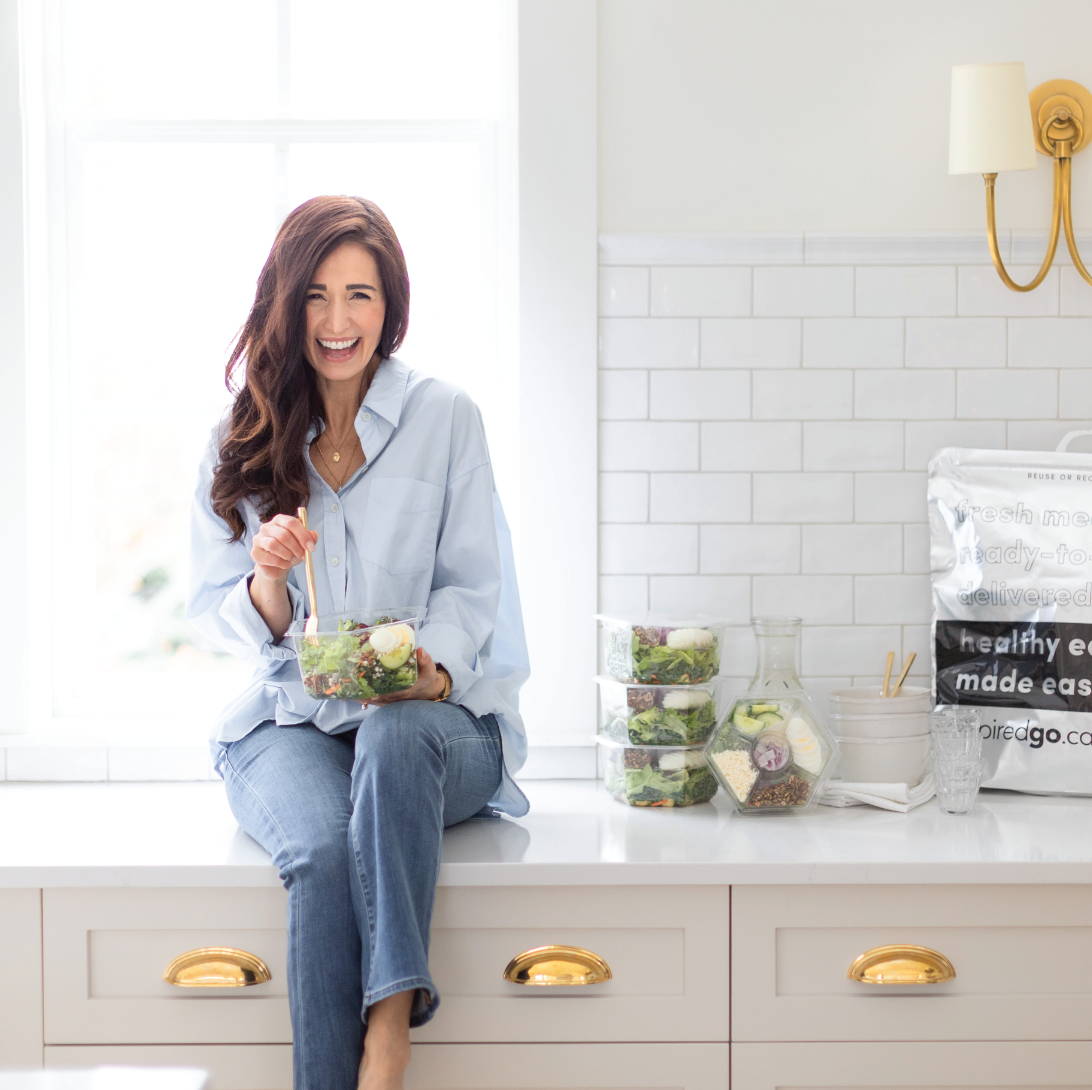 You can order Tori Wesszer's new salad recipe today through Inspired Go! We deliver delicious, convenient, and affordable meals to your front door. It is our mission to inspire every individual to thrive by removing the barriers to healthy eating, and we hope to inspire you with this recipe! Perfect for easy meal prep throughout the week, meals last up to 7 days. Place an order online at www.inspiredgo.ca.