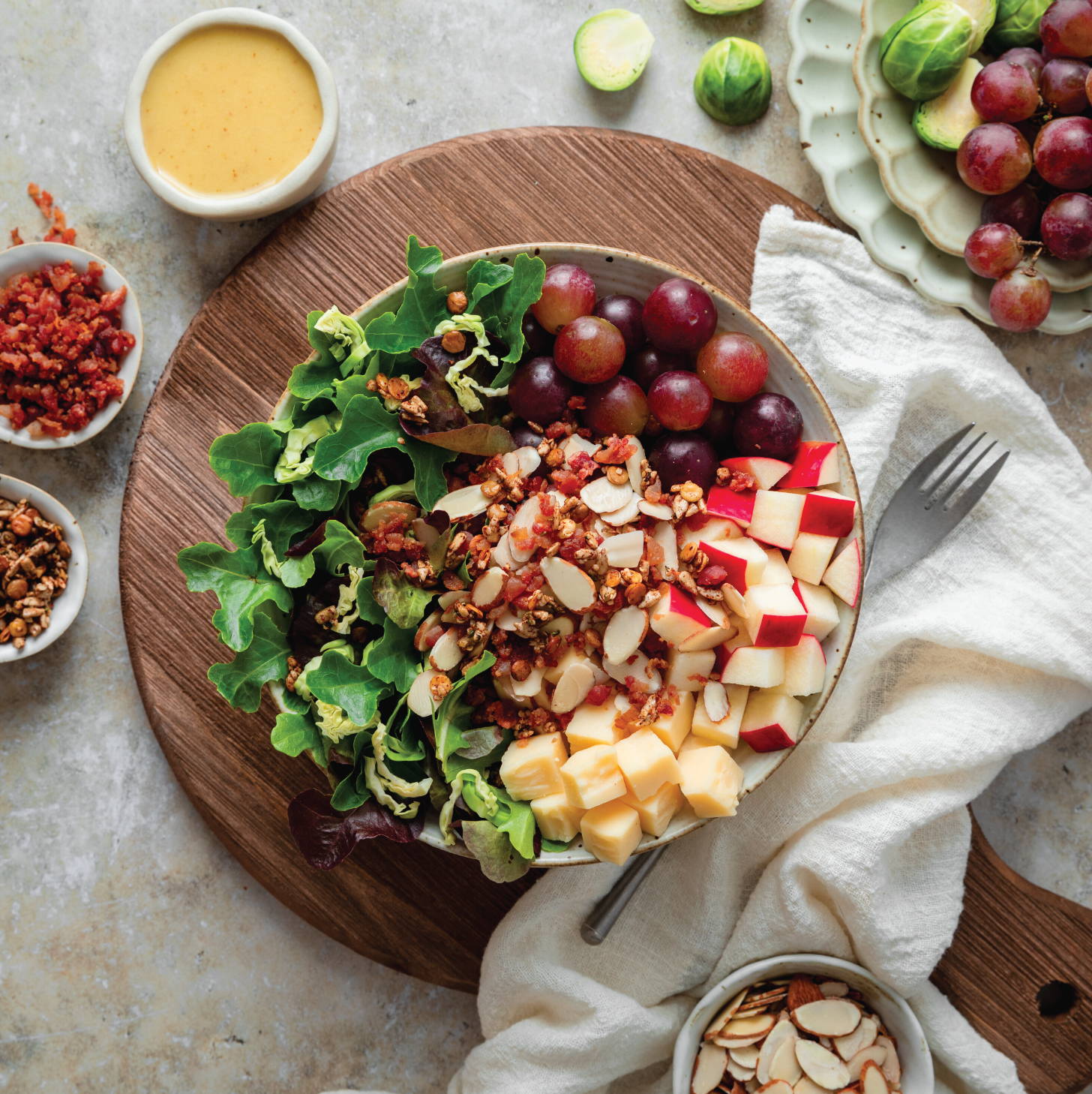 The Festive Fall Salad from Inspired Go
You know a salad recipe must have been good if it's making a comeback on the menu! The Festive Fall Salad was some people's most loved salad. It has a great way of highlighting the flavours of the season and keeping you full and warm all day long. It has all of the main components that make up a great salad: nuts, cheese, and bacon! Don't wait to try this recipe because it won't be around for long. You can order it with delivery to your doorstep at inspiredgo.ca.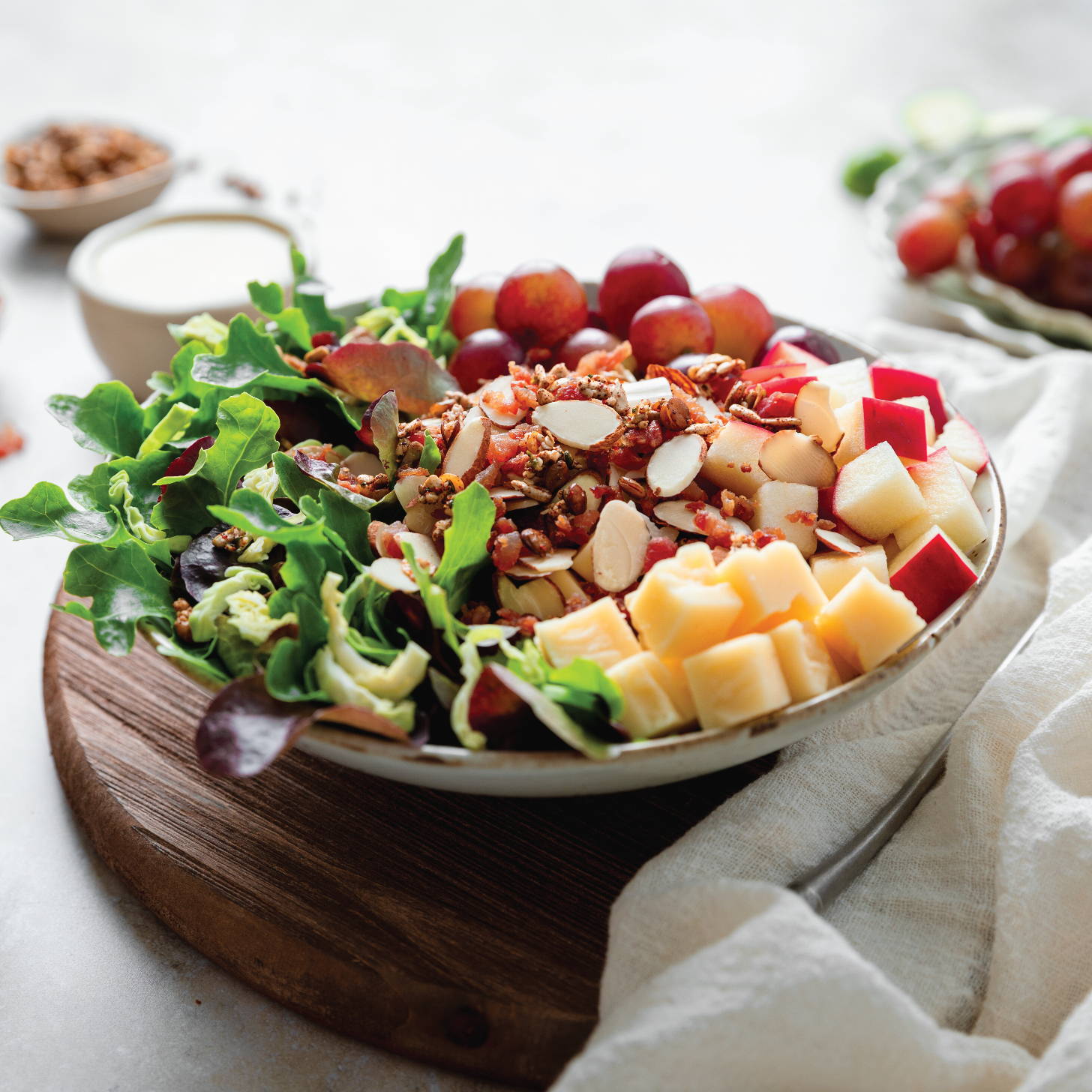 What More Can You Ask For?
Not only does this salad have nuts, it also has cheese and bacon! We selected a well-aged Tickler cheddar cheese with a velvety, buttery texture and taste. This taste is complimented by the smoky saltiness of the bacon and the nice nutty flavour you get from the almonds. Sweetness is the perfect pair for these indulgent flavours, so we selected sweet apple cubes and juicy red grapes to refresh the salad. You'll also get to enjoy a tasty mix of candied seeds that give every bite of the salad a nice crunch. Everything is served with a mix of shaved brussels sprouts and greenhouse lettuce and is dressed in a house-made maple citrus vinaigrette salad dressing.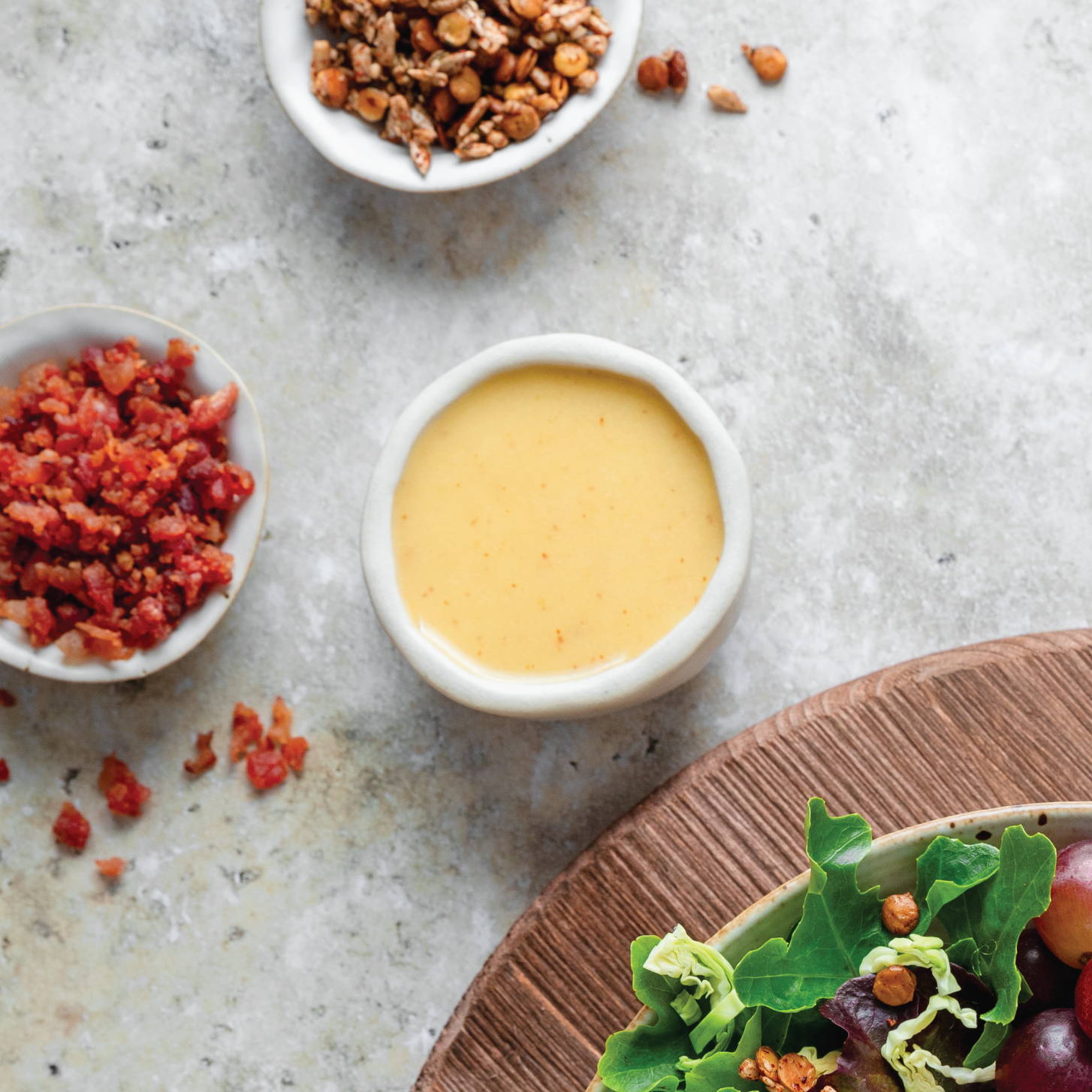 The key ingredient in this vinaigrette salad dressing is the orange juice. It adds a tartness that is also sweet. When combined with the maple syrup, apple cider vinegar, and dijon mustard, you have a salad dressing that is simple yet indulgent. It makes the whole salad feel light and refreshing while also being very filling. Like all of our dressings, this one is made in-house right before your salads are packed up. Everything is fresh and it makes a huge difference in the quality of the taste and the benefits you receive from eating each meal.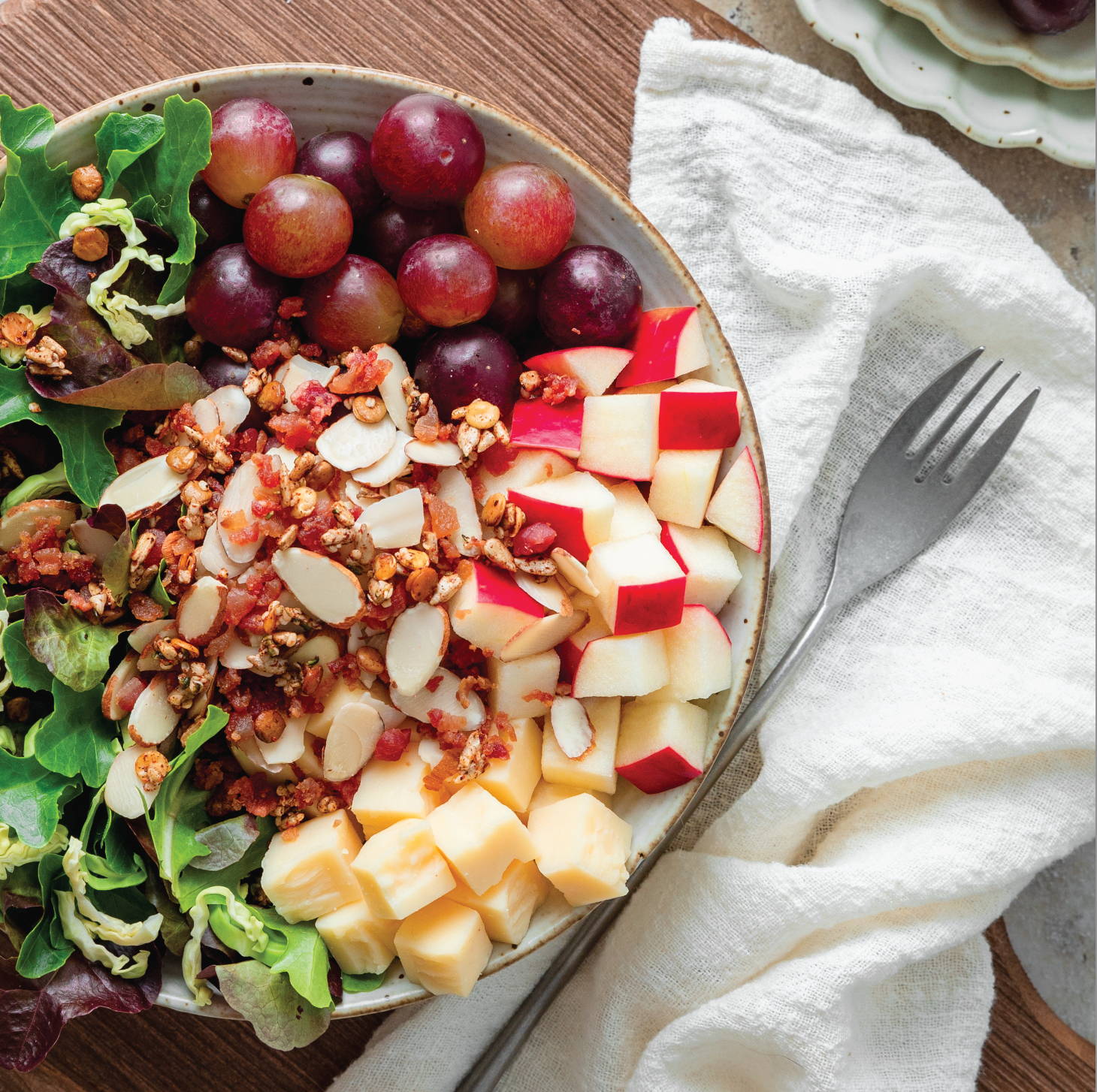 Because this salad is back for a second season, we have many customers who have tried the salad and were able to fill out their review surveys on the meal. We use the feedback that we receive to make improvements to our recipes and understand what taste profiles you like best. We are happy to report that the reviews on this meal were through the roof - and for good reason! Heidi M. states, "This meal has become my family's new favourite. My kids even request it at dinner time as a side. So sad that it will be leaving the menu, but we are eating it as much as we can until then!" Savannah U. says, "I love a good classic combination, and this salad hits all of the marks for me. I love, love, love it. It's got everything!" In the reviews that we have pulled, the top comments hint at the dressing being "fabulous," "delightful," and "so refreshing." We are pretty proud when we can get these kinds of reviews from our fans, and we are so excited to bring this meal to your front door once again!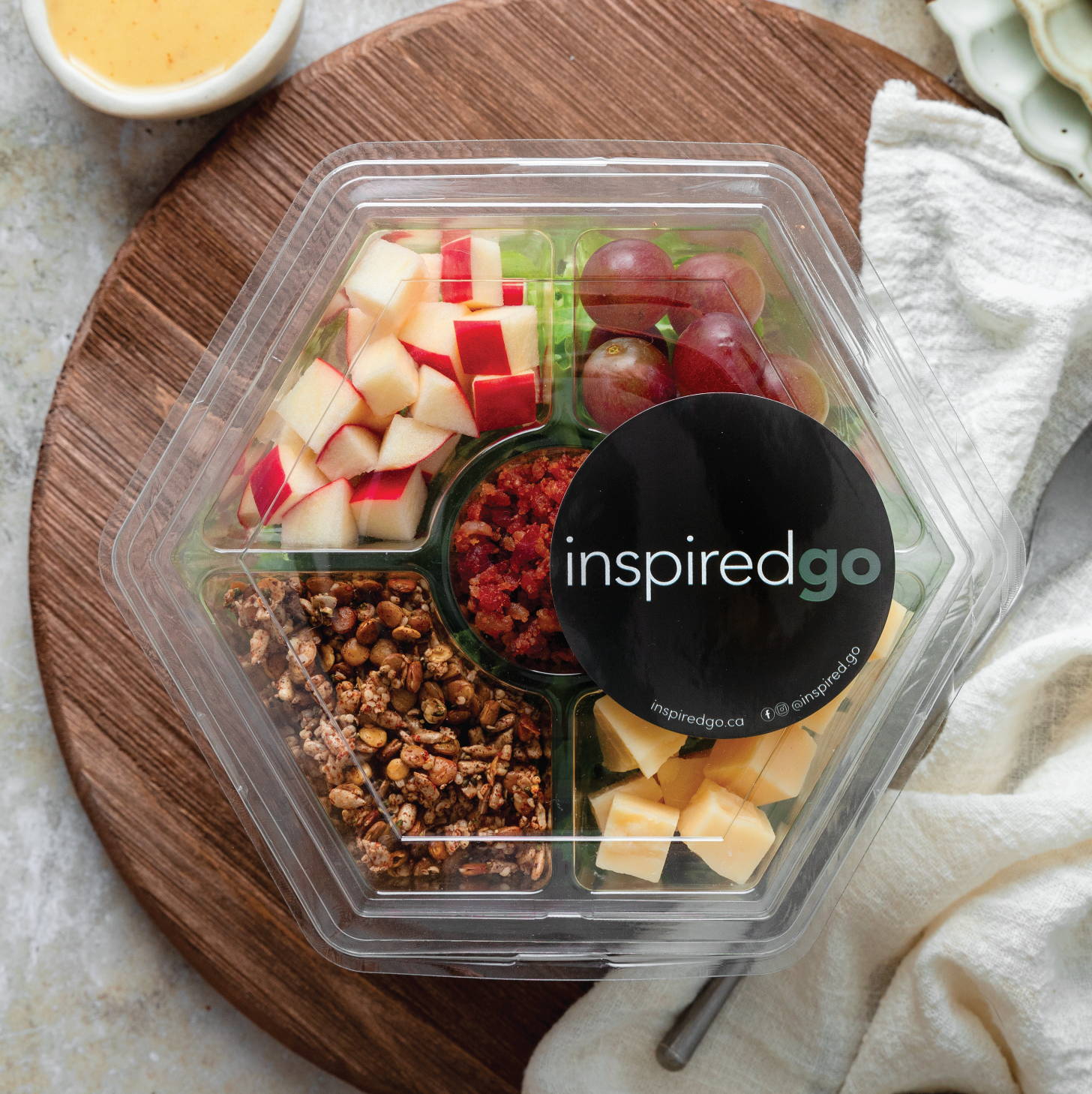 Order the Festive Fall Salad
That's right! The Festive Fall Salad is back for another season! This salad recipe was a huge hit in the past, and we can't wait to share it with you again. It is a mix of almonds, bacon bits, red grapes, apple, tickler aged cheddar cheese, candied seeds, shaved brussels sprouts, greenhouse lettuce, and a homemade maple citrus vinaigrette. This salad is heavy and filling while miraculously also being light and refreshing. You won't want to miss this limited edition and one-of-a-kind recipe! You can place an Inspired Go order today by going to inspiredgo.ca. While you are there, you can check out all of the other fun recipes that we have launched just in time for fall!