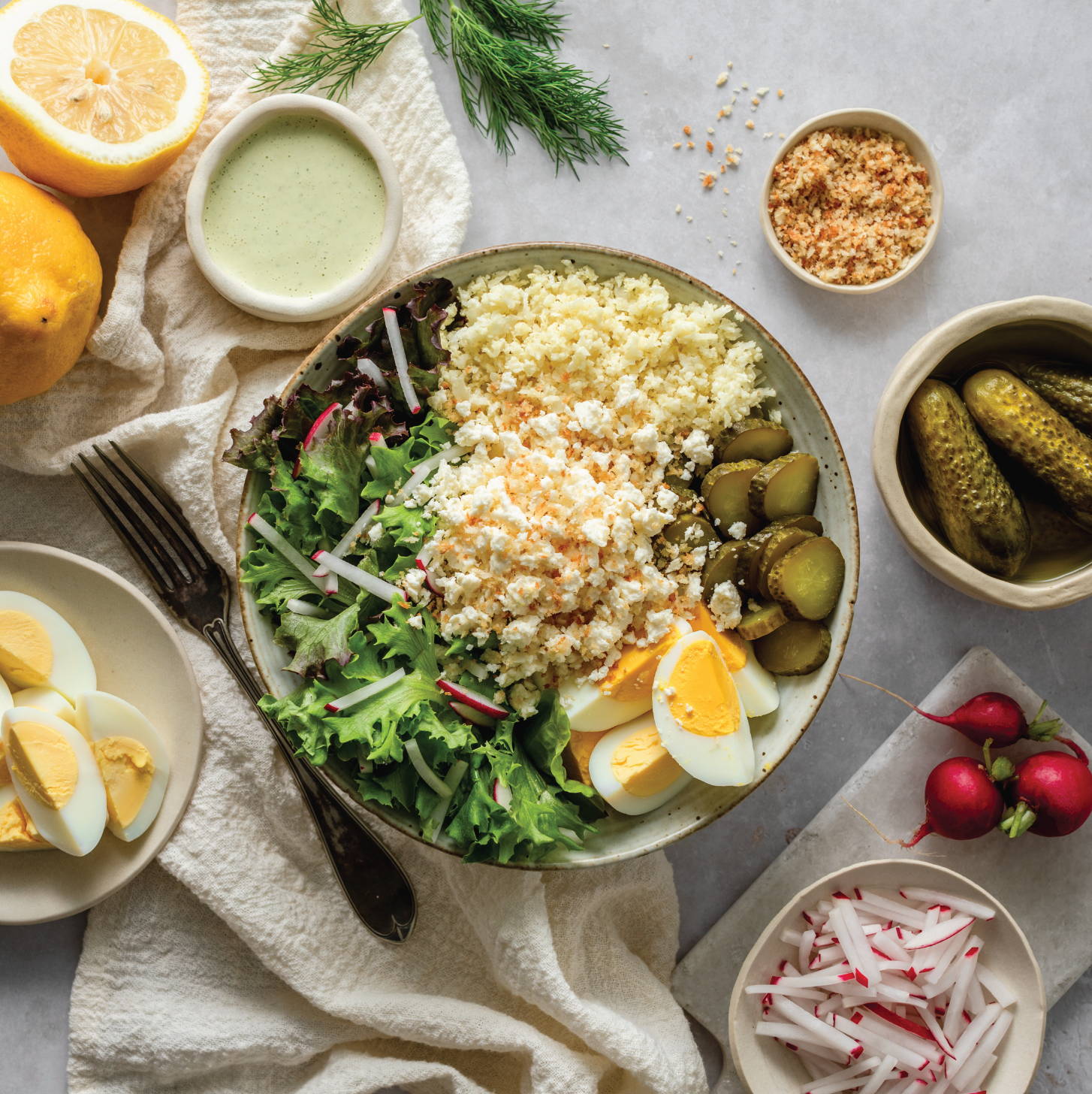 The Dill Pickle Salad
from Inspired Go
Whatever kind of salad lover you are, the Dill Pickle Salad is for you! It's got protein. It's got tang. And it's packed with a surprising amount of nutrients! Say hello to the newest Inspired Go addition! The tangy goodness of chopped dill pickles meets the rich flavour of feta cheese and a creamy punchy dill dressing. We added riced cauliflower and radish for an extra flavour punch and threw in a hardboiled egg to get your fill of protein. Everything is sprinkled with a layer of toasted panko crumbs for a satisfying crunch with every bite. The Dill Pickle Salad is pretty much guaranteed to be an instant hit.


It's time for the prized dill pickle to play an integral role in one of our salads! They have it all: crunch, tang, and saltiness. They contribute with both taste and texture, offering a satisfying crunch with every bite. The surprising crunch of juicy pickles and the pickle flavour profile in the creamy dill pickle dressing ensure that the tangy dill flavour spreads throughout the salad for an instant favourite with dill pickle fans.


We would like to say the secret is in the salad dressing, but for the first time, it's actually in the dill pickles and fresh dill. That's why we created this salad dressing to replicate the taste of those crunchy, tangy treats. We infused this creamy dressing with fresh dill, garlic, lemon juice, and dijon mustard so that this creamy dill pickle dressing shines bright. It covers every leaf so you can enjoy that coveted taste profile in every bite.

The Dill Pickle Salad prides itself on being creamy. It's not only the dressing that brings on that profile, it's also the tasty crumbled feta cheese that tops the salad recipe. You can't go wrong with a creamy feta paired with these flavours. It's a tangy and salty addition that will always be welcomed!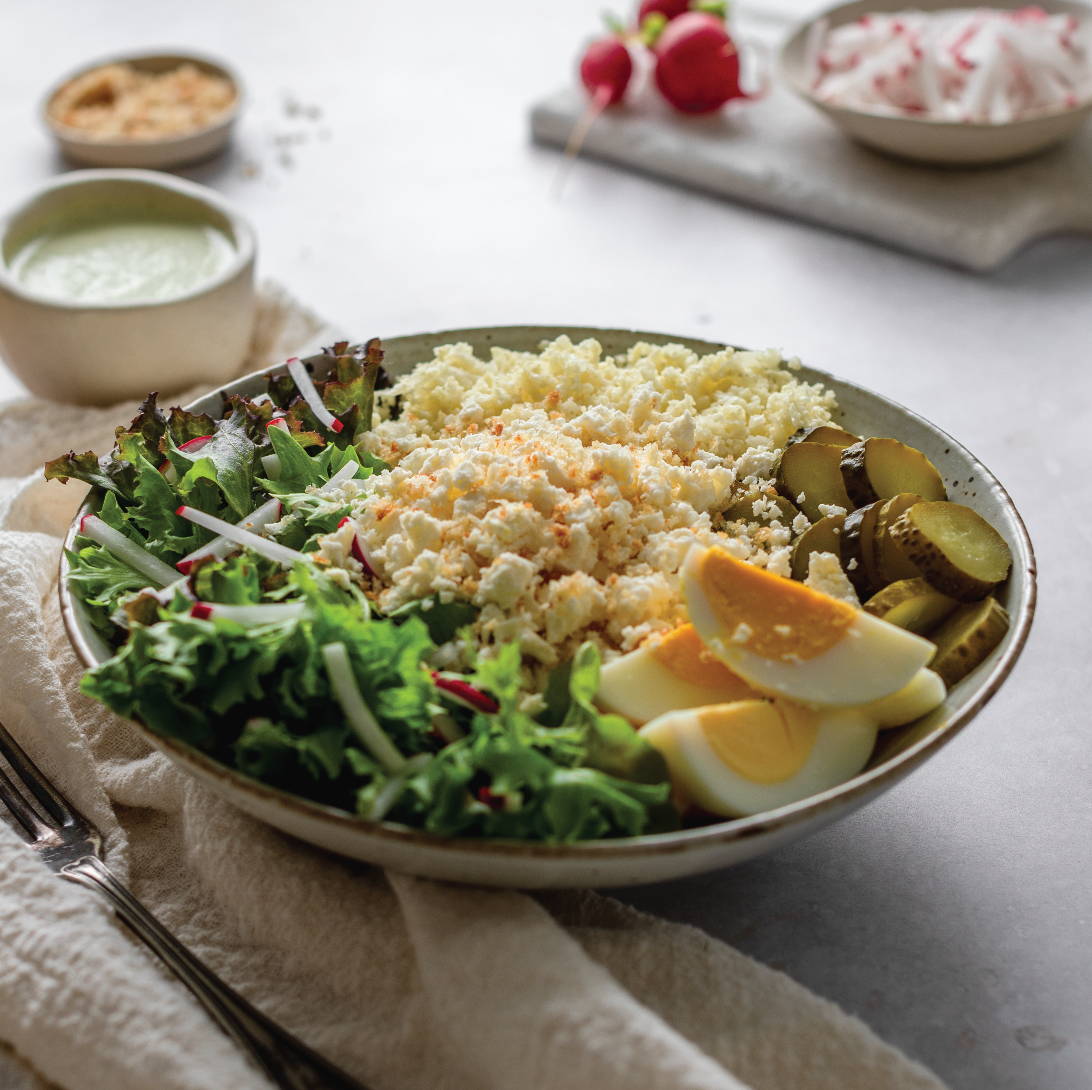 Dill pickles aren't the only ingredient that bring crunch and texture to this salad recipe. We added riced cauliflower, cut radish, and toasted panko crumbs for extra texture and nutrients. The riced cauliflower and panko crumbs cling onto the dressing to add a unique experience to every bite. The radish and cauliflower contribute an extra boost of nutrients and are filling ingredients so that you are full and satisfied to finish your day. The combination of ingredients is satisfying and oh-so-crave-worthy!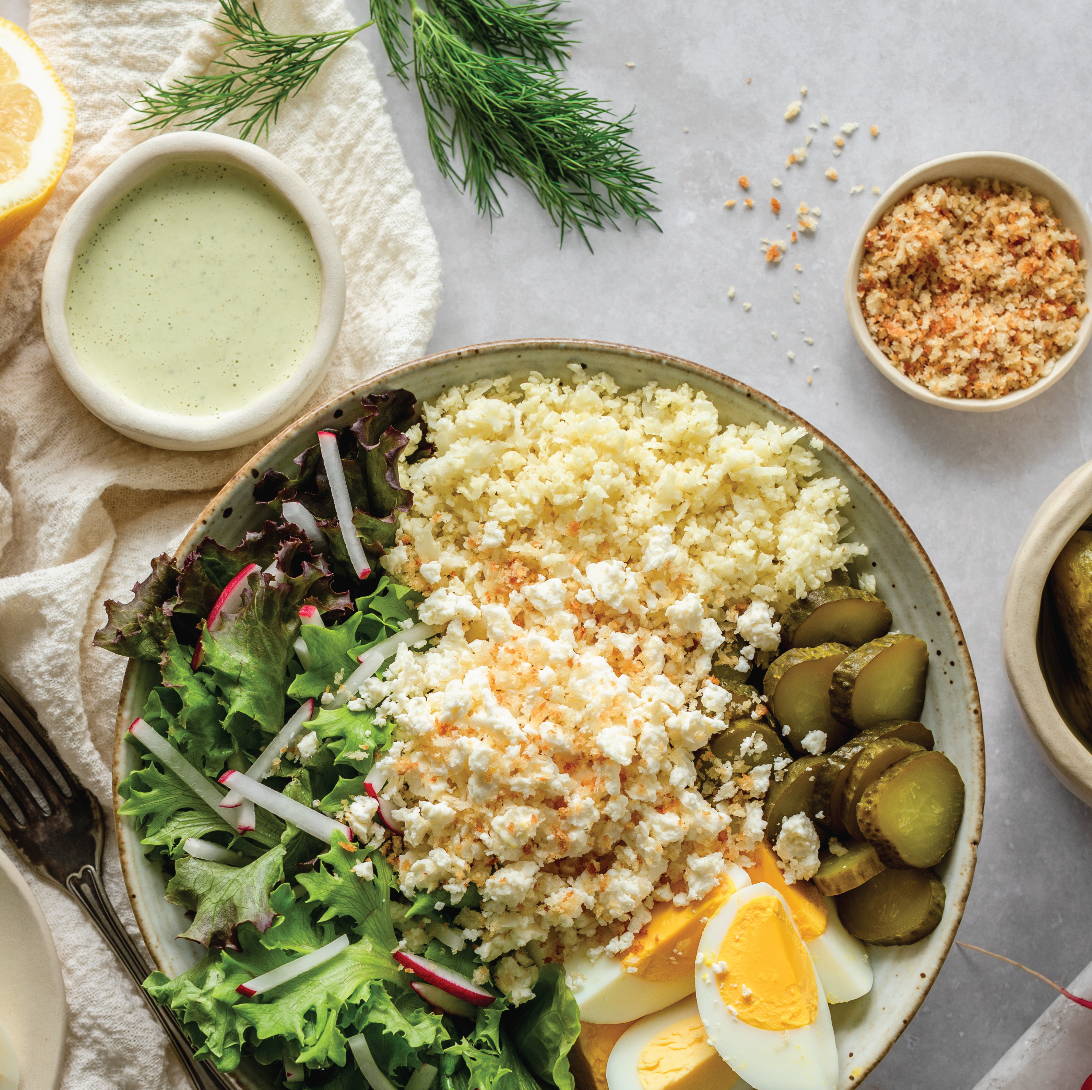 With this delicious array of ingredients, you can't go wrong giving the creamy Dill Pickle Salad a try! With the New Year upon us, we are excited to welcome all of our new customers to the salad-loving clan. This salad is the perfect introduction to a world of eating more fruits and vegetables. You get it all with this meal: protein, crunch, tang, and nutrients. Try this guaranteed hit today!