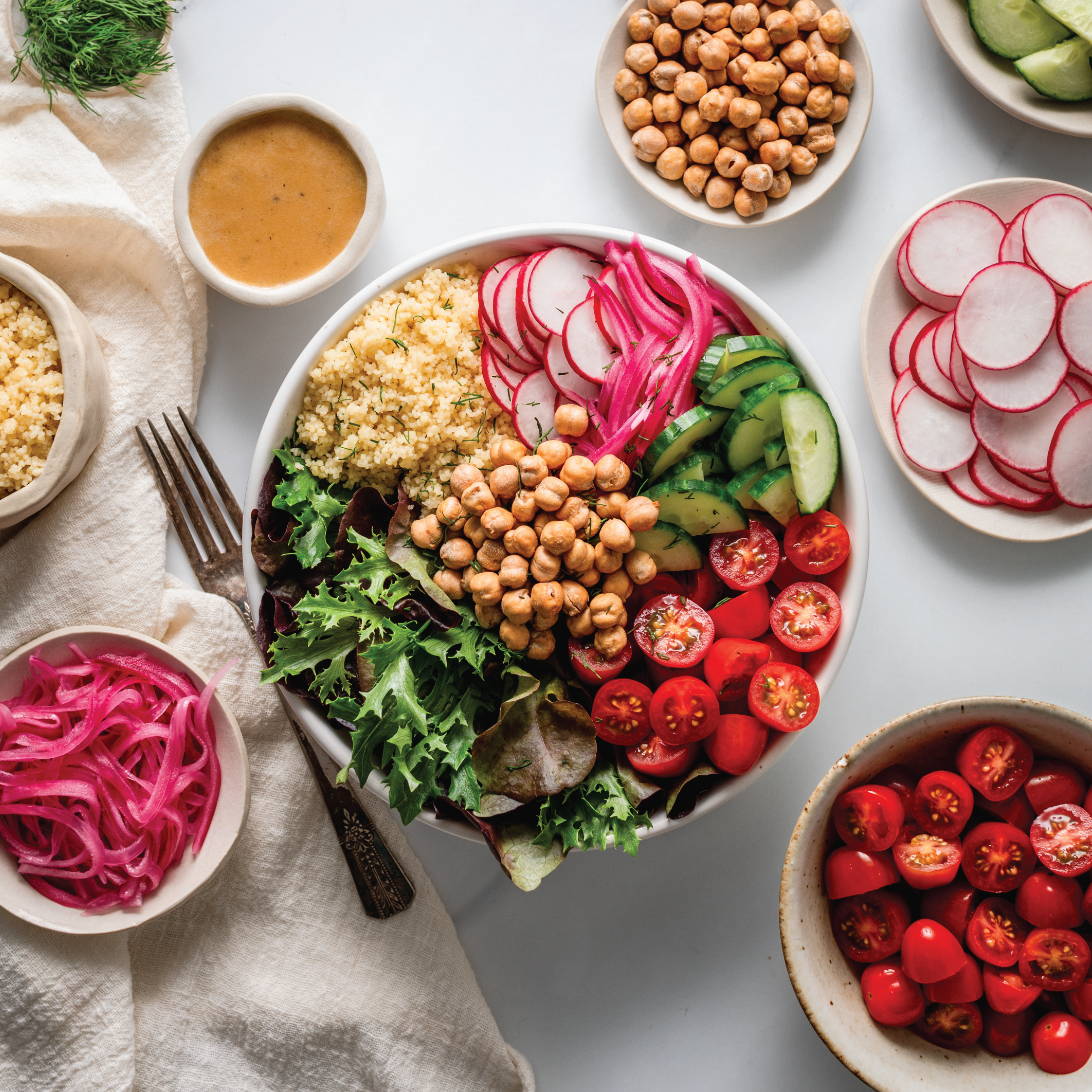 The Dill Chickpea Salad from Inspired Go
We launched this salad in 2021 with an outpouring of love and cravings. It is finally back after a long hiatus! If you have never tried the Dill Chickpea Salad, do not hesitate to add this salad recipe to your cart the next time you place an order. There is something about the mix of ingredients that makes this salad light, refreshing, and extremely flavourful. It is also filling because it has a mix of couscous that sticks to the lettuce leaves and makes every bite satisfying and indulgent. It rings in at only 490 calories and is both vegan and dairy-free. It's the perfect bright and happy salad as we head into the months ahead.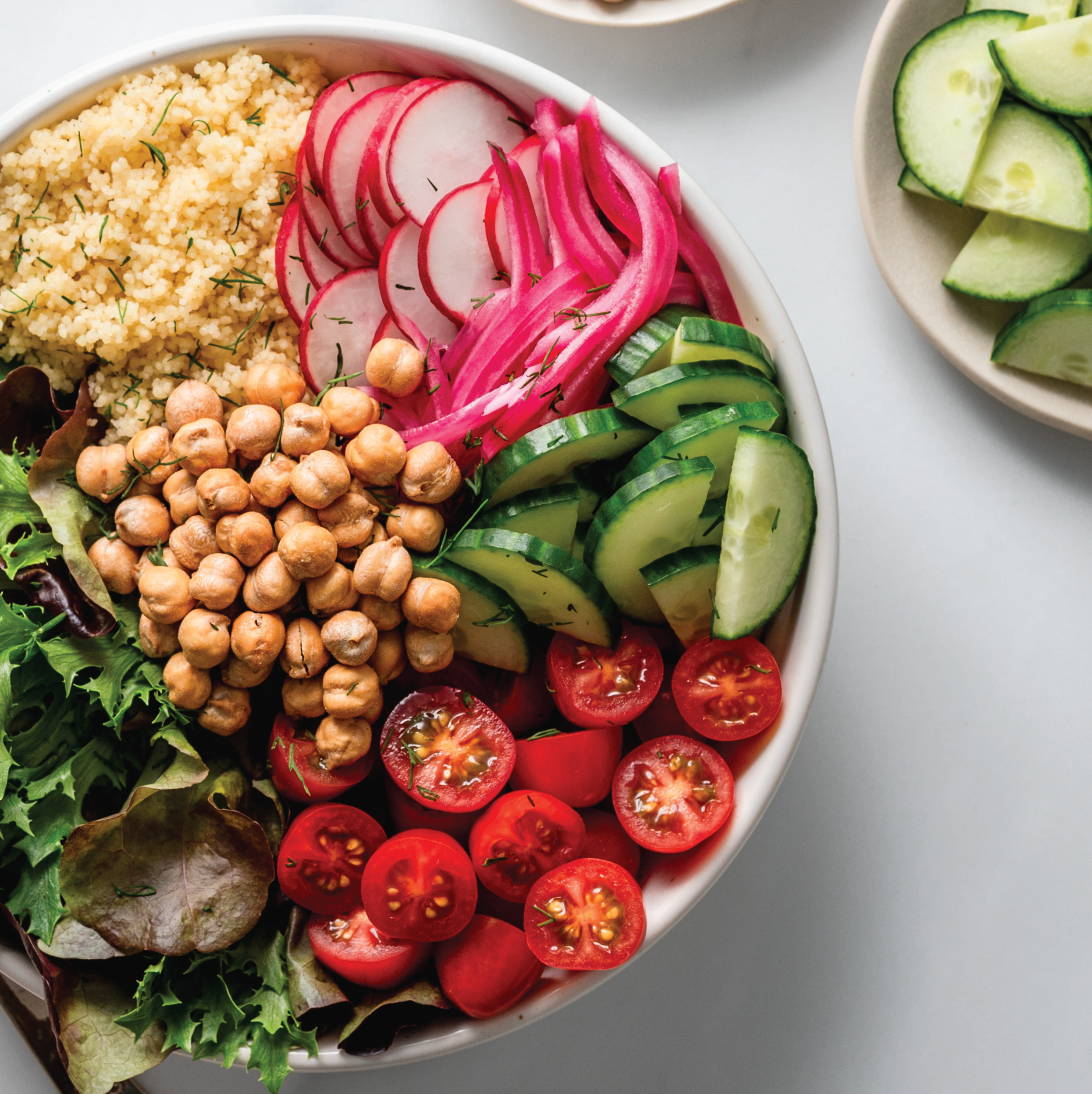 Fresh Dill and Everything Nice
Dill is one of the most fragrant and flavourful herbs in the kitchen. It has a trademark subtle sweetness that can't be matched by any other herb. It is exceptionally popular in Western Canada, where we just can't seem to get enough of it. We put fresh dill to very good use in the Dill Chickpea Salad recipe. The base of the salad is a mix of couscous and greenhouse lettuce. This combination is exceptionally satisfying because the couscous is so light and easily sticks to the lettuce leaves when mixed with the red wine vinaigrette. The bulk of the salad is a combination of sliced cucumbers, pickled onion, crunchy radish slices, grape tomatoes, and crispy roasted chickpeas. The result is a stunningly crispy salad that is very satisfying.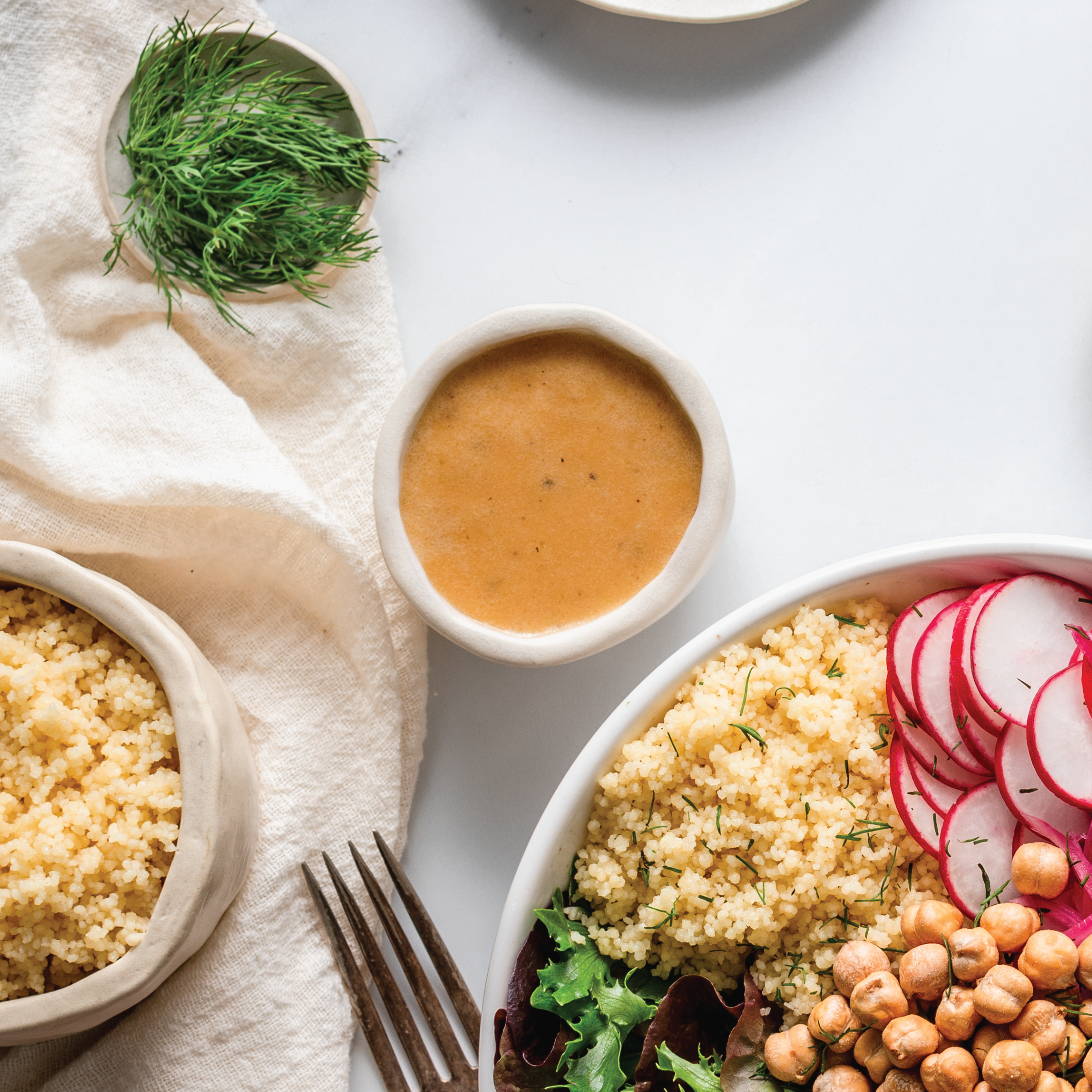 The Secret: Shallot, Lemon, and Red Wine Vinegar
The ingredients in this recipe are tossed in a homemade red wine vinaigrette. Something about this recipe is the secret to the salad's success. It's a mix of the sweetness of agave syrup, the tartness of lemon juice, and the zest of fresh shallot. It creates a beautiful orange-hued dressing that is not only tasty, it's also beautiful. Knowing that we eat with our eyes makes this salad and dressing recipe all the more satisfying!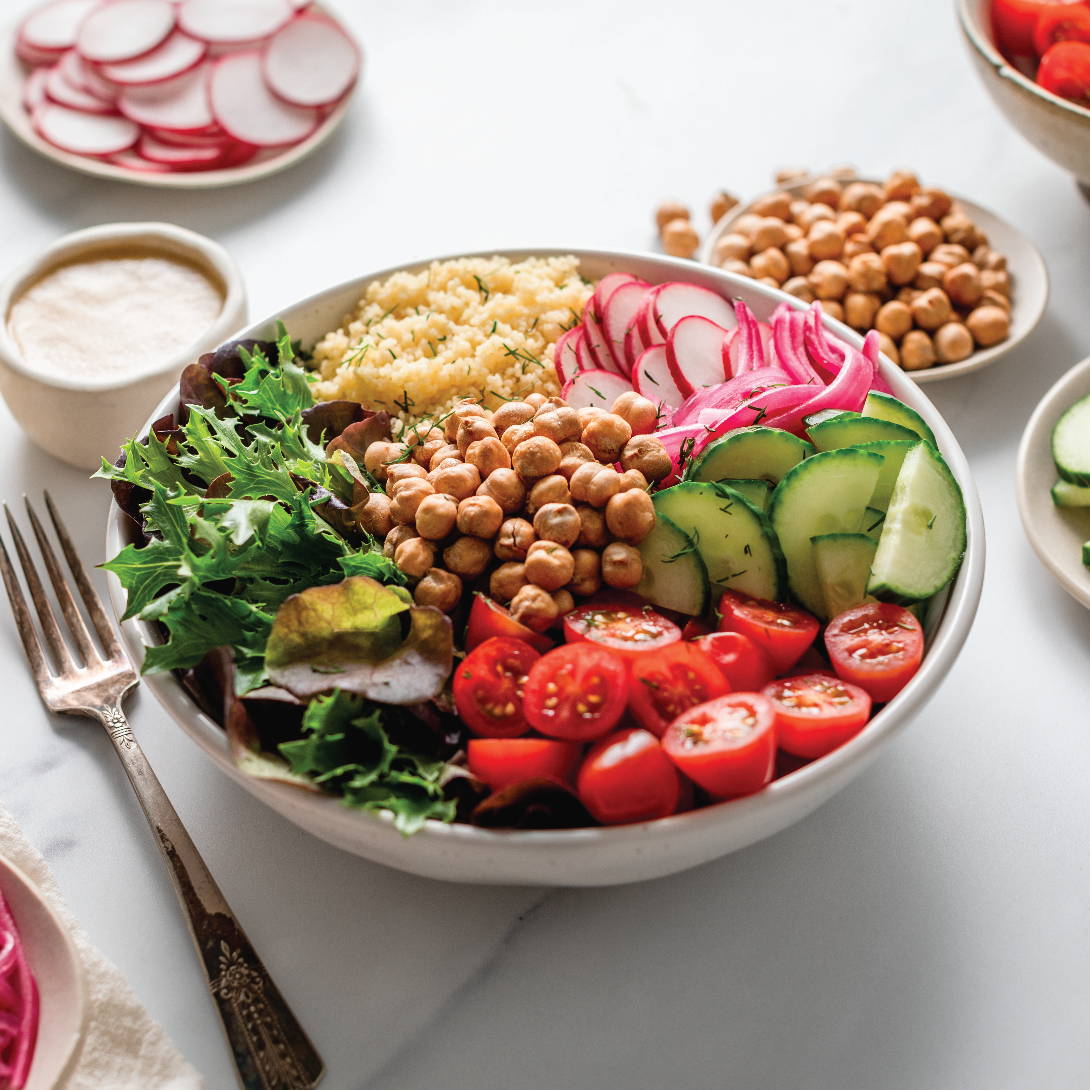 As we head into colder months we are all focused on staying healthy and eating well. The key is to get enough balance between filling ingredients to keep us warm and healthy ingredients to keep us fueled. This salad is no exception from the success that has made us Inspired Go. The Dill Chickpea Salad recipe contains 11 grams of protein, 9 grams of fibre, and is packed with potassium and iron. It also rings in at only 490 calories, making it both a filling and low-calorie meal. This recipe happens to be vegan and is also dairy-free. It honestly doesn't get much better than that!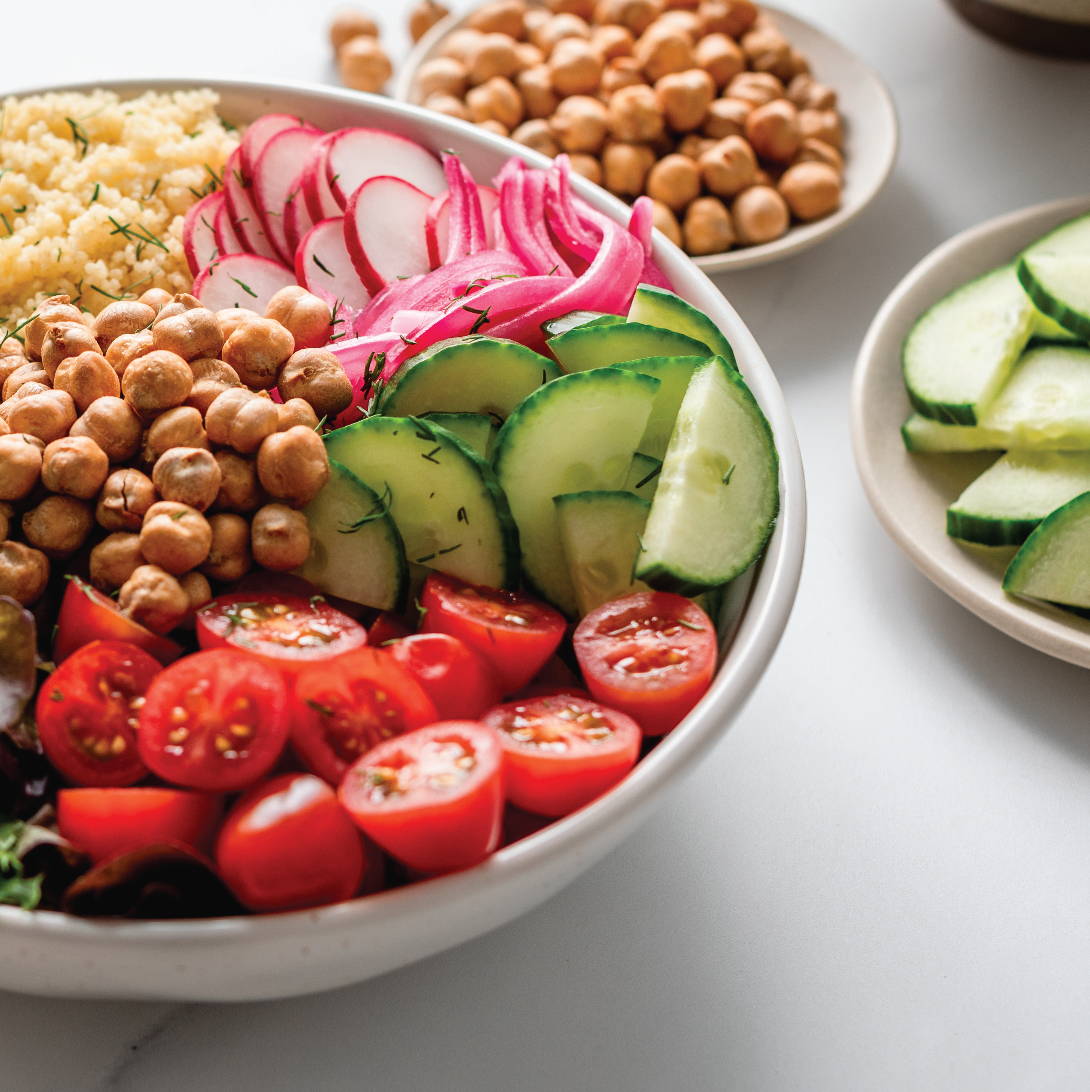 Place An Inspired Go Order Today
When you order Inspired Go, you get to experience the magic that is fully prepared meals delivered to your doorstep. You can order for the entire week because they last in your fridge, and there are no commitments to sign up for a subscription or ongoing orders. We are simply here to make it easier for fellow busy people to eat healthy and feel better. If you haven't tried Inspired Go, a great place to start is with the Dill Chickpea Salad. It is a mix of pickled onion, crispy chickpeas, fresh dill, radish, cucumber, grape tomatoes, couscous, greenhouse lettuce, and a homemade red wine, and shallot vinaigrette. This recipe is vegan, dairy-free, and only 490 calories. Include the Dill Chickpea Salad in your next Inspired Go order!