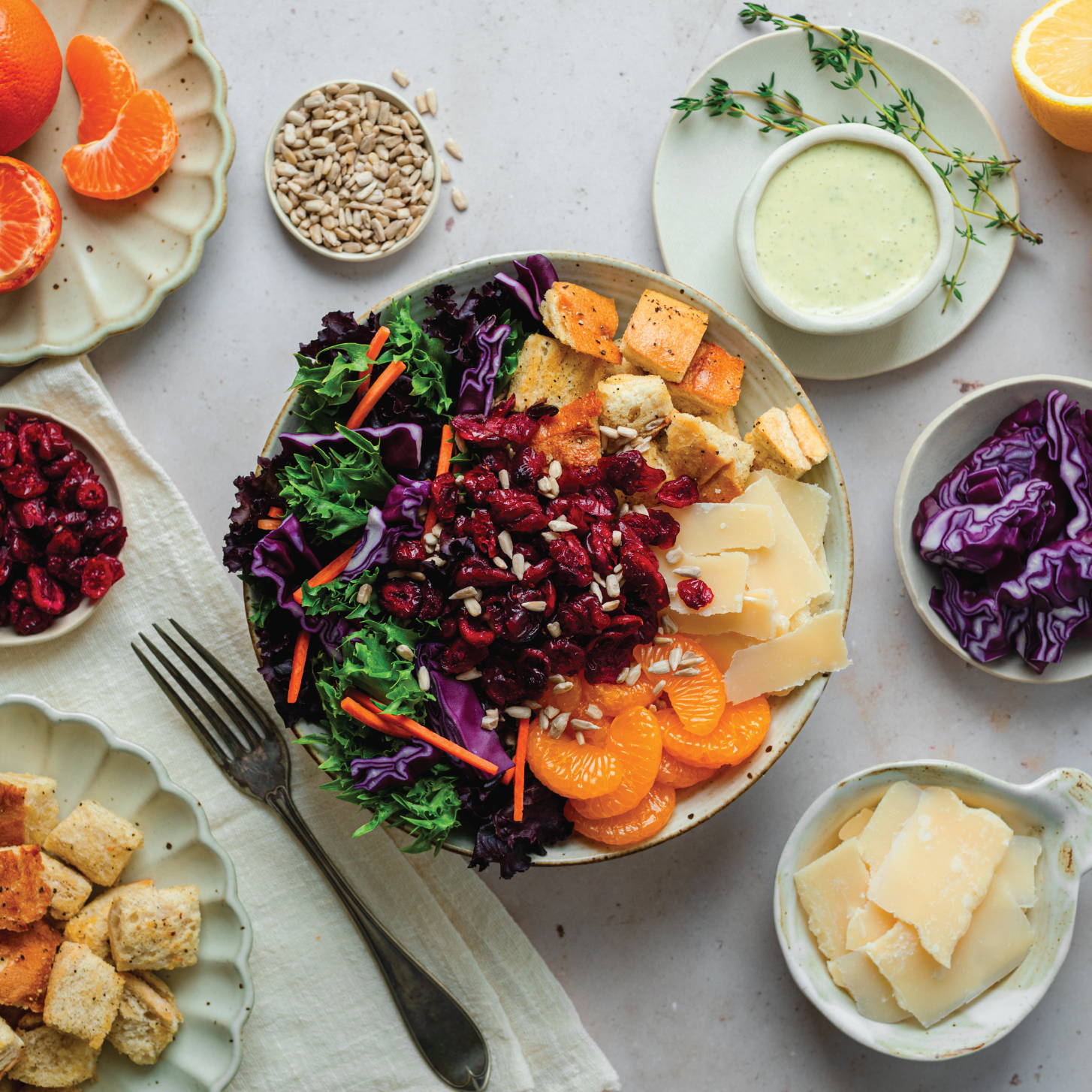 The Citrus Harvest Salad from Inspired Go
As winter approaches, we encourage you to increase your Vitamin C intake. The new Citrus Harvest Salad is bursting with flavour and many of the nutrients that you need to combat the cold days ahead of you. This salad is easy to eat and will be your new favourite go-to. It is a combination of the sweet and savoury flavours that we like to indulge in once the days get shorter. It is available for a limited time on the Inspired Go menu. You can place an order today and have a whole week's worth of meals delivered right to your doorstep!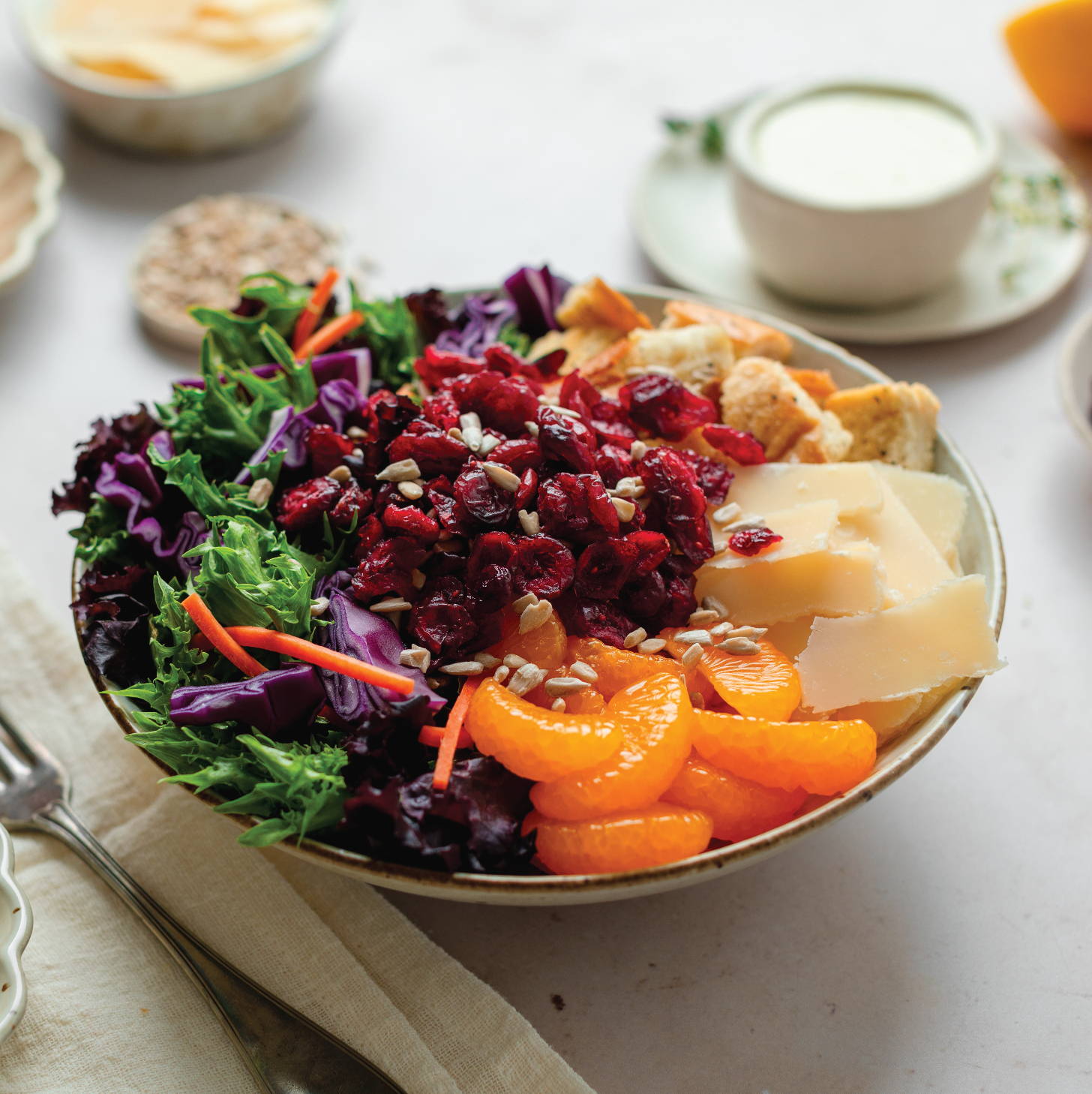 We combined juicy mandarin oranges and dried cranberries for the ultimate sweetness duo. You will also find matchstick carrots in this recipe, which also add a layer of sweetness and contribute a whole array of nutritional benefits to the meal. Our homemade sourdough pepper croutons add a crunch to the salad and filling fibre to keep you fuller for longer. Top it off with roasted sunflower seeds and shaved parmesan cheese, and this well-rounded meal will surely be a new favourite. Everything is served on our greenhouse lettuce with a mix of red cabbage. And don't forget the dress! Our citrus vinaigrette recipe is one of a kind!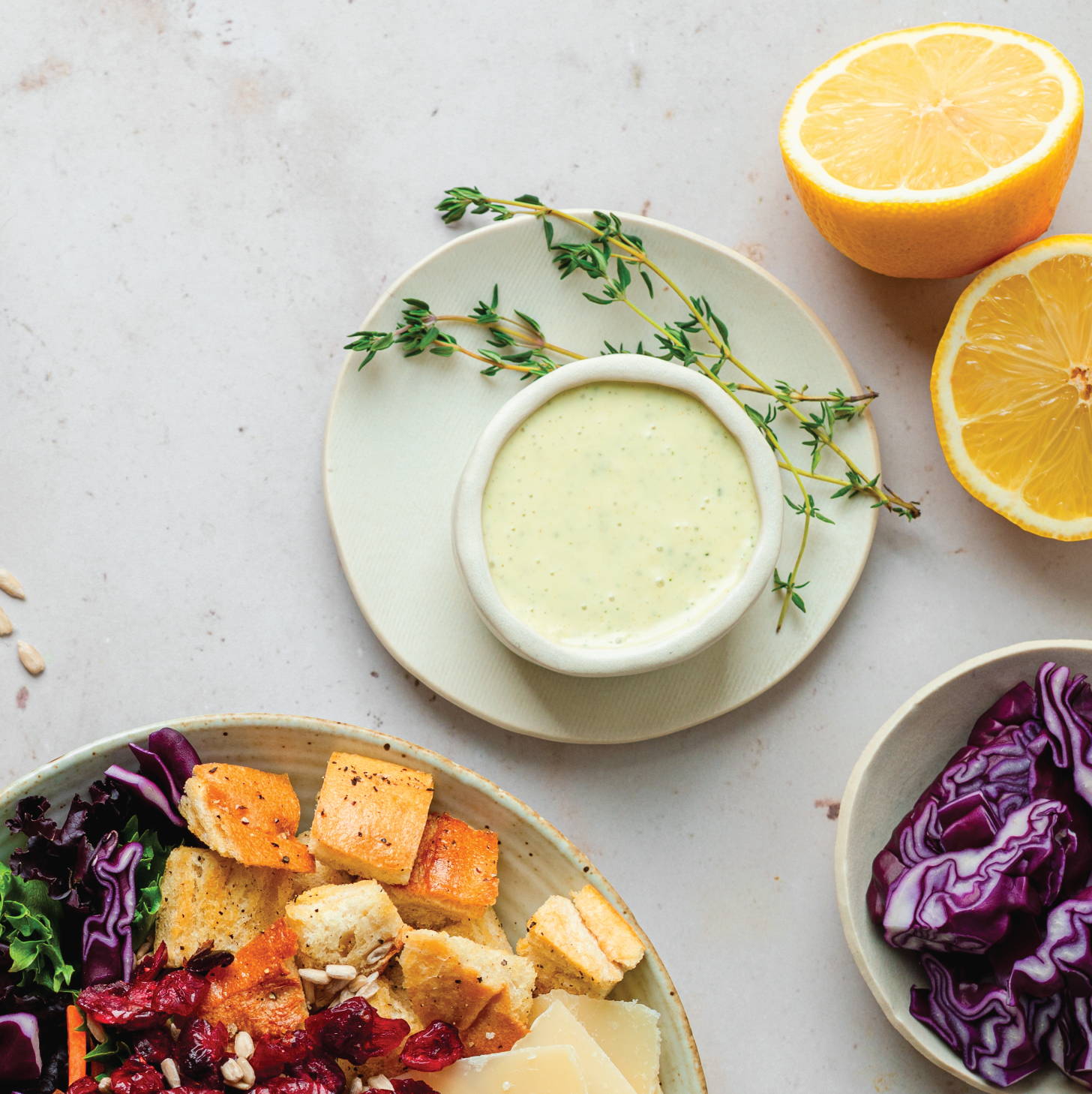 The Citrus Vinaigrette Recipe
The lemon thyme vinaigrette perfectly balances sweet and savoury flavours in the Citrus Harvest Salad recipe. This is one of those dressings you can never get bored of and never get enough of! It combines white wine vinegar with dijon mustard, honey, and plenty of fresh lemon juice. You may also taste a hint of garlic to warm you up and fight off colds during the winter months. This winter salad would not be complete without this tasty homemade dressing, and we are so excited for you to experience it on repeat!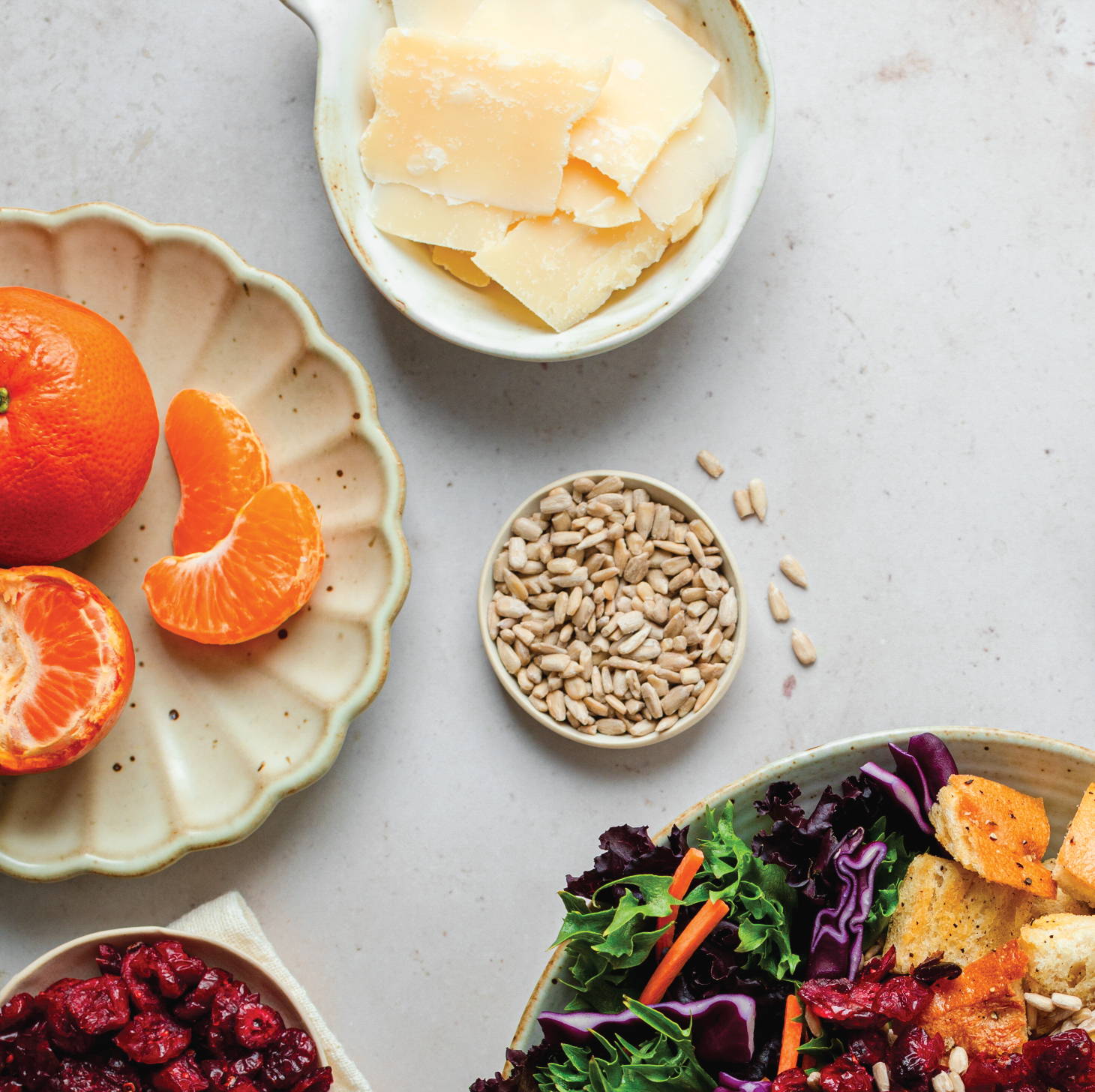 Highlight on Mandarin Oranges
This citrus salad doesn't highlight just any old citrus. We purposefully feature the mandarin orange because of its unique and specific characteristics. These oranges tend to be sweeter and have a stronger taste profile. Some say the mandarin even has a vanilla and spicy component in its flavour profile. They have a strong citrus aroma that is both fresh and pleasant. You may also detect a nutty, woody, or floral aroma when you indulge in this winter citrus salad. Mandarin oranges contain Vitamins A, B, and a high level of Vitamin C, which is a powerful antioxidant that neutralizes free radicals, prevents infections, and is great for the health of your skin. Mandarins are also a substantial source of insoluble fibre and soluble fibre. Insoluble fibre keeps things moving in your digestive system and flushes out harmful toxins, while soluble fibre helps lower cholesterol and keeps blood sugar balanced by slowing food absorption.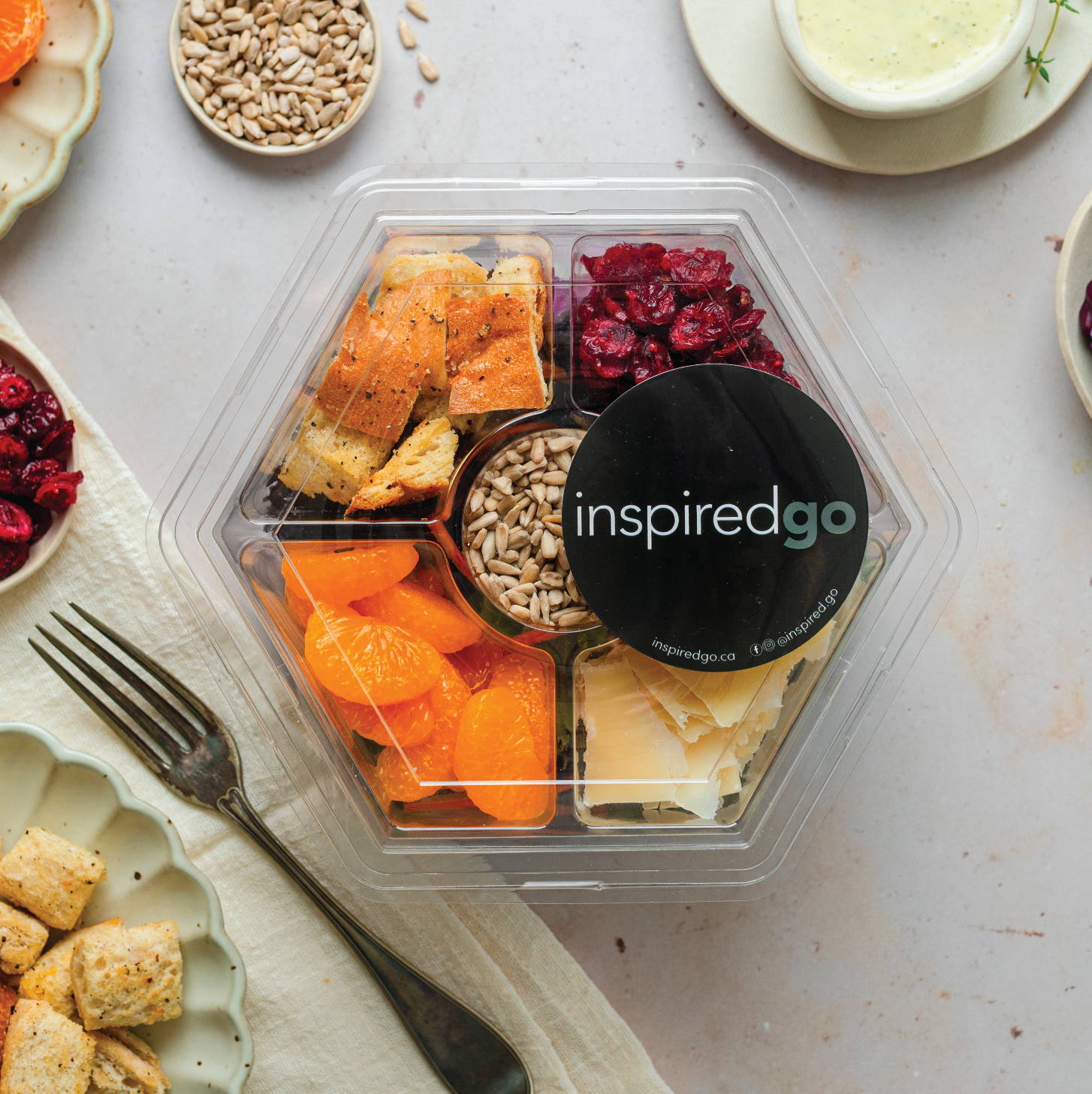 Order the Citrus Harvest Salad
This light and easy-eating salad will be your new favourite go-to throughout the upcoming winter months. To help you combat the winter sniffles, we packed this salad with vitamin C and plenty of fibre so that you can stay warm and healthy all winter long. This salad features mandarin oranges, parmesan cheese, sourdough croutons, dried cranberries, sunflower seeds, carrots, red cabbage, greenhouse lettuce, and a homemade lemon thyme vinaigrette. The Citrus Harvest Salad is only 610 calories with 8g of fibre and 13g of protein. You can order this winter salad today at inspiredgo.ca. We deliver fresh and ready-to-eat meals to your doorstep so that you can save time and increase your intake of the fruits and vegetables that keep you feeling strong and healthy!