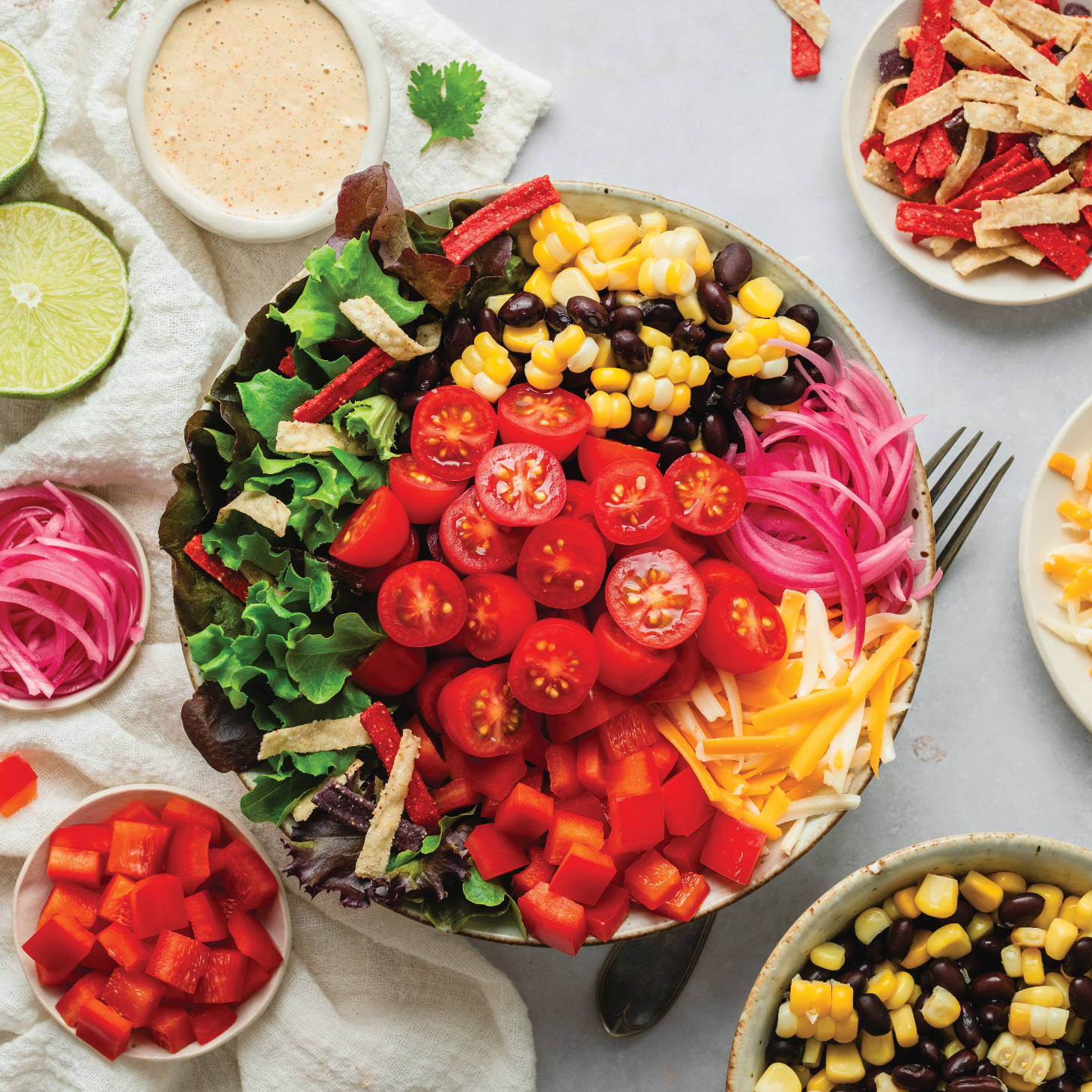 The Chipotle Taco Salad
from Inspired Go
We take immense pride in our commitment to providing an exceptional salad experience every time you indulge. Part of that commitment is understanding your buying habits and preferences and applying them to new launches. We have listened closely to your direct and indirect feedback and are we're thrilled to introduce our Chipotle Taco Salad! This new salad is tailored to your individual enjoyment with every ingredient. It is creamy, tangy, crunchy, and has just the right amount of smoky heat hidden away in the chipotle dressing. The best part is that it's available right now to order to your doorstep!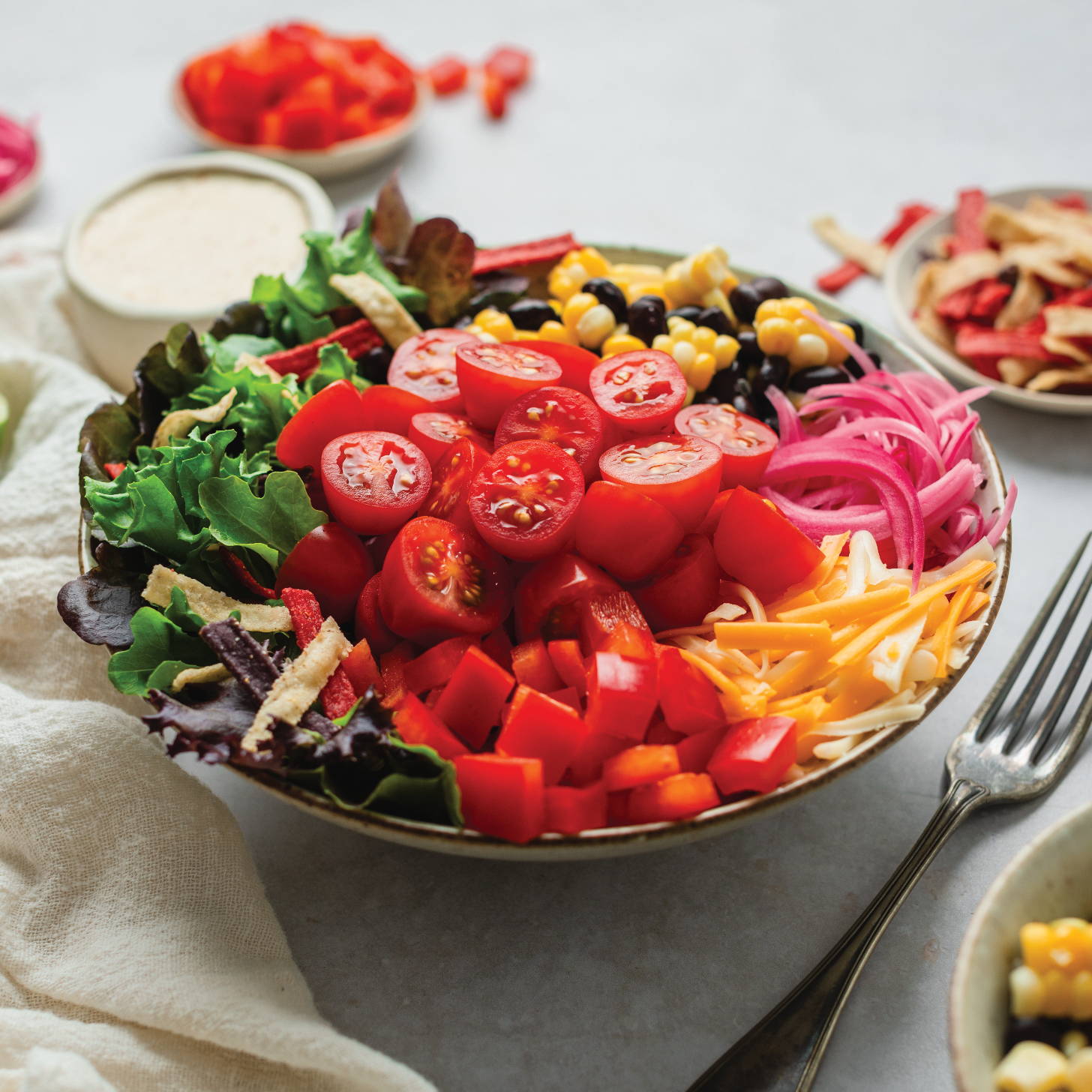 That's right! It's two of your favourite flavour combinations all in one salad! First, we took some of the classic and nostalgic taco ingredients. This includes the crunch of a tortilla shell, the juiciness of tomatoes, the satisfying crunch of pepper, the creaminess of the cheese, the flavour and nutrition from the corn and black beans, and the tang and crunch of the pickled red onion. It's all the fixings! Next, we infused the delicious and sought-after chipotle pepper flavour into our dressing. Our greek yogurt chipotle lime dressing is made in-house and has just the right amount of smokey heat. It's extra creamy and has just a hint of zest from the lime and a hint of heat from the chipotle peppers. You'll also note a small hint of garlic to round out the entire profile. These nostalgic flavours combined with the unique and zesty chipotle dressing are what make this salad worthy of its prominent position on our menu!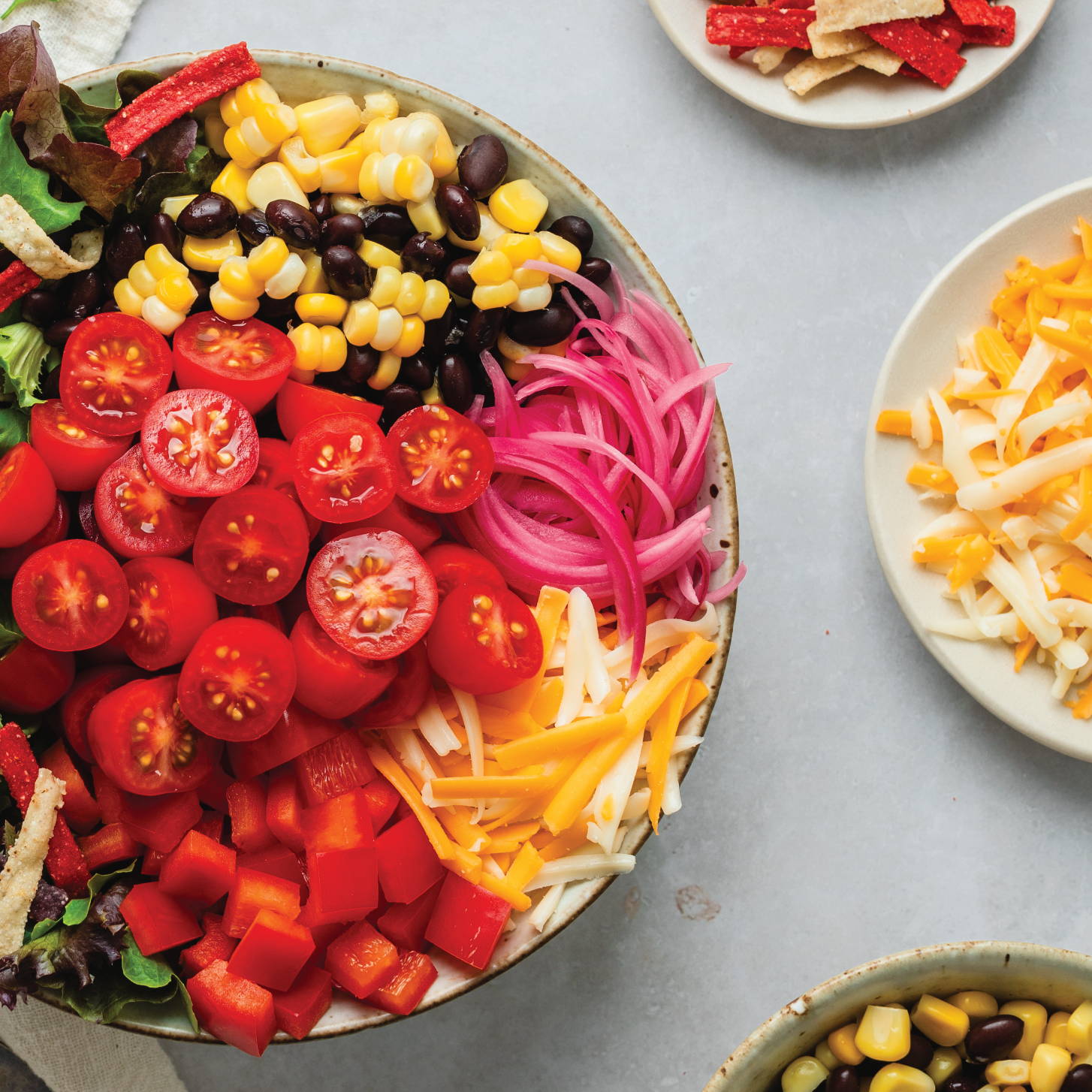 This is a salad for everyone. Sometimes you just need a staple, and this is it! Inspired by Mexico's vibrant and diverse flavours, we have meticulously curated this salad to include mainstream ingredients and a flavour profile that no one can deny. We believe that a great salad isn't just about the ingredients but the symphony of flavour and textures they create when combined. This salad is an homage to all things crunchy, colourful, and tasty! One of the best parts about the combination of flavours and textures is that it will keep your tastebuds engaged. That means you will be fully enjoying yourself from the first forkful until the very last. It's one of those salads that you will be scraping the bottom of the bowl for!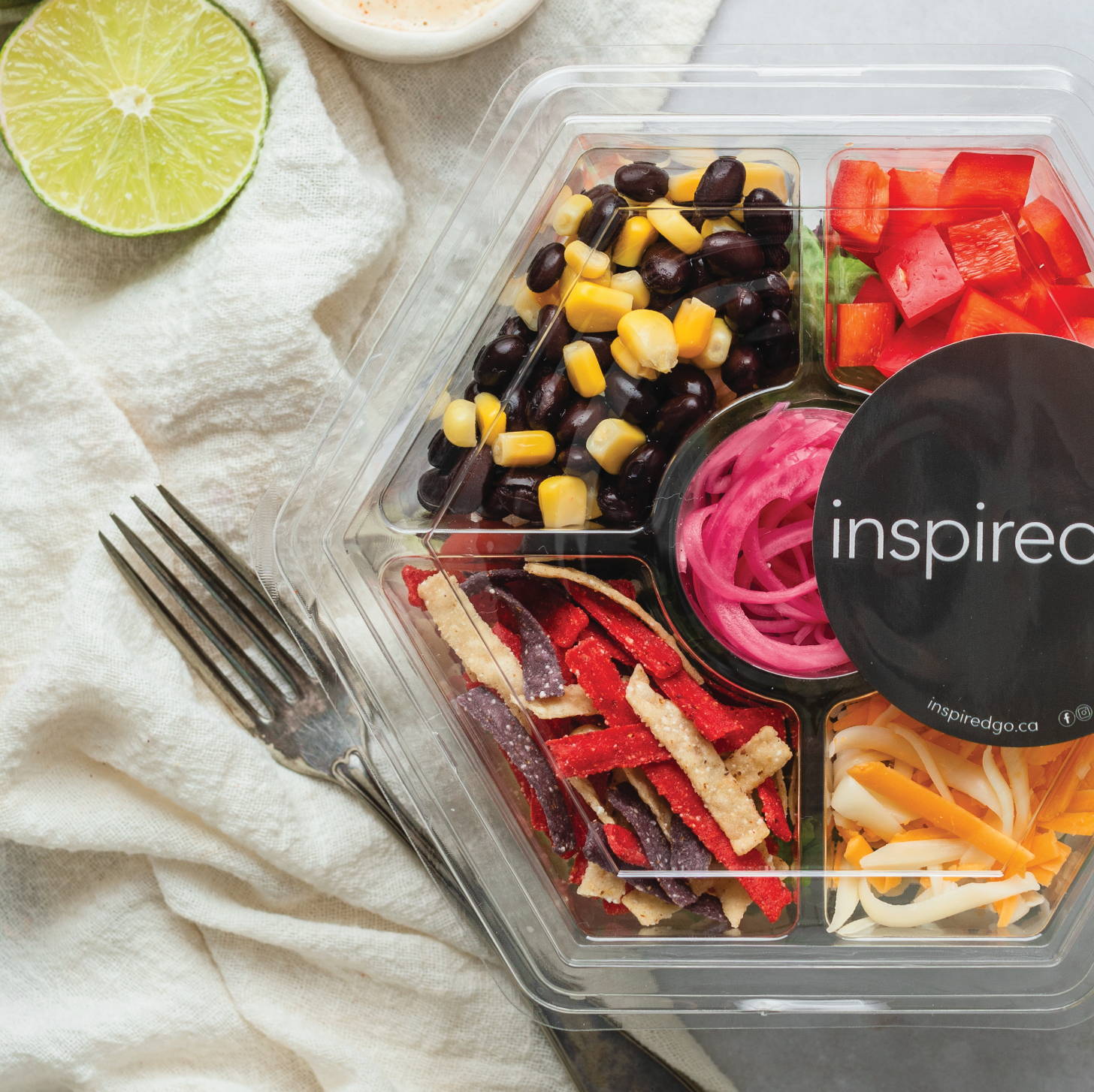 The first bite you take is a satisfying crunch of vibrant red pepper and juicy grape tomato. These textures are complemented by a creaminess from a few pieces of the Monterey jack and cheddar cheese blend that was in your bite. The creamy and tangy chipotle dressing has just the right amount of smokey heat, which is carried by the delicious taste and texture of our greenhouse-grown lettuce. Your next bite has some of the corn and black bean salsa and a crunch from tortilla chips. Both are a combination of salty profiles and when combined with the dressing, you get the perfect taco profile shining through. Each botes forms some combination of these ingredients with a variety of textures and tastes. The whole bowl is a delicious treat, and the best part is that you don't have to imagine any longer. The Chipotle Taco Salad is here and it is ready to be enjoyed any time of day!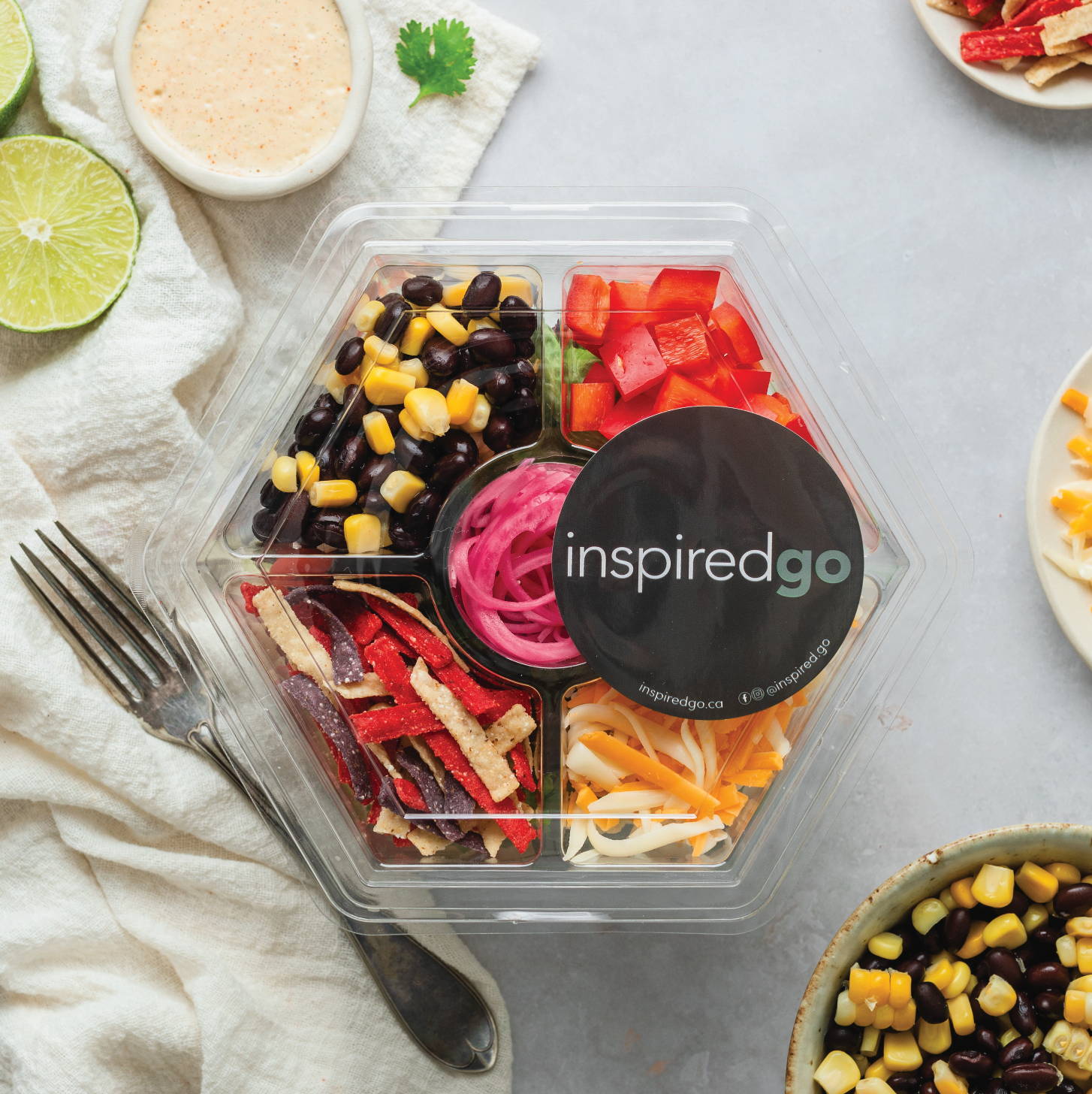 Order the Chipotle Taco Salad
Placing an Inspired Go order means that you are committing to eating healthy all week long. Luckily, it also means that healthy eating is going to be easy! With delicious recipes just like the Chipotle Taco Salad it is easy to say yes to eating healthy, and with recipes that are ready-to-eat there is no prep work and no wasted ingredients. The Chiptole Taco Salad is just one of our amazing recipes. It is a mix of red pepper, a corn and bean salsa, a blend of Monterey jack and cheddar cheese, pickled onion, tortilla chips, grape tomatoes, greenhouse lettuce, and a homemade greek yogurt chipotle lime dressing. This salad is a dance of textures and tastes that keep your taste buds engaged from the first forkful to the last. Order now to experience this joy!