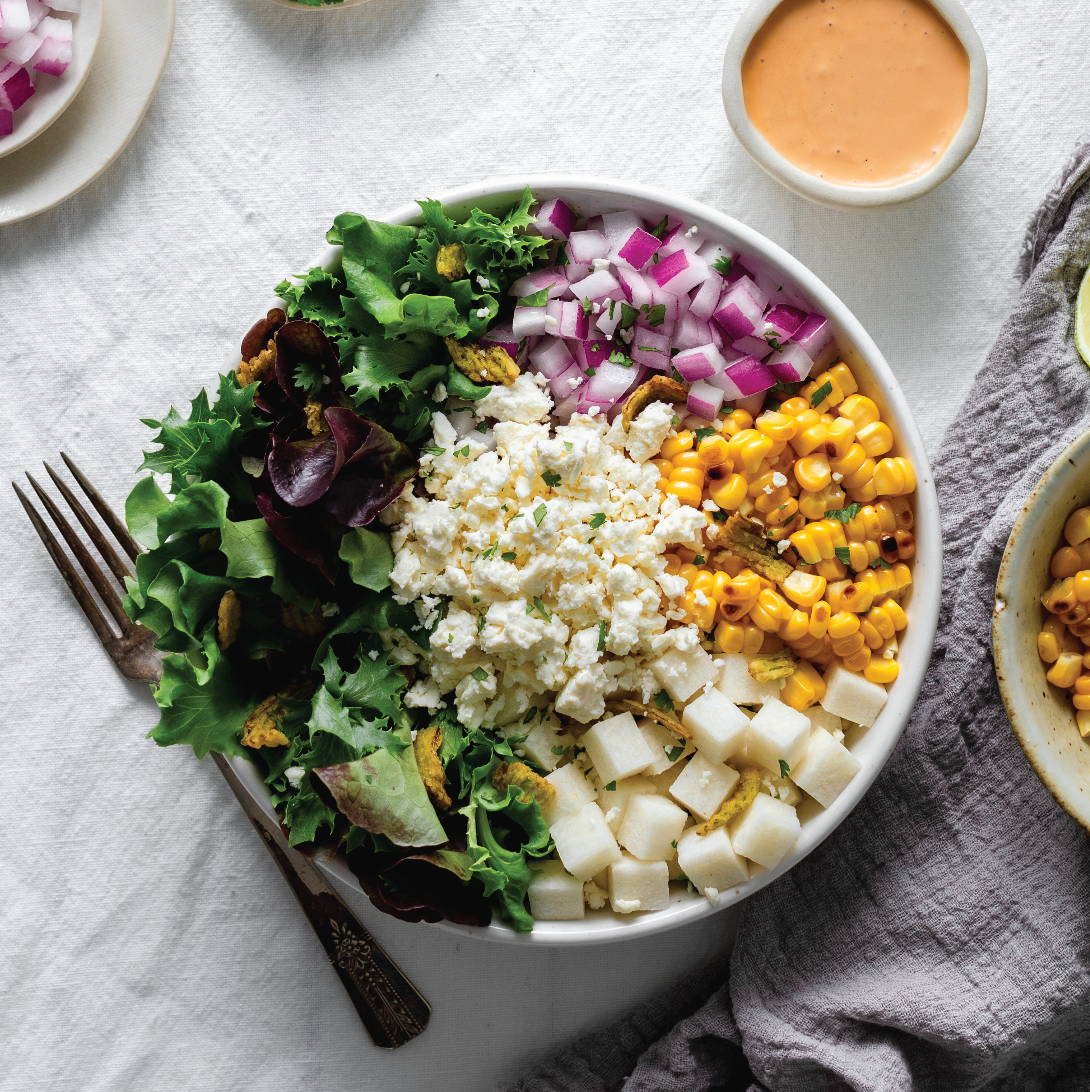 The Chipotle Street Corn Salad
from Inspired Go
We are so excited when we get to bring back an old favourite, and this is one of those times! We launched this salad last year, and it has become a regularly requested item to be brought back for another season. We add and remove items all based on the data we receive from you! All of our performance metrics for each meal are based on the number of times and the reoccurrence rate that an item is ordered. If you have a request for another item, you can submit it here: https://inspiredgo.ca/pages/menuchanges

The Chipotle Street Corn Salad has been regularly requested because it is downright delicious. It is a bright, creamy, and spicy delight that is a twist on beloved Mexican Street Food. Elote is what is more traditionally known as the corn on the cobb-based Mexican street food. This Mexican street corn salad recipe takes all of the traditional flavours and textures and turns them into a beautiful salad. The only thing missing is the need for a million wet wipes.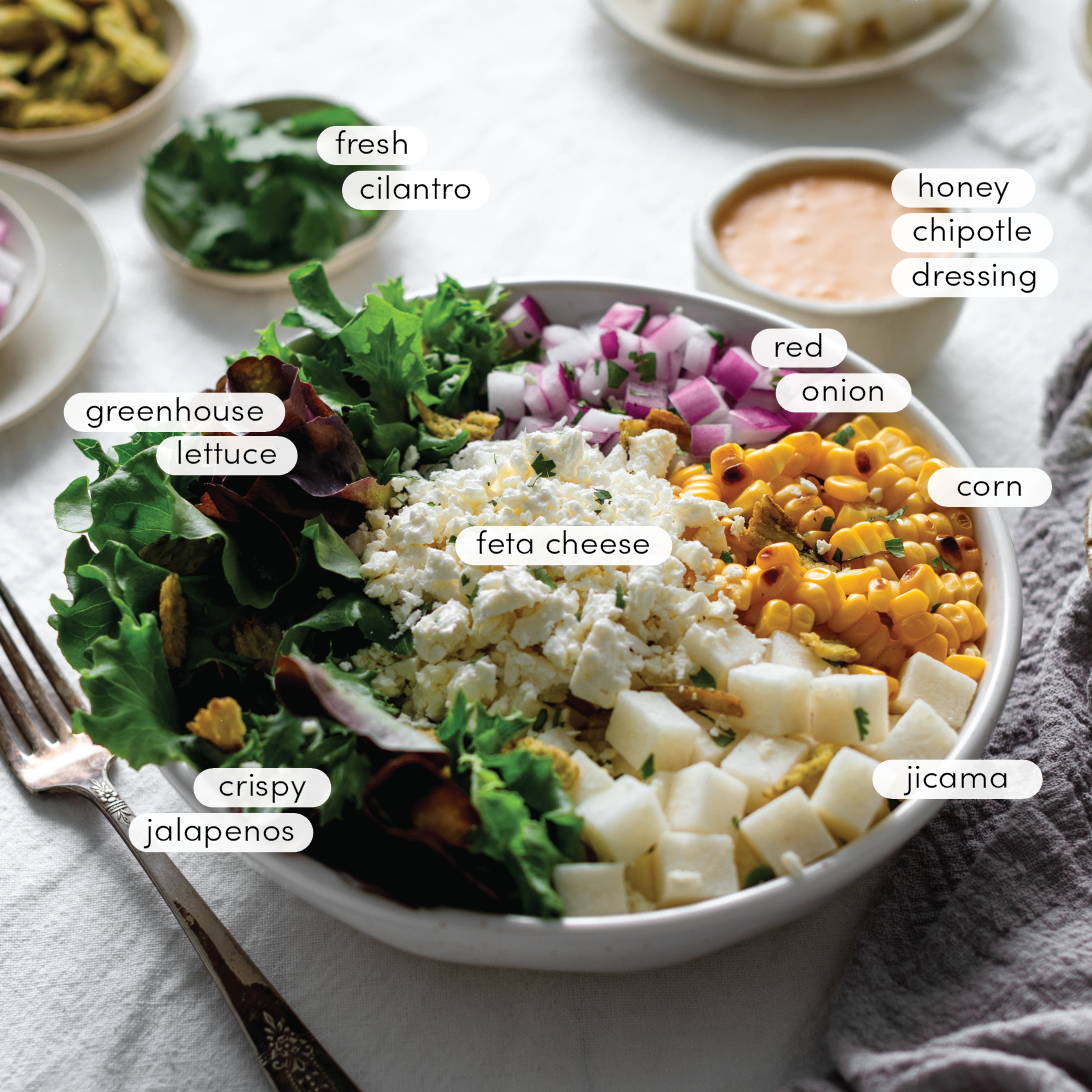 This Salad Sure Is Corny!
We transformed the critical elements of this popular street food into a vegetable-packed salad recipe. Each bite has crisp and crunchy fresh ingredients that complement the sweet corn kernels. A creamy honey chipotle dressing ties all the components together.

Our greenhouse lettuce is the base of all of our salads. It is crisp but soft and features a slight curl in the leaves to catch the dressing. It is grown locally, and therefore it lasts an incredible amount of time in your fridge. Because it is grown locally, there are fewer food miles used to transport it, and we have implemented amazing technology in our greenhouse to make our growing practices sustainable. You can't help but feel good eating these greens!

Naturally, sweet corn is the center of this Mexican street corn recipe. We sat down and did some very serious testing between frozen, fresh, and canned corn. We weigh various factors, including longevity, taste, and appearance. We always prioritize taste, and canned corn wins every time! Your corn will taste delicious, will have great texture, and will last in your fridge all week so you can enjoy it at any time!

Jicama, red onion, and crispy jalapeno chips are other great crunchy ingredients that add to the satisfying blend of textures within this salad. Jicama is a Mexican turnip that is high in several nutrients, fibre and antioxidants. Its flesh is juicy and crunchy, with a slightly sweet and nutty flavour. Some think it tastes like a cross between a potato and a pear. Others compare it to a water chestnut.

We top this salad recipe with feta cheese which is the perfect creamy addition to this mix of ingredients. The salty base and creamy texture are what make this salad so undeniably tasty and irresistible.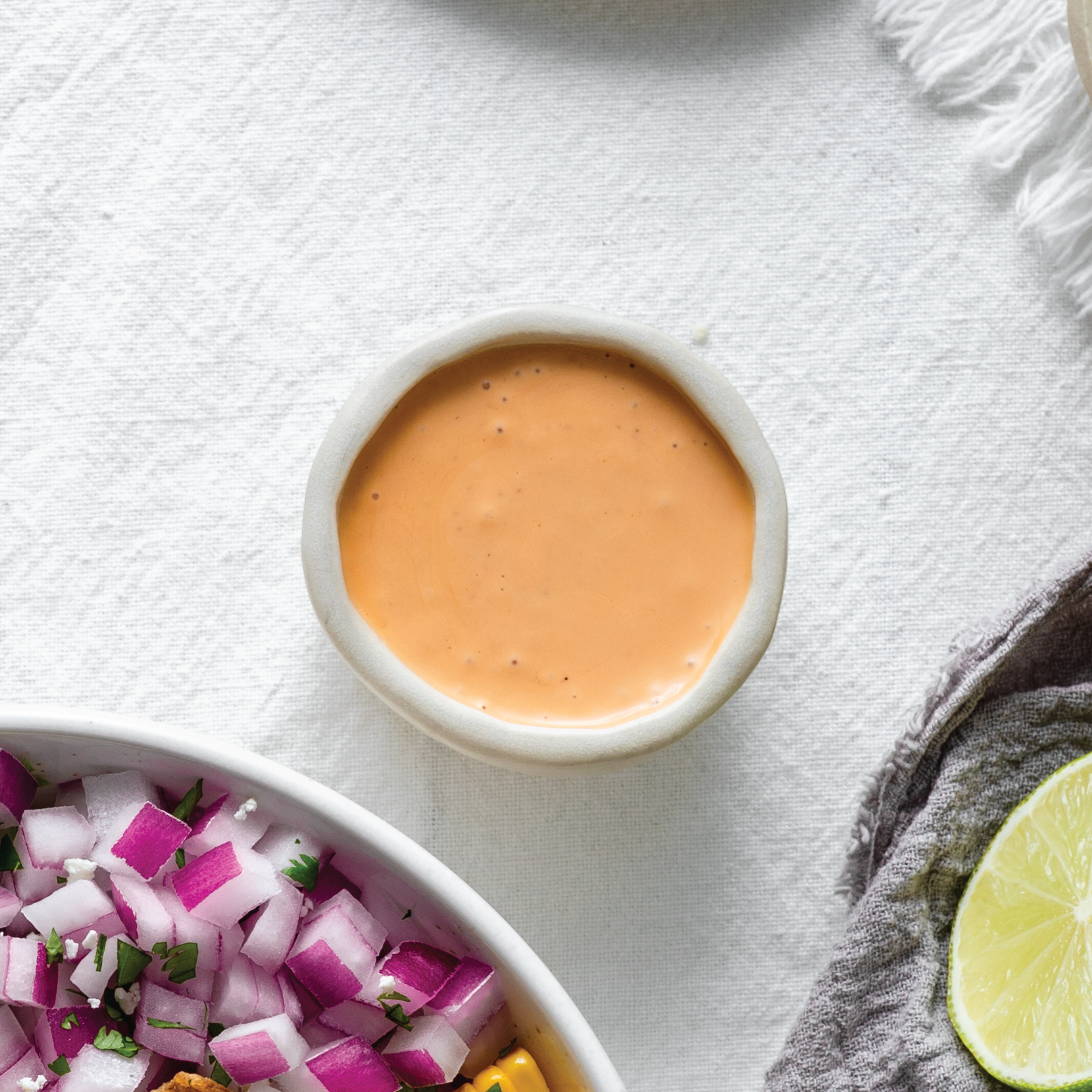 The Creamy Honey Chipotle Chili Powder Dressing
A Mexican street corn salad would not be the same without a little bit of a kick. This chipotle dressing features chipotle chili powder which has a fresh and delicious tasty flavour. One of those good burns that tastes good and doesn't just burn. A bit of spice is important in your diet!

We balance out that kick with some freshly squeezed lime juice and some freshly chopped cilantro. Cilantro is a sensitive ingredient, so we have packaged it separately so that you can choose to add it or leave it out.

We lightened up this recipe by forgetting about the mayo and using greek yogurt instead. The yogurt adds an extra creamy texture, some protein, and some probiotics. The recipe also features honey for sweetness and lime juice for acidity.

We encourage you to mix your dressing with the greenhouse lettuce before adding in the remaining ingredients. The experience when mixing your salad this way is highly elevated because the dressing coats every leaf.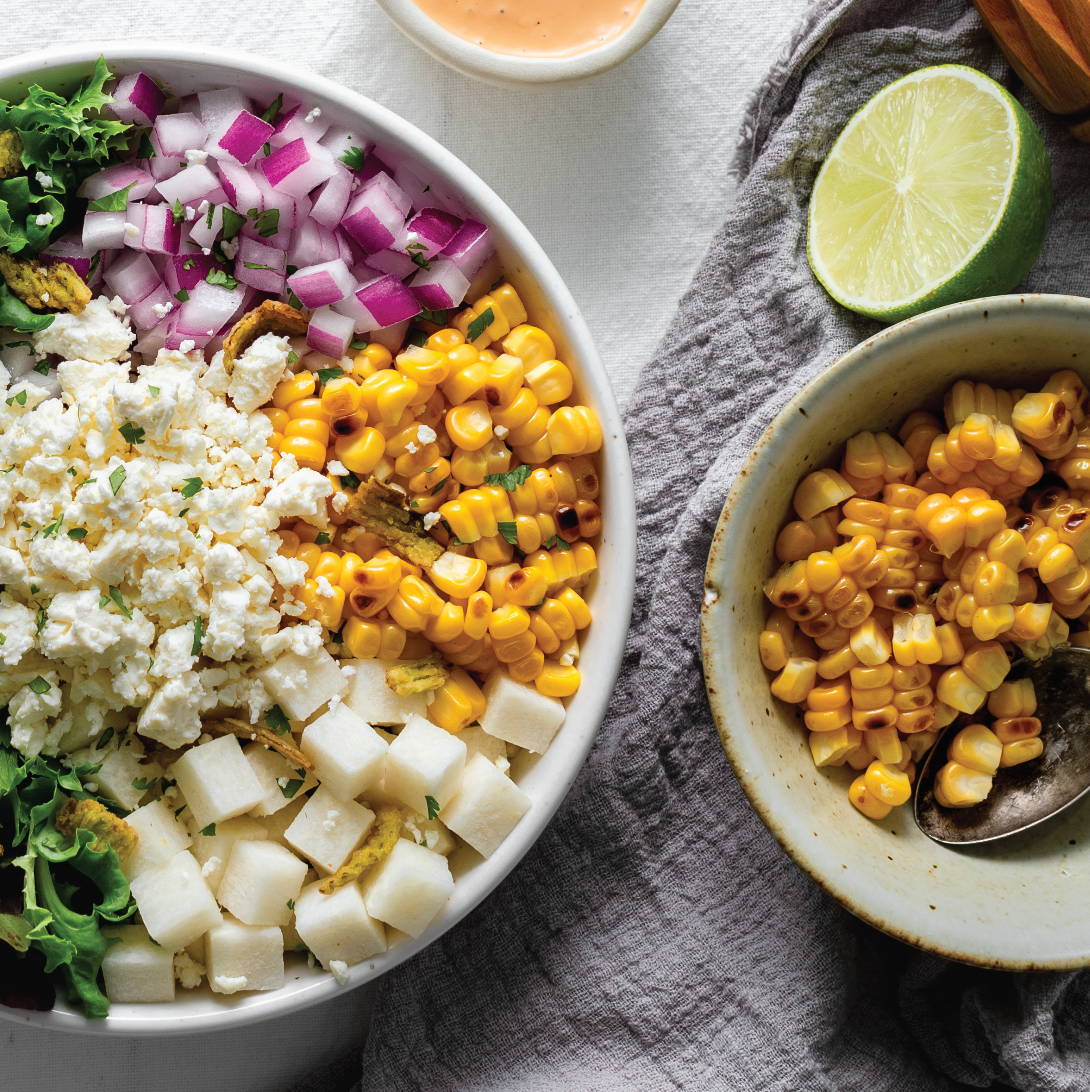 The Benefits of Sweet Corn
Corn is a starchy vegetable and has become one of the most popular vegetables. It sometimes gets a bad rap because it has a lot of natural sugar and carbs; however, the health benefits of this versatile veggie cannot be overlooked.

Don't let the sweet taste of corn fool you. It can lead to better gut health and help lower your chances of getting diseases like cancer, heart disease, and type 2 diabetes.

Corn is full of fibre which means that you will stay full for a longer amount of time between meals. It also feeds healthy bacteria in your digestive tract.

Sweet corn is rich in vitamin C, an antioxidant that helps protect your cells from damage and wards off diseases like cancer and heart disease. It can also improve your eye health and can increase your intake of Vitamin B, E, and K.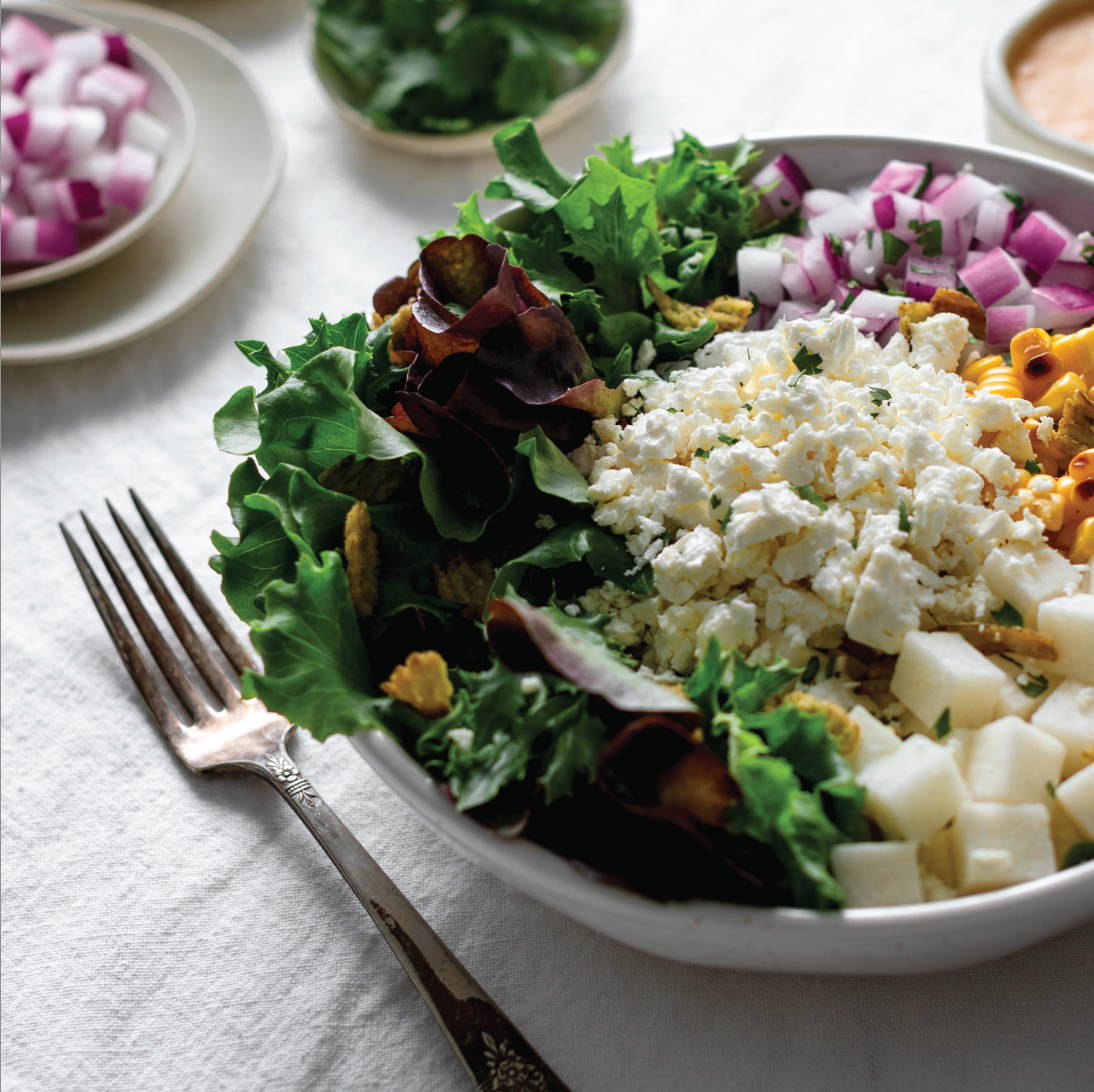 There is no more waiting! The time to dig into this Mexican street corn salad recipe is now. We love bringing you crowd pleasers, and this one will not disappoint. You can get this meal delivered to your home, along with many other recipes, so that you are set for the week. All of our recipes feature fresh ingredients and last for up to 5 days. Place your order at www.inspiredgo.ca!