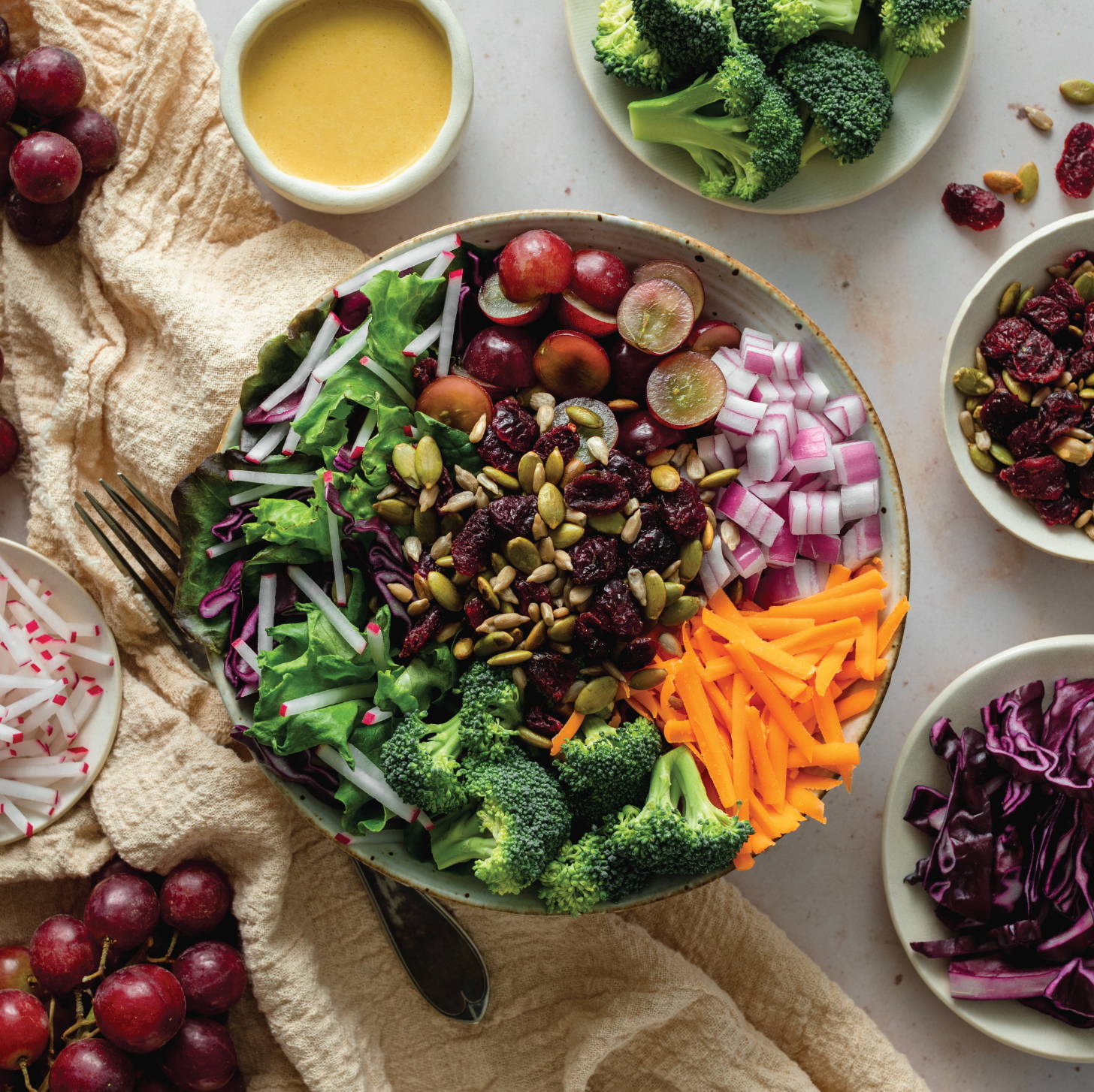 The Balance and Boost Salad
from Inspired Go
Inspired Go is about bringing balance into your life and boosting you after a meal. We have finally created a dedicated salad to celebrate and initiate the balance and boost that we all need! This delight is a light and tangy twist on the classic broccoli and grape salad. If this is your first interaction with broccoli and grapes combined into one meal, we assure you that it is an absolute delight! The broccoli's firm bite and the grapes' juiciness work beautifully together. Dig into the creamy, crunchy, and nutritious meal!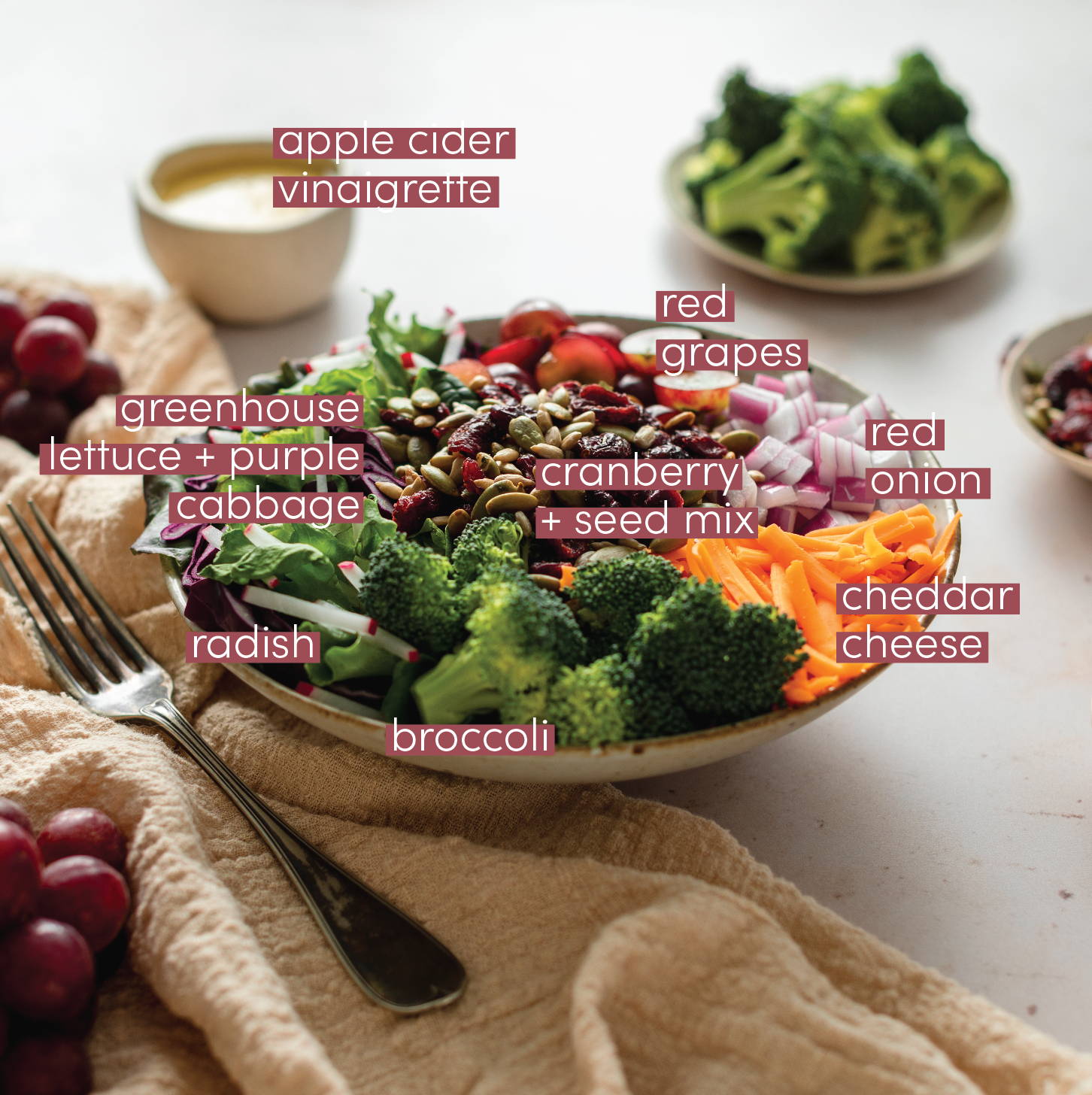 The Nitty Gritty Ingredients
In this meal, the hero ingredients are a combination of crisp and crunchy broccoli with sweet and juicy grapes. The foundation of the meal is a bed of greenhouse lettuce, red cabbage, and sliced radish pieces. Red onion is a tried and true ingredient in the classic broccoli and grape salad and provides a nice crisp flavour. We combined sunflower seeds, pumpkin seeds, and dried cranberries to form a powerhouse seed mix that adds both taste and texture. Lastly, it is the cheddar cheese and homemade apple cider vinaigrette that adds some creaminess to the meal!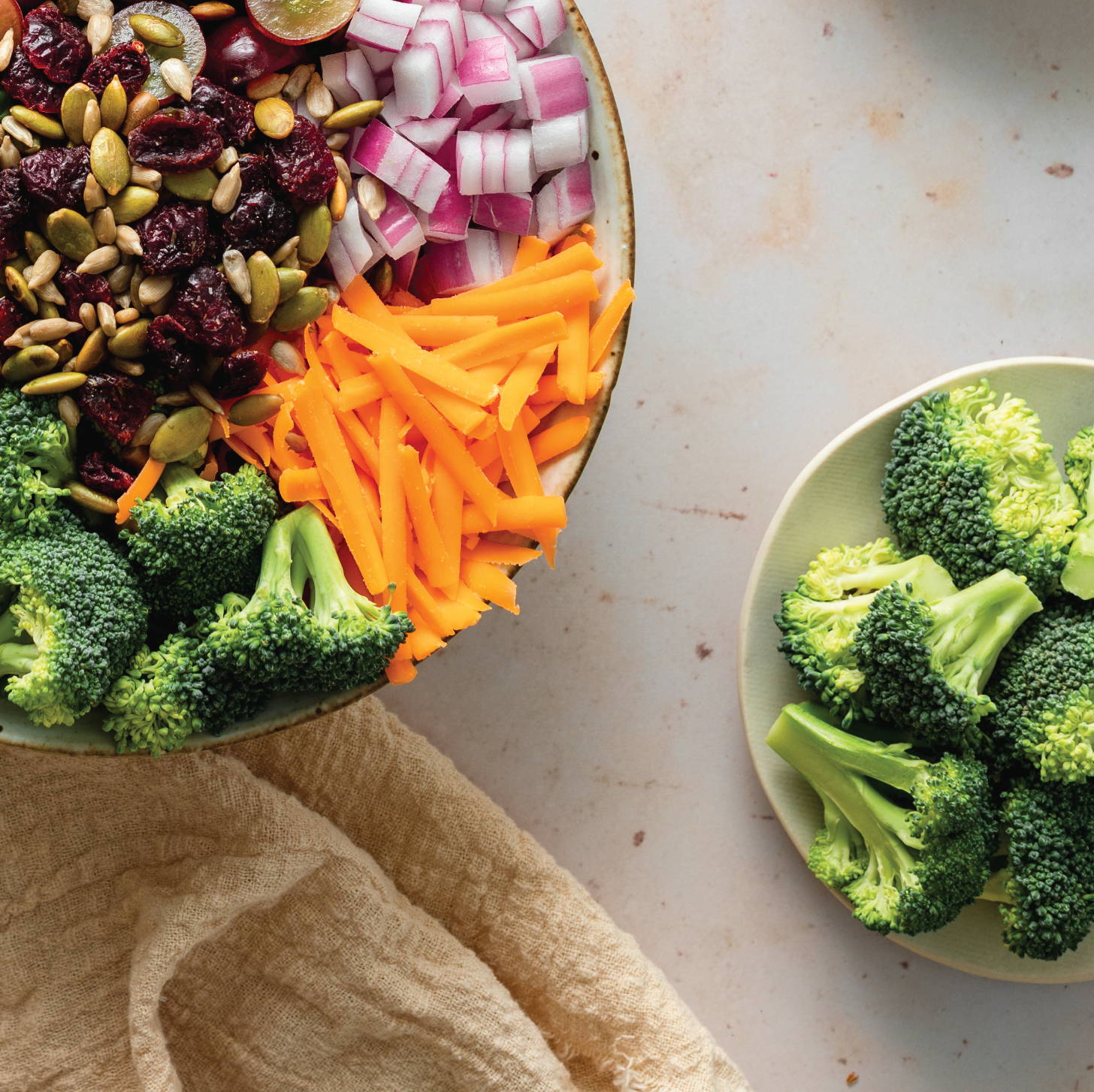 The balance in this meal is brought to you by a healthy dose of vegetables and fruit. It is the hidden nutrients in these ingredients that help your immune system stay strong, power your body through your day, and leave you feeling brighter and better!

You didn't hear this here first: broccoli is healthy! It is a good source of fibre and has more protein than many other vegetables. It has a low calorie and carb count and is rich in many vitamins and minerals that keep our hearts beating.

Red grapes are not only delicious, but they are also mighty! They contain a surprising amount of antioxidants that are good for cardiovascular health.

Also hidden away in the dressing is a healthy dose of apple cider vinegar. This ingredient also contains many antioxidants, and it is also rich in probiotics to keep that gut in check and leave you feeling happy, healthy, and strong!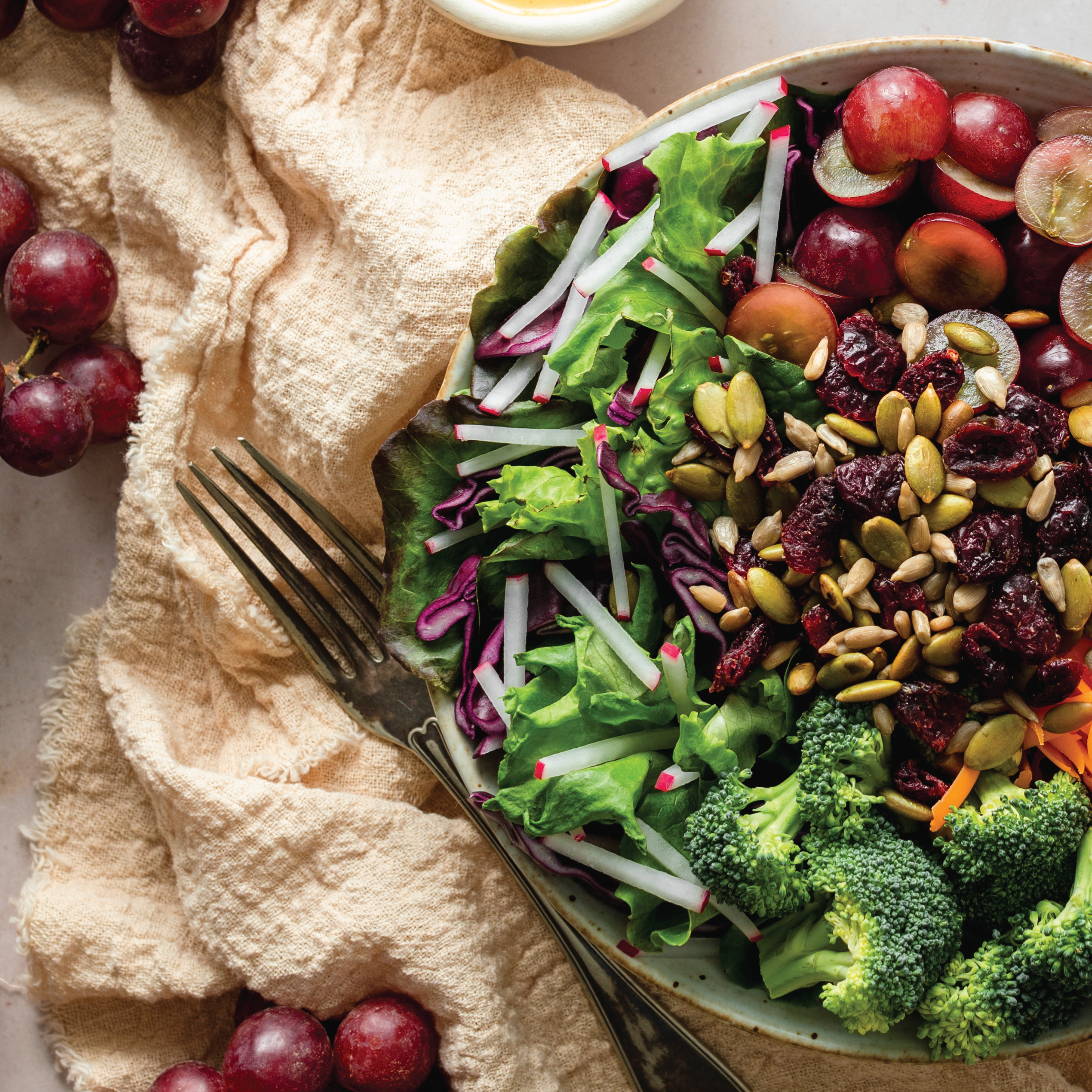 Introducing a Little Balance and Boost
It's inevitable; it's that time of year when we are all thinking about resetting our diets, goals, and schedules. It can be exhausting to try and take that all on yourself, but it's oh so rewarding. We make it a little easier by delivering healthy meal options to your door. We come with competitive pricing to buying groceries, we allow you to skip all of the prep work, and we keep your taste buds interested. This salad sums all of that up into one big package. You get a balanced diet in a bowl filled with ingredients that are going to boost your energy and your mood!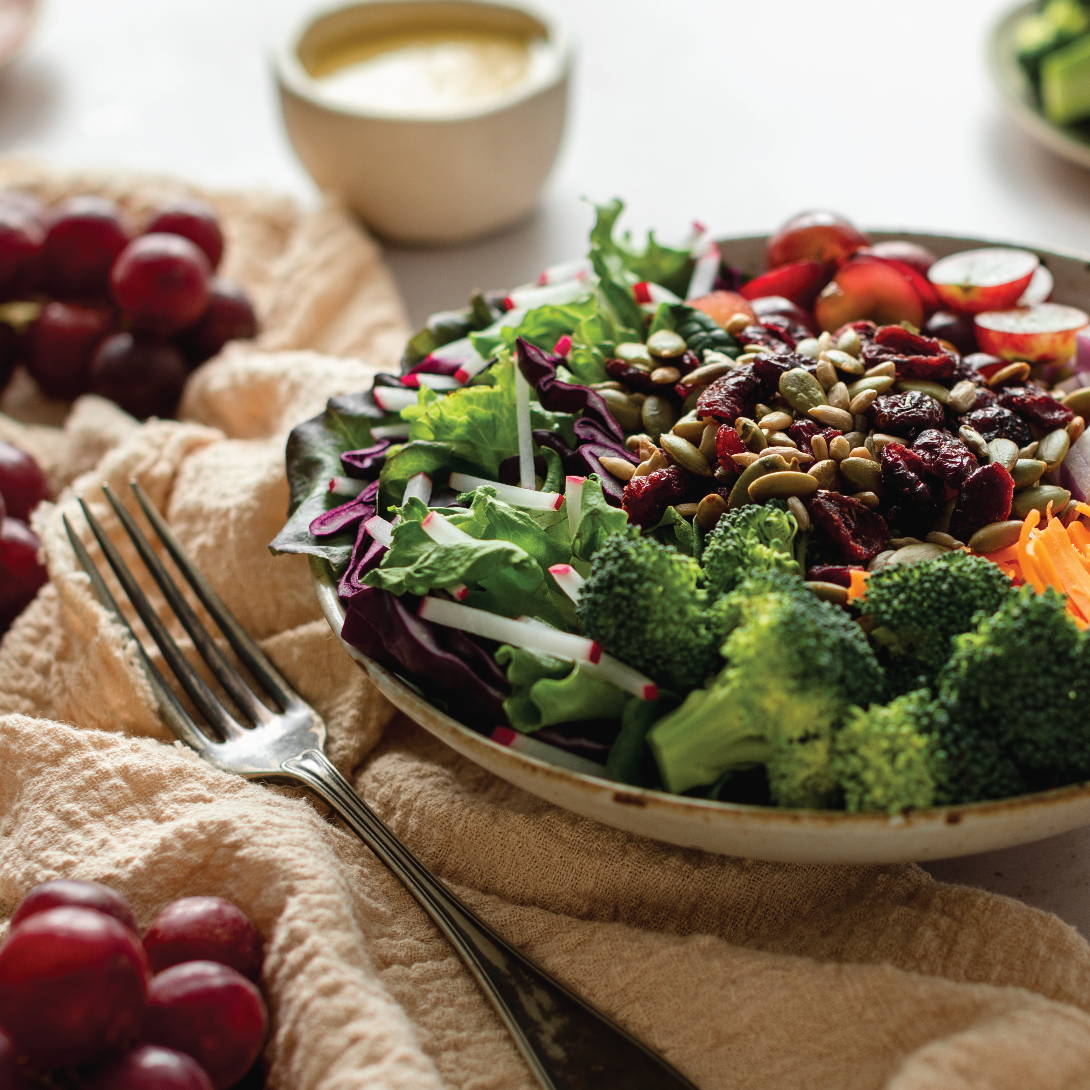 If you are new to Inspired Go, here is everything you need to know: 1) we deliver right to your door 2) our meals last all week, which means no more meal planning 3) our meals are fresh, healthy, and tasty enough that you'll be incentivized to eat your greens. You can place a one-time order at any time, which means that there is no reason not to try Inspired Go and see for yourself why 1000's of Canadians are falling in love with Inspired Go!