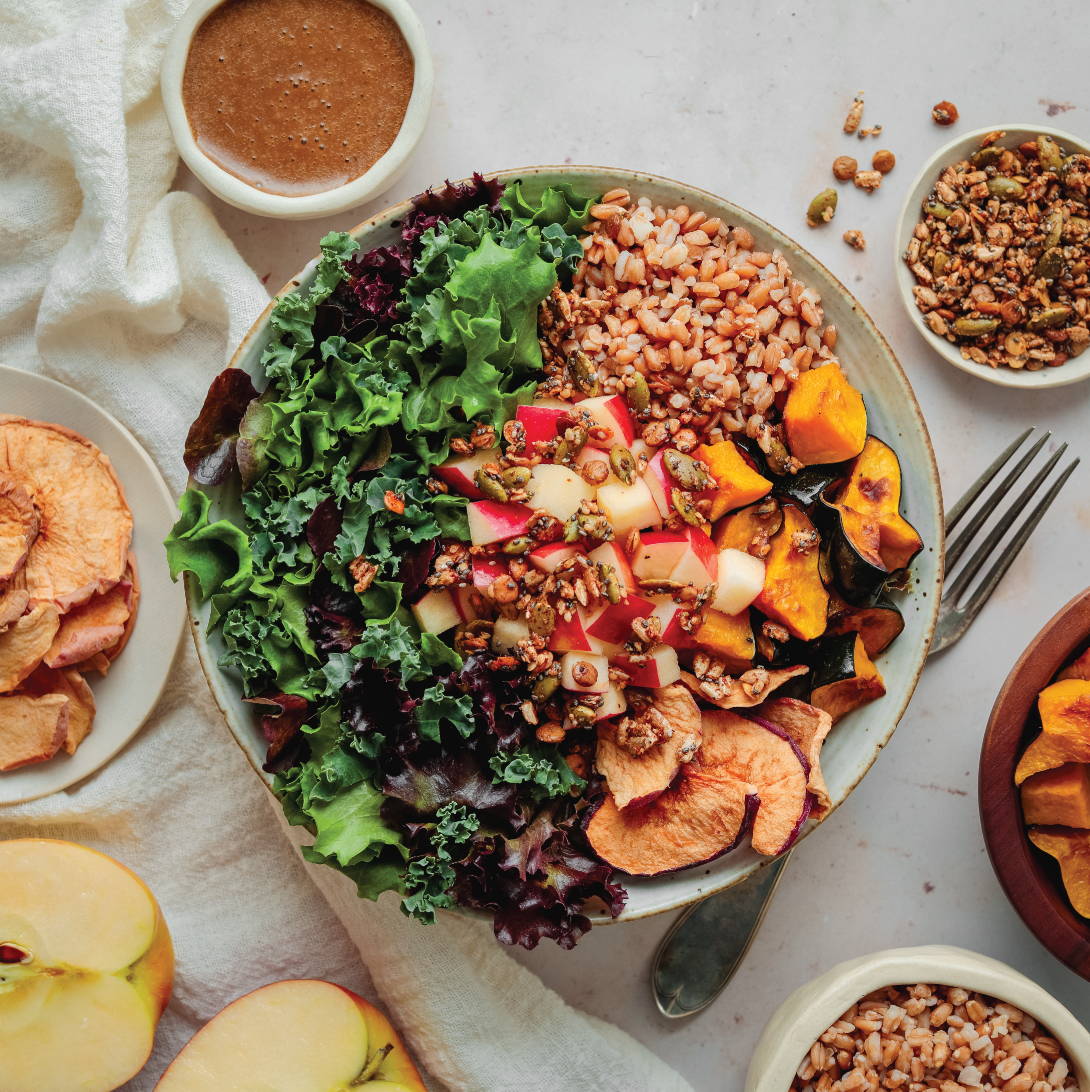 The Apple & Farro Salad
from Inspired Go
Fall is upon us! Instead of dwelling on the summer behind us, over at Inspired Go, we like to get excited about fall by launching some of our all-time favourite fall salad recipes. The Apple & Farro Salad was an instant team hit, and we can't wait to share it with you! It is inspired by the abundant fresh offerings of the season, which are delivered in a filling and nutritious bowl that is filled with fibre and texture. This is one of those recipe launches that you will not want to miss!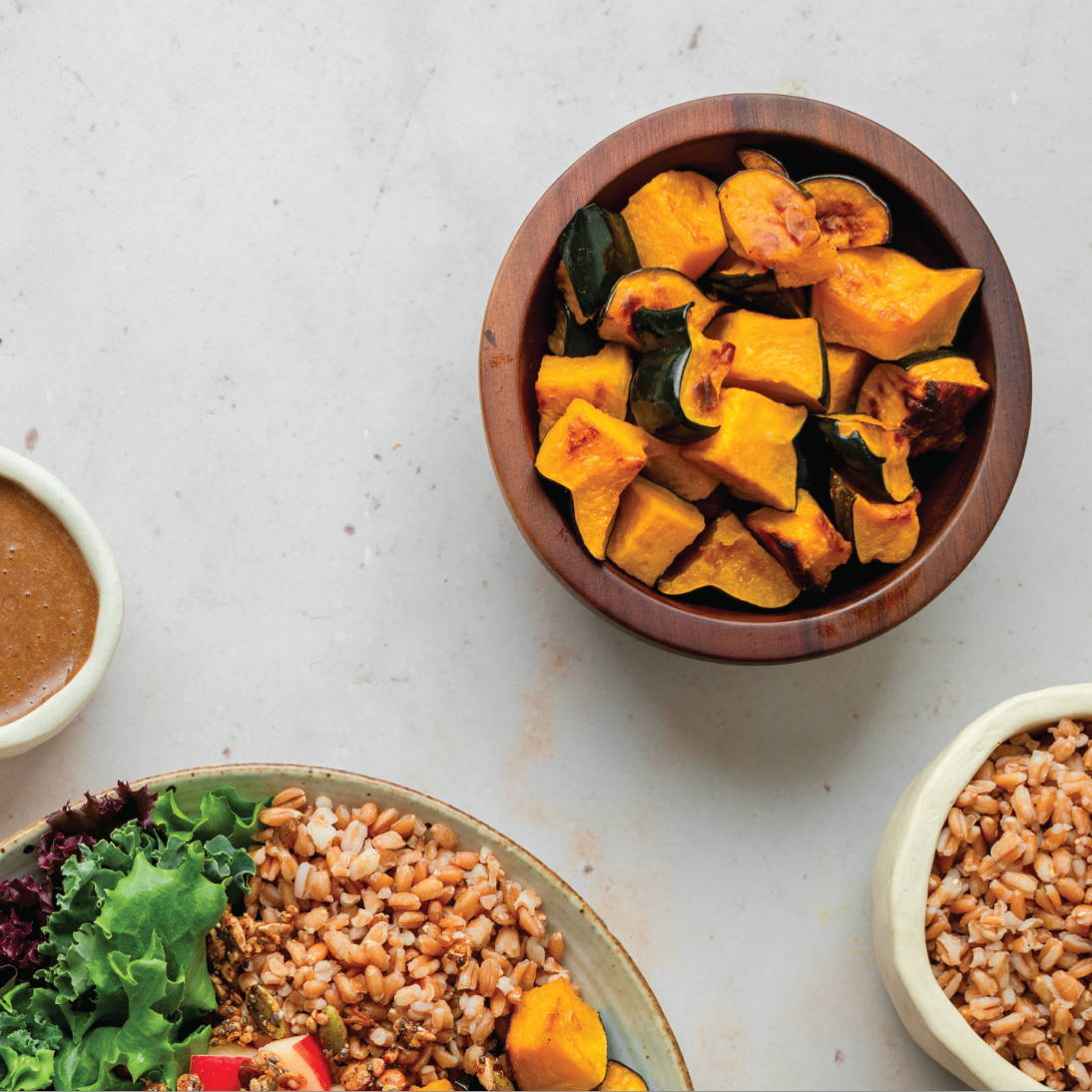 This Apple & Farro Salad recipe contains diced apple, apple chips, roasted acorn squash, a protein seed crunch, farro, kale, greenhouse lettuce, and a homemade honey balsamic vinaigrette. The sweetness of the fresh red apples and the crunchiness of the dried apple chips create a texture lover's heaven. The beauty of the roasted acorn squash is that it is satisfying but not overly sweet and adds depth to the salad recipe. The protein crunch is a mix of hemp seeds, sunflower seeds, pumpkin seeds, chia seeds, and roasted lentils. We roast the crunch with a mix of ingredients that gives the crunch a sweet and spicy flavour. Everything is served on a base of farro, greenhouse lettuce, and kale. Farro is an extremely nutritious grain. It's an excellent source of protein, fibre and nutrients like magnesium, zinc and some B vitamins. It is often described as having a nutty flavour with slightly sweet and cinnamony undertones.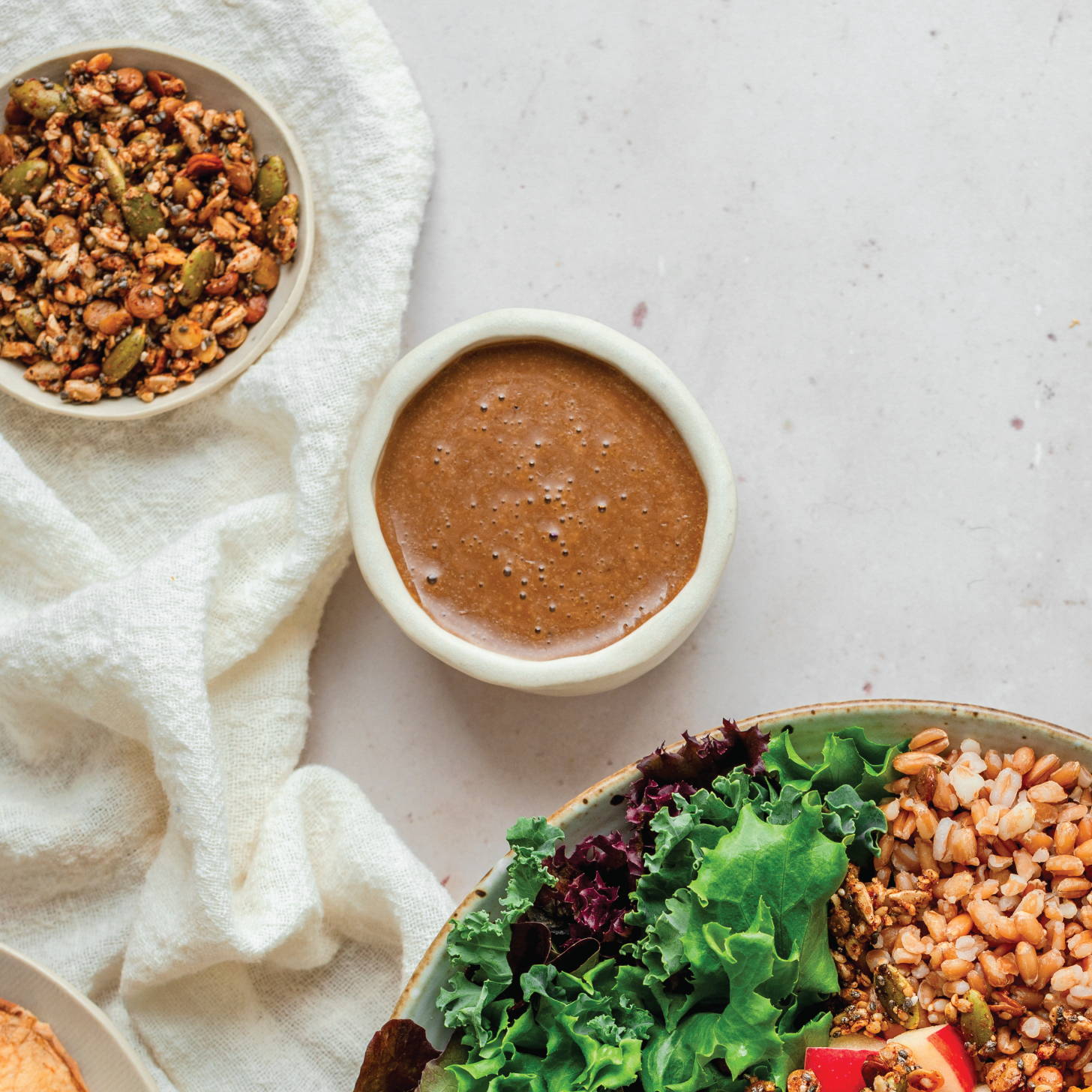 Because of the complexity of the flavours featured in this meal, we turned to one of our most simple dressings. Our honey vinaigrette is made in-house and enhances the recipe but does not overwhelm the senses. It's subtle but still has interest. This salad dressing has an intriguing combination of flavours that will captivate and delight. The key to this simple and delicious salad dressing recipe is the drizzle of golden honey and the kick from a hint of garlic. It also features a delicious balsamic vinegar. We can't wait for you to experience it for yourself!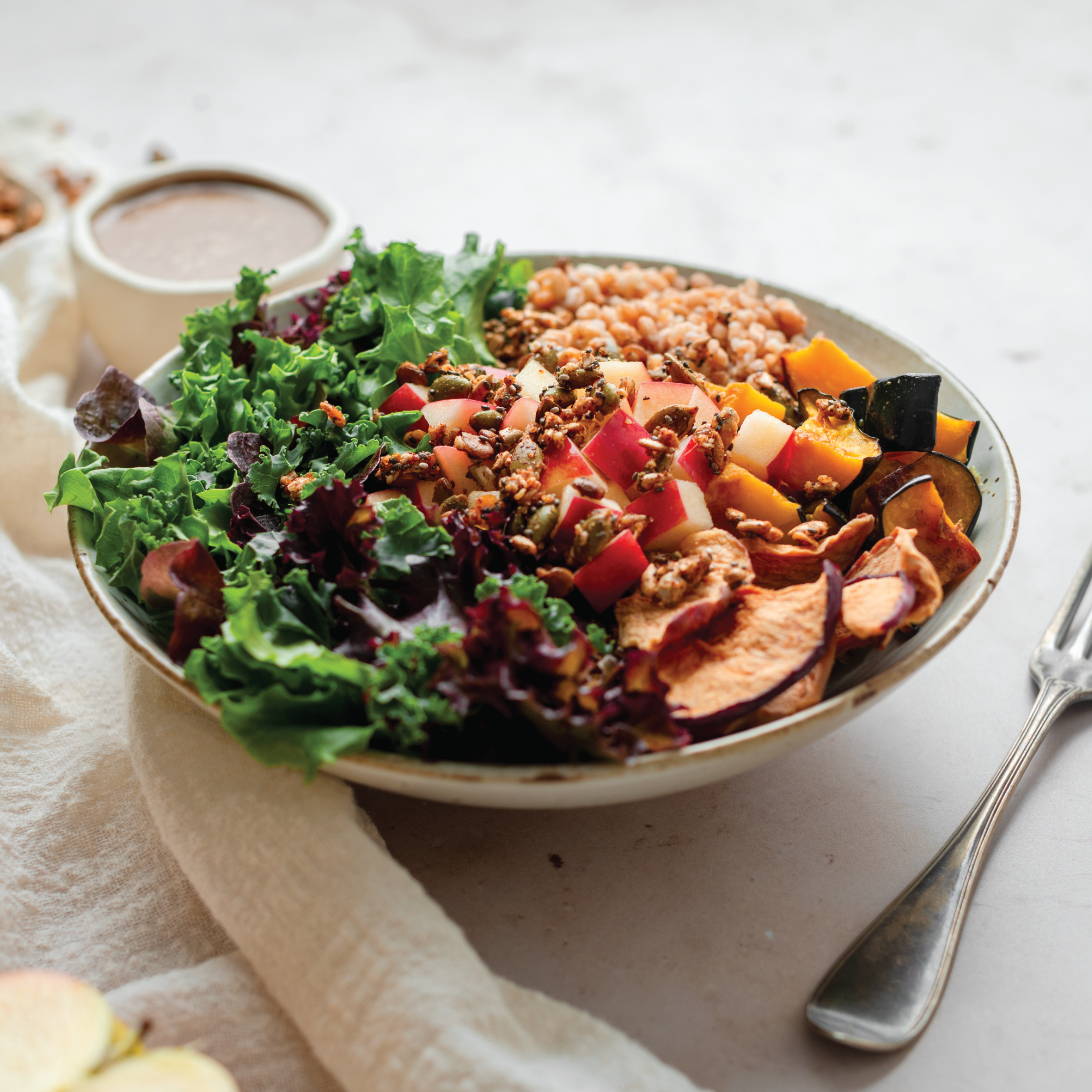 The Apple & Farro Salad recipe is a great option when it comes to increasing your daily fibre intake. It contains many fibre-rich ingredients such as kale, apples, apple chips, farro, and our homemade candied seed mix. These ingredients keep you feeling healthy and full. This salad comes in at 530 calories and contains 7g of fibre and 9g of protein. It also lasts in your fridge for up to 5 days!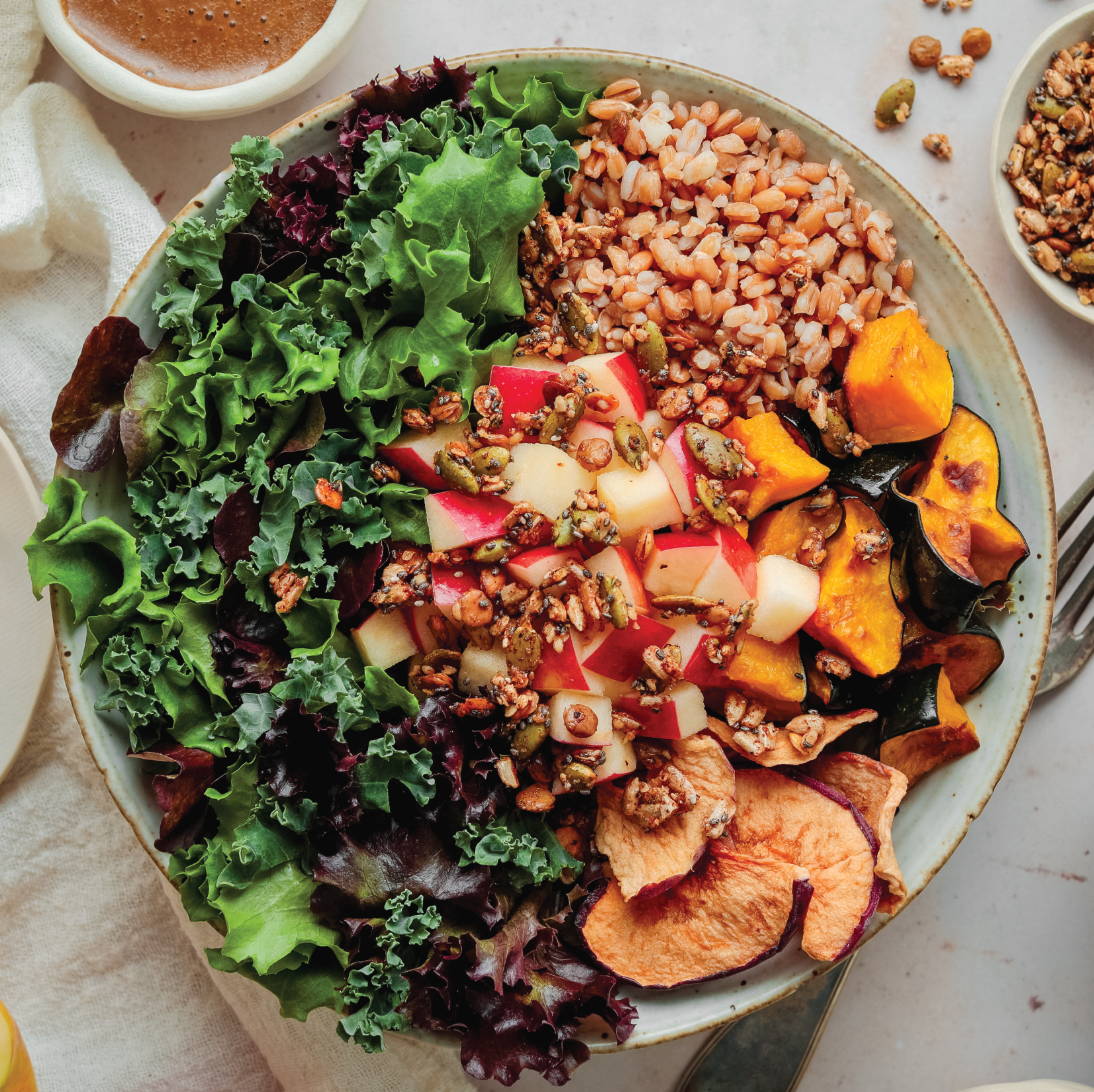 Place an Inspired Go Order
The Apple & Farro Salad is a mix of diced apple, apple chips, roasted acorn squash, a protein seed crunch, farro, kale, greenhouse lettuce, and a homemade honey balsamic vinaigrette. This salad lasts in your fridge all week long because every ingredient is packaged separately. When you place an Inspired Go order, you get to choose from a whole array of tasty and nutritious meals that are delivered right to your door. That means no more shopping, no prep, and no cleanup! When you place your order, be sure to add the Apple & Farro Salad! This recipe is seasonal and can only be enjoyed for a limited time. We cannot wait for you to try it!